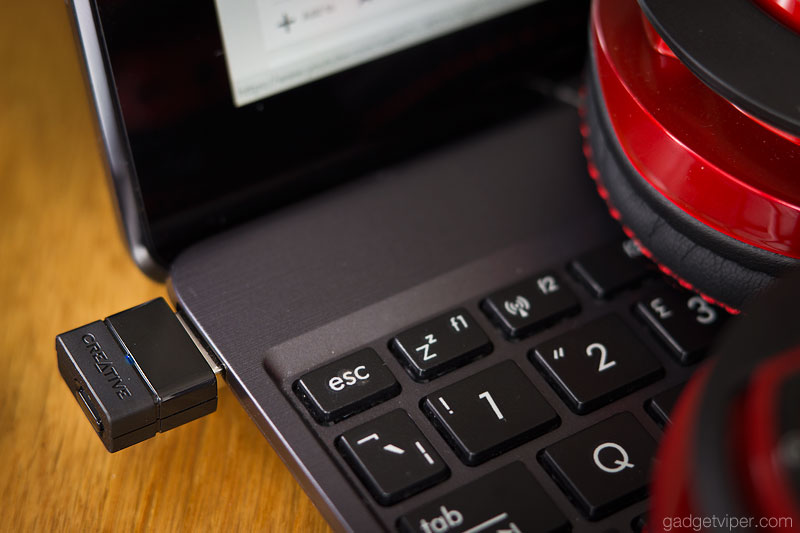 Creative BT-W2 USB bluetooth adapter – Full Review
The Creative BT-W2 is a thumbnail size USB bluetooth adapter for the PC, Mac and PS4. Measuring just 15x8mm (not including the USB connector)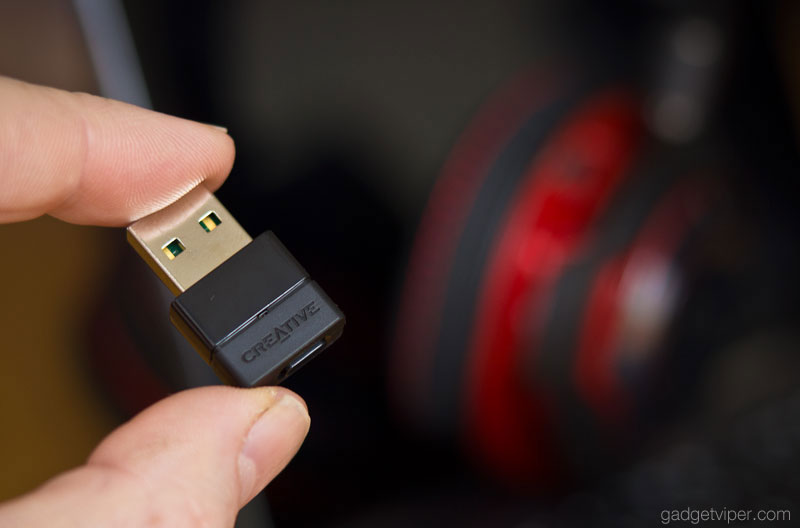 Its compact size leaves little room for design elements. There's an offset pairing button on the front and a very small indicator light on the top surface. The Creative logo and combination of gloss and matte finish help make the BT-W2 easily identifiable from other USB dongles.
There are currently very few USB Bluetooth transceivers that offer the apt-X low latency streaming.  To my knowledge, they're either independently powered or have internal batteries. The Creative BT-W2 is powered solely by USB, a far better option if you're intending to have it permanently connected to a PC, laptop or PS4 port.  A typical Bluetooth transmitter is not designed for this functionality.
Setting up the BT-W2 USB Bluetooth adapter for PC use.
Insert the BT-W2 into a USB port, preferably one at the front of your PC tower. Having easy access is handy should you wish to reconnect or pair another device. Once connected, Windows will automatically install drivers. After Windows has finished, the Creative BT-W2 will be listed amongst your playback devices.
At this point, the BT-W2 is ready to be paired with your Bluetooth headset or speaker. Make sure your device is in pairing mode, then simply press and hold the button on the front of the  BT-W2 for a few seconds.
The small indicator light will start flashing faster while in pairing mode and become solid once a connection has been established.
Setting up the BT-W2 USB Bluetooth adapter for a PS4
For anyone struggling to install the BT-W2 on the PlayStation 4, Creative have a very useful guide on their support site – Here's the link.
Getting the most of the Creative BT-W2
In order to take full advantage of the BT-W2, it's important to know that your headphones or speakers will either need to have apt-x low latency or FastStream codecs. This is a relatively new technology so it's worth checking the specs if you plan on making a new purchase.
I have tested the Creative BT-W2 USB Bluetooth adapter with four sets of headphones and a Bluetooth speaker. They all paired flawlessly and the connections were remembered by the device. It's worth noting that of all the headphone I tested, only the Creative Outlier's opened up the microphone path. If you plan on using the Bluetooth voice back channel for online communications or PS4 gaming, make sure your cans are compatible.
Creative BT-W2 USB bluetooth adapter – Verdict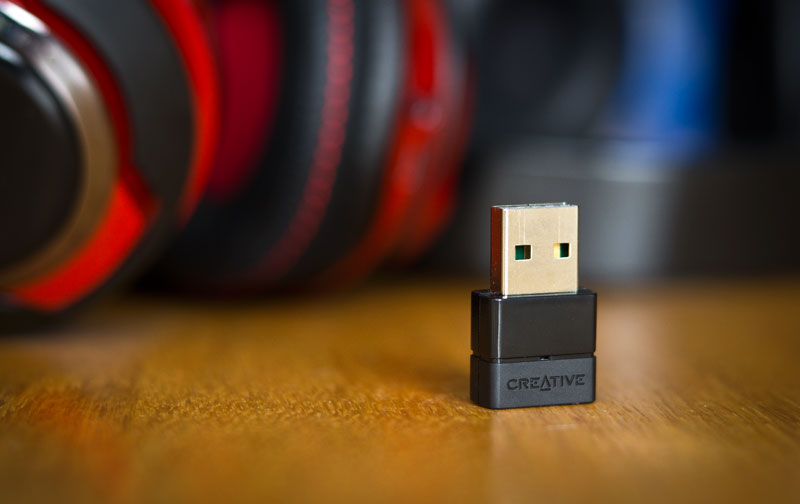 If you're looking to do away with your cables and start using a wireless headset on your PC, Mac or PS4, the Creative BT-W2 is the device for you.  It's compact, simple to use and works exceptionally well.
The Bluetooth connection and range is solid and the audio quality is pin sharp thanks to the apt-X codecs. If you need the BT-W2 solely for streaming music from your PC then the BT-W2 is perfect with any bluetooth headset or speaker.