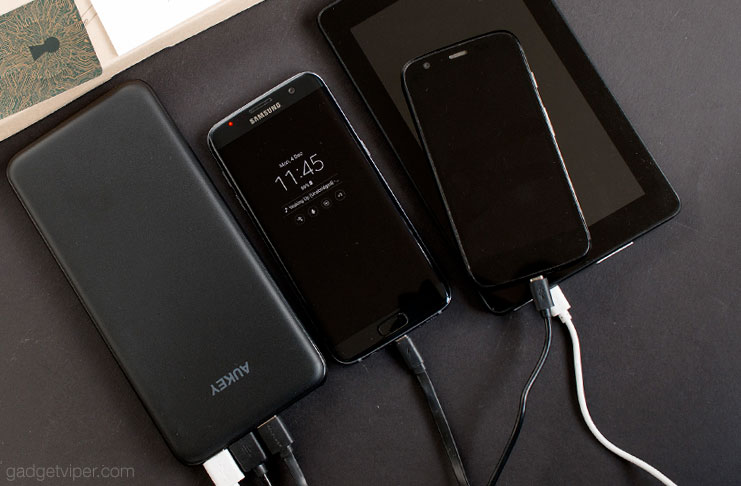 Currently 5th place on our Best Power Bank 20000mAh list
Aukey 20000mAh Power Bank
The PB-Y14 is a high-capacity portable charger featuring three regular USB outputs, a micro USB and Apple Lightning input, as well as a Type-C port for 3A charging.
An Ultra-Slim 20000mAh Power Bank ideal as an external power source for the MacBook Pro when travelling.
Highlights and Features
Three USB smart outputs (AiPower)
Micro USB, Lightning and Type-C inputs
3A Type-C Output
Ultra Slim (14mm / 1/2″ thickness)
Good efficiency rate (80-85% Tested)
Comes with a Type-C USB cable
Protection from overcharging and overcurrent
24-Month Warranty
Pros and Cons
+
Very thin, good efficiency, nice build quality, Type-C port, can charge with a lightning cable, micro USB or Type-C.
–
Has a 3A Max output which will limit the speed when charging multiple devices at the same time, no Qualcomm Quick Charge technology.
Where to Buy?
Price updated – 25th of November 2018 at 10:30 GMT
*Product prices and availability are accurate as of the date/time indicated and are subject to change.
Its slim design, high capacity and Type-C output make this power bank ideal for those with a MacBook Pro.
Aukey PB-Y14 – Full Review
The Aukey PB-Y14 comes in a plain box along with a user manual, warranty card and a Type-C to USB charging cable. The cable can be used to charge devices with a Type-C input such as the Pixel 2 or MacBook Pro. It can also be used to recharge the power bank itself.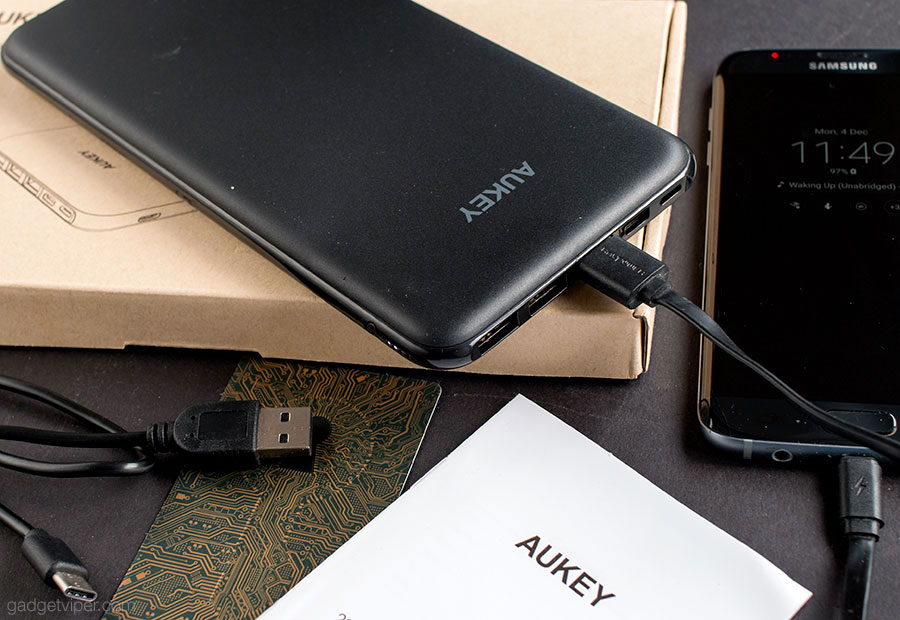 This would probably be the preferred method, although the PB-Y14 does have two additional recharge options. Directly next to the Type-C port is an Apple Lightning input. So if you're an iPhone owner, you can make use of your existing wall charger and cable. Likewise, there's also a micro USB input on the side for the rest of us.
That's a total of three inputs, I think that could be a first for a power bank. It's unfortunate however that you can't connect them all to a charging station and triple the recharge time. It is nice to have multiple options though.
Along with the inputs, the Aukey PB-Y14 power bank has three AiPower smart USB outputs.
The AiPower technology ensures the optimal output for the connected device and intelligently adjusts it during the charge. Once your device is fully recharged, it will automatically turn off to protect against overcharging.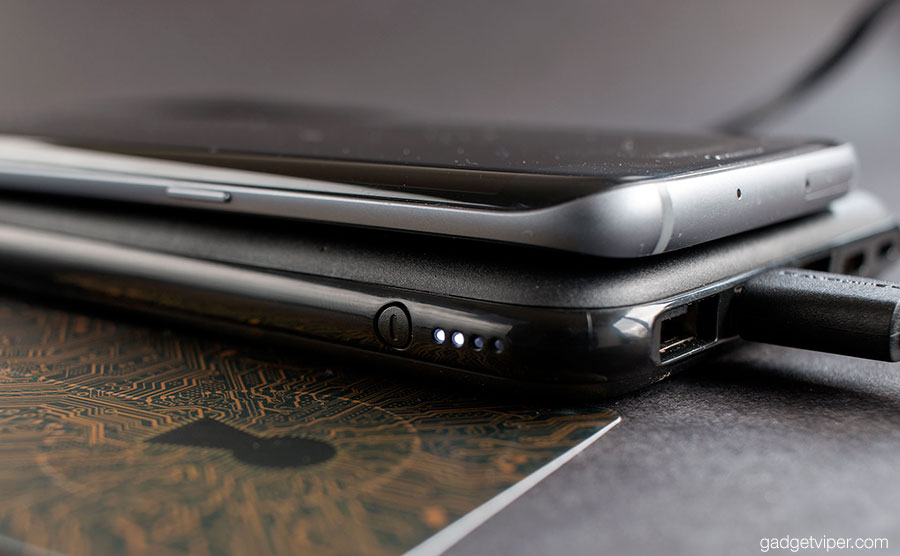 There is a button on the right side that will display the battery status when pressed. Usually, most battery indicators will stay lit for around 3-5 seconds. Strangely, however, this one stays on for 30 seconds at a time.
Design and Build Quality
The PB-Y14 is without question the thinnest 20000mAh Power Bank I've had my hands on. At just 14mm (1/2 inch) it's almost as slim as my phone. This ultra-thin profile does have an effect on its length and width. For those looking to slip a power bank into the side pocket of a laptop bag, this shape could be ideal.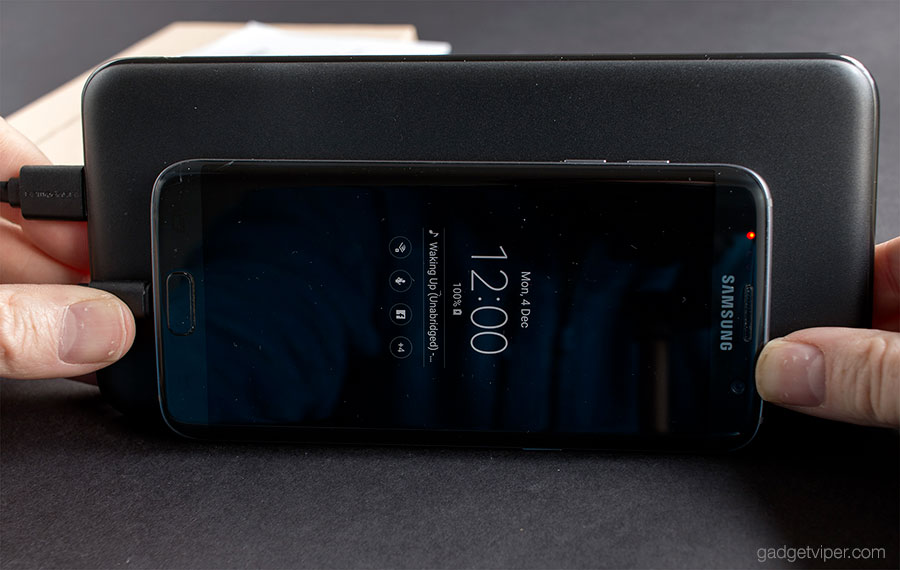 Measuring 200 x 96 mm (7.8  x 3.8 Inches) it does make my Galaxy S7 Edge look kind of small. That being said, this thing is a beast when it comes to its charging capacity.
Specifications
| | | | | | |
| --- | --- | --- | --- | --- | --- |
| 20000mAh | Micro USB, Lightning, Type-C | USB (3) Type-C | 10 Hours | 200 x 96 mm (7.8  x 3.8 Inches) | 435g (13.5oz) |
Performance.
To test the efficiency of the Aukey PB-Y14 Power Bank, I've been using it to charge my S7 Edge. It managed to fully charge is 4.6 times. This gives it an impressive efficiency rate of 85%. I've tested multiple 20000mAh Power Banks and this one is most definitely up there with the best. If you're an iPhone8 user, then you're likely to get over 6 full charges.
Its 3A output via the Type-C port makes this power bank suitable for larger devices like the MacBook Pro and the Nintendo Switch, as well as Type-C compatible smartphones like the Pixel 2 and Galaxy Note8.
Verdict
For those looking for a super thin high capacity power bank, the Aukey PB-Y14 is a great choice. It's got a good build quality, high-efficiency rate and multiple charging options including a Type-C port. The only thing it's missing in my eyes is Qualcomm Quick Charge technology. This is only useful for Smartphones with Snapdragon chips, so Apple users are no worse off without it.
Where to Buy?
Price updated – 25th of November 2018 at 10:30 GMT
*Product prices and availability are accurate as of the date/time indicated and are subject to change.
I hope you found this review useful, if you did, please leave a comment below or share it socially – Thanks!