DBPower N6 Action Camera
It's not often that you'll find a budget 4K action camera with a touchscreen interface. Navigating the settings on most entry-level sports cameras can be a frustrating and tedious task.
Whereas the DBPower N6 is packed full of features, all of which are easy to access with a simple swipe of a finger – read more.
Highlights
4K Ultra HD Resolution (2880×2160 24 FPS)
20mp camera (5120×3840)
170° wide angle lens
Touchscreen controls
Motion detection and anti-shake
Comes with 2 x 1200mAh batteries
30m waterproof housing
Supports 64gb Micro SD cards
Pros and Cons
+
Good value for money, very user-friendly touchscreen controls, lots of features and accessories.
–
Semi-loose port cover and a sub-standard Smartphone app.
Where to Buy?
Price updated – 6th October 2017 at 10:30 GMT
*Product prices and availability are accurate as of the date/time indicated and are subject to change.
If you found the video review helpful, please consider joining the community by subscribing to our
YouTube Channel.
DBPower N6 Action Camera – Full Review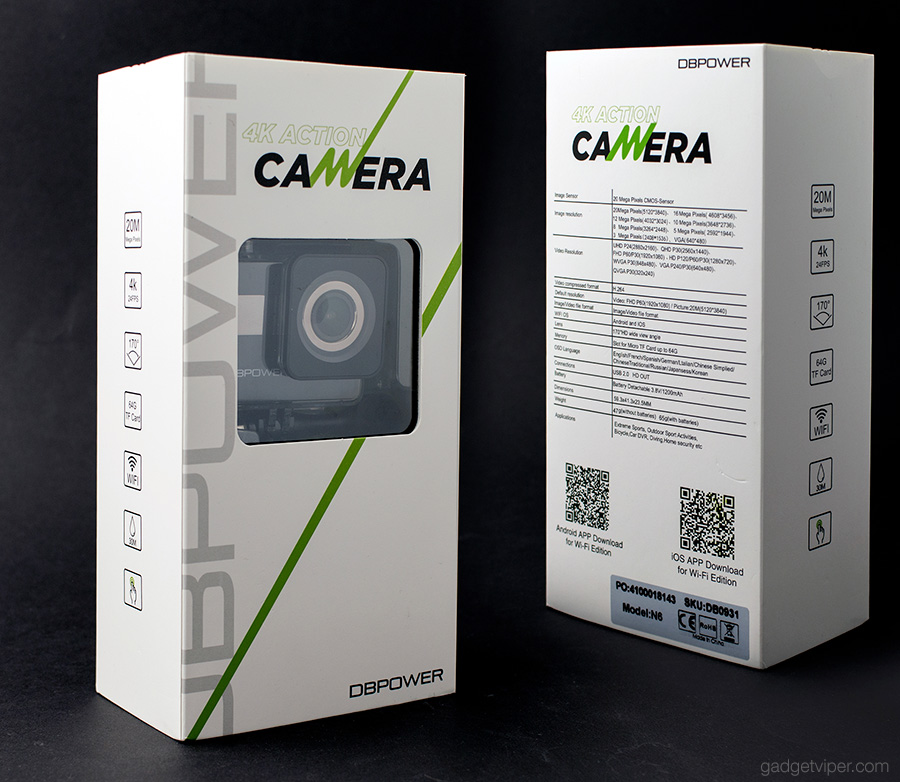 The N6 comes well presented in a good quality retail box. Inside, the DBPower action camera is safely contained in its underwater housing. Included with the unit, there's a dozen universal adapter and mounts, along with two 1200mAh batteries, a USB cable and user manual.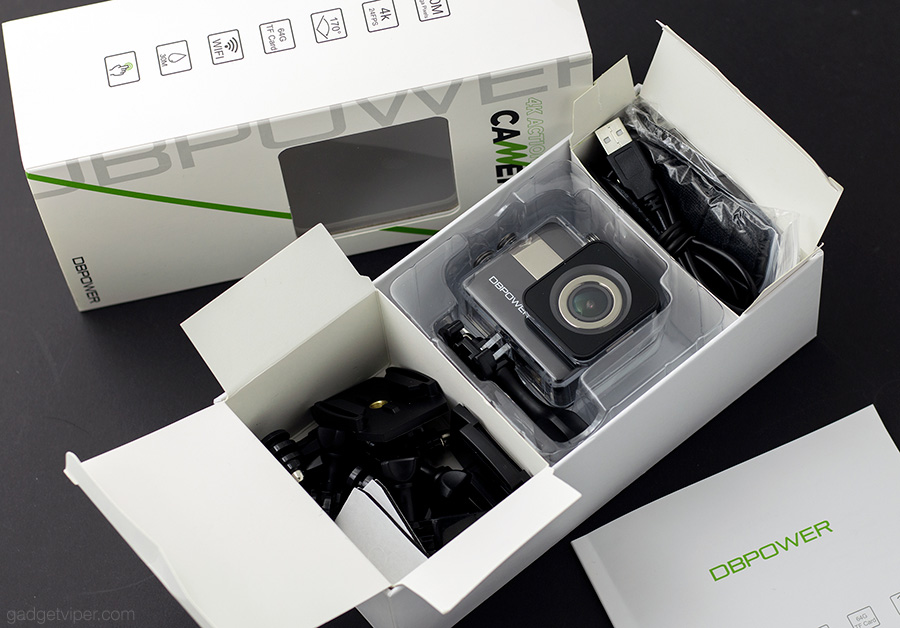 Design and Build Quality
Although the DBPower N6 has the typical box shape of most other action cams, it does feature a few nice design elements to help it stand out from the crowd. Its matte black surface and rounded sides make it comfortable to hold when outside of the waterproof housing.
Most affordable action cameras require an additional holder to provide a fixing point for a tripod, it's nice to finally see one that's integrated directly into the unit. The N6 is the fifth budget sports camera I've tested over the last couple of years. All the others were powered by 1050mAh lithium batteries. This one takes a 1200mAh sized battery which provides an additional 20% battery life.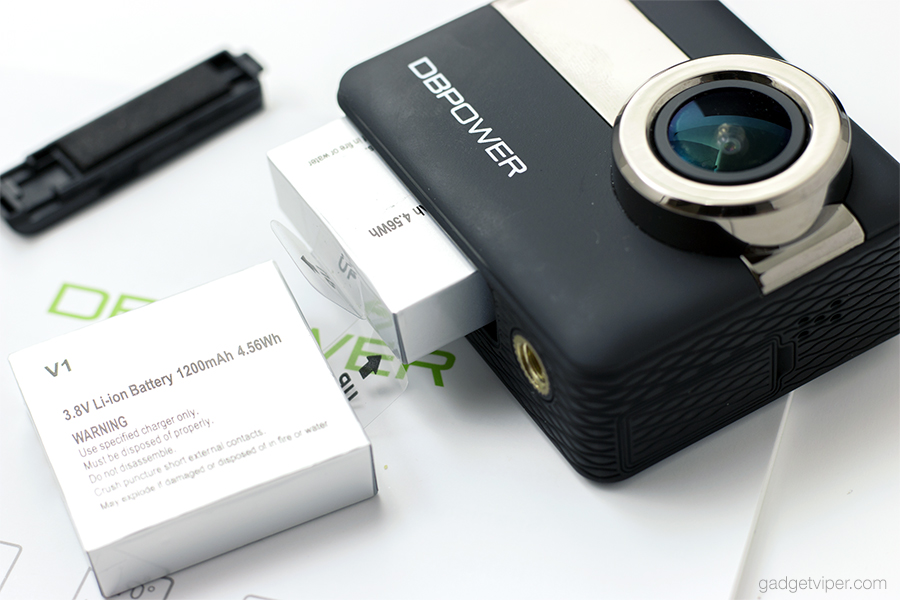 The one design element that I don't like is the cover on the side that protects the ports and the Micro SD slot. It's way too loose in my opinion and I can see it getting lost in no time at all.
The Touchscreen Display
On the rear is a large 2.3 inch LCD touchscreen. On the left side are arrows to cycle through the settings or you can swipe the screen and press the menu icons directly.
As well as the main settings, there's also individual sub-menus for each mode (video, photo and playback). You can see all the options by watching my the demo video here.
The interface is very easy to navigate and the touch controls are very responsive. All camera functions can be used via the touchscreen. There are, of course, manual buttons on the side and top for when it's being used inside the waterproof housing.

Specifications and Features
The DBPower N6 will record with a maximum resolution of 2880×2160 at 24 frames per second and take still shots up to 20mb. The framerate will increase all the way up to 240 frames per second at its lowest resolution.
| | | | | | |
| --- | --- | --- | --- | --- | --- |
| 1/2.3″ CMOS (Sony IMX078) | NT96660 | USB 2.0, HD-Out | 170° | 3.8V 12000mAh | Up to 64gb |
Additional functions
Motion Detection – With this setting turned on, the N6 will start recording when something moves in front of the camera and continue to record until the subject stops.
Timelapse – It will conveniently create a movie file from footage taken in increments of 1/10th of a second up to 5-second intervals.
Burst Mode – For still photos, the camera will take either 1,3,5 or 10 shots at a time
Loop Recording – If you'd like to make use of the camera as a dashcam, the N6 can be set to loop every 3,5 or 10 minutes.
WiFi mode – By holding the top button on the side, the DBPower N6 will switch to WiFi mode and work with a smartphone app called 'CamKing'.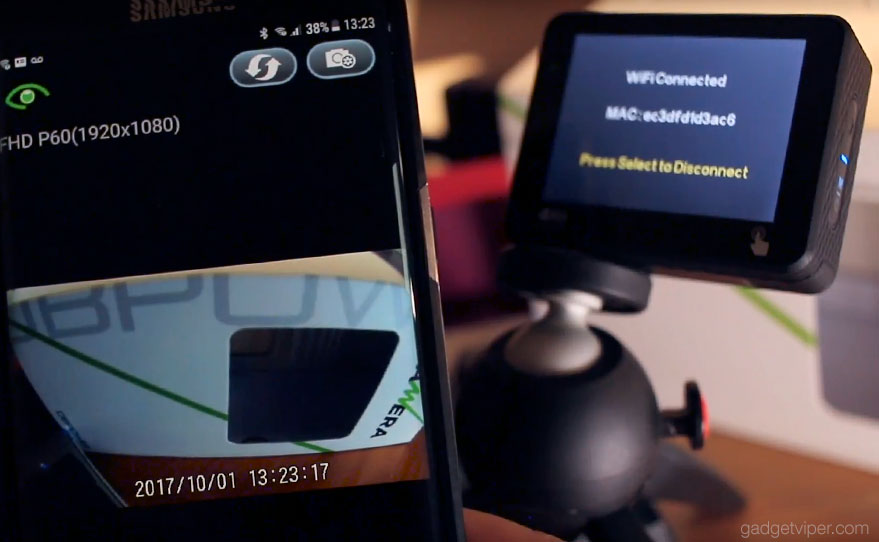 The smartphone app allows you to see live footage directly on your phone as well as playing back and transferring files. I've used it on my Samsung S7 Edge and while it works, it does need significant improvement in my opinion. You can see it in action here.
Picture and Sound Quality
The DBPower N6 has really impressed me with its picture quality, both the video footage and still shots appear sharp with a good dynamic range. The sound quality, on the other hand, is average at best. This is to be expected with most action cameras in this price bracket. For those looking for better audio, the N6 does offer the option of plugging in an external microphone. These are relatively cheap and will make a big difference.
Verdict
The DBPower N6 has impressed me in a number of areas, the build quality is good and the 4K footage is very respectable. The touchscreen is definitely the stand-out feature and makes the N6 far easier to use than most other action cameras in this price range.
With any luck, the CamKing WiFi app will get a much-needed update to improve both its stability and functionality. This is my opinion is the N6's weakest feature, but beyond that there is very little to complain about.
Price updated – 6th October 2017 at 10:30 GMT
*Product prices and availability are accurate as of the date/time indicated and are subject to change.
I hope you found this review useful, if you did, please leave a comment below or share it socially with friends – Thanks!