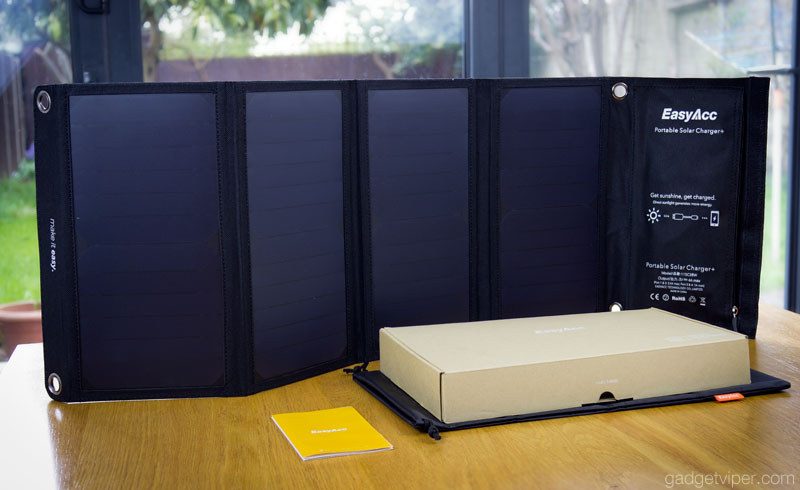 EasyAcc 28W portable solar charger
The 11SC28W EasyAcc portable solar panel adopts the latest SunPower panel technology. Tested to be over 23% efficient compared to 15% with regular solar panels.
Featuring 28W of power, 4 USB charging ports and a maximum output of 4A.
Contents
EasyAcc 11SC28W solar charger
2 x carabiner clips
1m of cordage
1 x USB charging cable
Weatherproof carry bag
User manual (English / German)
EasyAcc 28W solar charger

Amazon.com
price: Unavailable
Price information last updated on the 10th of January 2017 at 09:40 GMT
11SC28W EasyAcc portable solar charger – Full Review
The EasyAcc 11SC28W has four individual 7W solar panels that fold up neatly for storage. Measuring 280 x 160mm and about an inch thick when closed. Its size and shape makes it extremely easy to pack for outdoor trips.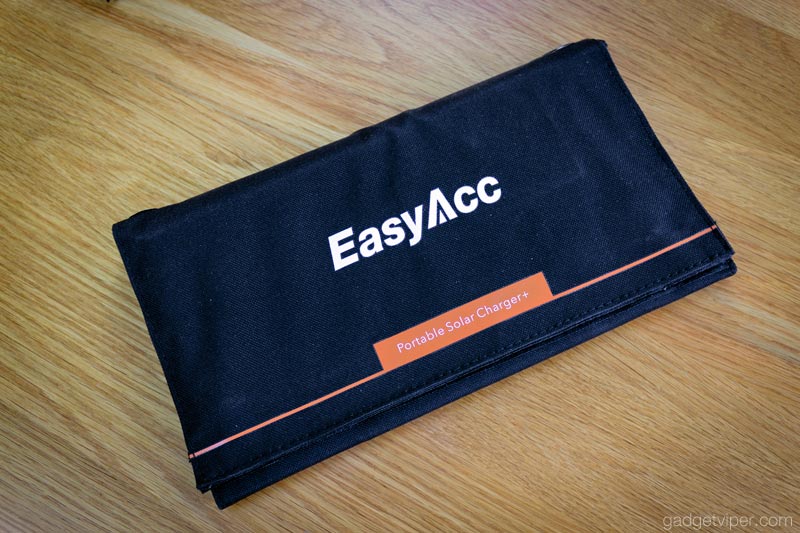 The EasyAcc 11SC28W is constructed from a thick canvas material which has a protective plastic inner surface.  The build quality is great, all the stitching is clean and the Velcro feels robust. There are four large eyelets riveted onto the body. These allow you to easily hang the device using the included carabiners or cordage.
I was particularly pleased by the amount of available space inside the storage pocket. It's big enough to comfortably fit a couple of smartphones or external power banks.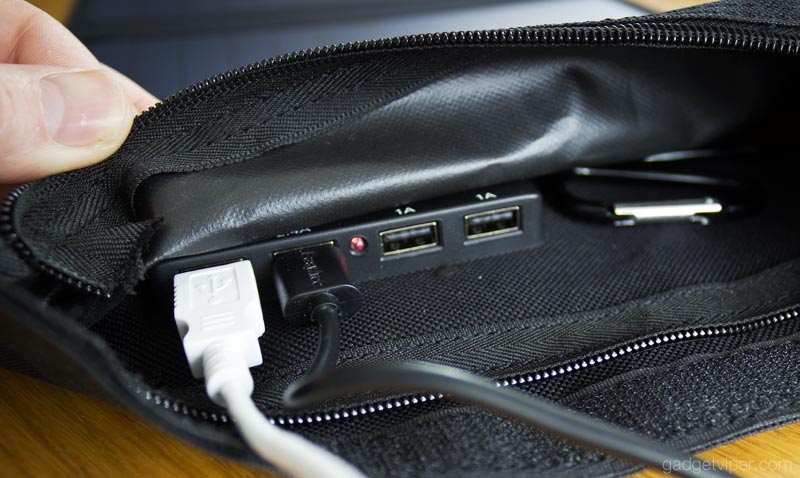 With a total maximum output of 4A, the EasyAcc 11SC28W could potentially charge 4 phones or two tablets simultaneously. This, of course, is subject to the intensity of the sun. Nevertheless,it's way more efficient than most other portable solar panels currently offer.
After testing this device over the last week I've been highly impressed with its performance, especially in low light conditions.
Full Specifications
Panel Type: 28W ( 4x 7W panels)
Energy Efficiency: 21.5%~23.5%
USB Ports: 4
Output: 5V / 4A max
Unfolded Size: 820× 160mm / 32.3× 6.3 in
Folded Size: 282× 160mm / 11.1× 6.3 in
Total Weight: 620g / 21.9 oz
As it's currently April and I'm based in the UK, the weather has been fairly poor for the purpose of testing its optimal performance. Other solar charging units I have tested in limited light have offered barely more than a trickle charge. In contrast, I was able to successfully charge my phone and an external power bank at the same time. I'll have to wait for the summer months to know its full potential. If I'm able to charge my iPad and phone together I will be more than satisfied.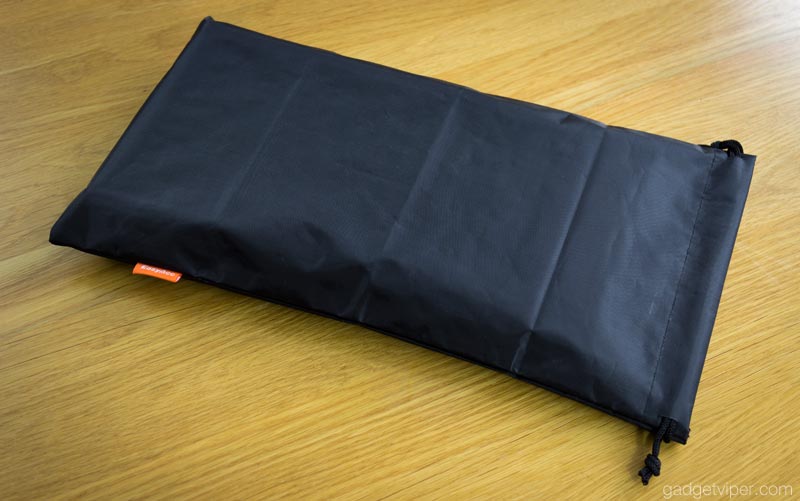 The EasyAcc 11SC28W portable solar charger comes with a good quality weatherproof carry bag, ideal for backpacking. It's foldable design offers the best performance with the smallest footprint when packed. I can highly recommend this device to anyone looking for an effective and sustainable off-grid charging method – Weather permitting or course.

EasyAcc 28W solar charger

Amazon.com
price: unavailable
Price information last updated on the 10th of January 2017 at 09:40 GMT
Here is a short video review of the product:
The EasyAcc portable solar charger is available to buy online at Amazon.com.