Aukey 4K Action Camera
The AC-LC2 Action Camera from Aukey is a super affordable low-cost 4K sports camera.
Despite its budget price tag, this camera comes bundled with countless accessories and is just as versatile as most high-end devices, especially when used via WiFi using the SmartPhone app.
Highlights
4K Ultra HD (25fps) /1080p (60fps)
12mp Stills, Burst Shot and Timelapse

Waterproof housing to 30m depth
WiFi control with Smartphone app
2.4ghz Wrist Remote Control
Countless Mounts and 2 Batteries inc.
24 Month Warranty
Pros and Cons
+
Very good value for money, easy to use, WiFi works really well, good battery life, 2-year warranty.
–
Audio is muffled when used in its protective case, the camera holder attachment is a little loose.
Where to Buy?
Price updated – 26th of July 2017 at 16:30 GMT
*Product prices and availability are accurate as of the date/time indicated and are subject to change.
There's a full video review coming soon on the Gadgetviper YouTube channel. Feel free to
subscribe here
.
This is not the first budget action camera I've reviewed and I'll be honest, I was a little apprehensive about what to expect. With low expectations, I unpacked the product, grabbed the user manual and began experimenting with its functions and settings. It didn't take long for the Aukey Action Camera to completely change my opinion. It's got some seriously cool features that I'm looking forward to sharing with you. But first, let's take a look in the box.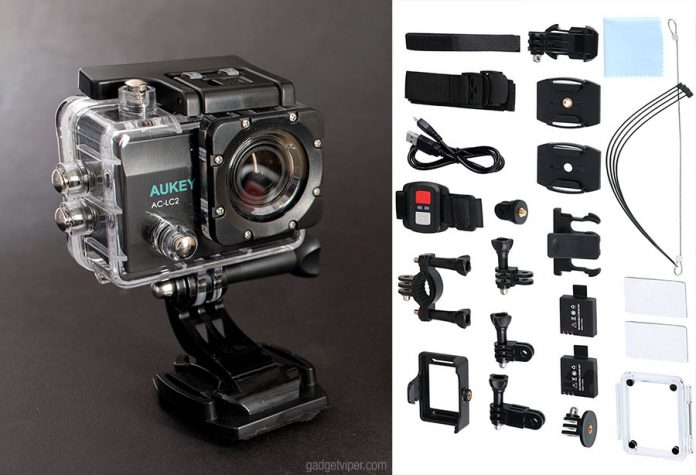 As you can probably tell from the picture above, the Aukey Action Camera comes with lots of mounting accessories. Most of them are pretty standard items you'd expect to find, although I was pleased to see a wrist remote and two batteries.
The range of adapters cater for most applications, there's a bike bracket, helmet mounts and various quick release clips. All of which will interface nicely with either the waterproof housing or the open face camera holder.
The camera holder was the only accessory that I had a problem with. For some reason, the Aukey Action Camera is a little loose inside it.
I was able to quickly remedy it with my trusty roll of duct tape. I cut some thin strands and applied them to the back edge of the holder to remove the clearance.
In comparison, the waterproof housing is perfect. The Aukey Action camera fits well inside. All of the buttons make good contact and are not overly difficult to press. The housing is good to a depth of 30m making it ideal for most casual diving.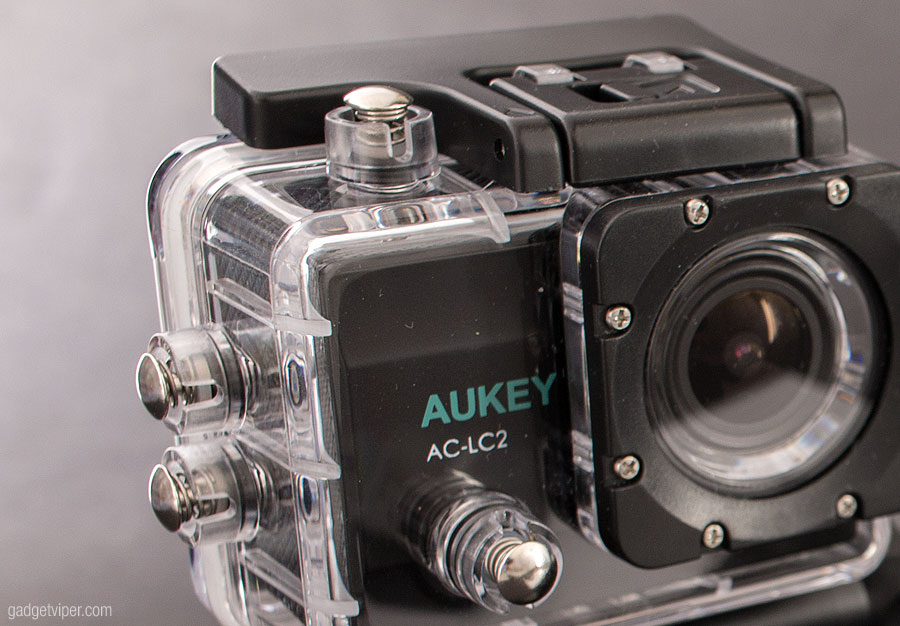 The housing comes with two interchangeable back sections. One is air tight while the other has vertical slits to allow the sound to reach the microphone. They look very similar, so if you do switch between the two, make sure you double check which one is attached before you use it underwater.
3
A look at the Aukey Action Camera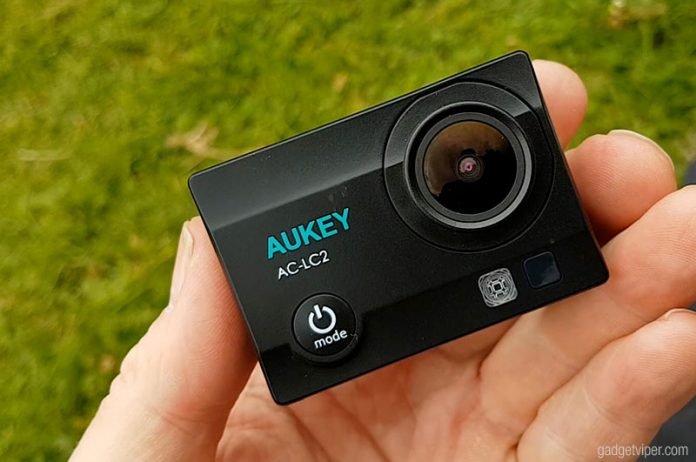 The Aukey AC-LC2 Measures just 59 x 41 x 25mm and weighs only 64 grams with the battery installed. There's a total of four buttons on the unit, one at the front, one on the top and two on its right side. On the left is a microSD slot, a micro USB charging port and a HDMI port.
There is a good quality 2″ LCD display screen on the rear. It's bright enough to see in good daylight and also provides information on the current mode, battery level and the remaining record time.
I found the user interface very easy to navigate and was surprised at a number of options available in the tools menu.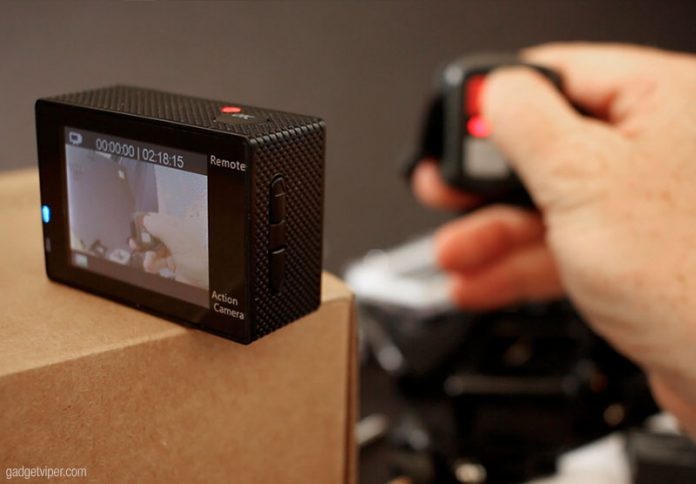 The Aukey Action Camera comes with a wrist remote with two buttons, one starts and stops the recording and the other takes still shots. It works flawlessly via a 2.4Ghz connection and requires no setup or pairing to establish a connection.
Additionally to the wrist remote, the AC-LC2 also has a WiFi mode that allows you to manage the camera via the iSmart DV app directly from your phone. It's compatible with both Android and Apple iOS.
I really cannot rave enough about this feature, it works ridiculously well. With it switched to WiFi mode, you'll see 'AUKEY- AC-LC2' as an available connection on your phone.
Once connected, you can see a live view while recording, take photos, playback footage, manage files and even download them directly to your phone.
Video Mode
There are three ways to start and stop the video recording, either manually with the buttons on the camera, the wrist remote, or with the SmartPhone app. The Aukey Action camera shoots video in a standard H.264 format on to a MicroSD card. Just make sure the card is no bigger than 32gigs and a class 10 if you intend to shoot in 4K.
Supported formats
| | | | | | |
| --- | --- | --- | --- | --- | --- |
| 25 fps | 30 fps | 60 fps | 30 fps | 60 fps | 120 fps |
Photo Modes
The Aukey Action Camera will take still photos in four different resolutions, the largest being 12 mega pixels (4000x3000dpi). It will also take burst shots as well as time lapses. In the tools menu, you can quickly choose the delay between shots. The options are 2,3,5,10,30 or 60 second intervals. The AC-LC2 will begin when you click the top button and continue until you press it again.
Using the AC-LC2 as PC Webcam
When the Aukey AC-LC2 is connected to a PC or laptop, it can either be used to transfer files, or as a webcam. You can toggle between the two options by pressing the OK button on the top of the camera.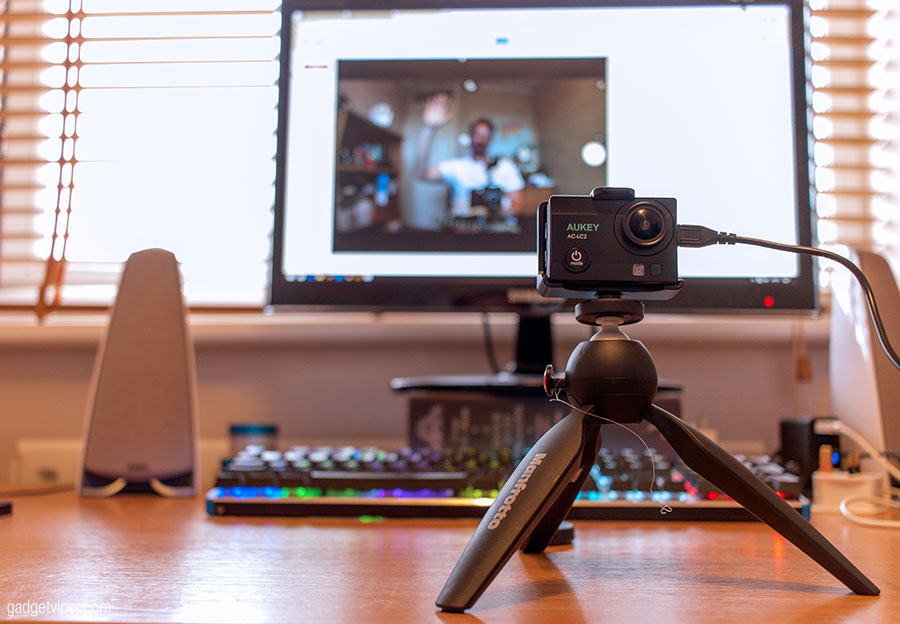 It actually works surprisingly well, but just remember that it's got a 170° Wide Angle Fisheye Lens, so you might look a little distorted if the camera is too close to your face.
5
Footage of the Aukey Action Camera
I do have a full video review of this device on its way, but for now here is the unedited footage I took for the review. The first part of the footage (with the dog) is shot with the Aukey Action Camera outside of the waterproof housing. The footage on the skateboard and in the playground is with it inside the housing using the slotted rear panel.
I had the camera set on 1080p at 60fps because the rest of my review from my Canon DSLR will also be at that resolution. If you'd like me to upload some footage in 4K, just let me know in the comments below.
The AC-LC2 Aukey Action Camera has left me seriously impressed. It's versatile and packed full of features. I particularly like the WiFi functionality which makes it very easy to transfer and share footage to mobile devices. At its current retail price, it's an absolute bargain and with its extended two-year warranty, you really can't go wrong with this product.
Price updated – 26th of July 2017 at 16:30 GMT
*Product prices and availability are accurate as of the date/time indicated and are subject to change.
I hope you found this review useful, if you did, please leave me a comment or share it socially – Thanks!