MUVO 2c Bluetooth Speaker
Looking for a tiny lightweight portable speaker with a big sound? – Then you've got to check out the MUVO 2c.
A linkable Water Resistant Bluetooth speaker that can now be controlled with the new Sound Blaster Connect SmartPhone app.
Highlights
Linkable – Use 2 for a left and right speaker
IP66 Water and Dust Resistant
Bluetooth 4.2, MicroSD, Aux, USB play modes
Passive rear bass radiator for a rich sound
Works with the Sound Blaster Connect App
6 Hours Battery Life
Available in a large range of colours
Pros and Cons
+
Rich bass for its size, weighs only 159g (5.6oz), linkable for a stereo sound, Works with Sound Blaster Connect Smartphone app
–
No lanyard included, may need a firmware update to make use of the app (
see demo here
)
Where to Buy?
Price updated – 14th of August 2017 at 16.50 GMT
*Product prices and availability are accurate as of the date/time indicated and are subject to change.
Want more volume and a bigger battery? Check out our review of the 
MUVO 2 
(the MUVO 2c's bigger brother)
Creative MUVO 2c – Full Review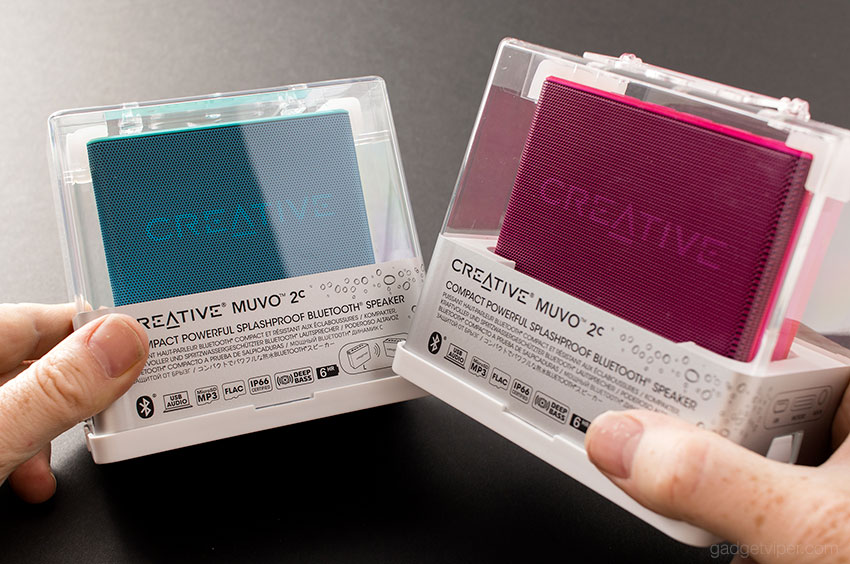 The MUVO 2c Bluetooth speaker comes inside a clear display case with the accessories neatly tucked in the base. It comes with a Micro USB charging cable and a wad of paperwork. You'll find the manual amongst them somewhere.  Thankfully, it's straight to the point and concise enough to use just from looking at the pictures.
Design and Build Quality
Now, before I begin describing the design of the speaker, I must first acknowledge the awesome new colours. There's eight in total, and with the exception of the black unit, every option is vibrant and bursting with colour. I've got the turquoise and pink version and they both look good enough to lick.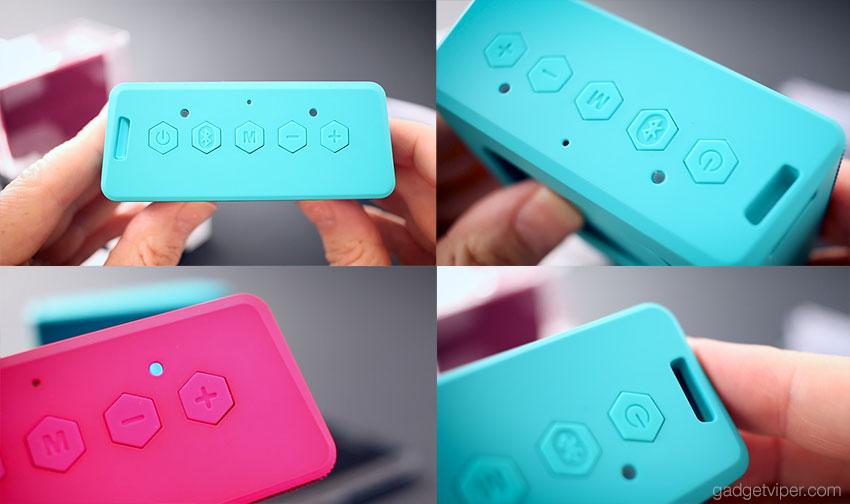 Its surface looks a lot like rubber, but it's actually solid. The matte finish is absolutely ideal for a portable device. No fingerprints or smears to worry about, and it appears to be very resistant to scratches.
The MUVO 2c has a trapezoid shape with thick chamfered details and rounded edges. The buttons sit flush with the body of the speaker and feel very tactile when pressed. The top also features two LED indicator lights and a small microphone opening for hands-free calls.
This rear radiator is far more than just a visual detail. At high volume, there is considerable movement and a notable low-end richness that you certainly wouldn't expect to find on a speaker of this size.

On the side of the MUVO 2c is a large rubber panel that protects the ports from water and dust. I'm sure the nail biters of the world (a filthy habit) may complain that it's fiddly to open and close.
I've reviewed plenty of IP-rated portable speakers and I rarely have much faith with the port covers. This one is the best I've seen.
I have absolutely no complaints regarding the build quality or the design of the MUVO2c. If I were to give it a numeric rating, it would be 10 out of 10 without question.
MUVO 2c Play Modes
Creative has a history of squeezing huge amounts of features into their devices. The MUVO 2c has a total of four play modes, five if you include its ability to link with another unit.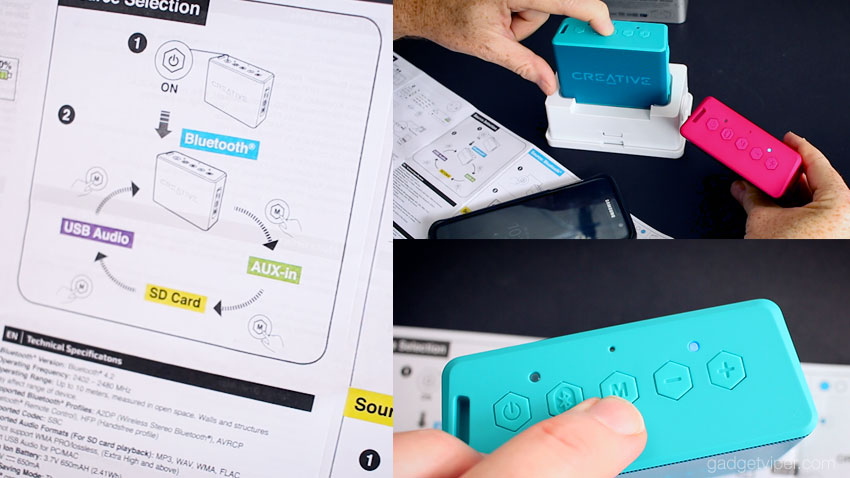 Bluetooth – The default play mode, identified by a dark blue light. The MUVO 2c will pair via Bluetooth version 4.2 with a reliable connection good to a distance of 10m.
AUX-in – There's a 3.5mm input on the speaker for a wired connection. AUX mode is selected by pressing the 'M' button until the turns green.
SD-Card – The MUVO 2c will accept a MicroSD card up to 128gb in size. Unlike most portable speakers, it can skip through albums by holding the 'M' and the +/- button.
USB Audio – With it connected to a PC or Laptop via the Micro USB cable, the MUVO 2c will act as a regular system speaker when switched to USB mode (purple)
Linking the MUVO 2c
If you've got two speakers, simply hold the Mode button down for three seconds to activate the link mode. The MUVO 2c will seek a nearby speaker and connect with it to provide a left and right stereo sound. Once paired, one of the speakers will then be in Bluetooth mode ready to connect to a SmartPhone. They both share volume control and when you power down the primary speaker, the other one will also turn off.
Checking the Battery Level
It also features a battery saver mode that will automatically power down the speaker after 10 minutes of inactivity.
MUVO 2c Sound Quality
Considering its tiny proportions, the MUVO 2c does an absolutely amazing job of producing a good bass level. It holds together well at high volume and the rear passive radiator adds a richness that you'd typically not find on a palm-size unit. The highs are clear and present and the mids are ok, but not quite as impressive as the highs and lows. Overall, the audio is solid, especially when it's linked with a second speaker.
Using it with the Sound Blaster Connect app
Creative has recently launched a smartphone app called Sound Blaster Connect. If you've had your MUVO 2c for a while, you might have a tough time getting it to work. This is because you'll need to update your speaker's firmware to make it compatible. Updating the MUVO 2c's firmware is extremely easy, I demonstrate it on my YouTube video if you'd like to see how.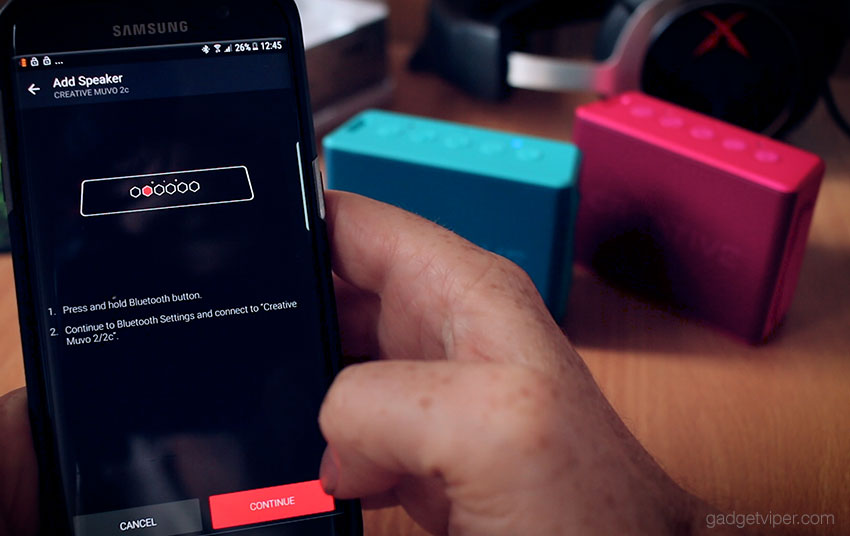 The app allows you to toggle between play modes without having to press the 'M' button directly. It also allows you to switch between speakers and displays a battery status icon on your phone.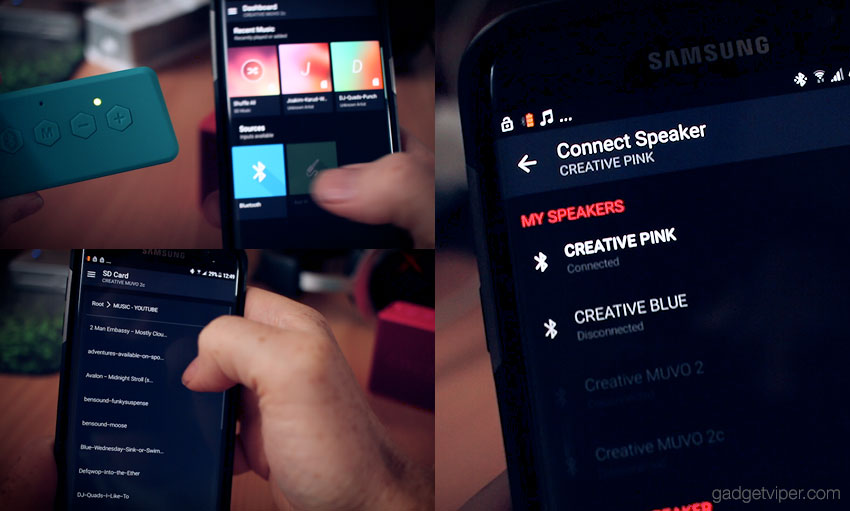 What I think makes the Sound Blaster Connect app so damn useful is the ability to explore the MicroSD card and select tracks. While it's possible to manually skip through albums and songs, it's very tedious, especially if you have dozens of albums. With the app, the MicroSD card finally becomes a feature worth making use of.
Creative – If you're reading this, you must  update the app to include an option to create playlists from tracks on the MicroSD card!
Verdict
As a single unit, the MUVO 2c is an awesome portable speaker for its size. Pair it with a second speaker, and it's even better. Update the firmware and make use of the Sound Blaster connect Smartphone app and you have in my opinion the most versatile palm size speaker on the planet.
I tip my hat to Creative, the MUVO2c is an awesome device and I highly recommend you guys check it out for yourself.
Price updated – 14th of August 2017 at 16.50 GMT
*Product prices and availability are accurate as of the date/time indicated and are subject to change.
I hope you found this review useful, if you did, please share it socially and subscribe to the
YouTube channel
– Thanks!