EDIFIER W830BT Headphones
Looking for a good quality set of over-the-ear style Bluetooth headphones that don't have to be charged every other day?
Most high-end wireless headphones last around 20 hours, the Edifier W830BT's leave them in the dust with a whopping 95 hours of playtime.
Highlights and Features
Over-the-Ear style headphones
Amazing playtime and standby time
Swivel, pitch and fold for storage
Bluetooth V4.1 with aptX streaming
Multi-function handsfree calling
Optional AUX wired connection
Comes with premium quality carry case
Pros and Cons
+
Very comfortable, rich sound, huge playtime, foldable for compact storage, great value for money.
–
It's fairly easy to 'call the last dialled number' by mistake (see controls section)
Where to Buy
*Price updated on the 12th of July 2019 at 9.00 GMT
Price and availability are accurate as of the date/time indicated and are subject to change. Any price and availability information displayed on Amazon at the time of purchase will apply to the purchase of this product.
Intro / Battery Test
I'm a huge fan of wireless headphones, especially while working at my desk. Being tethered with a cable is a hassle I prefer to avoid. One obvious drawback of using Bluetooth headphones is the constant need to recharge them. In an ideal world, one charge should last a whole working week. With most of us trapped in the 9 to 5 rat race, that's around 40 hours. Very few Bluetooth headphones get anywhere near. For example, a set of Beats Studio3's will last just 12 hours and the Bose Quiet Comfort 35's will manage 20 hours.

When I first saw the Edifier W830BT headphones specifications, I assumed it was either a misprint or a huge overstatement. I just had to test it out of myself! With the volume consistently at around 60%, I painstakingly logged the total play time. I ended up with a whopping 86 hours, that's four times more than a set of Bose headphones!
Now that I've shared my total amazement over the battery life, I think it's time to actually get on with the review.
Edifier W830BT Headphones – Full Review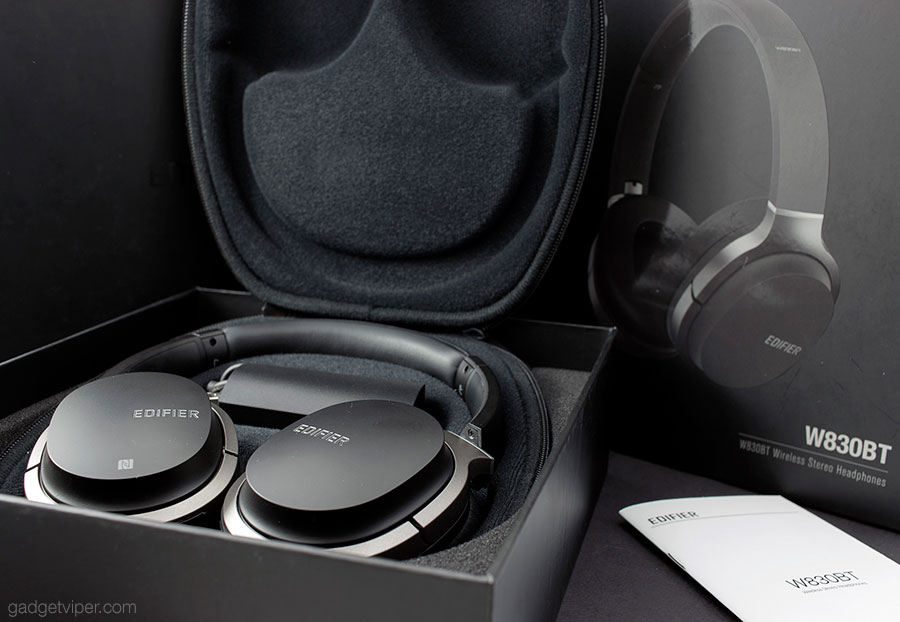 The W830BT 's come inside a top quality retail box. Along with the headphones, there's a user manual,  hard carry case, Micro USB charging cable and an auxiliary phono lead. The presentation is spot on, something rarely seen on headphones inside this price range.
Design and Build Quality
The Edifier W830BT's are made mostly of plastic with the exception of the steel band that runs underneath the head strap. Despite its plastic construction, there is no feeling of cheapness to the design. It's clean and minimal with a good combination of matte black and graphite grey colour tones.
I particularly like the concaved sides of the ear housing and how it transitions sharply to the outer face.
An offset silver 'EDIFIER' logo can be seen on the sides and the W830BT model number is visible on the strap. Both are just the right size so as not to overpower its minimalistic look.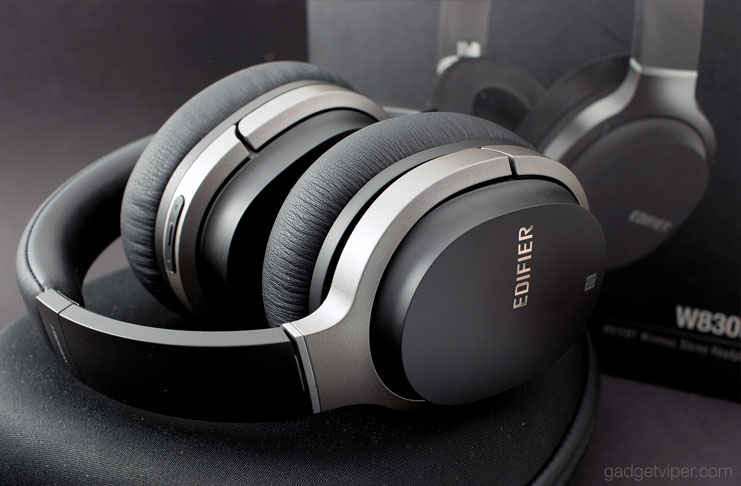 The Edifier W830BT headphones will swivel 90° for placing them in the slim carry case. Additionally, they are also hinged above the earcups. This allows them to be folded in on themselves for compact storage.
Comfort and Fit
I think just about everyone would agree that 'over-the-ear' style headphones are more comfortable than the 'on-the-ear' variety. These fit perfectly over my 'lugs' and the soft padding around the strap ensures an equal measure of comfort on top.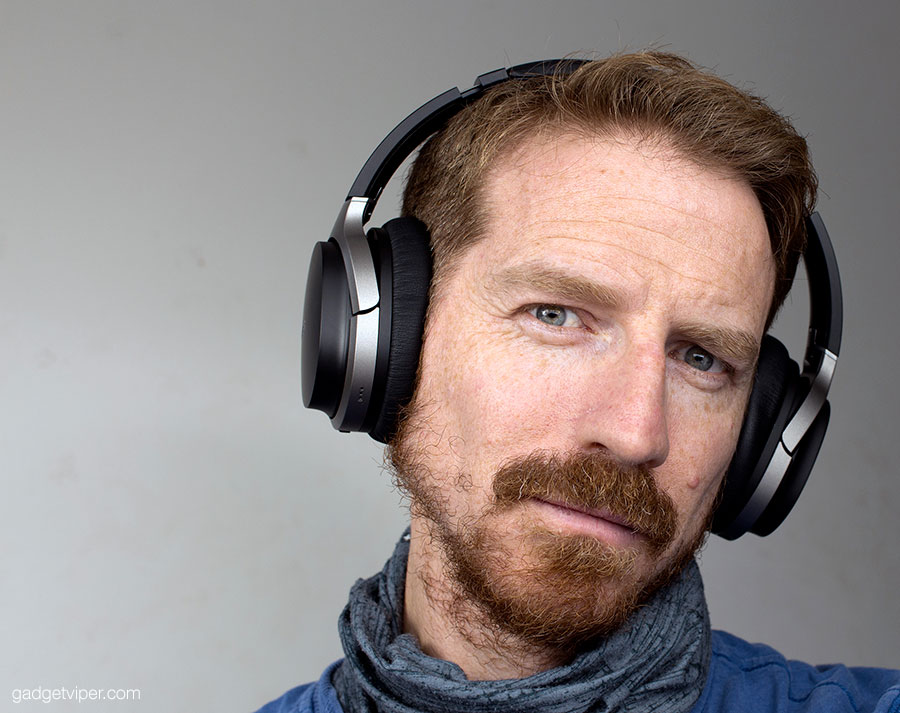 As well as a horizontal rotation, the Edifier W830BT's also tilt vertically to ensure an equal pressure. The cushioning is soft and thick and the strap tension is just right. I can even accommodate spectacles underneath the padding without any noticeable discomfort.
Specifications
| | | | | | | | |
| --- | --- | --- | --- | --- | --- | --- | --- |
| V4.1 + aptX | CSR8645 | 24Ω | 96db | 20Hz-20KHz | 4 Hours | 95 Hours | 1500 Hours |
Pairing and Bluetooth
These headphones come with NFC (Near Field Communication). If your phone or device is NFC compatible, then you simply have to tap the left earpiece to establish a connection. Alternatively, you can hold the power button for 5-seconds to place it into pairing mode, then select it from the list of available devices. Once paired, the Edifier W830BT will remember your device and automatically reconnect when powered on.
It's also capable of connecting to two devices simultaneously. This means you can have your phone paired whilst playing tracks from a separate device.
When the Edifier W830BT is disconnected from a device, it will seek to re-establish a connection for around 10 minutes. After that time it will automatically power off to save battery life.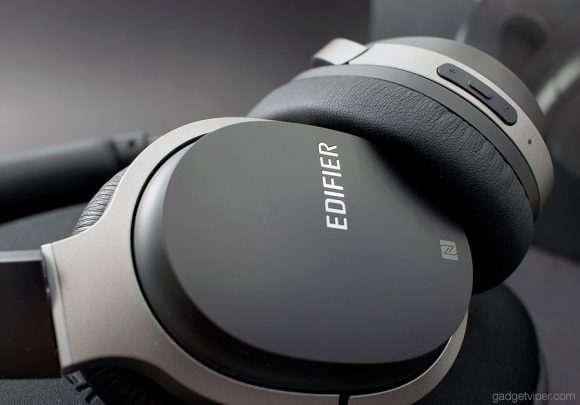 Controls and Functions
The Edifier W830BT has a singular control button on the underside of the right earpiece. It's positioned slightly to the rear in a place that's ideal to access with your thumb. The centre of this button has a raised surface which is easy to locate by touch alone.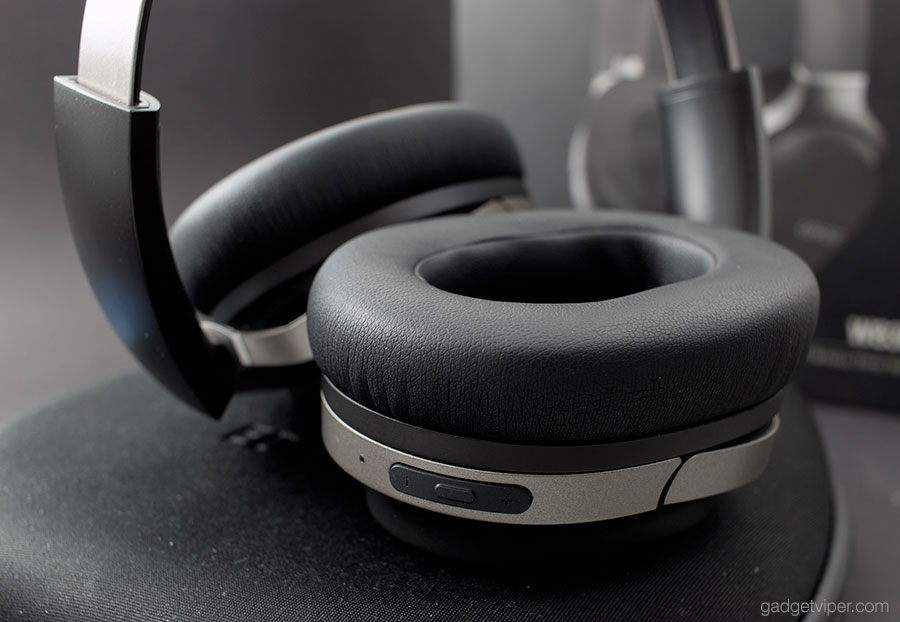 Holding this button down for 3 seconds will turn the headphones on and off. Once on, a quick press will play or pause music, a double press will activate voice commands and a 2-second press will call the last dialled number.  This means it's important to be sure you've held the button for a full 3-seconds to power it off, or you could end up calling someone by accident. I did it twice when I first starting using the headphones. However, once you learn to wait for the power-off audio tone before releasing the button, it's no longer an issue.
Pressing either side of the central area will provide volume control and track selection. A quick press adjusts the volume and a long press will switch tracks between tracks.
Sound Quality
I've spent the last week working my way through my favourite FLAC files. These include some tried and tested tracks by Nora Jones, Michael Jackson, Dire Straits, Queen and Radiohead to name but a few. It doesn't normally take quite as long to road test a set of headphones. However, as I was hell-bent on finding out just how many hours the Edifier W830BT's would last from a single charge, I had ample opportunity to listen to some old favourites.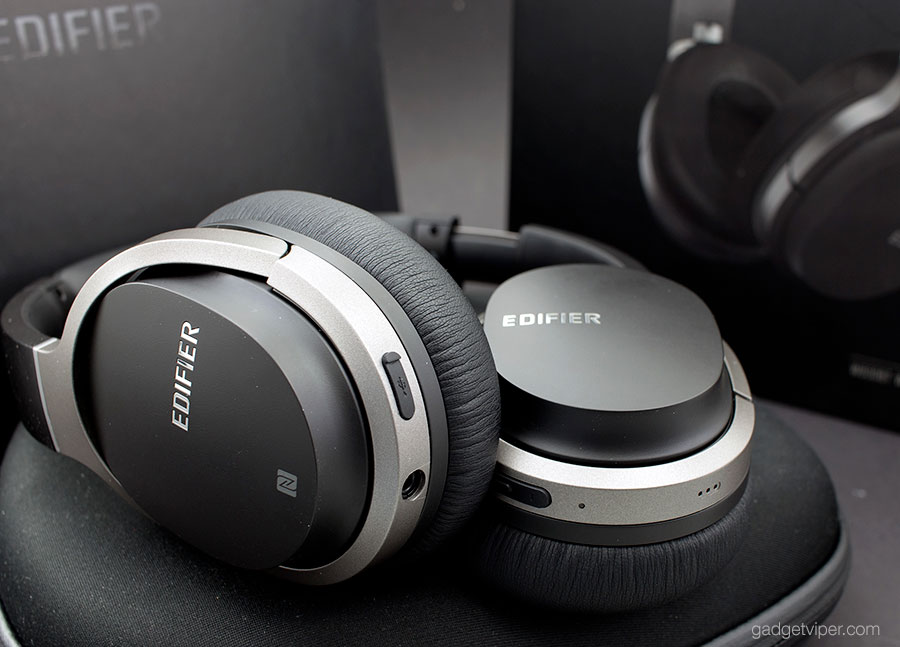 The W830BT's proved to be highly versatile and performed way above what you'd expect from a set of headphones in this price range. The 40mm drivers deliver a powerful well-balanced sound that's free of any distortion. The highs really sparkle, the vocals are clear and detailed and the bass feels just right for my taste. While I appreciate that everyone has their own preference, if you're like me and you enjoy a natural yet warm sound that's not blown out by excessive bass, then I'm sure you'll be happy with these.
The Qualcomm aptX Bluetooth codecs ensure there is practically no difference between the audio quality when switching between Wireless and an Auxiliary connection.
Verdict
Even if these Bluetooth headphones had a regular battery on par with most others, I'd still highly recommend them. They look and sound great, they're damn comfortable to wear and very reasonably priced. The fact they will last about 60 hours longer than most others is a giant cherry on top of an already delicious cake.
-If this review made you decide to grab a set for yourself, then please come back here and let me know what you think of them by leaving a comment below.
Where to Buy
*Price updated on the 12th of July 2019 at 9.00 GMT
Price and availability are accurate as of the date/time indicated and are subject to change. Any price and availability information displayed on Amazon at the time of purchase will apply to the purchase of this product.
I hope you found this review useful, if you did, please share it socially and don't forget to subscribe to our
YouTube channel
– Thanks!