Pros and Cons
+
Amazing sound quality with an impressive low-end frequency range, very good value for money.
–
Build quality doesn't quite compare to the sound quality, no auto-off or USB charging.
Where to Buy
DOSS Soundbox XL – Full Review
The unit arrived in packaging that did little to raise my expectations of quality. Likewise, when I unboxed the speaker, I was still in the mindset of preparing for a mediocre listening experience. – I was hugely mistaken. But, before we get to the juicy bit, let's take a look at the Soundbox XL's build quality, features and specifications.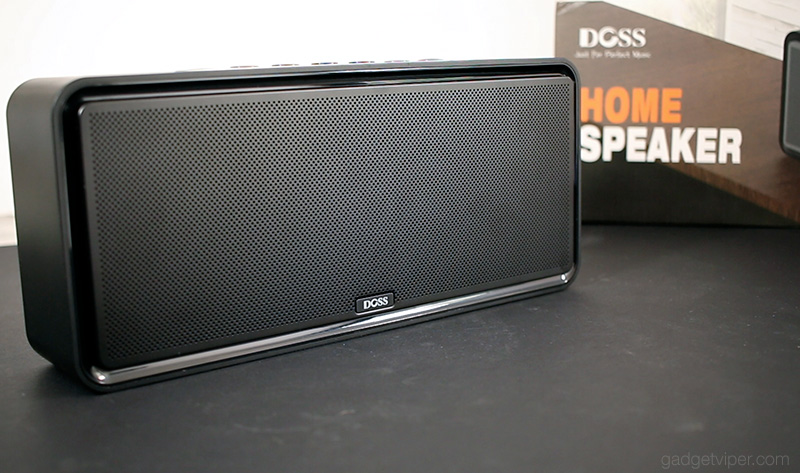 Design and Build Quality
The speaker was bigger than I had imagined. It stands around 5 inches tall and is just under 12 inches in width. It's also fairly hefty in weight at 3.5 lbs (1.5 kgs). Although weight does affect the portability of a speaker, it is often a sure sign of some meaty hardware inside.
The drivers are concealed by a large aluminium mesh over the front face. Hidden underneath are two main drivers, a subwoofer and two passive bass radiators. These appear to be identical to those found on a Sony SRSX77 (a substantially more expensive Bluetooth speaker.)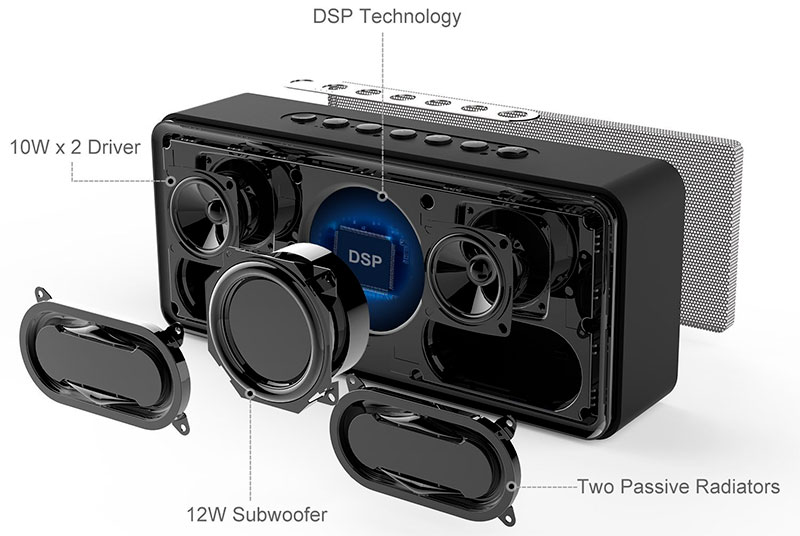 The main body of the speaker is made from plastic with the exception of a brushed metal surround around the buttons. There are seven in total, a power button, mode, volume control, track selection and a play/pause. – It's pleasing to see separate buttons for volume and track selection rather than the alternative of having to hold the button down to skip songs.
Soundbox XL Play Modes.
The 'M' button allows you to toggle through play modes. Each mode is indicated by a small LED light below the button. Blue for Bluetooth, red for auxiliary and white for MicroSD. The Soundbox XL will work with MicroSD cards up to 32GB and will play most audio formats. The slot and the 3.5mm auxiliary inputs are both located on the rear of the speaker alongside the power input port.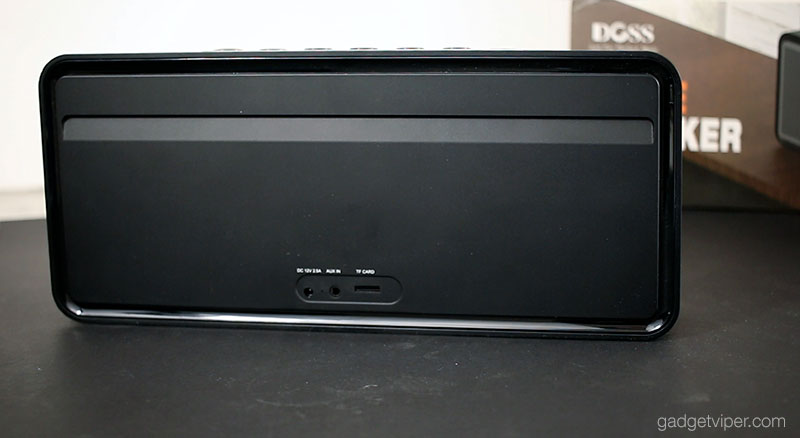 Charging, Pairing and Range.
The Soundbox XL comes with a 12V mains adapter with a 2.5A output. This means it will fully charge reasonably fast (around 2.5 hours). However, I'd have preferred the flexibility and convenience of micro USB charging instead.
Bluetooth pairing works well, it runs on V4.0+EDR and it establishes a connection and reconnects to stored devices very quickly. The Bluetooth range was also a big surprise, I was able to exceed 10m (33 feet) without any drops.
Battery Life
The user manual shows a battery life of 10 hours at 50% volume. I found it to be closer to 8.5 hours. At full volume, however, the playtime will fall to around 5.5 Hours
One feature that the DOSS Soundbox XL appears to be missing is auto-off. I'm notoriously bad at remembering to power off, so if this is also the case for you, unfortunately, the Soundbox XL will remain on until the battery dies or you realise your mistake.
DOSS Soundbox XL – Audio Quality
When I initially began listening to the Soundbox XL it was at a fairly low volume. Whilst I was pleasantly surprised by the tone and the clarity, I wasn't doubting my own ears. This soon changed as I turned the level higher… I'd say there is a sweet spot from around 50-75% volume where all the stars align and a portal of audio goodness opens up. The bass on this thing is glorious, its frequency range is huge.
Am I hearing this right?
Sometimes I watch a movie that moves me in some way and I instantly go online to read reviews to see if others had a similar experience. I did the same thing with this speaker and was pleased to see most shared my opinion. The Soundbox XL sounds awesome, it really does.
For those of you that would like to hear it for yourself or even A/B test it against other speakers, I highly recommend you visit this website. Just select the DOSS soundbox XL as 'speaker A' and then put a substantially more expensive and well-known device as 'speaker B'.
Click the image below to put it up against the Bose Soundlink III.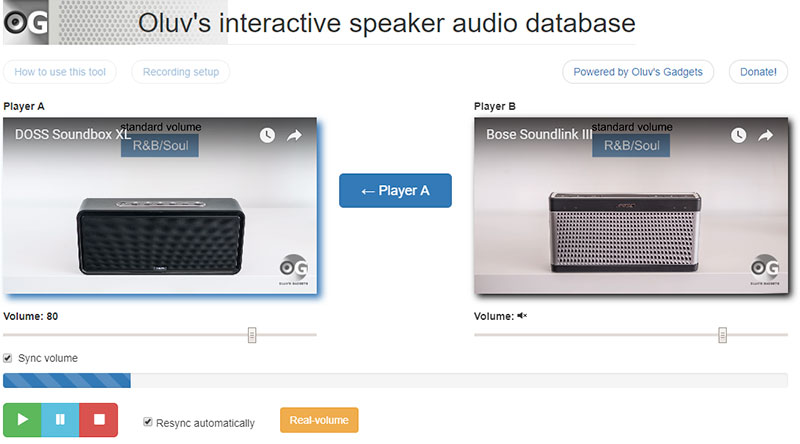 Verdict
The DOSS Soundbox XL may not be as pleasing to the eye as some other speakers, but it certainly is to the ears and the wallet. Its sound performance easily puts it on par with speakers four times as expensive. So, if you're looking for a budget portable speaker for under $100 that sounds like a $400 speaker, this is it.
I hope you found this review useful, if you did, please share it socially and if you enjoyed my YouTube video, please subscribe to the channel and join the community. – Thanks!