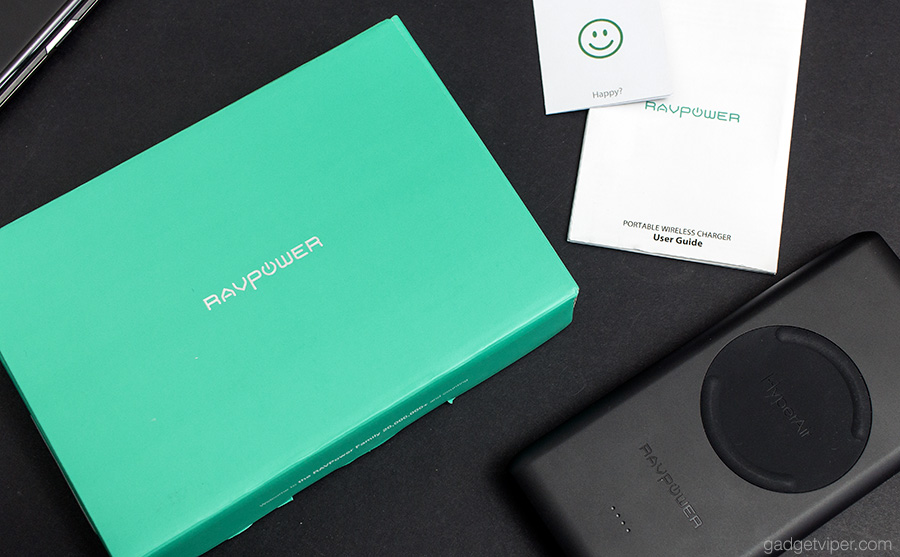 RavPower Wireless Portable Charger
Anyone who owns a portable charger will know how useful they can be around the home or outdoors – That's, of course, until the cable fails or goes missing. Thankfully, having to rely on a cable is no longer a problem. The RP-PB080 features a built-in HyperAir wireless fast charging pad.
Highlights and Features
10400mAH capacity Powerbank
7.5W wireless fast charging for iPhone X
10W fast charging for Samsung phones
5W wireless charging for standard Qi devices
USB port can be used while wireless charging
Comes with charging pouch for your phone
Pros and Cons
+
Great build quality, good accessories, extended warranty and support available from the Ravpower
website
–
Larger in size than a regular 10000mAh capacity powerbank without wireless charging. The USB output could have been a QC3.0 port.
Where to Buy
*Price updated on the 23rd of Nov 2018 at 16.00 GMT
Price and availability are accurate as of the date/time indicated and are subject to change. Any price and availability information displayed on Amazon at the time of purchase will apply to the purchase of this product.
Intro
Having reviewed and compared a large number of portable phone chargers from the top manufacturers in the industry, Ravpower is always the brand that leads the way with new portable charging technology. They were one of the first to introduce Qualcomm quick charge compatibility and deservedly hold three of the top spots on my list of the best high capacity powerbanks.  So, it's no surprise to see that RavPower are leading the way yet again by introducing fast wireless portable charging. – Let's take a closer look at the RP-PB080 shall we?
RavPower Portable Wireless Charger – Full Review
The RP-PB080 comes neatly packaged in a spearmint coloured box. Inside there's the 10400mAh powerbank, a user guide, warranty card, anti-tangle branded USB cable, and a carry pouch.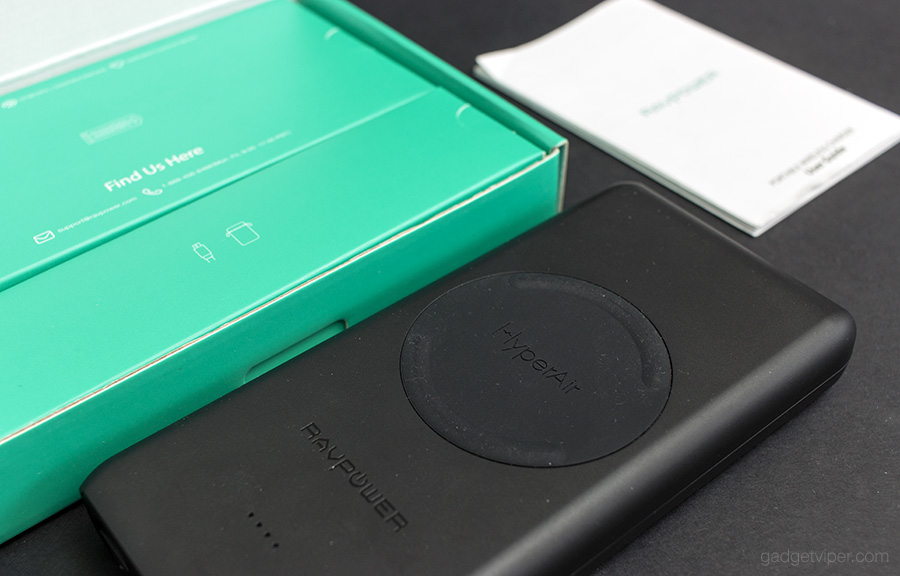 It's no surprise to see a carry pouch included. RavPower have always done this with their other powerbank models. This one, however, is even better than their usual offering. It's made from a soft grey felt-like material and features a close-fitting section for the powerbank and another for your phone. My Samsung Galaxy Edge (in its Spigen case) fits so perfectly in the front sleeve that it will actually start wirelessly charging and will continue to charge even when shifted around!
Check this out!
This was such an unexpected surprise and I'm not sure if this was RavPower's intention when making the pouch, but I'm stoked that I can consistently wireless charge my phone on the go.
The Design and Build Quality of the RP-PB080
The RavPower RP-PB080 measures 6.4 x 3.1 x 0.9 inches and weighs 10oz. It's made from a robust matte plastic housing with rounded sides. There is a single USB output on the base along with a micro USB input, and a button to check the battery status. When pressed, a series of blue led lights will display for around 10 seconds to indicate the remaining charge.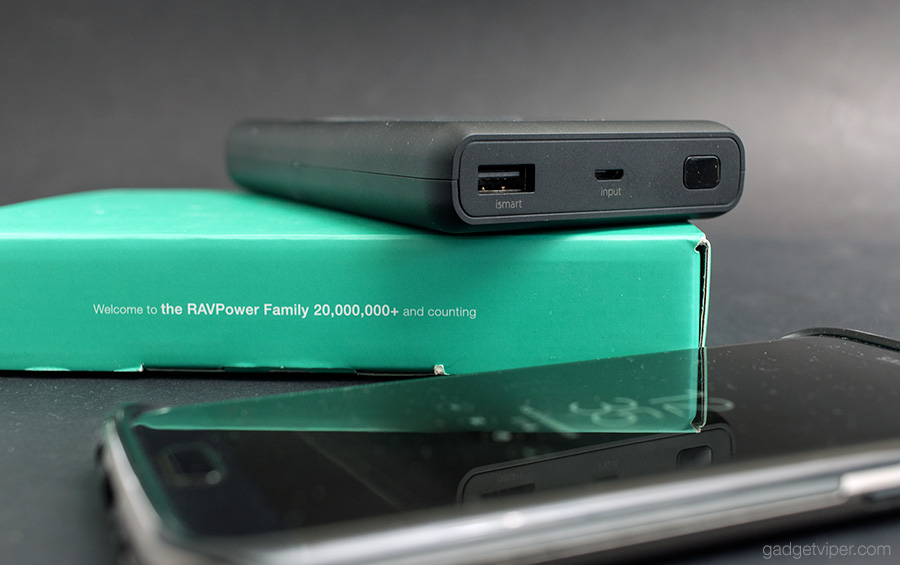 The Qi wireless charging pad is made from a grippy rubber material with embossed edges and is etched with 'HyperAir' – RavPower's latest wireless charging technology. Its build quality is top notch and I've struggled to find anything I don't like about its design.
The only thing I came up with is its size compared to other powerbanks in the 10000mAH capacity range. Its proportions are closer to that of a 200000mAh portable charger.
This could be an issue if size is the deciding factor. That said, as it's similar in width and length to most phones, it really isn't a problem.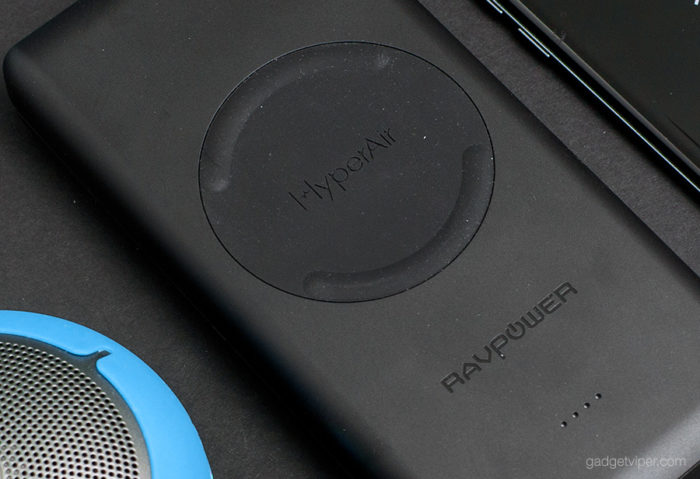 Features and Specifications
The RP-PB080 features RavPower's HyperAir and iSmart technology. HyperAir automatically detects and optimises the wireless charging and iSmart does the same for the USB output.
Once you've placed your phone on the wireless charging pad, a green light will appear on the side. This light will flash green while fast charging and turn solid once the charge is complete.  An iPhone-X will charge at 7.4W which is 50% faster than regular Qi chargers. Most modern Samsung phones should charge at the maximum speed of 10W.
| | | | | | |
| --- | --- | --- | --- | --- | --- |
| 10400mAh | Micro USB | 1X USB iSmart (max 2.4A) Qi Wireless (max 10W) | 6 Hours | 6.4 x 3.1 x 0.9 inches | 15.2 ounces |
Dual Charging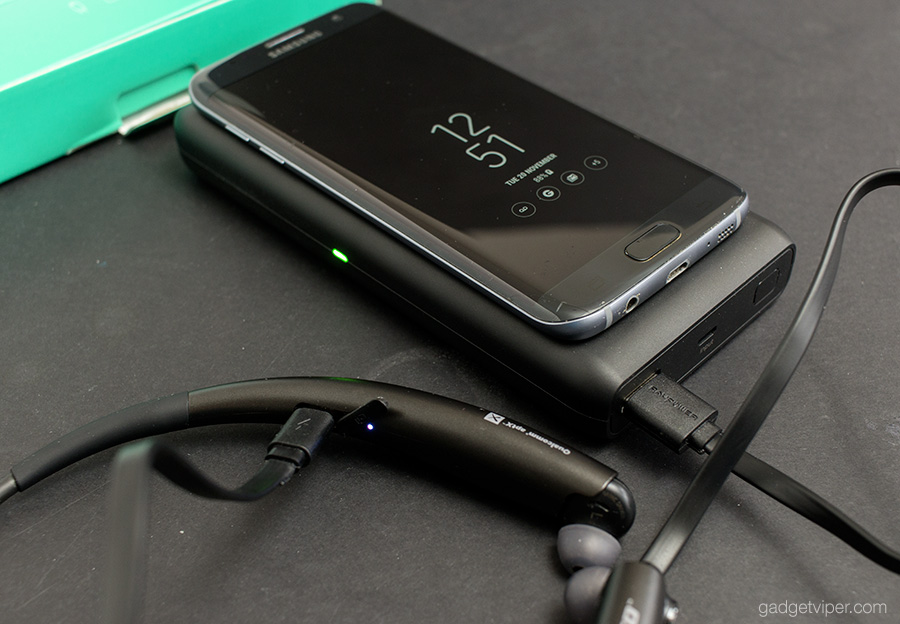 The USB iSmart port can be utilized during wireless charging. This allows you to charge an additional phone or portable device at the same time. While the iSmart port does a good job regarding charging speed, I'd have much preferred a QC3.0 compatible port instead.
Efficiency Rate
The efficiency of the RavPower RP-RP080 depends on which charging method used. A wired charge will offer the best efficiency and recharge speed.
| | | |
| --- | --- | --- |
| Wireless charging – 1.8 times, Wired -2.7 Charges | Wireless charging – 2.6 times, Wired -4 Charges | Wireless charging – 1.5 times, Wired – 2.4 Charges |
Verdict
I own countless powerbanks and wireless charging stations. This, however, is my very first Portable wireless charger.  Having a portable charger on hand that doesn't require a cable is a new luxury I'm already growing used to. A wireless charging utility on a powerbank does add some additional size and weight to the device, but I think it's a fair trade-off. USB charging cables never seem to last and always seem to go missing.
There are two things I'm sure won't exist in the distant future – Cables and toilet paper. RavPower's portable wireless charger is a small, yet welcome step towards my prediction coming true.
The RP-PB080 is well made, reasonably priced, and comes with an awesome carry pouch and charging cable. I highly recommend it to anyone with a phone compatible with wireless charging.
*Price updated on the 23rd of Nov 2018 at 16.00 GMT
Price and availability are accurate as of the date/time indicated and are subject to change. Any price and availability information displayed on Amazon at the time of purchase will apply to the purchase of this product.
I hope you found this review useful if you did, please share it socially or leave a comment below – Thanks!