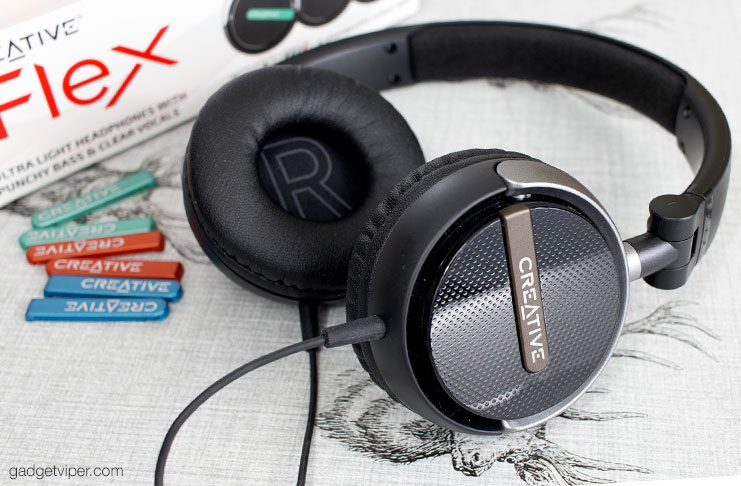 Creative Flex Headphones
Lightweight and affordable wired headphones that swivel and fold for easy storage.
Featuring interchangeable colour tabs to personalise the earcups and an impressively responsive audio quality for the low price point.
Highlights
Ultra-light headphones – Only 130g
Foldable arms for storage
Responsive 32mm Neodymium drivers

Tangle-resistant cable with playback control

Built-in mic for hands-free calls

Interchangeable colour earcup tabs.

Pros and Cons
+
Great sound quality for the price, compact, ultra-lightweight and easy to carry.
–
on-the-ear headphones can cause ear fatigue over time
Where to Buy?
Price updated – 15th of February 2017 at 14:30 GMT
*Product prices and availability are accurate as of the date/time indicated and are subject to change.
One of the most comfortable sets of on the ear style headphones I've tested.
Intro
It's been ages since I last reviewed a set of wired headphones. As much as I love Bluetooth technology, I must say it's been refreshing to avoid the hassle that goes with it. The Creative Flex headphones don't need to be powered on, paired, or charged to work. There really is no simpler way to enjoy music.
Creative Flex Headphones – Full Review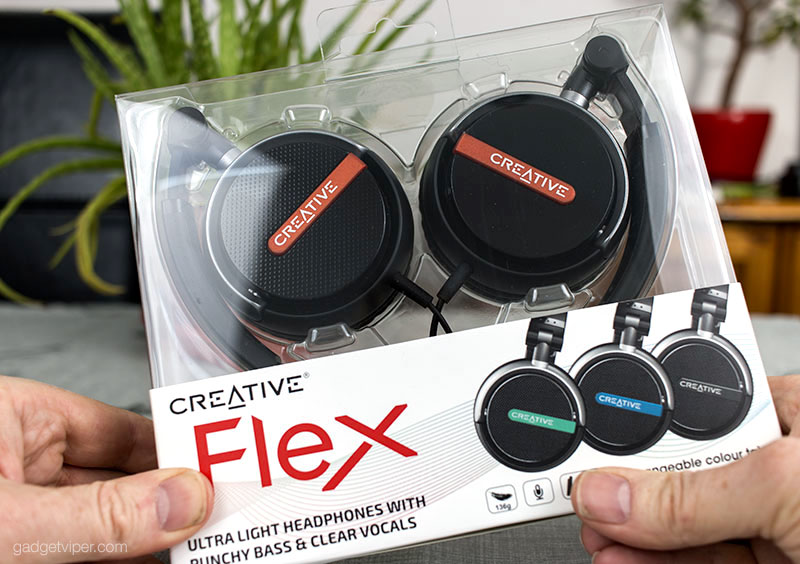 The Creative Flex headphones come well packaged inside a clear plastic retail box. There's also a bag of interchangeable coloured tabs for customisation. There are four colours to choose from – red, green, blue and grey.

The headphones are designed specifically to be lightweight. They are made entirely of plastic with the exception of the drivers and the odd retaining screw. If rock solid durability is important to you, I'd hesitate to suggest these would fit the bill.
I've flexed and twisted them further than most would dare. They have held up well, but I do feel a little uneasy simply because they are so damn light! At only 136 grams (4.8oz) these are just about the lightest set of headphones I've reviewed.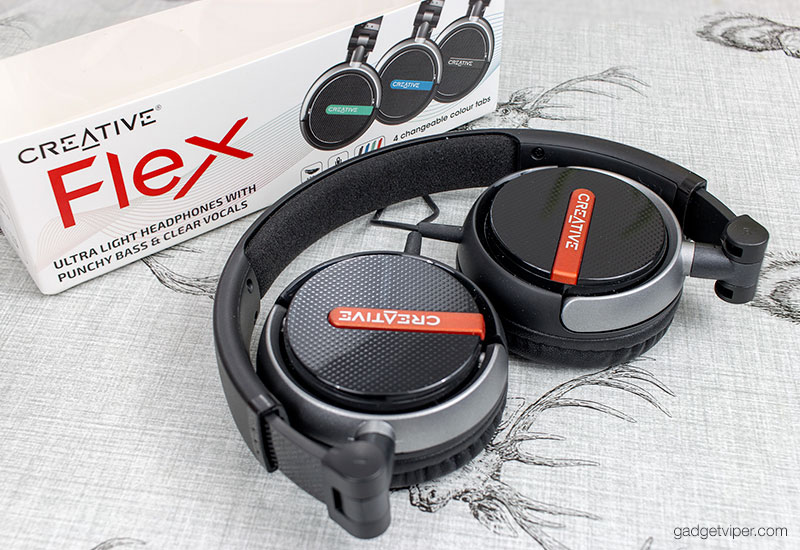 The weight seems to have a very positive effect on my level of comfort. I typically struggle with on the ear headphones, but having such little weight clearly reduces the forces that would normally cause discomfort over time.
The strap has a generous amount of adjustment, making them suitable for the largest of heads.
During the photography of the product, I had my seven-year-old photobombing me and being a general pest. I ended up letting him try them on and was surprised at how well they fit his head with the strap fully closed.
While I'm not suggesting these headphones are best suited to kids, it's certainly an option. Joshua has been wearing them on and off for the last few days while playing on his tablet. I have to admit, not having to listen to Goaty MMO has been worth the cost.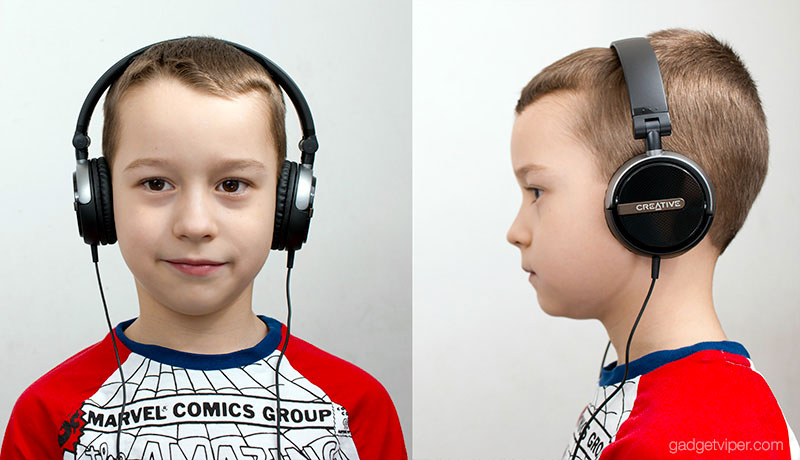 The headphones feature a long (1.2m) anti-tangle wire with a soft rubber surface. On the left side is a unit with a built-in microphone for handsfree calls and a single button for playback control.
Sound Performance
Creative describe the Flex as having a dynamic sound with punchy bass and clear, natural vocals. I couldn't agree more. The balance is just to my liking, not too heavy on bass, but still rich enough to emphasise a beat on dance tracks, without overpowering the mids and highs.
Vocals sound great and there's plenty of detail throughout. I'm pretty sure you could blind test these with a set of headphones 3 or 4 times as expensive and struggle to pick a winner.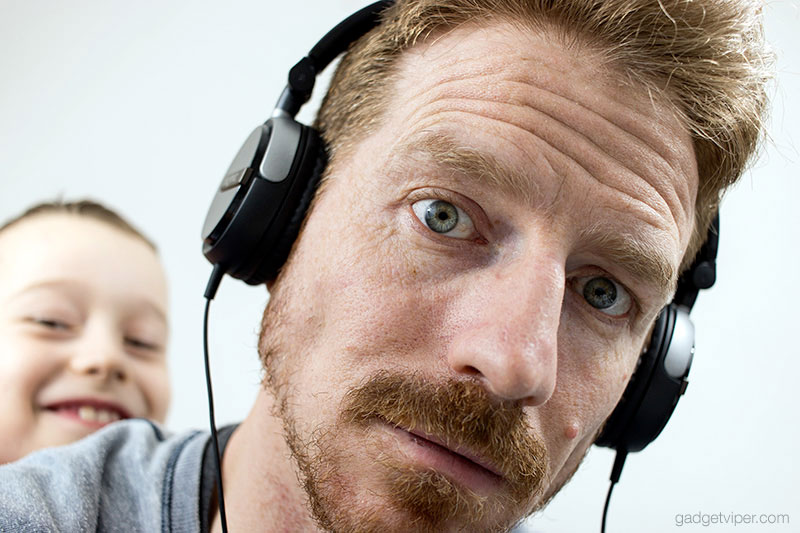 Creative Flex Headphones – Verdict
If you're looking for an affordable and lightweight set of on-the-ear headphones that fold down for storage, these will be perfect for you. The audio performance is impressive and the microphone works well for hands-free calls. Creative always release products of a high quality and even though these are reasonably cheap to buy, the quality is still evident.
Price updated – 15th of February 2017 at 14:30 GMT
*Product prices and availability are accurate as of the date/time indicated and are subject to change.
If you found this Flex headphone review useful, please share it socially or leave a comment below – Thanks!