Pros and Cons
+
Easy to use, boils water, can be powered by mains adapter or from a car, rechargeable from a power bank.
–
Slow to boil from the battery 10-12 minutes, limited to three full boils per charge when using cold water.
Where to Buy
Intro
If you've read or watched any of my other portable espresso machine reviews you'll know how much of a passion I have for drinking coffee outdoors. All of the devices I've previously reviewed have one thing in common, they all require hot water to be added. Luckily, I have a pretty good cook kit and my own little homemade stove to boil the water. However, on some occasions, it's impractical to boil water in a pot with an open flame. This would normally rule out any chance of enjoying a good coffee.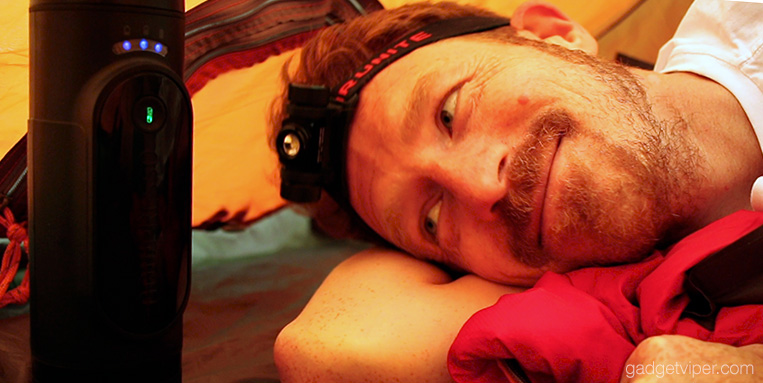 The NowPresso solves this problem by taking care of the boiling process. Now you can make a coffee from practically anywhere. – I can't tell you how excited I was to make my first espresso from a tent while still zipped up inside my sleeping bag!
NowPresso – Full Review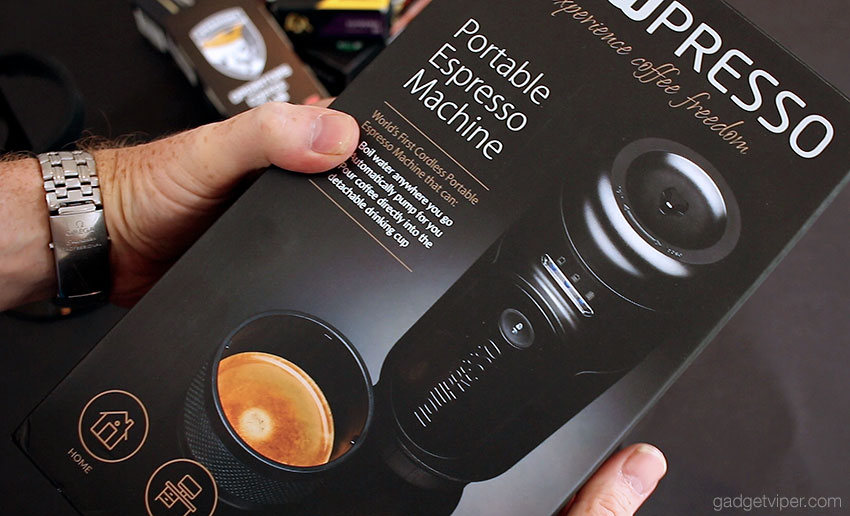 The NowPresso is well packaged inside a quality retail box. Along with the unit, you'll find a power adapter, a 12V car charger, quick start guide, 12-month warranty card and a good quality user manual.
The Build Quality and Design
The Nowpresso consists of three main components. You have the main body, an air vented lid on top, and a capsule cup on the bottom. There's also a drinking cup that fits to the underside. Despite being made from plastic, there is some weight to the device (880g). This may deter some lightweight hikers, but keep in mind that you'll be saving space and weight by not needing any additional kit to boil your water.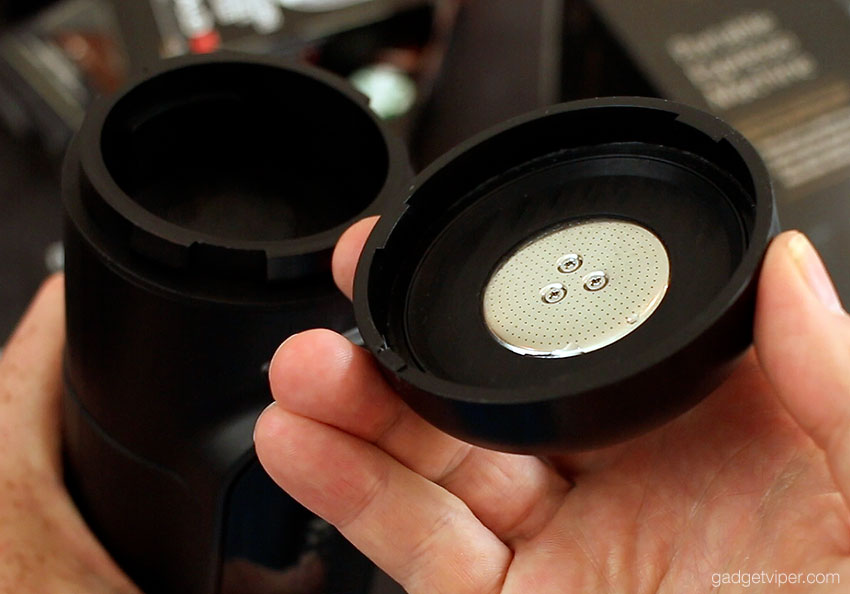 The vented top unscrews with a short twist to access the water cavity. This holds a maximum of 50ml and has a very easy to see capacity level. Its large opening makes it a doddle to clean and there's a fine mesh over the inlet to ensure nothing gets drawn into the pump system.
The main body looks really good. The front features a battery status strip which lights to indicate the remaining charge. You can check the battery with a short press of the button underneath. This button will also start the boil with a two-second press or skip directly to an extraction by holding it for five seconds.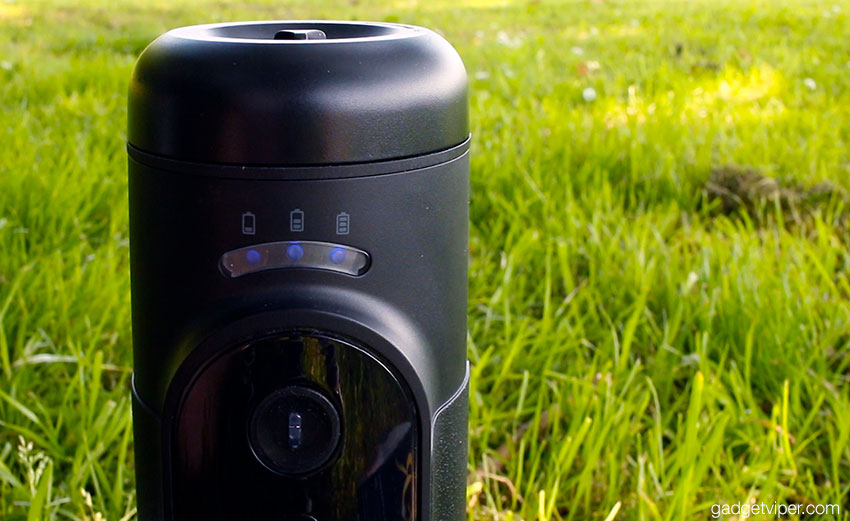 The button features a white pulsing light while the NowPresso is working, which will eventually turn green once the coffee extraction is complete. There are also audio queues (beeps) to identify its current mode. A single beep indicates the boiling process has begun, two beeps indicate the extraction and there're four beeps once it's finished.
Around the rear are two input ports. There's a 12V input for the mains adapter or in-car charger and a type-C USB charging port. There's also a locking cover to access to the lithium battery.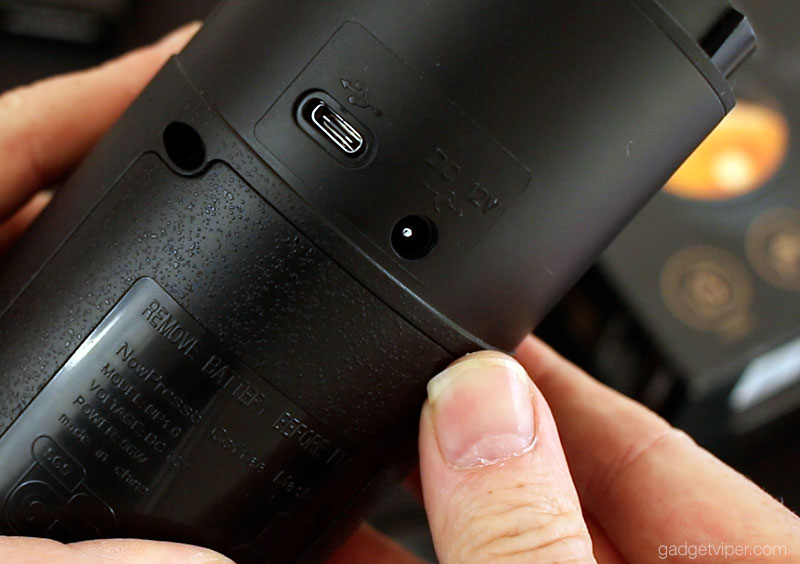 The Vacuum sealed capsule cup on the underside feels robust and weighty. It's removed with a slight twist to reveal the Nespresso capsule piercing blades. These blades, in my opinion, could do with being a fraction longer and sharper. It seems to struggle to penetrate some of the thicker plastic capsules. Keep this in mind when selecting which Nespresso pods to buy. Aluminium capsules and those with foil on the ends seem to work best.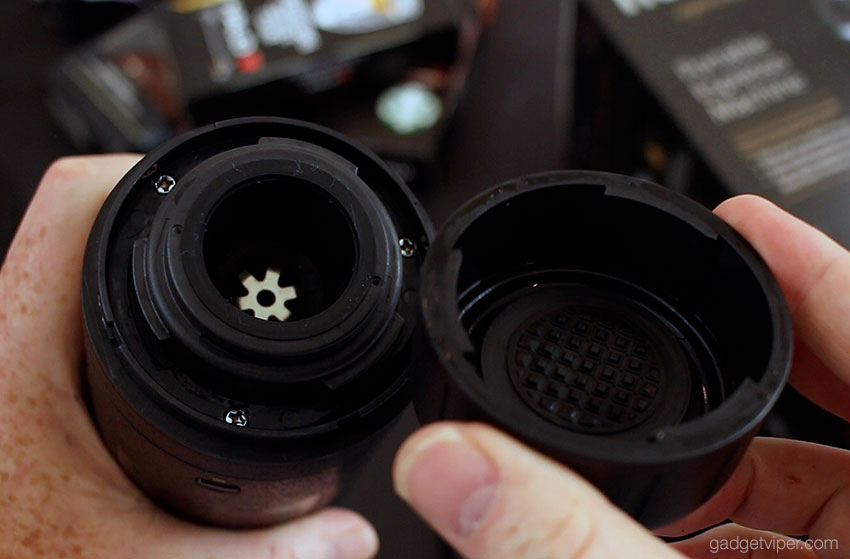 Using the NowPresso for the first time
All the loose components can be put in a dishwasher or cleaned with soap and water. The main body of the Nowpresso must only be wiped with a damp cloth when necessary. Once the battery is fully charged and the components are all clean, the final step is to pump hot water through the unit a few times. You do this by adding boiling water to the tank, then pressing the button for 5 seconds to bypass the heating phase.
Nowpresso Performance and Features.
The user manual suggests the boil time should be between 8-10 minutes. I've found it to be more like 10-12 minutes. Those times may seem slow in comparison to a traditional kettle, but considering the Nowpresso is achieving this off of a Lithium battery, I think it's pretty decent. The energy required to boil water, however, is substantial. This means you'll only get three full boils and extractions per battery charge. If you're directly adding boiling water and bypassing the heating phase, then you'll get over 100 coffee extractions.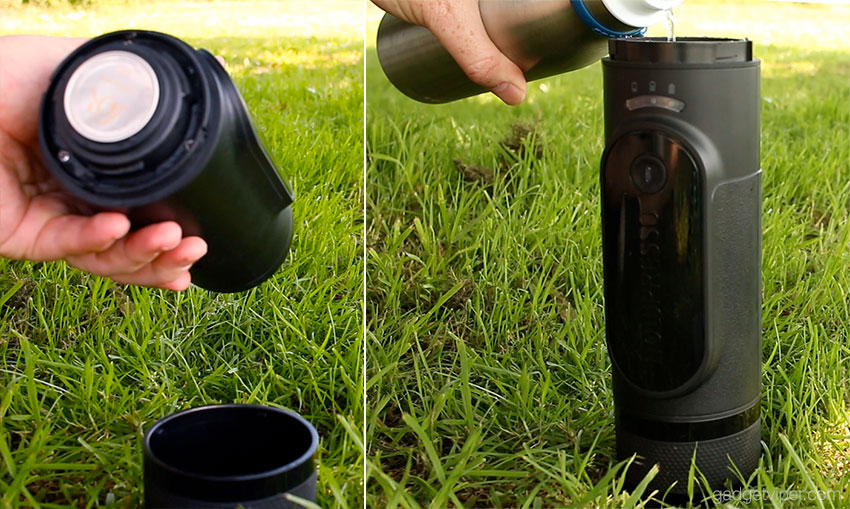 If you'd like to get more than three boils out, then I suggest taking a Thermos flask along on your trip. – If you've watched my YouTube demo of the NowPresso, you'll see that's exactly what I did. – It reduced the boil time down to just over 3 minutes and I almost tripled the battery life!
How does the coffee taste?
Well, as always it's largely dependant on the capsule you're using. The NowPresso outputs a pressure of up to 15 bar with an infusion pressure of around 8-12 bar. This results in a good quality crema and a nice flavour. I did find that the drink was a little under temperature when extracting directly into the plastic cup. This can be overcome easily enough by pre-warming the cup using the hot water from the thermos flask (if you've brought one along). When using the NowPresso indoors, I highly recommend switching out the plastic cup for a double walled espresso glass.
A big thank you to the guys at the Operators Coffee Club for sending a review unit.

If you'd like the chance to win your own portable espresso machine then don't forget to subscribe to our YouTube channel for an upcoming giveaway!
As with all portable espresso machines, you'll need to experiment with your method to find what works best for you. Once you have, you should be more than happy with the results.
Getting the most out of the Nowpresso
The Nowpresso definitely offers the easiest method for getting a quality Nespresso coffee outdoors. If, however, you're anything like me, then you'll want to be grinding your own coffee beans from time to time. No pod is ever going to taste better than a fresh grind of your favourite beans. For this, you'll need to buy a product called a SealPod. It's basically a stainless steel reusable basket that's exactly the same shape as a regular Nespresso capsule. – I have one on order so I'll update this review shortly to let you know how well it works.
Verdict
The NowPresso has proved to be an awesome addition to my collection of portable espresso machines. While it's certainly not the smallest, lightest or the cheapest option I have, it's by far the easiest. For that reason, I have no doubt I'll be making good use of it in the future. This will, of course, give me a chance to test its durability over time. – I'll be sure to update this review to let you guy know how it's performing. In the meantime, if you have any questions about the product, feel free to leave a comment below.
Where to Buy