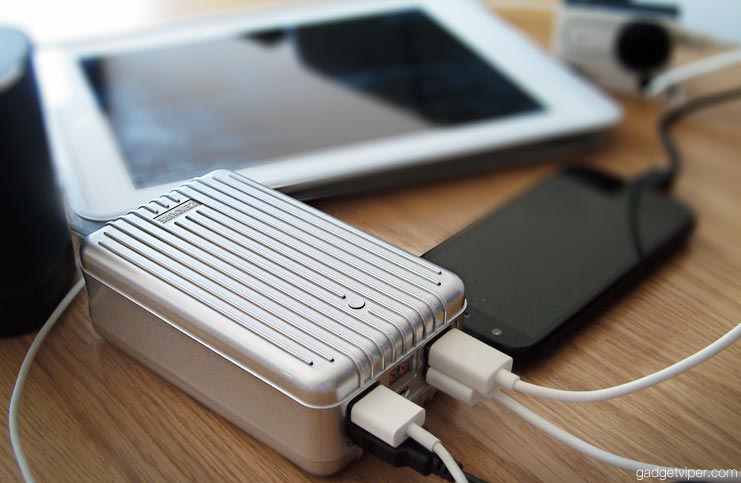 UPDATE – The Zendure A8 Power Bank Now features the Latest Quick Charge 3.0 Technology!
Zendure A8 QC 3.0 Power Bank
The Zendure A8 is an extremely high capacity portable power bank ideal for keeping multiple devices charged up when travelling or working away from the grid.
Zendure A8 'pass through' technology allows you to safely charge up to 4 devices while simultaneously recharging the power bank – Ideal for overnight top ups.
Contents.
26,800mAh Zendure A8 power bank
Draw-string carry pouch
Anti-tangle flat wire USB cable
Features
4 USB outputs
Extreme durability
Charge through technology
Long term standby
Price updated on the 27th March 2017 at 10:30 GMT
*Product prices and availability are accurate as of the date/time indicated and are subject to change.
The most durable and rugged portable charger available and one of the only few power banks with pass through charging.

Zendure A8 QC 3.0 Power Bank  – Design
The Zendure A8  is made from a strong composite material. It's beveled edges and ribbed surfaces have been designed to withstand forces and absorb shock. Measuring  4.7 x 2.9 x 1.6 inches and weighing 1.1 pounds (500grams) the Zendure A8 Pro could be considered fairly chunky. The capacity vs weight ratio, however, is actually pretty impressive when compared to other high capacity power banks.

With the exception of a small round button nestled inside the ribs on the front face, everything else is neatly positioned on the top. This distributes the weight slightly more to the bottom, allowing the power bank to comfortably sit upright while charging.
There is genuinely high build quality and level of detail to this power bank leaving you with no doubts that this is a premium product.

Zendure A8 QC 3.0 Power Bank  – Features
There are certain features that you really want to see on high capacity power banks and Zendure A8 Pro has them all. Firstly any battery pack with a capacity of over 20000mAh needs to have more than 2 outputs. Many chargers will have 3, the A8  has four! Each port is capable of identifying the maximum charge rate of the attached device. It will then safely adapt it's output to speed up the charging time.
Most other portable battery packs will have 4 indicator lights that show the remaining charge in 25% increments.  This works well on relatively small capacity power banks, but when you have a capacity of 20000mAh or more, 25% could be as many as 3 full phone charges. The Zendure's LED display gives you a far more accurate way of keeping track or current charge.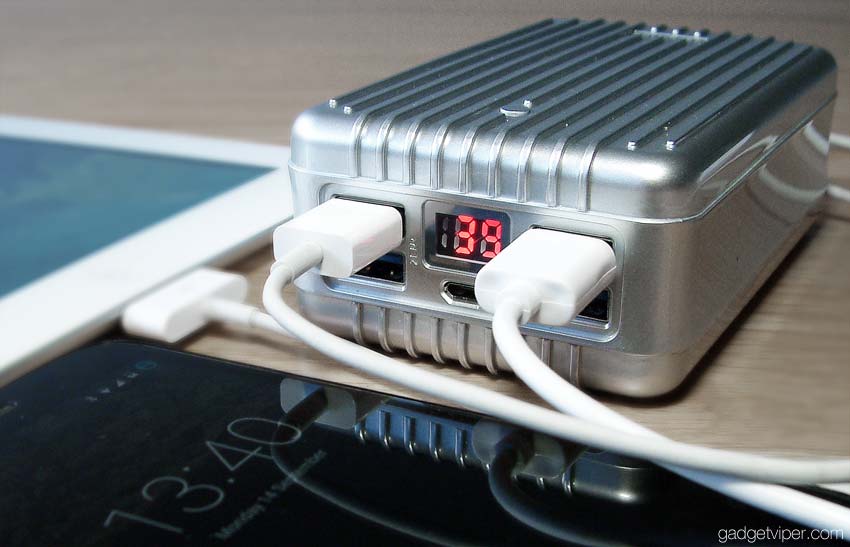 The most impressive feature by far is it's 'pass through' technology, which I think is pretty damn essential on a high capacity power bank. A battery of this size will take a considerable time to fully recharge. Being able to plug all your other devices into the Zendure A8 while it's charging is an absolute God send.  Not only can you kill 4 birds with one stone, the A8's overcharging protecting will switch off each device once it's at 100%. This can have a really positive effect on the longevity of its battery life.
Finally, it's worth mentioning the impressive standby time of the Zendure A8 power bank. It's said to retain 95% of it's charge over a period of 6 months. This means even if you don't use a portable power supply that often, it's good to go when you do.
Zendure A8 QC 3.0 Power Bank – Verdict
The Zendure A8 is an absolute beast, it's the Incredible Hulk of external batteries. Intelligent on the inside and virtually indestructible on the outside.  Much like the Hulk, it's not particularly small or light, but if that's what you're looking for check out the Zendure A2 – the Eric Banner version.

The A8 is ideal for anyone less concerned with squeezing a portable phone charger into a tiny purse or pocket.  It's thick, it's meaty and it's as tough as nails. When it comes to high capacity power banks the Zendure A8 is in a league of its own and worth every penny.
Price information last updated on the 27th March 2017 at 10:30 GMT
If you found this review useful, please share it socially or leave a comment below – Thanks!