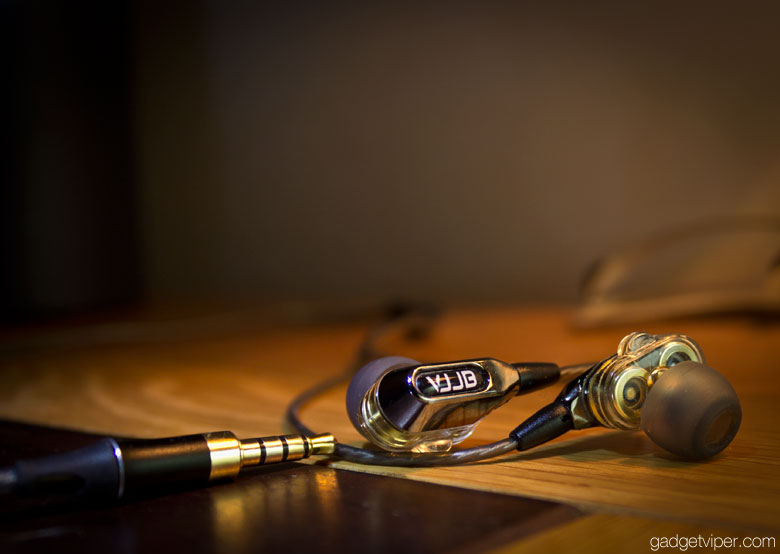 GranVela® V1 Dual Driver Earbuds
The GranVela V1 earphones are proof that you don't need to spend huge amounts of cash on expensive dual driver earbuds to get top quality audio performance.
Contents
GranVela V1 Earphones
Soft drawstring carry case
Hard carry case with zip
3 additional earbuds
V1 Dual Driver Earbuds
Amazon.com
lowest price: $49.99 $26.90
Price information last updated on the 6th of September 2016 14:10 GMT
This last week I have spent hours on end breaking these earphones in. I've been out running, pumping iron at the gym and I've even used them in bed at night – no pumping there I'm afraid. I now feel ready to remove them from my ears, scrape off the unsightly ear wax (as best I can) and start my review.
GranVela® V1 Dual Driver Earbuds – Design
Whenever you buy a product on-line you're never 100% sure how they are going to look or feel once you have them in your hands. I instantly took a liking to the GranVela V1's design from the product pages with it's black and gold features. On arrival, I was pleased to see they looked just as good as they did on the screen. The combination of the gold dual drivers, visible through the clear plastic covers and the black chrome casings really give them high-end look.
Each earbud is angled in relation to the drivers which really helps them fit securely in the ears. – after running miles, like Forest Gump being chased by bullies, I've not needed to re-adjust them once.

Despite the dual drivers, the earbuds are relatively close fitting and actually more comfortable than most single driver earphones.
I often lay on my side in bed while watching my iPad, which is propped up against the back of my girlfriends head – proving she's good for something in bed other than snoring. With most earbuds, I usually end up taking the side out that's in contact with the pillow. With these, however, I'm able to comfortably watch hours of pointless YouTube videos in glorious stereo.

The GranVela V1 earphones have a cool looking transparent cable revealing the twisted silver wires inside. While I do like the look of the visible wires, I get the feeling I'm going to be untangling these on a regular basis.  Up until receiving these, I've been using the Mrice E300 earphones, which feature an anti-tangle triangular cable which I absolutely love.
Fears of future tangles aside, the build quality, from the dual driver earbuds down to the gold plated phono jack is top notch. The connections appear solid and unlikely to fail and there's a nice little adjuster to change the point that the cables separate.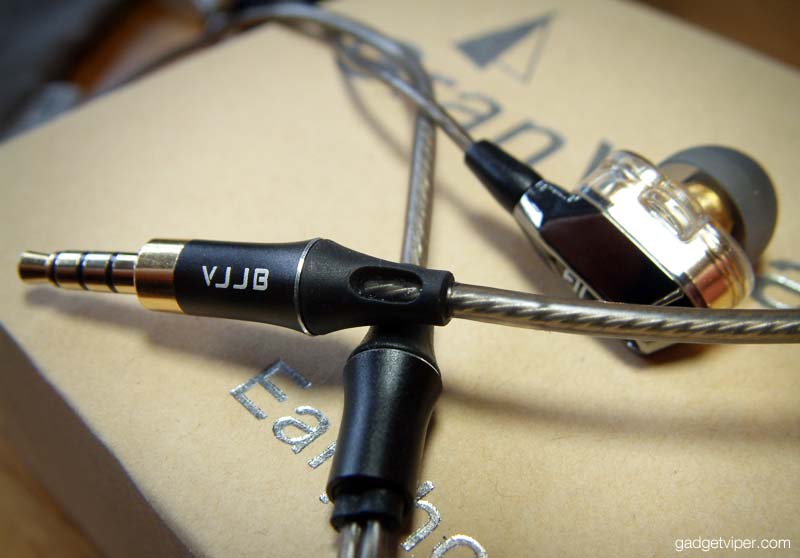 GranVela® V1 Dual Driver Earbuds – Features
The GranVela V1 earphones have high-performance neodymium magnets and highly graded diaphragms. Neodymium is an extremely powerful magnet that helps achieve a far greater level of sensitivity from the moving coils and a wider frequency response. The V1's are said to have an exclusive tuning technology that helps suppress high-frequency glitches and the earbud casings are made from a single piece of metal to prevent any vibrational noise.
This particular version of the GranVela V1 has a button and microphone situated on the right wire about 6 inches down. They do offer earbuds without the mic, but the price is almost the same. Even if you don't plan on using these for taking hands-free calls, the button also allows you to play/pause and skip tracks without having to reach for your device.
As most people these days use their smartphones as walkmans, it makes perfect sense to have controls on the cable. Unlocking your phone every time you want to skip tracks is annoying as hell.
Along with the GranVela V1 earphones there's a good quality hard case with a zipper and a soft drawstring pouch.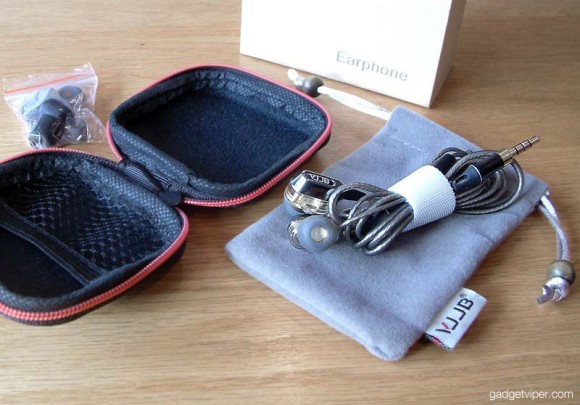 GranVela® V1 Dual Driver Earbuds – Audio quality
To the all important factor and quite possibly the most subjective. Sometimes I wish I had an amazing machine that would take the element of perception away and just give you the cold hard factual evidence on the sound quality. The expectation of quality does have a significant and real effect on how your brain perceives things especially when it comes to audio performance.
I do try to avoid reading too many glowing reviews of headphones or speakers prior to actually listening to them for myself, or at the very least read enough bad reviews to balance the scales. Unfortunately there's not many negative customer reviews out there when it comes to these particular earphones.
Specifications
Driver units: 6.0mm*2.
Rated impedance: 8 ohm.
Sensitivity: 110dB.
Frequency response: 20Hz -24000Hz.
Channel balance: 2 dB.
Maximum power: 20mW.
Here's an example of a customer review:
"My God, these headphones simply blew me away. I'm pissing myself!
I tested them against my other two earphones. The Beat Master Dr Dre earphones and TDK Dr Dre special edition headphones. I replaced the three earphones with ear-tips from Comply Foam Memory, making sure I had an equal playing field. The music from the Beat Master appeared washed out and treble aggressive. My highly regarded TDK Dr Dre was solid, the musical integrity remained intact but it was pitching against an exceptional earphone. There was absolutely no comparison the GranVela painted a vivid picture of the music, it just came alive, good separation at low and high end and the mid range was exceptional. I can hear every sinew, every musical thread, it really had soul."
On the opposite end of the scale, someone suggested the bass sounded crackly. I can only assume the set was faulty, as I'm unable to hear distortion of any kind even at full volume.
My honest opinion is that I am yet to hear a better sound come from a set on in-ear speakers.  The audio is well balanced, crystal clear and very spacious.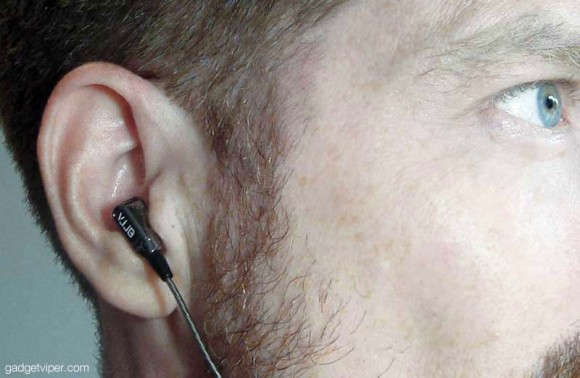 While I won't go as far to say I was 'pissing myself' – as the customer review above suggested,  I had absolutely no problems getting intense goosebumps from listening to some of my favourite tracks.
Here is my number one goosebump track for anyone interested in sharing a joyful audio experience.
GranVela® V1 Dual Driver Earbuds – Verdict
The GranVela V1's are the first dual driver earbuds I've owned.  Mainly due to being convinced I'd need to hundreds of dollars on a decent set in order to appreciate the technology. These earphones have certainly proved me wrong. I'm left wondering how they are so cheap compared to some of the more recognised brands. The tech inside, the audio performance and the build quality all seem very similar, yet the price tag is tiny in comparison.
Maybe the larger companies who develop the latest audio technology like dual drivers, advanced crossovers and balanced armatures are spending millions on R&D. Their products come out with ridiculously high prices to swallow some of the development costs, then other smaller and lesser known brands introduce similar technology without having to do all the leg work.  As a result, we get kick-ass quality dual driver earbuds like these GranVela V1's for the same price as a set of mediocre single driver earphones.
I highly recommend these to anyone looking for an awesome set of dual driver earbuds. Even if you have money to burn on the top brands, save your cash and buy these instead.
If you enjoyed this review, please leave a comment or share it with others using the social buttons below – Thanks!
V1 Dual Driver Earbuds
Amazon.com
lowest price: $49.99 $26.90
Price information last updated on the 6th of September 2016 14:10 GMT