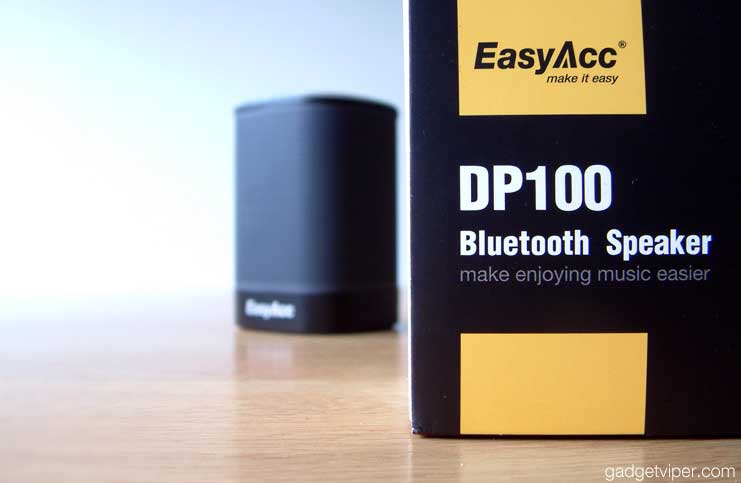 DP100 EasyAcc bluetooth speaker
The EasyAcc DP100 is an ultra portable bluetooth speaker with an impressive sound quality and huge battery life of up to 25 hours.
Contents
DP100 Bluetooth speaker
USB charging cable
3.5mm AUX cable
Soft carry pouch
DP100 bluetooth speaker
Amazon.com
lowest price: $69.99 $21.99
Price information last updated on 26th January 2016 at 09:50GMT
DP100 EasyAcc Bluetooth speaker – Design
The DP100 EasyAcc Bluetooth speaker is designed to be compact and portable. It's shaped like a square cylinder, rounded but with sides – if that makes sense?
Measuring 6.6 x 6.6 x 9.6cm's and weighing 300 grams, the DP100 fits nicely in the hand and is comfortable to hold. There is a dark grey metal mesh that neatly wraps around all 4 sides. The sound emits from the front face only, which is easy enough to identify, thanks to the EasyAcc logo at the bottom.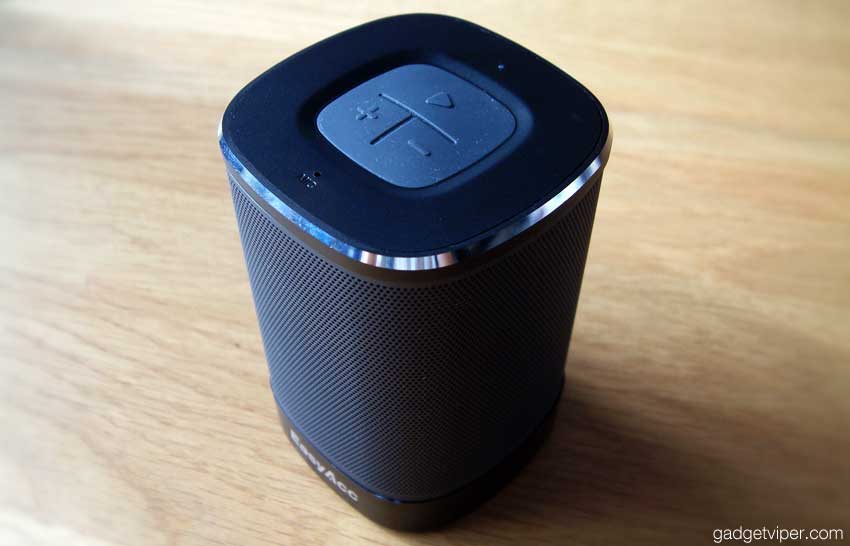 The controls for the speaker are all positioned on the top with the exception of the small power on / off toggle switch. As with most bluetooth speakers, there's a play / pause and volume / track selection buttons. They are well positioned and have raised icons, making it easy to use, even when you're looking elsewhere.
Above the controls is a small LED indicator light that subtly blinks white when paired. Far more preferable to the annoyingly bright blue flashing light of most other units.
The base of the DP100 has grippy silicone trim that will prevent vibration and help the speaker maintain its position on a wonky surface.
The overall design and build quality of this speaker is great. It's black and grey non-glossy finish is perfect for handling. The only finger print magnet is the thin chamfered chrome surround on the top edge. This detail adds a touch of bling to the speaker, and is small enough to not look too unsightly, after you've got your greasy mitts on it.
The speaker comes with a really handy drawstring carry pouch, perfect for taking it on your travels.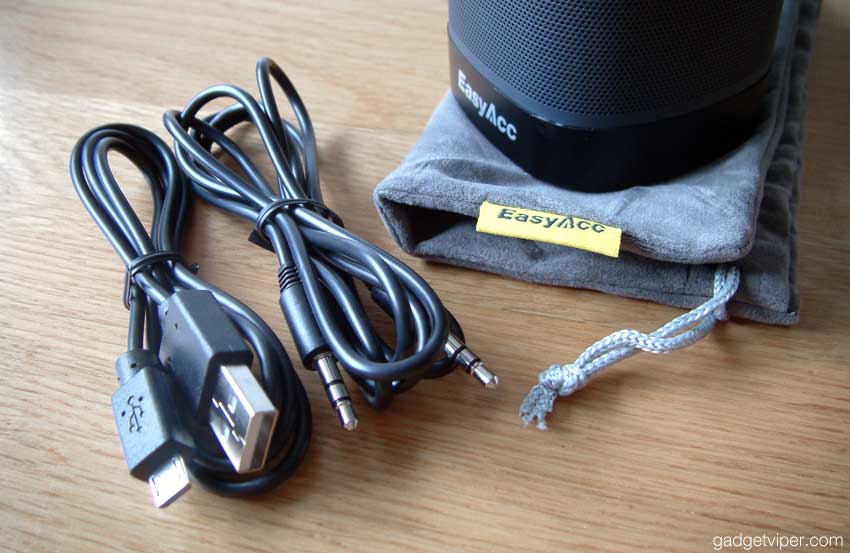 DP100 EasyAcc Bluetooth speaker – Performance.
The packaging and user manual both state 15-20 hours playback. I'm happy to report that the DP100 has surpassed those numbers by a considerable amount. On this particular review, I made a genuine effort to keep track of the total amount of playback time per charge. Using an advanced data collection method (a post-it note and pencil) I got just shy of 26 hours!
Now I will say, a lot of that time the volume was at a moderate level. My brain struggles to focus on work when the music is too loud (unless I happen to be working on my next dance move). But seriously…. A compact Bluetooth speaker that lasts for over a day on a single charge – Pretty damn impressive right?
Paring the DP100 was straightforward on both my tablet and phone. It will remember devices and reconnect almost instantaneously when you switch it back on. The range is good too, I was able to take the speaker to a different floor with a ceiling and wall separating it from the device without any interference. I also made use of the AUX cable to connect it directly to my computer which effectively turns the DP100 into decent Desktop PC speaker.
DP100 EasyAcc Bluetooth speaker – Audio Quality
The DP100 Bluetooth speaker features the CSR 8615 chip. known for its reliability, energy efficiency and audio performance on compact mono speaker units. It also eliminates circuit noise which helps improve voice call performance.
The audio is clear and loud for a speaker of this size. The sound is well balanced and remains distortion free, even at maximum volume. The DP100 is loud enough to comfortably fill a room with sound, however, I think a speaker of this size is best used at a moderate level.
DP100 EasyAcc bluetooth speaker – Verdict
The DP100 bluetooth speaker is a solid performer. With a good quality sound and an unbelievably long playtime, the DP100 is ideal for streaming background music while going about your day.
DP100 bluetooth speaker
Amazon.com
lowest price: $69.99 $21.99
Price information last updated on 26th January 2016 at 09:50GMT