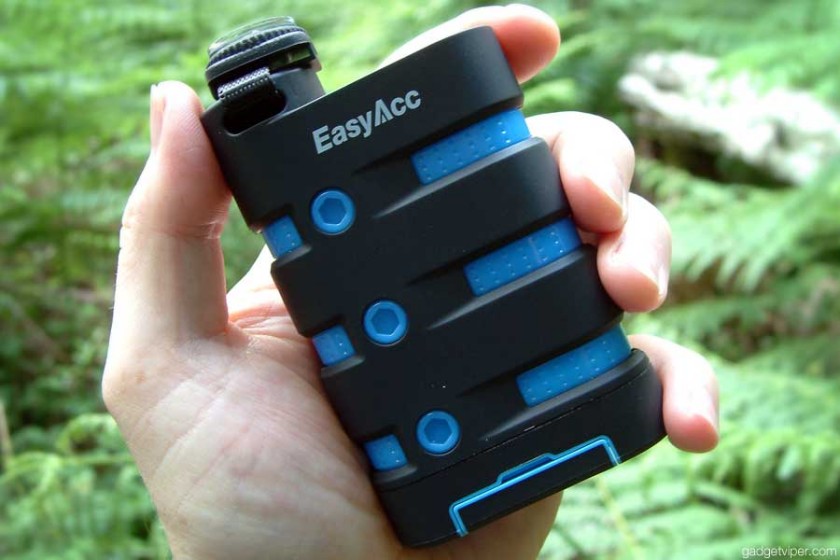 EasyAcc Waterproof Power Bank Review

The EasyAcc 9000mAh Power Bank has a rugged design which is fully waterproof and perfect for outdoors adventures.
Featuring a compass, LED torch and a carabiner to attach the power bank to your hiking backpack.
Contents
EasyAcc 9000mAh PowerBank
Attachable button compass
EasyAcc Carabiner
2 X Micro USB cables
Detailed user manual
EasyAcc 9000mAh
Amazon.com
lowest price: $59.99 $26.99
Price information last updated on 20/12/2015 16:10 GMT
There is no doubt that the EasyAcc 9000mAh Waterproof power bank has been designed for outdoor adventurers. This is clearly evident the moment you take out the contents of the box and see the mini compass and carabiner that comes included with the charger. These are handy optional features if (like me) you enjoy hiking trails and wild camping in woodlands where it's easy to get turned around.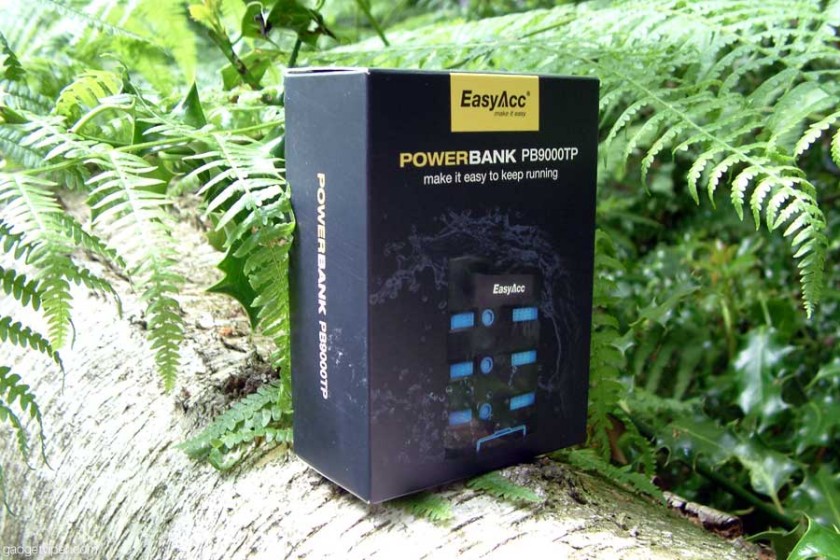 Having un-boxed a huge amount of power banks in the past, this is the first time I've found 2 micro USB cables included;  both or which have EasyAcc printed on them. Most people probably won't consider that much of a feature, but for me, it's a refreshing sight to see. I have literally dozens of micro USB charging and data cables from untold devices, all of which are jumbled and indistinguishable. By having branded cables, I now have an easy way of identifying them. Small touches like this along with the additional effort EasyAcc have taken to make a professional and well-presented user manual have not gone unnoticed.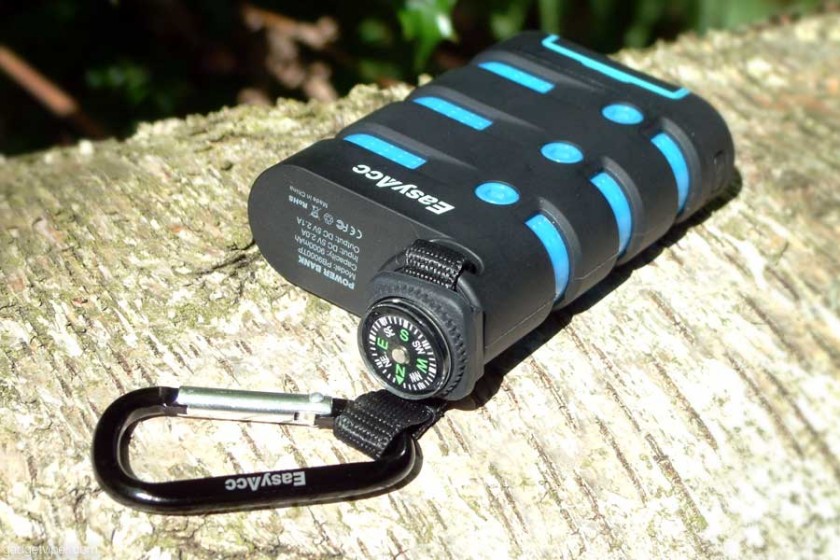 Features
Fast charging with a 2.1A max output
Waterproof – IP67 rated – tested for 30mins at a 1m depth.
Shock and Dustproof
LED flashlight
Carbiner and compass attachement.
Specifications
Capacity: 9000mAh – About 4 full phone charges
Battery Type: Lithium-ion battery cell
Input: DC 5V 2.0A (max)
Output: DC 5V 2.1A (max)
Size: 101 x 64x 27 mm / 3.98 x 2.52 x 1.06 inches
Weight: 223 g   > More info
EasyAcc Waterproof Power Bank – Build Quality
The body of the EasyAcc Power Bank has a matt black rubberised texture, broken by light blue details. It's rounded sides make it easy to grip and it feels comfortable in the hand.  The button to power the device and check the remaining charge is located on the bottom left side. It feels robust and has a good level of finishing.  The 4 indicator lights for the remaining charge are hidden neatly on the lower blue band.
Access to the charging port and LED flashlight is on the base of the power bank underneath a hinged panel.  The panel features an internal rubber gasket with rebated watertight seals that perfectly align with the ports. The overall build quality of this power bank made me feel confident enough to happily plunge it into the water without any fear of the seal failing.
After fully submerging the EasyAcc Power Bank in a stream for close to 15 minutes the ports remained bone dry and the charger continued to function without fault.
EasyAcc Waterproof Power Bank – Performance
As previously mentioned, I've reviewed a fair amount of power banks over the last year.  Despite them all having a set capacity, they will all vary on performance depending on the amount of energy lost during the charge.  The waterproof EasyAcc portable charger has 9000mAh, most smartphones have around 2000mAh.  At 100% efficiency, you would get about 4.2 full charges, (this would never happen) You will, however, get just over 3 full charges.  Pretty damn good, considering I've tested 10000mAh power banks that charge far less.
The LED torch built into this power bank is nothing to write home about in terms of brightness.  I don't think this is necessarily a bad thing as it certainly wouldn't be your primary light source anyway, much the same as the compass.  These are handy backup options should you lose your main compass or torch. Any knowledgeable outdoorsman will tell you the importance of keeping a spare when it comes to essential hiking gear.
"Two is one and one is none"
My Verdict
The EasyAcc waterproof power bank is a very solid product worth taking on your adventures.  I'm sure many bushcraft purists may argue that the whole point of hiking is to get away from technology and back to nature.  I agree with this to an extent, however, I always bring my phone with me for emergencies even when I'm travelling light.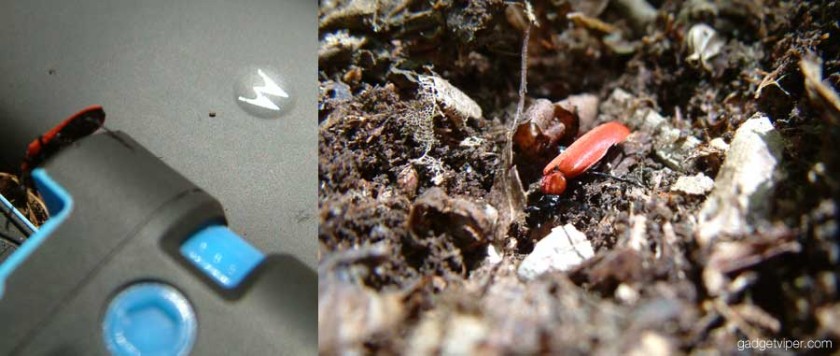 I'm forever taking shots or footage of interesting things I come across (see above), which often drains the phone battery.  While it may not be considered "essential" I do think a well designed and multi-functional power bank like this earns its place on a kit list.
One thing I have learned over the years when it comes to camping is the importance of feeling comfortable and relaxed when you are in your sleep system at the end of the day.  As much as I love the sounds of nature, sometimes I like to kick back and relax with a movie or music before I take a nap.  Having a portable power bank takes away any concerns I might have of ending up with a dead phone when I need it most.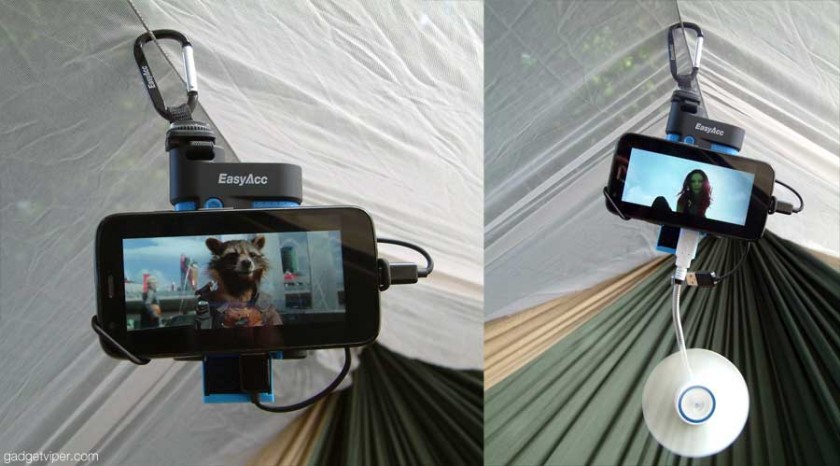 Here's my little summertime Hammock set-up – The EasyAcc Portable charger dangling off my hammock ridgeline,  I can use it to charge my phone as I watch a movie or power my little Arctic Breeze USB fan if it's a hot day.
EasyAcc 9000mAh
Amazon.com
lowest price: $59.99 $26.99
Price information last updated on 20/12/2015 16:10 GMT
Need more Juice?
The EasyAcc waterproof power bank has a fairly high capacity of 9000mAh. If however, you have a long trip planned or lots of devices to keep topped up, then take a look at the 'Best Power Bank 20000mAh or more' list by clicking here. All the portable chargers featured in the list have a minimum capacity of 20000mAh and are capable of charging most phones over 10 times.
I hope you enjoyed this review, if so please leave a comment or share it on social media.