Do you still charge your mobile devices with the original wall adapters or find yourself perched by a plug socket while your phone charges? There's a much better way to simplify the experience and give you the freedom to charge multiple devices wherever and whenever you choose.
Today we're looking at the latest charging solutions from Aukey. These include a 6 port USB charging station and two of their best high-capacity portable chargers. I'll explain how together they can enhance your home and help manage the battery life of your portable devices.
Replacing Multiple Wall Adapters with a Single Charging Station
Even with a small household, it's amazing how many portable devices you can accumulate. Unless you live alone, there's going to be at least two smartphones requiring a daily charge and quite possibly a tablet or two as well. Using multiple wall adapters and sockets is far from ideal and is often not as fast or efficient as a good quality charging station.
What to look for in a USB Charging Station?
Firstly I'd suggest getting one with at least five ports. Most of the popular brands offer versions with between three and six and there's often very little difference in the price.
Choose a USB station with adaptive charging, this will maximise the charging speeds by automatically sending the optimal current to the connected device.
Unless you only use Apple products, I'd recommend choosing a charging station compatible with Quick Charge 3.0. I use a Samsung Galaxy S7 Edge which has QC 2.0. Qualcomm's technology is fully backwards compatible. Any QC1.0 or QC2.0 device will fast charge from a QC3.0 port. It will also work as a regular USB port with all other USB devices.
Make sure the USB charging station has intelligent safety features to prevent overcharging. Many regular wall adapters lack this feature. Without it, your phone's battery can become less effective over time and could eventually need replacing.
Our Recommendation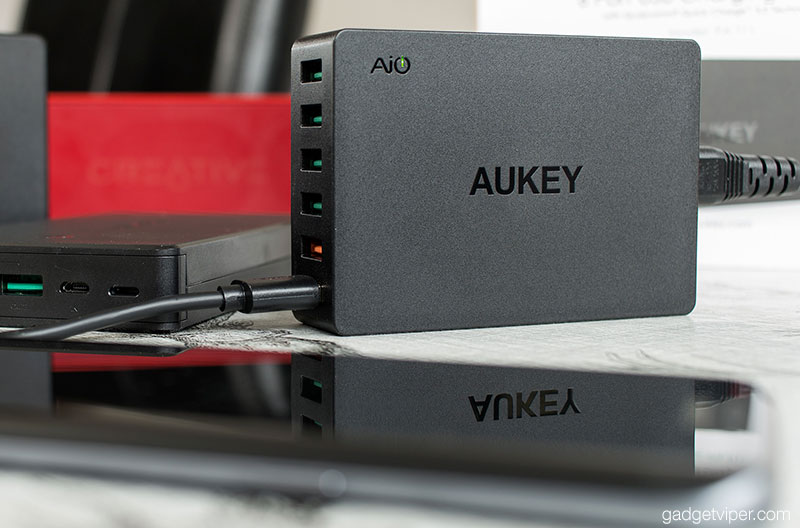 The Aukey 6-Port Charging Station
With adaptive charging technology and Quick Charge 3.0 the Aukey USB charging station can charge six devices at the same time. It's equipped with safety measure to protect against overcharging, overheating and excessive current.
Key Features
Charges all 5V USB powered devices
6 USB ports with a total output of 60W
Two Qualcomm Quick Charge 3.0 Ports
AiPower Adaptive Charging up to 2.4A
Built-in Safeguards for over-charging
 24-Month Warranty
Pros and Cons
+
Very good value for money, Charges six devices at full speed and has two QC3.0 USB ports.
–
Mains cable could be a little longer
Price and Availability
Aukey Charging Station – Model PA-T11
Amazon Marketplace
price: $34.99*
Price updated on the 28th of June 2017 at 16:10 GMT
*Product prices and availability are accurate as of the date/time indicated and are subject to change.
Using a High Capacity Portable Power Bank around the Home
Most people would consider a power bank as a charging solution for when you're away from home. This is certainly the case for most pocket-sized compact portable phone chargers. But when it comes to high capacity power banks, I think they're just as useful at home, even if there's an available wall socket nearby.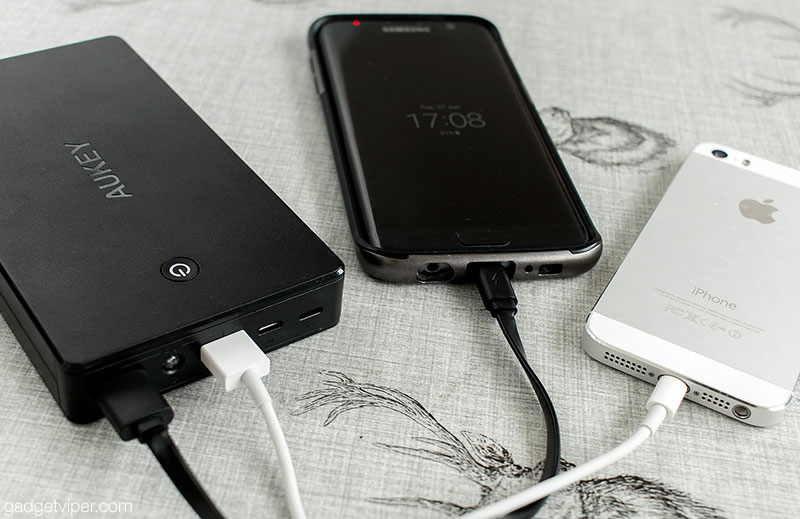 Unless you've got a very long USB or lightning cable, the chances are you'll need to be in an undesirable spot if you intend to charge your device while continuing to use your phone. Having a fixed charging point is even more of a hassle when you need to move to another room.
Choosing a Good High Capacity Power Bank for around the Home
There are absolutely hundreds of high capacity external batteries and it can be a daunting task to pick the right one. Fortunately, I've tested and reviewed dozens over the last few years and would rate Aukey's range of portable chargers up there with the best.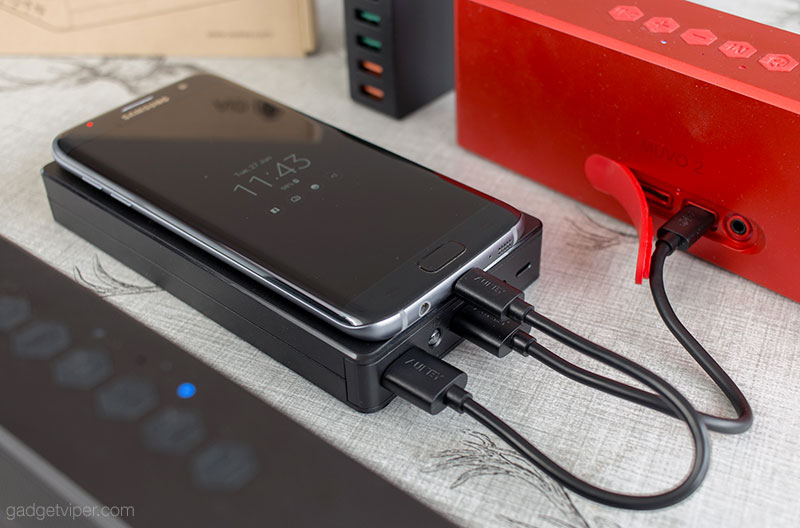 I've been using two of their latest models over the last 3 weeks and have been highly impressed with their efficiency and build quality. Both are identical in size, weight, and capacity. They feature two USB outputs, an integrated LED flashlight as well as a Micro USB and Apple Lightning inputs.
The only differences between the two are the price and that one has Qualcomm Quick Charge 3.0 Technology. For me, QC3.0 is an essential feature that I'm happy to pay the extra for.
If however you're only ever planning on using an iPhone or iPad, then it's probably more sensible to choose the cheaper option.
They each feature the Aukey AiPower charging technology and the same built-in safety features found inside their 6-port charging station. Both units come with a good quality user manual, a 24-month warranty card and a Micro USB cable.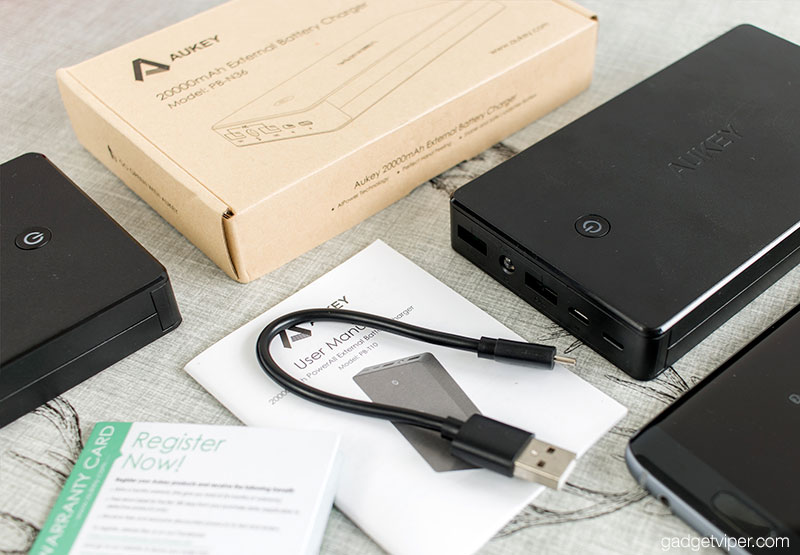 Next month when I update my list of the best 20000mAh power banks both of these models are sure to feature highly. Model PB-T10 is exceptionally good value for money and model PB-N36 is a must have for anyone with a Quick Charge compatible device.
Price and Availability
Price updated – 30th of June 2017 at 10:00 GMT
*Product prices and availability are accurate as of the date/time indicated and are subject to change.
I hope you found this article useful, if you did please leave a comment below or share it socially – Thanks!