Veo water speakers are currently one of the most popular models of water dancing speakers on the market and although the name may be new to most, Veo has managed to emerge from the crowd as one of the leading brands of this popular audio gadget. Veo water speakers are one of the few brands that have produced their own unique design to separate them from the hoards of other fountain speakers which look identical to one another.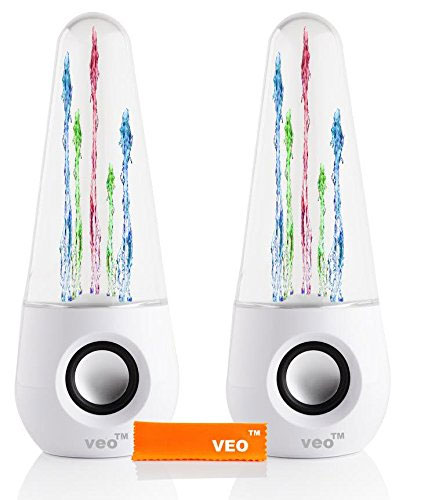 Despite the popularity of water dancing speakers, as of yet no large recognisable brand has put out their own model. While there may never be Bose or Sony Water Dancing speakers, this doesn't mean that there aren't any good quality water speakers out there. Veo water speakers are close as you are going to get to a branded fountain speaker and they have definitely earned the right to be one of the leading names with their unique teardrop design.
Veo Water Speakers – Design
The first generation Veo water speakers were of the typical box design which 90% of all other fountain speakers are.  However, their latest 2nd generation model features a very tasteful teardrop design which is currently available in black or white.  As much as I like the new shape, it would be nice to see this 2nd gen model in other colours that they offered on their original water speakers such as red, green, purple and pink.  If you are looking for a water speaker as a gift for young girl having the option to buy a pink one is a must.  This model stands about 22cm high and is just over 5cm's in width.
Veo Water Speakers – Features
Veo water speakers are powered solely by USB and do not need their own power source and are compatible with any device that has a standard 3.5mm earphone output making them suitable for PC's Mac's, Tablets and even MP3 players and mobile phones.  They have a total sound output of 6W (3W x 2) and the sound is about as good as you can currently get from water fountain speakers.
The water show effect of the Veo speakers are extremely responsive and bright, capable of lighting up a darkened room with vivid colours.
Price and availability
Veo water speakers are available online on Amazon for the reasonable price of $34.99.


---
The Veo water speakers feature twice on our best water speaker 2015 and they make the ideal gift for any young music lover.