Full Review – The Xiaomi Mi-Band is a no thrills, functional fitness band and sleep tracker that works on any android device running on 4.4 or above.  Xiaomi have also promised an English version of the iOS iPhone app, which should be coming soon.


The 2 main reasons why I'd highly recommend the Mi-Band are the  price and  battery life, which are both bordering on ridiculous, and I mean that in a good way.  I'm aware of no other fitness band on the planet that costs less than $20.00 and has a battery life that takes it beyond a month off a single charge, it's truly unique in that respect.
Xiaomi Mi-Band – It's looks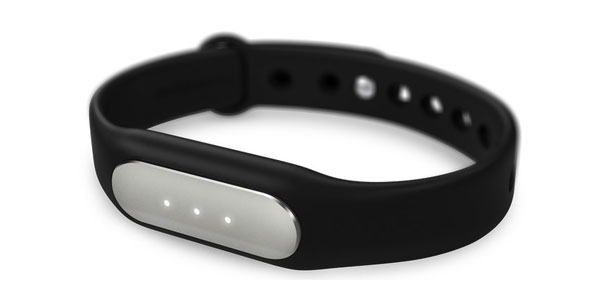 The Mi-Band is simple in it's design, it has no visual display, and no buttons. It's not making any attempt to cross the line between a fitness tracking wristband and a smartwatch. It comes in 2 parts, the strap and the fitness module which has a silver face and 3 LED lights to indicate your daily progress. The strap is made of silicon and adjusts much like a regular watch strap, it feels secure and comfortable to wear.  The Mi-Band is perfect for anyone who is not bothered about making a fashion statement at the gym or the track, and is only interested in the functionality of a wearable.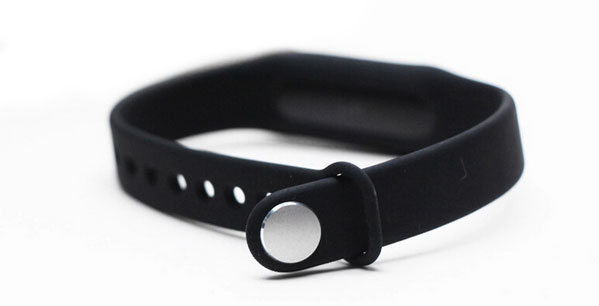 As fitness module is IP67 rated which means it's perfectly safe to take in the shower, but probably not wise to swim with.  To charge the Mi-band, you pop the dongle out of the strap and connect it to the USB charging lead which is provided.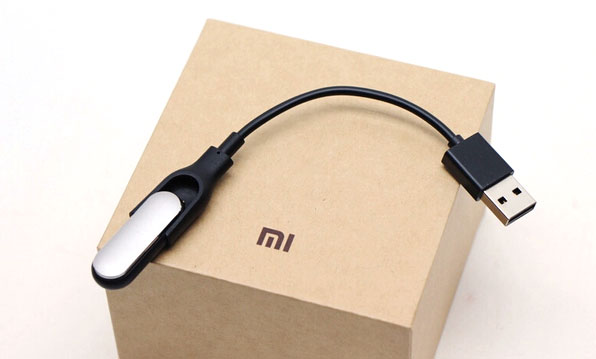 You may prefer the idea of having a fitness band that has wireless charging, but when you consider that most bands are as much as 5 times more expensive and have 5 times less  battery life, having to plug the Mi-Band in once every 4-5 weeks really isn't an issue.
Xiaomi Mi-Band – It's features
Sport data recording – The Mi-bands LED lights are for the purpose of checking your progress without having to open the smartphone app. Once you have set a target in the app, the Mi-band will vibrate and the LED's will display in increments when you move your arm up as if you were looking closely at a watch.  When all the lights flash, this means you have achieved your target.
Sleep quality monitoring – See app details.

Alarm clock wake up – See app details.

Over 30 days battery life – (The top of the range Jawbone Up24  lasts just 7 days).
Weighs just 13 grams.
Auto unlocks your phone – You can set the Mi-Band as a trusted device , then when you need to use your phone, you can simply touch it to the Mi-band and it will auto unlock
Additional notification features – specific to Xiaomi phones (see below on how to use these on any Android phone).
Xiaomi Mi-Band – The App
The Mi-Band app is surprisingly clean and user friendly.  The app doesn't show you your caloric intake, but I don't think this is a problem. I prefer and would recommend using myfitnesspal anyway.  The app shows you how many steps you have taken and records your sleep patterns including information on when you fell into a deep sleep.
The Apps alarm clock feature allows you to set an appropriate time to wake and an early bird option to wake you in a 30 minute interval prior to the alarm time, if it detects it's the optimal time based on your sleep pattern.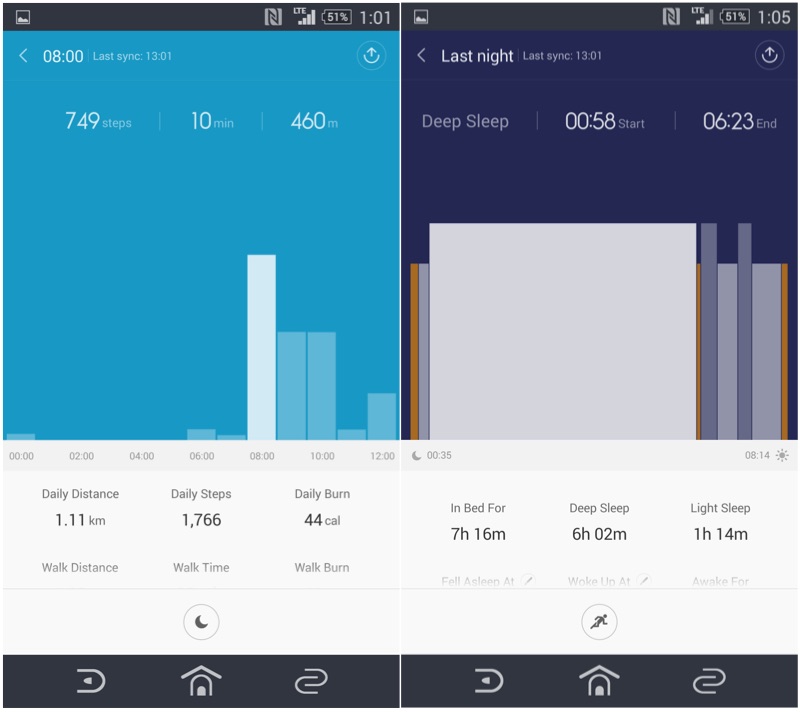 The app also has additional features for tracking sit-ups and jump ropes, you do need to activate this mode using your phone though.  I personally don't take my phone into the gym as I don't like the distraction and I'm likely to drop a 40KG dumbell on it, I'm also more than capable of counting –  One, two, miss a few, ninety-nine one hundred….
Adding additional functionality to the app for Android phones
As mentioned above, there are some additional features that the app has that are specific to Xiaomi smartphones, however I did find a way around this that you might find useful.  by using a modified app you are able to make use of the notification feature on the Mi-Band with customisable flashes and vibrations depending on the source.
Here is a link to the latest  modified app – Mi-band modded app and details about it's features here
Xiaomi Mi-Band – Summary
This band is ridiculously cheap, yet very functional both as a fitness band and a sleep tracker. I would highly recommend it to anyone who wants to try out a fitness band for the first time without spending obscene amounts of money.  It may not be as accurate or fancy looking as a Jawbone or Fitbit, but if you are not overly concerned at making a fashion statement it would be madness not to grab one of these.
Xiaomi Mi-Band – Best Deal
The best deal I've managed to find for buying the Xiaomi Mi-Band is at GearBest.com.  They have the Mi-band priced at $14.99.
---
If you found this review useful, please use the social buttons to share it with others or leave a comment below, cheers.