Update: SoundPEATS have a new model out called the Q9A, I highly recommend you check them out – here. They sound amazing and are exceptionally good value. They've even made it on our list of the Best Wireless Earphones of 2016.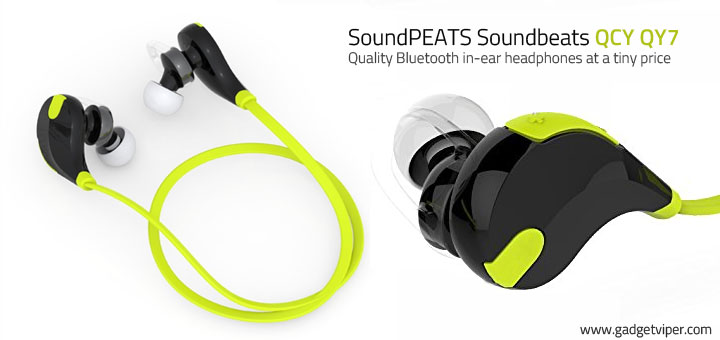 Soundpeats Soundbeats QCY QY7 is a bit of a mouthful as a product name for a set of bluetooth headphones,  but lets not let that worry us too much.  The name aside, what we have here is what I consider a gem of a product which ticks all the right boxes. Those all important boxes include comfort, features, sound quality and of course value for money.  The Soundpeats Soundbeats QCY QY7 bluetooth headphones really have impressed me, for the price I'd argue that you will not find better.
Soundbeats QCY QY7
Amazon.com
lowest price: $29.99 $25.99
Price information last updated on 15/10/2015 14:30 GMT
Soundpeats Soundbeats QCY QY7- Comfort
It's critically important that a set of bluetooth headphones are light and fit well in or over the ears.  Other bluetooth headphones I've owned have been far heavier  than these and less comfortable to wear, despite costing twice as much.  I'll admit that I'm not a track runner or a treadmill addict.  I have been using these earphones in the gym mostly during resistance training and have found them to be exceptionally comfortable and secure in my ears.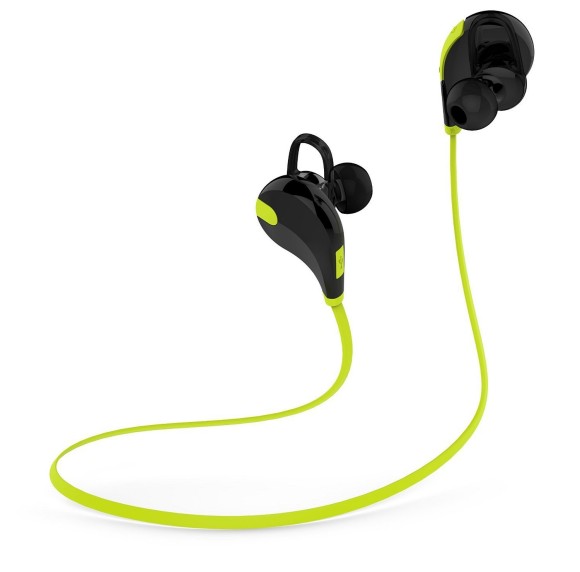 Not having a long lead running down under your top is a blessing especially on certain machines that place your chest against a pad.  The Soundpeats Soundbeats QCY QY7 short connecting cable has not even tangled once, which is another reason why these earphones are so much better than regular ones.
Soundpeats Soundbeats QCY QY7- Features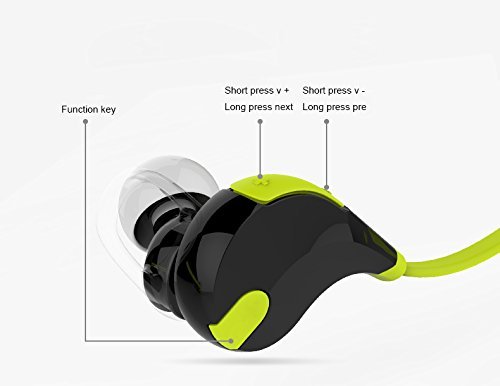 Playtime –  A solid 8 hours, my last charge has lasted over 2 weeks or gym sessions, so absolutely no complaints there.
Pairing –  No problems, I've paired these to my iPhone, iPad and my partners Moto G.  There is an audio message once paring is achieved and they will remember previously paired devices.
SignalPlus – This is the tech that ensures the music plays uninterrupted and without cutting out.  I have read that some people have had problems with the Soundpeats Soundbeats QCY QY7 in this area. This certainly wasn't an issue for me. It may be more to do with the phone / device or it's operating system, I believe some older Android versions have certain bluetooth streaming issues.
PureSound – Their words – "In-ear white noise and listener fatigue reduction. Eliminates the white noise and delivers a clean audio experience offering hours of pure enjoyment" Ok, I'm not going to say this "White Noise reduction" is something special that rivals a set of Bose Quiet comforts, because it's not.  These earphones are about as effective at drowning out the ridiculously loud and annoying Cross-fit music that plays in my gym as any other in-ear headphones I have used.

Sweat Proof  – Pretty standard, but yeh good to know, I'm definitely a sweater, mostly from my ass crack though and less from my ears thankfully.
Controls –  The volume can be adjusted on the side as can the track selection by holding the button down for longer.
Soundpeats Soundbeats QCY QY7- Sound Quality
Gauging sound quality is extremely subjective. I won't start a giant debate on why it's so difficult to give an unbiased opinion on sound quality, let's just say that it's as much to do with your expectations of quality and your frame of mind than it is the actual tech inside the headphones.  That being said, these do sound good, very good in-fact, I have a set of Sennheiser CX 200 earphones and I doubt I could distinguish between the 2 in a blind test.  The bass feels deep and powerful, especially if you have the buds in nice a tight, and the mids and high range sound is bang on too.
Soundpeats Soundbeats QCY QY7- Price and Availability
I became interested in these headphones when I saw the price. Almost 3 times less than my last set of bluetooth earphones – which I lost.  At only $29.99 the Soundpeats Soundbeats QCY QY7 headphones are a steal, they really are.  And to be honest if my older and far more expensive set did happen to resurface, I would probably still continue to use these. The Soundpeats Soundbeats QCY QY7 are a perfect example of why you do not need to spend a fortune on headphones to get something decent.
Soundbeats QCY QY7
Amazon.com
lowest price: $29.99 $25.99
Price information last updated on 15/10/2015 14:30 GMT
If you enjoyed this review or found it useful, please leave a comment below, or share it socially,  Cheers.