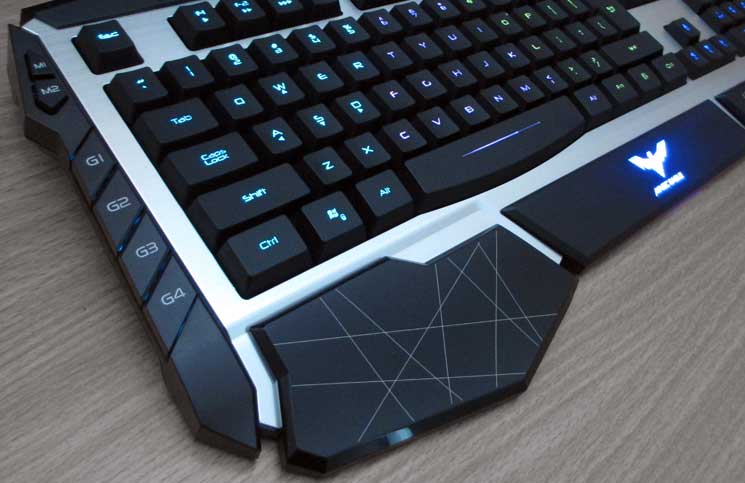 Reviewing this Havit Lammergeier Keyboard is a potentially dangerous task for me. As a retired hardcore gamer with literally 1000's of hours of my life lost to gaming over the years, I'm currently in a healthy place right now.
But as I look down upon these backlit keys I can't help but imagine how easy it would be for me to stun lock a Mage in a battleground in World or Warcraft or capture an M1 capital ship in X3. If only I had a good gaming keyboard like this when I was in my prime, my DPS would have been off the charts!. Anyway, enough nerd talk, let's take a closer look at the HV-KB346L Havit Lammergeier gaming keyboard.
Havit Lammergeier Keyboard
Amazon.com
lowest price: $59.99
Price information last updated on 04/10/2015 11:35 GMT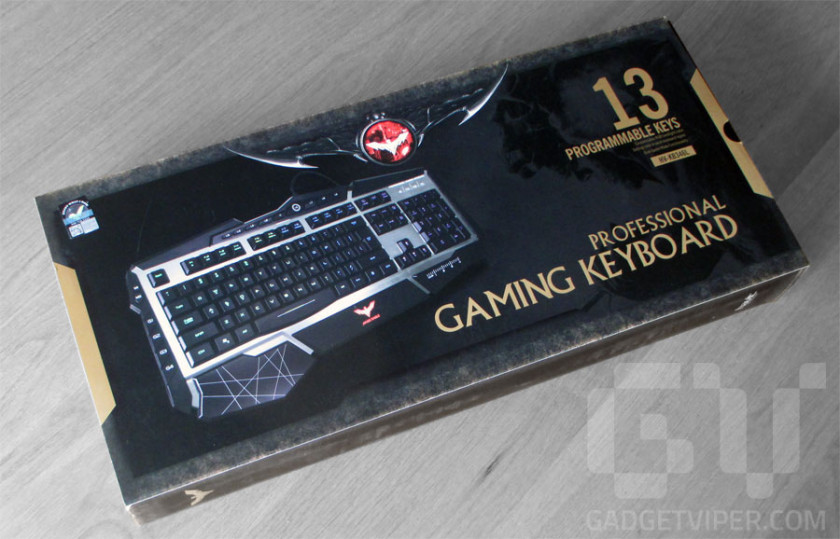 The Havit Lammergeier gaming keyboard – Design / Build
My expectations of this gaming keyboard in terms of it's build quality from the images I saw on Amazon were fairly low.  On it's arrival, I was pleasantly surprised to find an extremely solid looking keyboard with a very impressive brushed metal surface surrounding the keys.  There is reassuring weight to this keyboard,  which combined with the soft rubber feet on the underside make it very stable on the desktop.  The connecting cable is a good length (1.8m) and comes with a gold-plated end and a quality braided cord.
I imagine any good gaming keyboard needs to be ergonomically designed to be as comfortable as possible. The Havit keyboard has definitely achieved this with it's built-in wrist rests.  As I'm typing this review, the palms of both my hands are resting comfortably on the angled supports.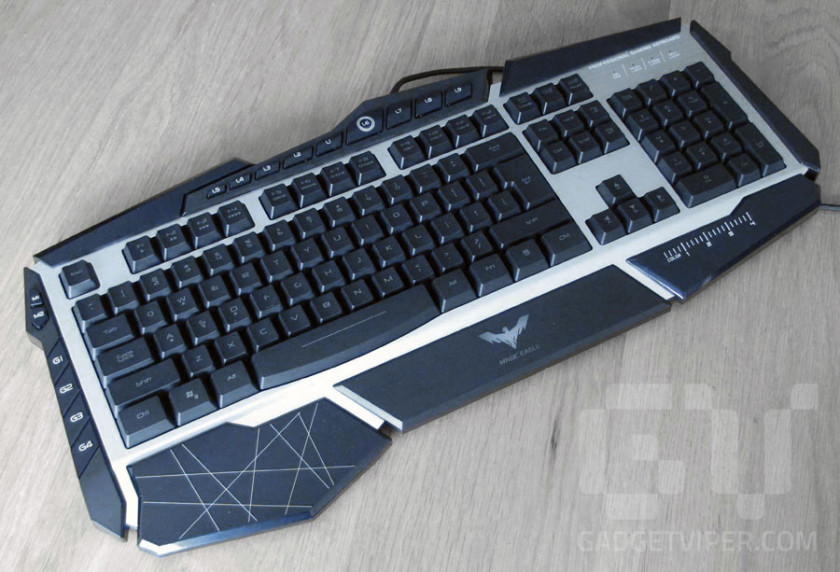 The Keyboard includes an additional 13 programmable keys, 5 of which are on the left side and the other 9 are above the F-keys.  There are also 2 keys (M1 and M2) on the top left which allow you to switch quickly between gaming profiles.
The keys are impressively responsive and exceptionally quiet compared to my last keyboard.  All except the spacebar, which for some reason has an annoying little springy noise.  To most people I'm sure this wouldn't be an issue, but I'm pretty picky about the little things.  It may just be this particular Havit keyboard that has a twangy spacebar, however, I thought it was worth mentioning as this was my only issue with it's build quality.
The Havit Lammergeier gaming keyboard – Features / Software
Even though I was once an extreme gamer, I've never been one for bright LED lighting on my PC tower, keyboard or mouse. This is the first backlit keyboard I have owned and I have to say that backlit keys are actually a really functional feature. Being able to locate keys even in a dark room would definitely make gaming more enjoyable.
The Havit Lammergeier keyboard is split into 4 areas which can have independent colours and brightness settings to suit your preference or even a breathing effect that makes the LED's pulse.  The Havit software does a really good job to help you choose the colours. Once you have, you can alternate them by pressing the F-9, F-10, F-11 and F-12 keys with the Function button.  This allows you to cycle through the colours in each of the 4 zones on the keyboard without having to access the software.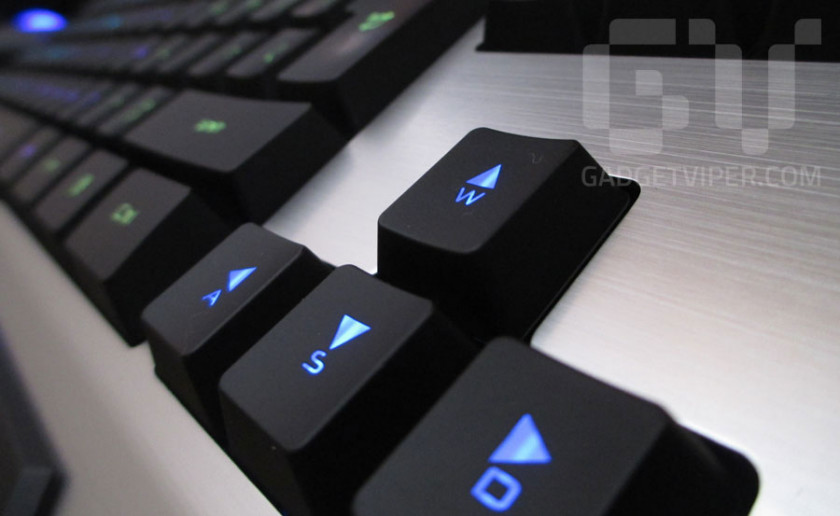 Now to the most important factor of good gaming keyboards- the programmable keys.  This feature has blown me away, not only can you record a combination of down and up keystrokes and assign them to a button, you can also include time delays to the nearest millisecond.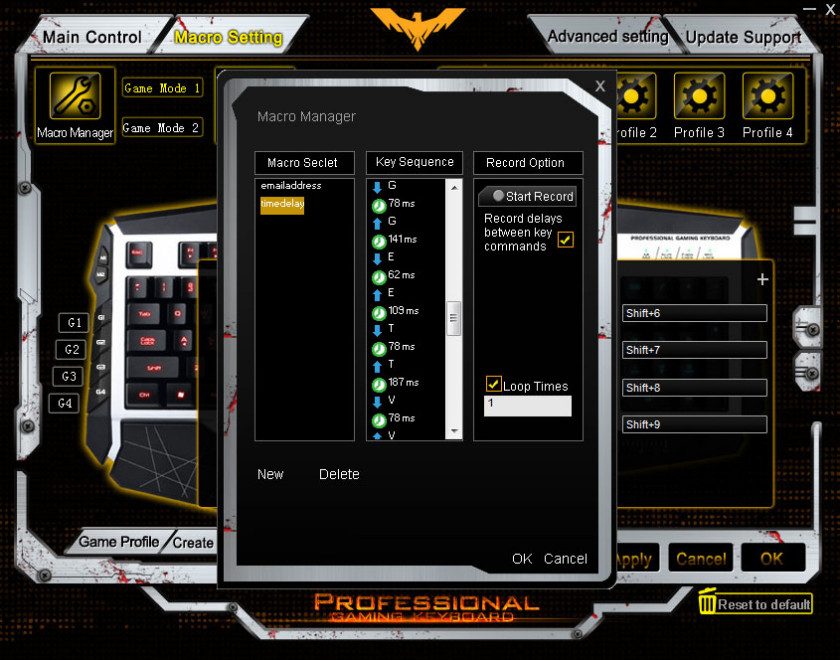 In order for me to quantify the importance of this feature I'll need re-engage the nerd gamer trapped inside me.  Let's take World of Warcraft as an example here, the effectiveness of a player has a lot to do with the ability to time their moves based on cooldowns.  To maximise damage or control the enemy you need to be a master at timing. Using a move every 3.4 seconds that's available every 3 seconds means that you will lose a considerable amount of damage over time.  Having the capacity to chain all your best moves with the perfect time delay will make you an invaluable member of the group.
After toying with the macro manager of the Havit keyboard I got to thinking how amazing it would be to go back into the key sequence and fine-tune the time delays to truly maximise the potential of the programmable keys.  To my delight, I found that by right-clicking the time delays I was able to edit them further.  Any online gamer that plays WOW or similar role-playing games will appreciate the potential here.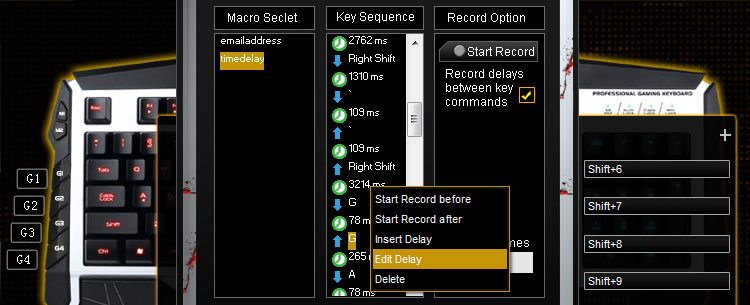 One last point I'd like to make about the effectiveness of the HV-KB346L gaming keyboard is the multi-profile options available.  The M1 and M2 keys allow you to instantly switch all the 13 programmable keys to a new profile, effectively doubling them.  This would be a godsend if you had 2 distinctive roles within the game, for example, a healer/damage or tank/damage.  If you need to switch roles you just need to press a button and you could have 13 macros set to heal instead of damage.
The Havit Lammergeier gaming keyboard – Summary
I've been extremely impressed with the HV-KB346L Lammergeier keyboard, especially considering it's price.  Ideal for anyone looking for a good gaming keyboard without the huge price tags that come with mechanical gaming keyboards from the likes of Razor or Logitec.
To find out more about the Havit gaming keyboard visit Amazon.com
Havit Lammergeier Keyboard
Amazon.com
lowest price: $59.99
Price information last updated on 04/10/2015 11:35 GMT
If you found this review useful, please leave a comment or share it socially with the button below, thanks!