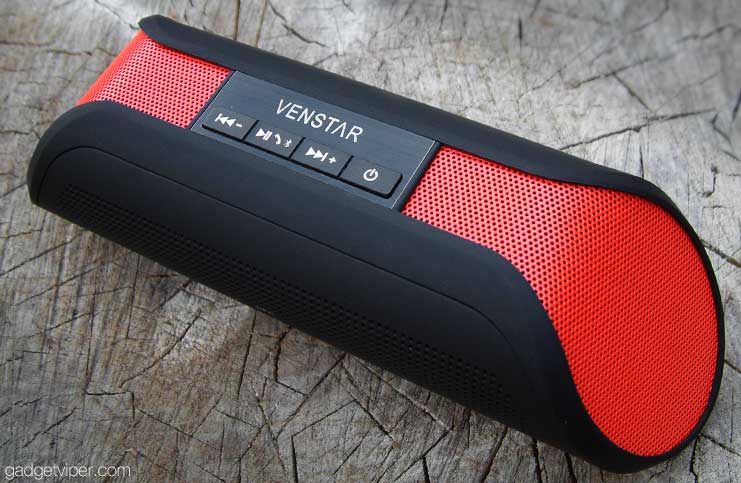 Venstar Taco Bluetooth Speaker
The Taco bluetooth speaker from Venstar featuring 2 speaker drivers, up to 12hours battery life, bluetooth 4.0 connectivity, carry case and hands free calling.
Contents
Taco speaker unit
Waterproof Carry Case with Carabiner
USB charging cable
3.5mm phono cable
Taco speaker
Amazon.com
lowest price: $29.99
Price information last updated on 03/10/2015 16:15 GMT
Taco Bluetooth Speaker – Features
Battery Life – I got over 10 hours at a consistently high volume, I imagine that it would push 12 hours at an average volume.
Connectivity – The Taco features the latest bluetooth 4.0, which is not only more efficient and stable, it will also display the speaker's battery status on your phone or tablet.
Range – As with most bluetooth 4.0 enabled devices the range is around 10m.
Talk Time – Should you wish to use the Taco as a handsfree speaker for your smartphone, it is said to last 8 hours. This I haven't tested, so you'll have to take their word for it.
Pairing – NFC enabled, so you can pair simply by touching your device to the speaker,  regular bluetooth pairing was also a quick and hassle free process too.
Taco Bluetooth Speaker – Unboxing
The Taco Bluetooth speaker arrived in a presentable and sturdy retail box.  Within the box the portable speaker was already zipped inside it's carry case.
The waterproof carry case is a great addition to the product, made from strong grey fabric trimmed in red with an aluminium carabiner attached.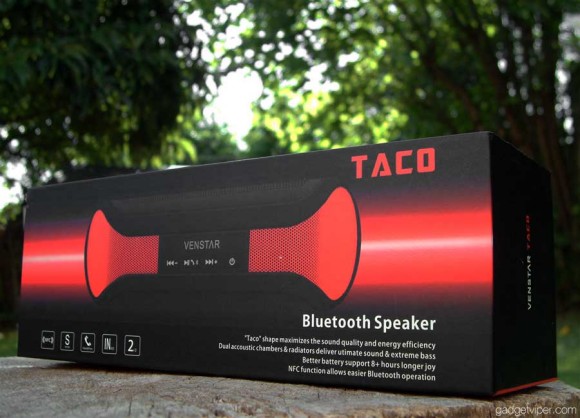 Not all Bluetooth speakers, even ones designed for taking outdoors come with a carry case.  It's handy for keeping the device clean, protected and dry when you're out on your travels. Thanks to the size and shape of the Bluetooth speaker, it also drops nicely into the bottle holder on a bike or into the side pocket of a backpack.
Included with the Taco Bluetooth speaker and case are USB charging cables and a nice set of gold-plated phono leads to connect it directly to an audio source.
Taco Bluetooth Speaker – Design
As the name suggests, the speaker is shaped like a Taco, it's about 8 inches long and about as round as a coke can. The one I'm reviewing is red and black but it's also available in grey. I personally prefer the two tone red and black combination, it's eye-catching and stands out more.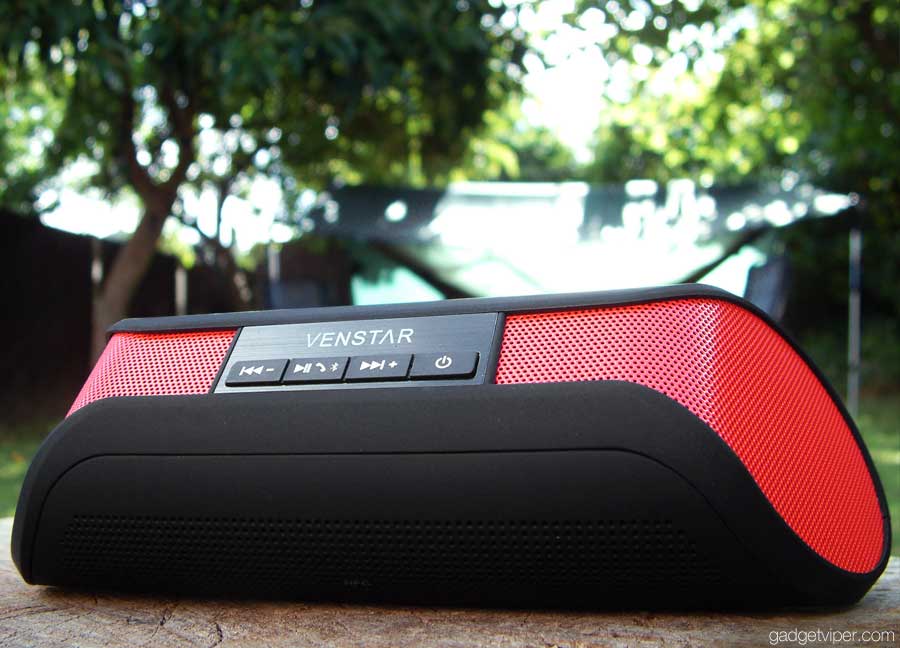 The body of the speaker is a matte black – the perfect finish for any device that's frequently handled – No fingerprint magnet here thankfully!  The combination of the contoured sides and bevelled edges give the Taco a really unique style that feels great in the hand.
Each side has exactly 1000 small perforated holes – I know this because I counted each and every one *cough.  Underneath (as you can see from the shot above), there's a flat surface to prevent your Taco from rolling away when on uneven surfaces.
"But Mr GadgetViper, where are the USB and AUX ports?" – Good question! they're actually neatly concealed underneath a rubber cover on the base.  On the inside surface of the cover there are rubber grommets that engage inside the ports. This is normally seen on waterproof devices, which I'm guessing this isn't (due to the 2000 holes) but it's good to see and could very well save the speaker if you happen to place it on a wet surface.
The buttons to control the volume, track selection and call features are positioned on the top, inside a brushed aluminium plate. They feel solid and responsive to press. One could argue that the buttons click a little loud.  If you happen to be skipping to the last track on a long play-list it can sound a bit like a tap dancing mouse – to me anyway….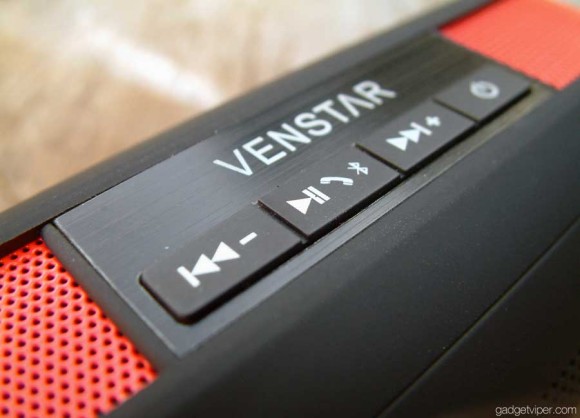 Taco Bluetooth Speaker – Audio Quality
The Taco packs a serious punch for it's size with an impressive volume and audio quality.  To test the sound I used the Daft Punk
Tron legacy soundtrack
which is super heavy on bass.  Even at full volume the audio was clean, crisp and distortion free. There is definitely some meat in this Taco –
That's my first and only pun on it's name.
Nerd Specs:
Chipset: CSR4.0
Speakers: 3W x 2pcs
Frequency: 150Hz ~ 20000Hz
S/N ratio: ≥80dB
Sensitivity: 80±2dB /mW
To test the microphone quality for hands-free calling I phoned my Girlfriend and asked her how I sounded. She said I sounded partially drunk and like I'm hiding something from her.  After I explained that I was actually referring to the audio quality of the call, she relaxed a little and told me it was perfectly clear and the volume was good.  I thanked her, ended the call, took a another sip of red wine and continued daydreaming about her hot sister.
Taco Bluetooth Speaker – Verdict
I've tested and reviewed a fair amount of bluetooth speakers over the past 6 months and at the Taco's current price, it's up there with the best.  An all-round solid performer with good quality accessories the Taco is exceptional value for money.
---
I hope enjoyed this review,  if you did, please share it with others using the one of the social buttons at the bottom of this page. – Thanks
Taco speaker
Amazon.com
lowest price: $29.99
Price information last updated on 03/10/2015 16:15 GMT