The Edifier e235 Speaker System
The Luna E Sound System features two elegantly designed satellites and a huge wireless active subwoofer. These eye-catching Edifier speakers certainly make a bold visual statement.
Will the e235's performance measure up to its stunning design? – Let's find out!
Highlights
2.1 THX Certified Speaker System
Bluetooth 4.0 with CSR apt-X streaming
5.8Ghz Wireless Active Subwoofer (100W)
Bluetooth, Optical or Auxiliary inputs
Remote control with 3D, THX or Music modes
Touch controls on the right satellite speaker
5 available colour options
Pros and Cons
+
Stunning Design, Very Sturdy Build Quality, apt-X, Latency free wireless subwoofer, Easy setup, crisp audio detail, quick low-end bass control via remote
–
Fairly Expensive, The exposed speaker cones could make them unsuitable for certain environments
Where to Buy?
Price updated – 17th of July 2017 at 09:30 GMT
*Product prices and availability are accurate as of the date/time indicated and are subject to change.
If you find the Edifier e235 speaker system for a cheaper price, please let me know in the comments below.
Edifier e235 Sound System – Full Review
Unboxing
Bend at the knees when you pick the box up, it's heavy and sizeable. This is due to the giant bowling-ball shaped subwoofer inside which is surrounded by a substantial amount of styrofoam protection.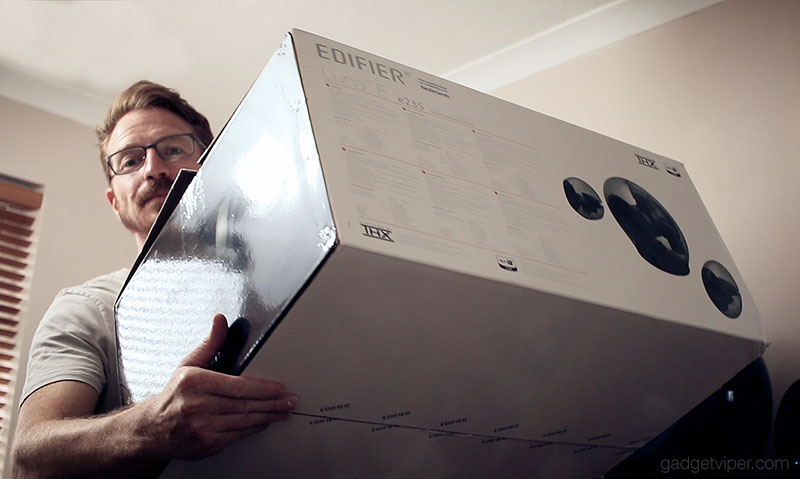 For those worried about potential damage during transit, fear not. The Luna satellites and subwoofer are contained separately inside soft cloth bags. Along with the speaker units, there's a couple of power adapters, user manual, remote control and a selection of cables.
Design
Edifier certainly has a history when it comes to innovation in design.  The Luna E speaker system, in my opinion, is their jewel in the crown. The elliptically shaped Satellites look stunning from any angle. They feature a 3/4 inch tweeter, a 3-inch driver and two opposing bass radiators, visible through a slot in the rear of the speaker.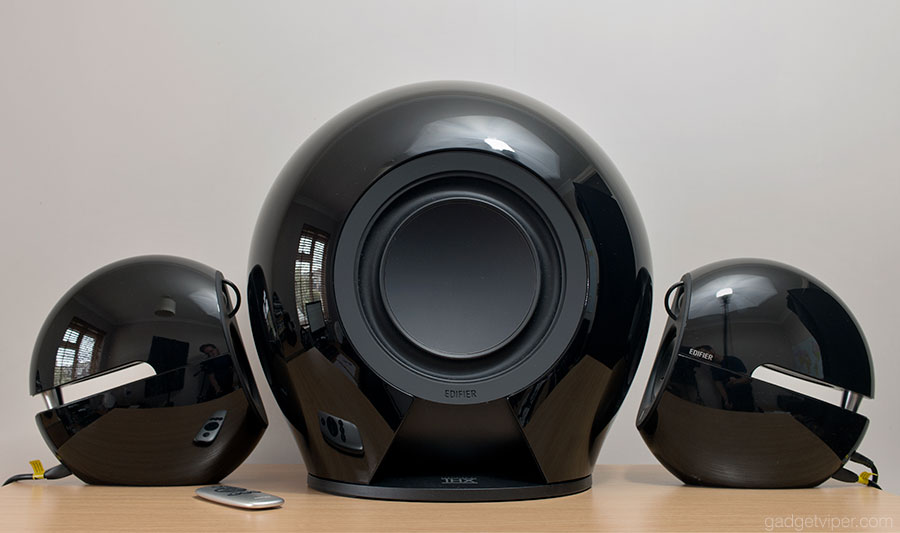 The rounded speaker body has a super high-gloss finish that reflects the entire room. The upward angled fronts have a matte black rubberized texture that looks fantastic but does seem attract dust which is a little unfortunate.
The speaker cones have an attractive detailing on the surface that adds to the design. There's also a hoop detail over the delicate tweeter driver.
Unfortunately, there is no other protection for the speaker cones. While I can totally understand this from a visual perspective, If you have small children or pets, this could be an issue.
The right satellite features touch sensitive controls on its left side. For me, that's great (I'm a lefty) but as most 'normal' people are right handed, it seems a little weird not having the controls on the outer edge. I've been using these speakers now for over a week and to be honest, I've barely used the controls. The compact remote works really well and offers volume and subwoofer level adjustment.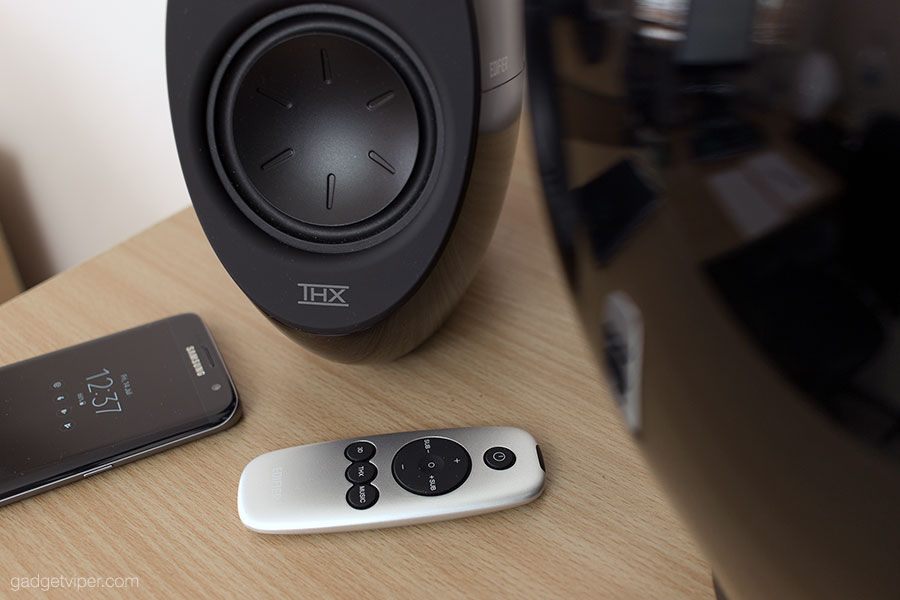 I could waffle on about the design of the Edifier e235 speaker system, but hopefully, my pictures have captured a fraction of their beauty. What I'd like to mention is the build quality and durability of these speakers. I can speak first hand on this point…..
Build Quality / My Unintentional Drop Test!
Yep, I dropped it. I'm not proud of myself, but it happened! The right Luna satellite fell from almost 5 feet and landed on a blunt object. Amazingly it took minimal damage and continued to work flawlessly. If you'd like to hear the full story and see the results of my stupidity, here is a link to my YouTube video. (If you find it entertaining, please leave me a comment or subscribe to the channel.)
Setting up the Edifier e235
The Edifier Luna E requires two power sources. One connects to the right satellite and the other is for the subwoofer. The 3-pin plug connects to the underside of the sub and routes neatly out the rear. This is the only cable the Edifier subwoofer needs. It auto pairs with the Luna satellites via a 5.8ghz wireless connection. This gives you the freedom of placing the sub wherever you like. 
In contrast, the Luna Satellites are tethered by an interconnect cable. It's 3m in length and has a unique 6-pin connector. This provides power and audio signal to the left passive speaker.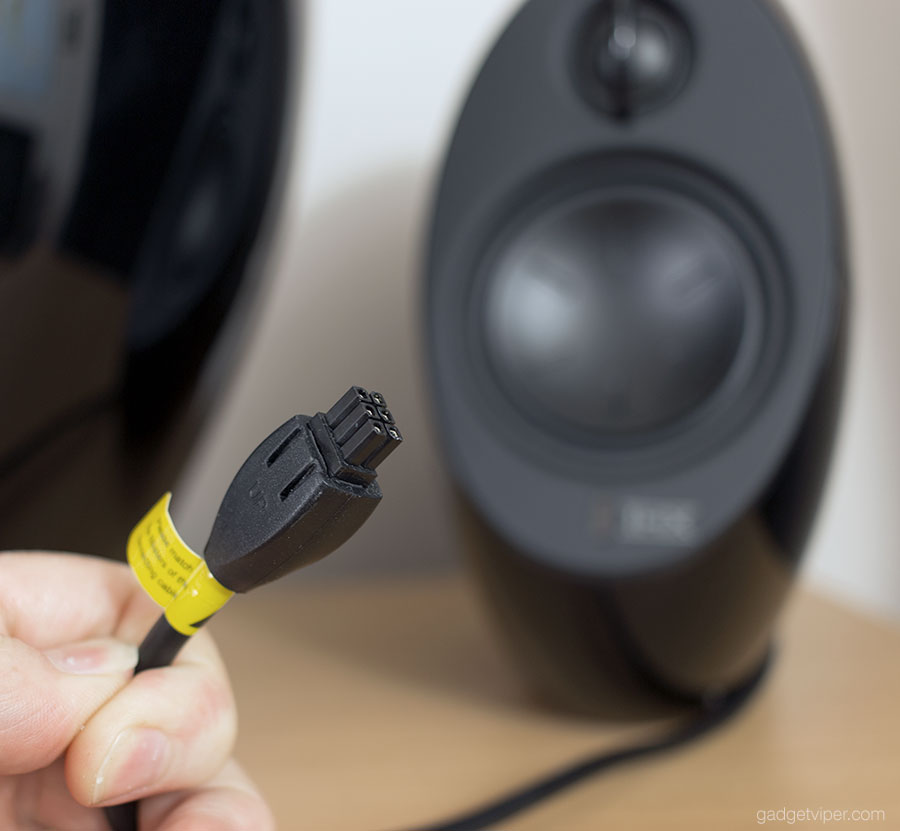 If you intend to use the Edifier e235 as a Bluetooth sound system, then your setup is complete. Once powered on, there will be a LED light on the front of the right speaker. It will be one of three colours, green for Auxuilly, red for Optical or blue for Bluetooth. You can toggle between modes by pressing the power button on the remote or with the touch sensitive control on the side of the satellite. With the indicator blue, the Edifier Luna E will be ready to pair with any available device.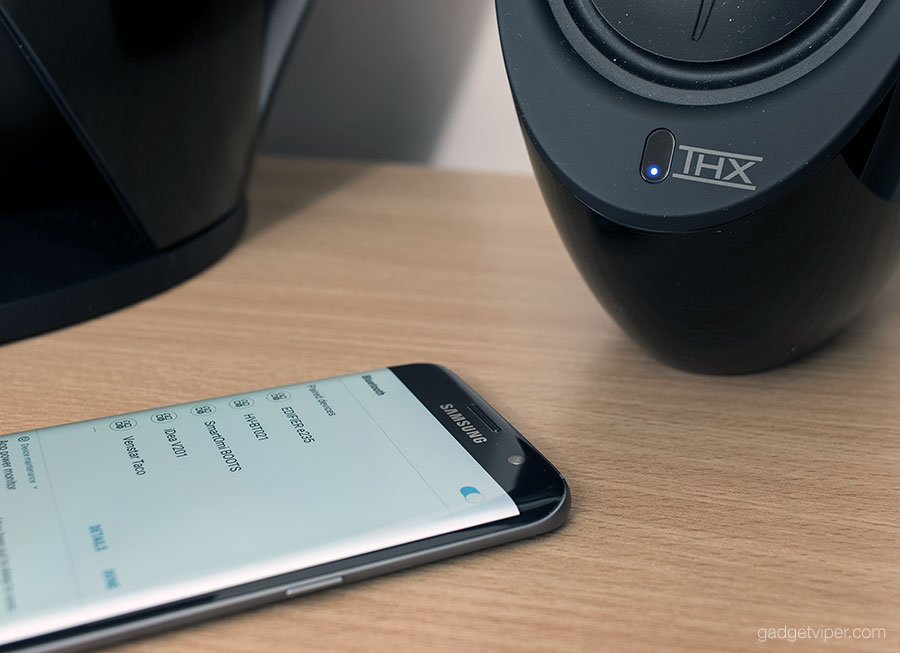 Additional audio cables are included for a wired connection to your PC, AV receiver, TV or HiFi system. There is a 3.5mm audio and an optical fibre cable, both are of a premium quality. They are thick yet supple and well shielded to prevent interference. Interestingly, they both connect via the same input on the back of the right Luna satellite.
Features and specs
The Edifier e235's have been certified by THX Multimedia systems ensuring they deliver a full-impact entertainment experience. They also feature Qualcomm apt-X codecs for a reliable low latency CD-Quality Bluetooth connection.
| | | | | |
| --- | --- | --- | --- | --- |
| 16W x2(T), 22W x2(M), 100W(SW) | ⩾ 85dBA | ⩽ 30dBa | Bluetooth 4.0, Opt, Aux | 8″(SW), 3″(M), 3/4″(T) |
Sound Quality and Performance
The Edifier e235 speaker system puts out an impressive 176W. Loud enough to fill a relatively large room with ease. The sound is rich and balanced thanks to Edifier's signature DSP, which tunes the bass and treble levels to prevent distortion at high volumes and helps balance the sound at low levels.
The introduction of the subwoofer to the Luna satellites adds a substantial amount of low end that's punchy enough that you'll feel the rumble in your chest. This is perfect for home entertainment purposes and it's bolstered even further when switched to THX mode. The bass deepens and the highs sparkle, I can confidently say the Luna E will outperform most high-end soundbars with ease.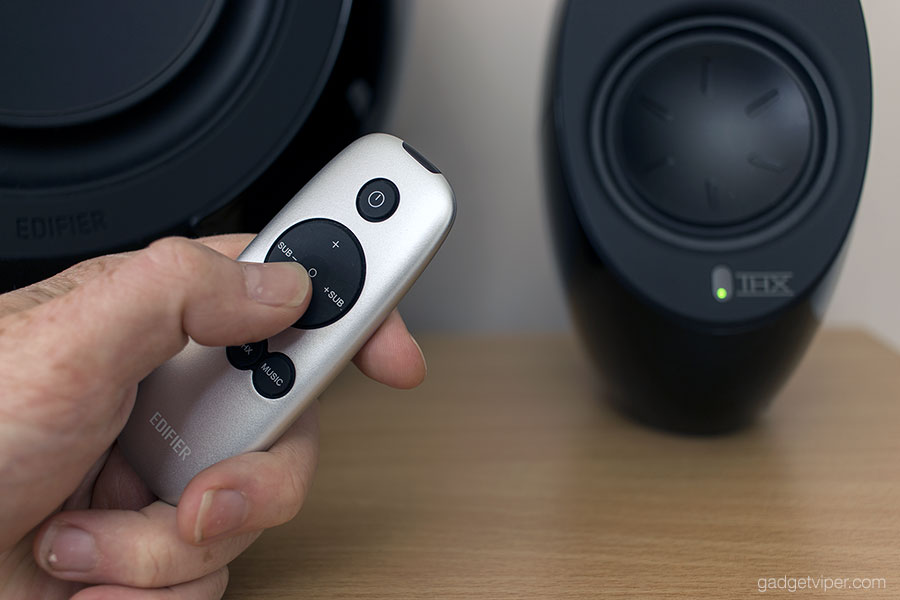 I've spent the vast majority of my time with the Edifier e235 listening to music. I've had it paired via Bluetooth with my phone and with an AUX connection to my PC. Thanks to the apt-X, there's barely any noticeable difference in audio quality between a wired and Bluetooth connection.
The Edifier e235 has three preset sound modes – 3D, THX and Music. I quickly dismissed the 3D mode, I think the soundstage seems a little too expanded for my taste. Music mode is well balanced, it's crisp and responsive with a warm tone that's a pleasure to the ears. The sound is clean throughout the volume range, but I think the sweet spot is at around 70%.  Having the subwoofer volume control on the remote is great for fine tuning the low-end depending on the music you're listening too. This is the first 2.1 sound system I've used with a wireless subwoofer and I've been hugely impressed with the latency, stability and its audio quality.
Verdict
The Edifier e235 speaker system does come at a price that puts it in the realms of some stiff competition. That being said, I haven't seen a sound system that comes anywhere close in terms of design. It's simple to set up and the wireless subwoofer is a seriously impressive unit that reminds me of the B&W PV1D. 
If you're looking for a high-end sound while making a bold visual statement and you can afford the price tag, then the Edifier e235 could be the ideal speaker system for your needs.
Price updated – 17th of July 2017 at 09:30 GMT
*Product prices and availability are accurate as of the date/time indicated and are subject to change.
I hope you found this review useful, if you did, please leave a comment below or share it socially – Thanks!