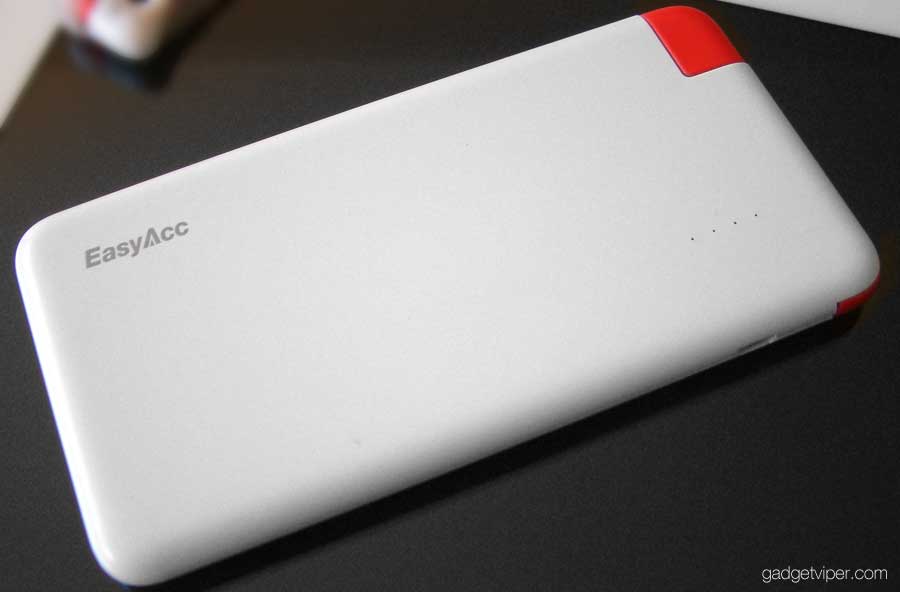 EasyAcc Power Bank –
PB4000CB
The new EasyAcc Power Bank with an integrated micro USB charging adapter is ultra-slim and lightweight. Perfect as a day to day portable charger for topping up on the move.
Features
4000 mAh battery (1.5 iPhone 6 charges)
Intergrated USB charging adapter
Tap to display remaining charge
Ultra-slim and light weight (125g)
EasyAcc PB4000CB
Amazon.com
price: $49.99 $15.99
Price information last updated on the 21st of June at 19:20 GMT
EasyAcc
PB4000CB

Power Bank 4000mAh – Full Review

Many of the popular small capacity Power Banks are cylindrical in shape (like a tube of Smarties). I personally think the optimal design should be the same as the phone itself.  This way, the phone and the charger can be placed together with a minimal amount of extra space required. The EasyAcc PowerBank has absolutely nailed this concept. in fact it's shape is so much like a Smartphone that it could easily be mistaken for one.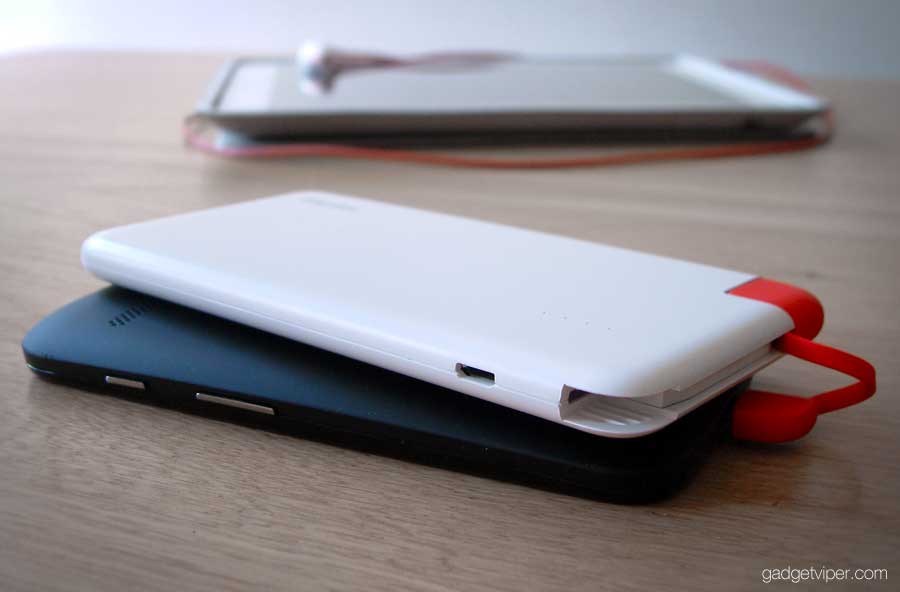 The sides and corners are fully rounded and the finish is smooth but not glossy.  There are no protruding surfaces or sharp edges on this Power Bank – The ideal partner to discreetly pocket spoon your phone.
As you can from the photos above, the integrated USB cable cleverly detaches at both ends. This allows you to charge your phone or use the same cable to recharge the device. For anyone with an Android / Windows based phone, there is no need to for any other charging cables.  iPhone users however, will still need to have a lightning cable or a little micro USB to lightning adapter.
The EasyAcc Power Bank recharges quickly even from a PC's USB port and charges your phone even faster, thanks to it's 2A max output.
There are 4 pin sized LED indicator lights to display the remaining charge in increments of 25%.  These cleverly display for a few seconds when you tap the device. I really like this feature, it keeps the charger button free and uncluttered.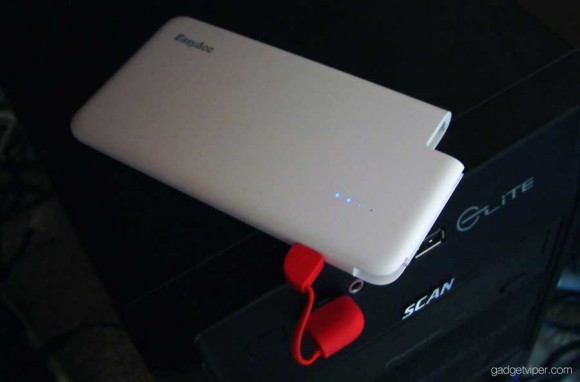 EasyAcc
PB4000CB

Power Bank 4000 mAh – Testing

I usually don't spend as much time with a product before I write the review as I have with this particular PowerBank.  With my two young boys currently enjoying their school holidays, it's been a bit of a juggling act, as I'm sure most parents can relate/sympathise with.

Taking the children out for the day has afforded me the opportunity to make good use of this EasyAcc Power Bank.  Once they're off on an adventure, whether its the park, beach or some ear-splitting softplay  – out comes my phones.  This is a great way to kill time, but also a great way to kill the battery.

Having this lightweight and ultra thin Power Bank with me has become almost a necessity. I always do the pre-departure pat down before leaving –  Keys, Wallet, Phone.  Now, however I find myself doing the extended version – Keys, Wallet, Phone, Power Bank.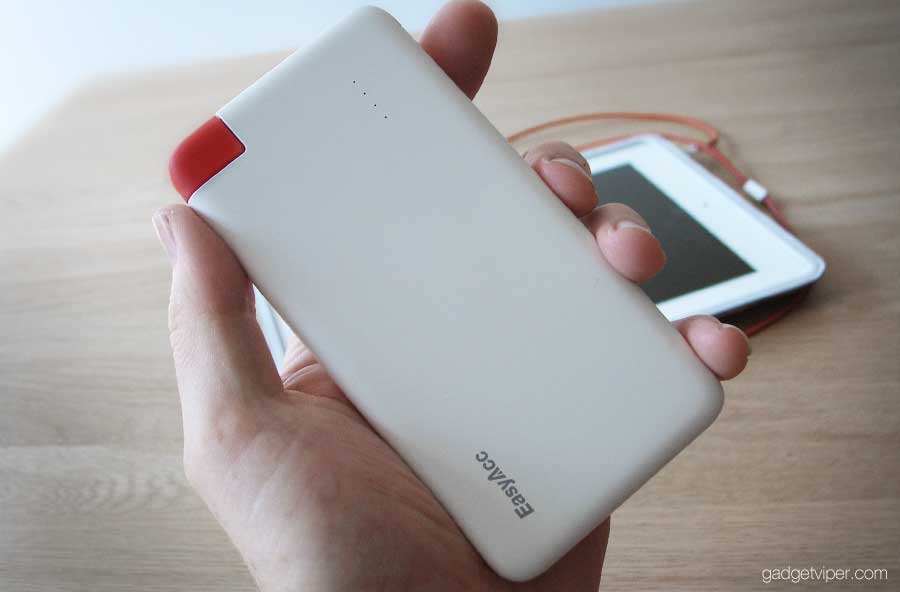 It's nice to be able to leave the house regardless of how low the phone battery is and know I'm not going to have to spend the majority of the day in battery saver mode.
EasyAcc
PB4000CB

Power Bank 4000mAh – Verdict

The EasyAcc PB4000CB has proved to be the perfect day to day top up charger for me.  The 4000mAh capacity gives it enough juice to double your phones life without having to compromise on comfort. It's lightweight ultra slim design and integrated charging cable make this Power Bank just right for anyone looking to add a little extra juice to their phone whilst on the move.

EasyAcc PB4000CB

Amazon.com

price: $49.99 $15.99

Price information last updated on the 21st of June at 19:20 GMT

-To see more detailed portable power bank reviews, visit out portable phone charger page. Or if you're looking for a good quality high capacity external battery, be sure to check out our list of the best 20000mah power banks.