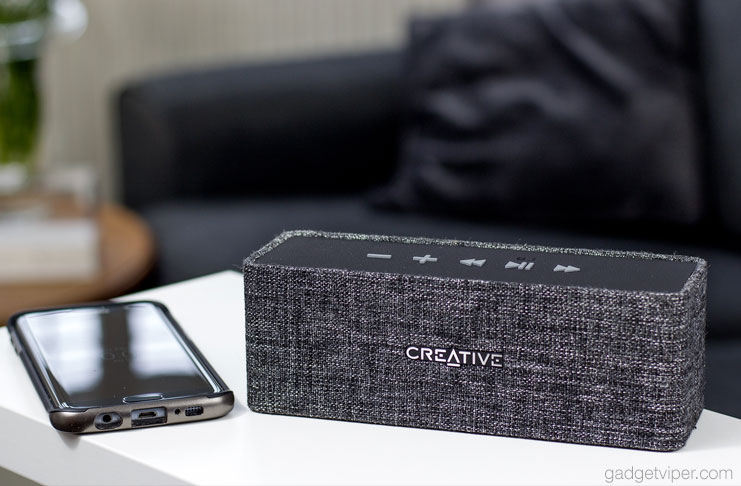 Creative Nuno Bluetooth Speaker
A lightweight and affordable portable speaker featuring a unique fabric finish to complement your home furnishings. The Creative Nuno offers a refreshing alternative to plastic, metal or rubber coated Bluetooth speakers.
Highlights
Available in grey or black fabric
6 Hours battery life
Hands-free calling
Bluetooth and AUX-in
Auto-off after 10 minutes
Pros and Cons
+
Attractive design, fabric finish looks great around the home, good audio for the price.
–
6 hours battery life is a little less than the standard for a Bluetooth speaker of this size.
Where to Buy?
Price updated – 10th of November 2016 at 15:30 GMT
*Product prices and availability are accurate as of the date/time indicated and are subject to change.
Fabric coated technology products are growing in popularity. This could be the first in a new wave of cloth covered Bluetooth speakers.
Creative Nuno – Full Review
Recently Goggle announced a new range of mobile devices and accessories. Among them was a VR headset called the Daydream View. What made this product stand out from other VR devices was its fabric construction. It had me thinking 'why don't we see more tech products made this way?'
Creative was clearly thinking along the same lines with their new Bluetooth speakers, the NUNO and NUNO Micro.
Today I'm reviewing the NUNO, but if you guys are looking for an even smaller speaker, here's a link to the NUNO Micro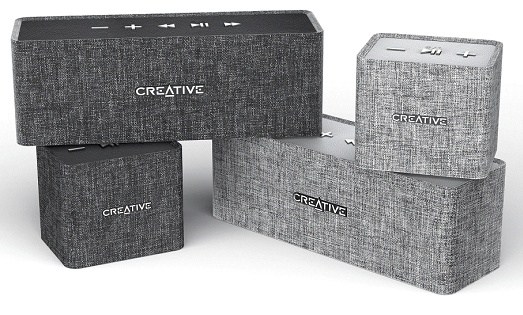 Design and Build Quality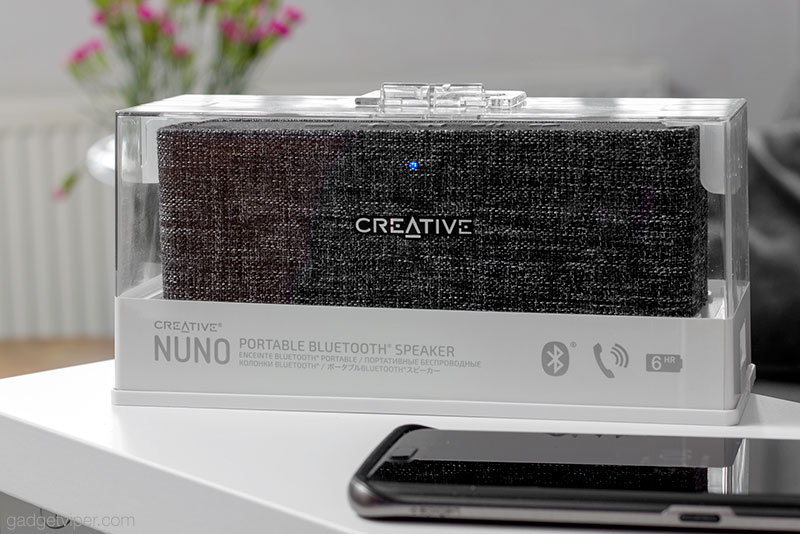 As always, Creative have done an excellent job with their packaging. Much like their more expensive Bluetooth speakers, the NUNO comes inside a hard shell plastic display case with the manual, warranty and charging cable hidden inside the base.
Good presentation is an added bonus at this time of year. With Christmas around, it's nice to have a product that looks appealing when unwrapped. I've tested many Bluetooth speakers that have come in plain boxes. In most cases, the device is perfectly fine, however, a generic cardboard box does absolutely nothing for first impressions.
As Creative clearly has no problem spending a little extra on presentation, I was a little surprised not to see a 3.5mm AUX cable inside the box.
Not a problem if you're only intending to use it via Bluetooth. For those wanting a wired connection, you're going to need to get one.
The Creative Nuno has a simplistic design. Its front, back and sides are tightly covered in fabric which neatly wraps over the top of the speaker.  The top and base have a natural leather appearance. This is actually a textured plastic, but without scratching the surface, you'd never tell.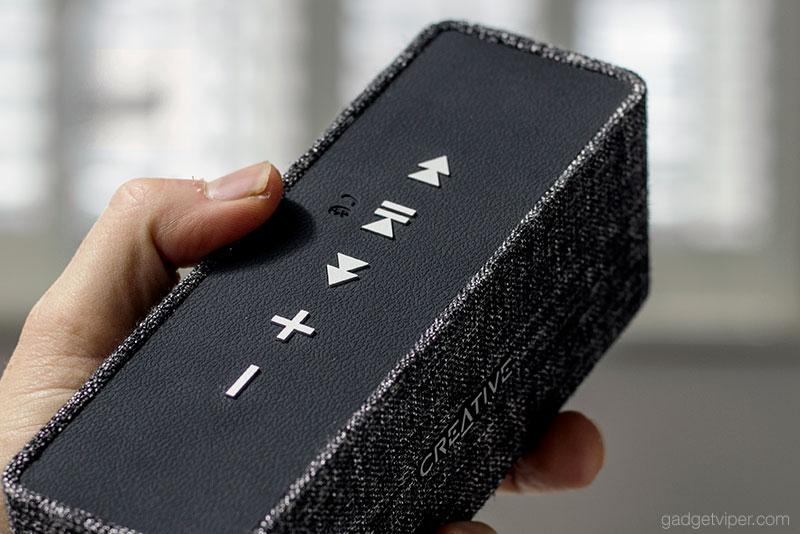 The manual controls are well placed and very easy to use. The volume and track skip buttons are independent on the larger version but are combined on the Nuno Micro.
The USB charging port, on/off switch and AUX-in are on all found on the rear of the speaker.
With a small power switch tucked around the back, you could be forgiven for forgetting to flick it off when you're done. Fortunately, the Creative Nuno has an auto-off feature that will do it for you after 10 minutes of inactivity.
Specs and Features
| | | | |
| --- | --- | --- | --- |
| 83mm (7.2 inches) | 60mm (2.2 Inches) | 65mm (2.4 Inches) | 390g (12.0oz) |
For some reason, the Creative Nuno streams with Bluetooth 2.1 + EDR.  While this is a perfectly stable Bluetooth connection, it's certainly not as efficient as the current Bluetooth standard (V4.2).  It's strange they didn't opt for the latest version like they did with the Muvo 2. That being said, the range is great and there wasn't any noticeable difference in audio quality when I switched from Bluetooth to an AUX connection.
| | | | |
| --- | --- | --- | --- |
| 2.1 + EDR | 10 Metres (33 Feet) | 6 hours | 2 hours |
I've been testing out the Creative Nuno for the last 5 days and have been thoroughly impressed with its reliability although I do feel a little disappointed by the battery life. A Bluetooth speaker of this size and weight should offer between 8 – 10 hours. I've been getting between 6 and 7 hours of play time.
It could be that I'm being overly critical here. In Creative's defence, I've just come off the back of reviewing the MUVO 2 (currently my favourite Bluetooth speaker) which is fractionally lighter and boasts 10 hours battery life. There is, however, a significant difference in price between the two. At the current price point of the Nuno, I really shouldn't complain.
Sound Performance
The Nuno follows in the footsteps of Creative's other Bluetooth speakers when it comes to sound performance. Very clean and well-balanced mid-range, sharp highs and a great volume for its size. As with all compact speakers, you're never going to be blown away by the bass. The Nuno does the best it can with the lows, but they're certainly not as tailored as the mids or highs.
Verdict
The Nuno offers a stylish alternative to plastic portable speakers. The fabric finish helps complement home furnishings or adds a little warmth to an office environment. Beyond its soft exterior, there's the reliability and performance you'd expect from a Creative device. The audio is solid (for its size) and the Bluetooth connection remains stable. Yes, I'd have liked a few extra hours of battery life, but for the price, I really can't complain. The Creative Nuno Bluetooth speaker would make a great gift this Christmas, especially if like me, you happen to have matching furniture.
Price updated – 10th of November 2016 at 15:30 GMT
*Product prices and availability are accurate as of the date/time indicated and are subject to change.
I hope you found this review useful, if you did, please leave a comment or share it socially – Thanks!