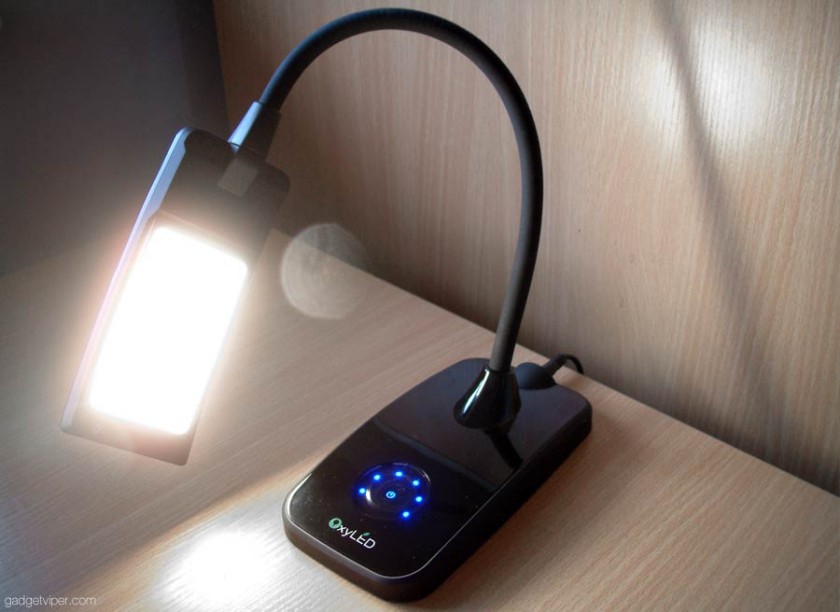 OxyLED T120 dimmable LED desk lamp
The OxyLED T120 is the upgraded version of the popular OxyLED 100 LED desk lamp.  This model has been specifically designed to reduce eye strain.
Featuring 6 dimmable LED settings and a choice of cool white or warm light shades. The OxyLED T120 desk lamp with it's manoeuvrable neck provides a highly adaptable and energy efficient lighting solution.
Details
Non Flicker LED with no dark areas, ghosting or glare.
Zero radiation or UV output.
Six dimmable LED settings and 2 light modes (cool and warm).
Ultra low voltage and heat output.
10 years life span. (25,000 hours)
Comes with 3 years warranty.
OxyLED T120 LED Desk Lamp
Amazon.com
lowest price: $42.99
Price information last updated on 04/10/2015 12:50 GMT
 OxyLED T120 dimmable LED desk lamp – Design
The OxyLED T120 LED desk lamp has a relatively heavy stainless steel base to keep the it stable and balanced when making positional adjustments. The top of the base has a highly glossy finish which elegantly tapers up the neck of the lamp. The bevelled sides of the base and the head of the lamp are finished in a matte black plastic. The combination of glossy and matte finishes give the OxyLED T120 a clean and stylish modern look.
The rubber coated neck of the lamp is roughly 10mm in diameter and approximately 30cm long. It's extremely manoeuvrable and will maintain it's position exceptionally well.
The ease of adjustment and stability of this lamp make it an absolute pleasure to use. It's compact design feels proportional correct, well balanced and steady even when bent at obscure angles.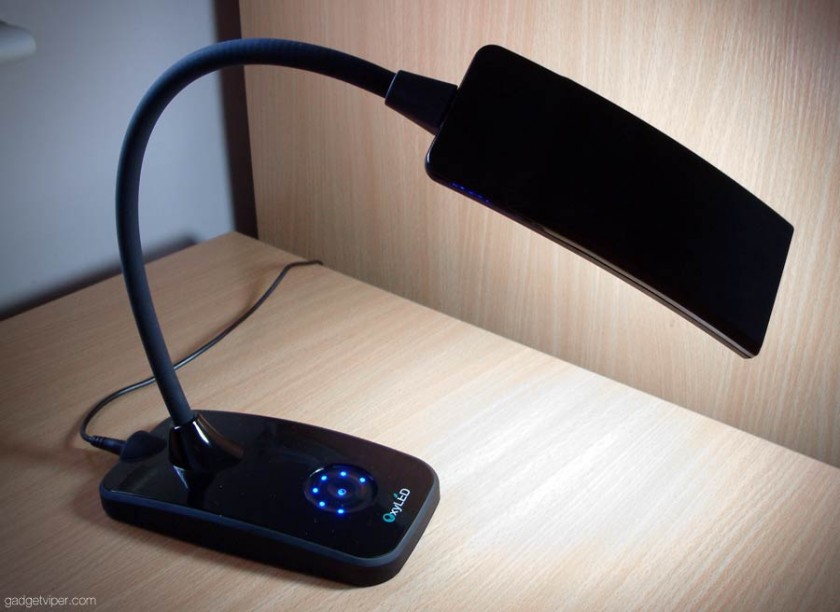 OxyLED T120 dimmable LED desk lamp – Features
The circular controls on the base OxyLED T120 remind me a little of the old classic apple iPod. The outer ring provides adjustment to the light intensity which is indicated by blue LED lights.  The inner area will turn the lamp on in it's cool white setting. A further press will switch it to the warm light and another press to turn it off.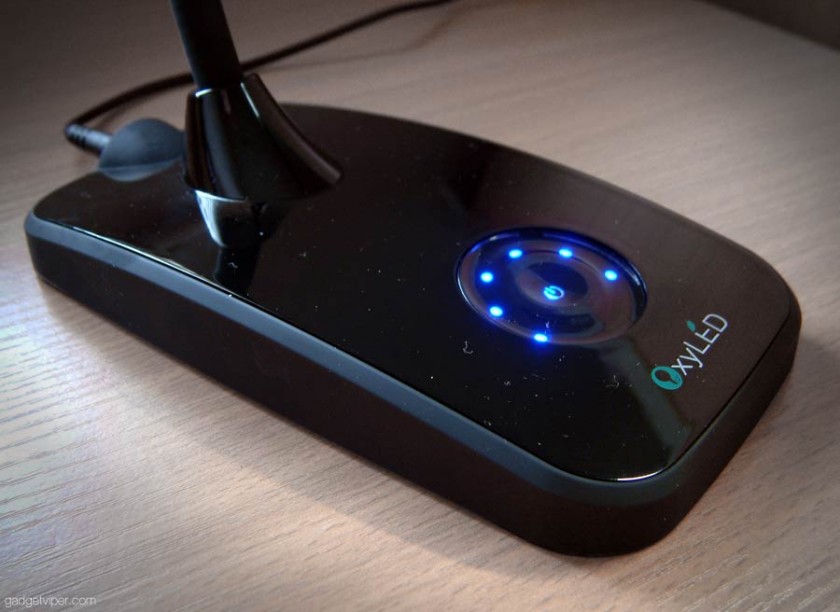 When reading Amazon customer reviews on this lamp, I noticed that a number people were unhappy with the inconsistency of this button. I can understand how some people would have cause for concern. Unlike the classic iPod the power button has no definitive click, once the correct pressure is achieved.  This gives you the impression it's touch sensitive rather than a regular button, which it's not.
While it may have been nice to have a little Apple-esk click on the inner button, it's simply a matter of applying enough pressure. In my case this button works consistently well, and the pressure required is by no means excessive.
Here is a short demonstration video of OxyLED T120 dimmable LED desk lamp:
As you can probably see from the demo footage, the OxyLED T120 is exceptionally bright on it's highest setting, even in daylight.  On a regular desk lamp this would undoubtedly be uncomfortable on the eyes. The T120 however, has a light diffusion plate over the LED which helps spread the light evenly.
With a much wider angle of light (105°) and far softer shadows than regular LED desk lamps,  the OxyLED T120 is perfect reading and writing tasks.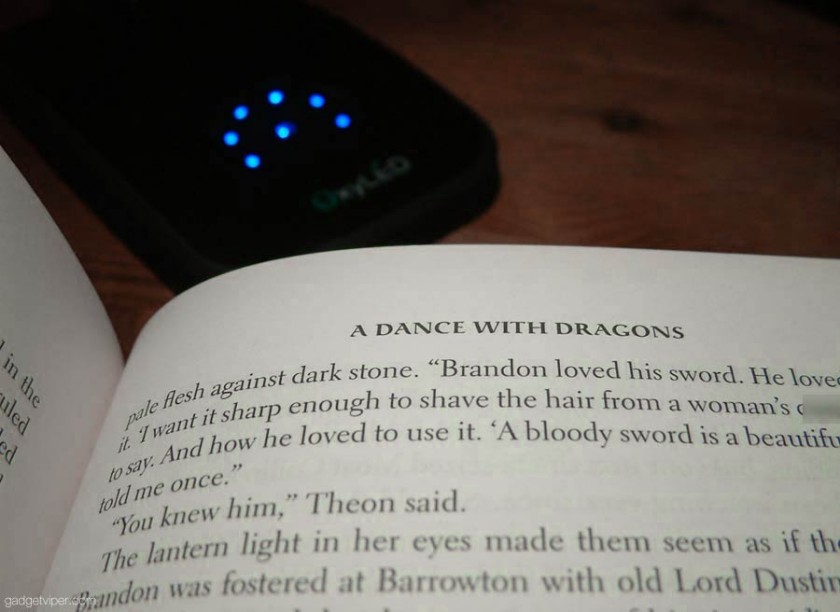 OxyLED T120 dimmable LED desk lamp – Verdict.
The OxyLED T120 is a well designed, highly efficient dimmable LED desk lamp which is great value for money.
If I were asked how this LED lamp could be further improved, I would suggest the following features:
A USB port on the base to charge my phone while working.
A power off switch on the rear, as the lamp will remain in standby mode unless unplugged.
I'd adapt the power button to make it click when sufficient pressure is achieved.
As far as the actual quality of light and performance of the T120, I cannot fault it. For anyone looking for a cost effective and versatile LED desk lamp, I highly recommend this product.
---
The OxyLED T120 is available to buy online at Amazon.com. To see the full range of OxyLED desk lamps and lighting products, visit their website.
OxyLED T120 LED Desk Lamp
Amazon.com
lowest price: $42.99
Price information last updated on 04/10/2015 12:50 GMT
If you found this review useful or liked the product, please share this post socially or leave a comment below – Thanks!