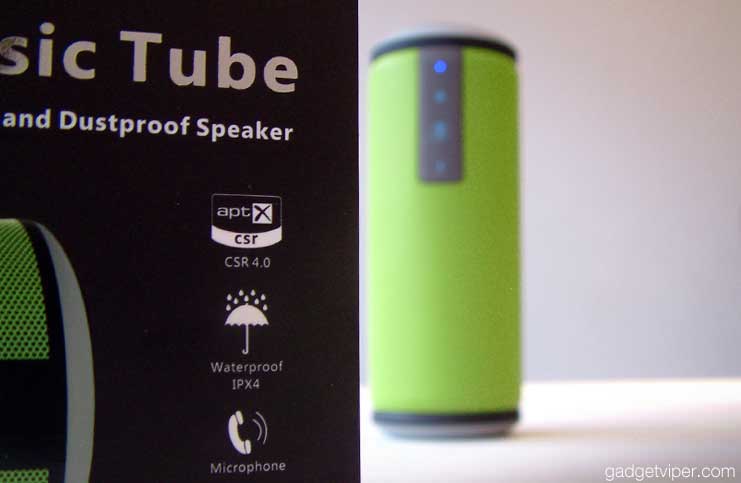 Trendwoo Music Tube
The Trendwoo Music Tube is a bluetooth speaker designed for the outdoors.  It's cylindrical shape and waterproof IPX4 rating makes it ideal for cyclists and hikers.
Featuring the latest CSR 4.0 apt-x audio codecs for crystal clear bluetooth streaming and twin bass ports for an enhanced depth of sound.
Features
Waterproof IPX4 rated
Bluetooth 4.0
Apt-X codecs
10m Bluetooth range
Microphone for hands free calls
Over 8 hours battery life
Stereo sound
Twin bass ports
Music Tube speaker
Amazon.com
lowest price: $69.99 $34.99
Price information last updated on the 22nd of July at 09:10 GMT
Trendwoo Music Tube – Unboxing
The Trendwoo Music Tube bluetooth speaker comes in a high quality presentation box. Inside the box there's a well illustrated user manual, a USB charging cable and AUX lead to accompany the speaker.
The included cables are a light grey colour that match the silicone trim of the speaker. I'm always pleased when I see matching accessories, it helps easily identify them amongst the tangled mess of countless others.
Trendwoo Music Tube – Design
Measuring 18cm long with a diameter of around 7cm, the Music Tube bluetooth speaker is the perfect size to drop into your bike's drinks holder or into the side pocket of a hiking backpack.
The main body of the speaker is made from a colourful mesh that wraps around the majority of its circumference, with 3 colours to choose from depending on your preference.
The speaker controls and LED indicator lights are positioned within the mesh on the top edge. The buttons, which are under a soft rubber water resistant surface feel responsive to the touch. Once you become familiar with their placement, accessing them to skip tracks or adjust volume is easily done, even while riding your bike.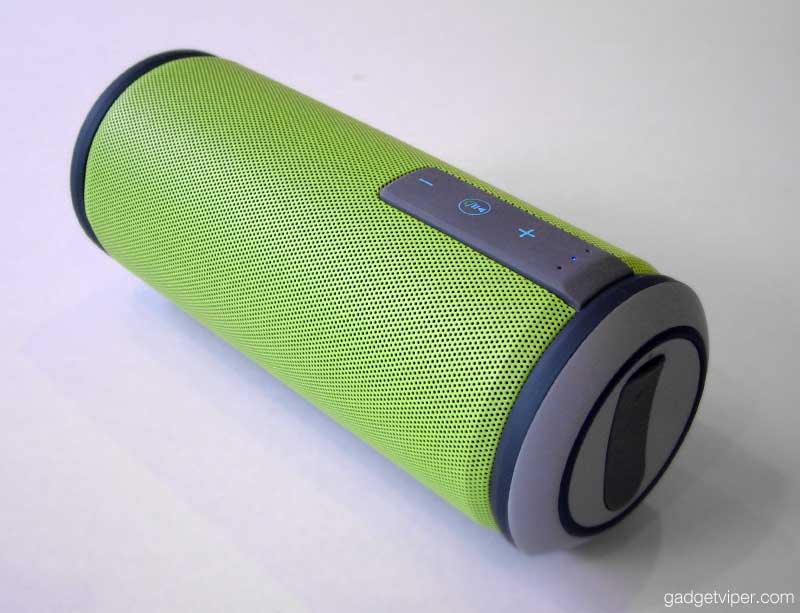 The ends of the Trendwoo Music Tube are slightly con-caved like the base of soft drinks can. This helps prevents any accidental contact with power button or the water resistant port cover on the top.
Surrounding the power button on the base is a soft ring of rubber that offers a great point of contact for standing the speaker up. This prevents any vibration when placed upright on a hard surface – A handy design feature considering the amount of bass the Trendwoo Music Tube puts out.
The underside of the speaker has two long parallel rubber feet to offer a good point of contact when placing the Music Tube on its side.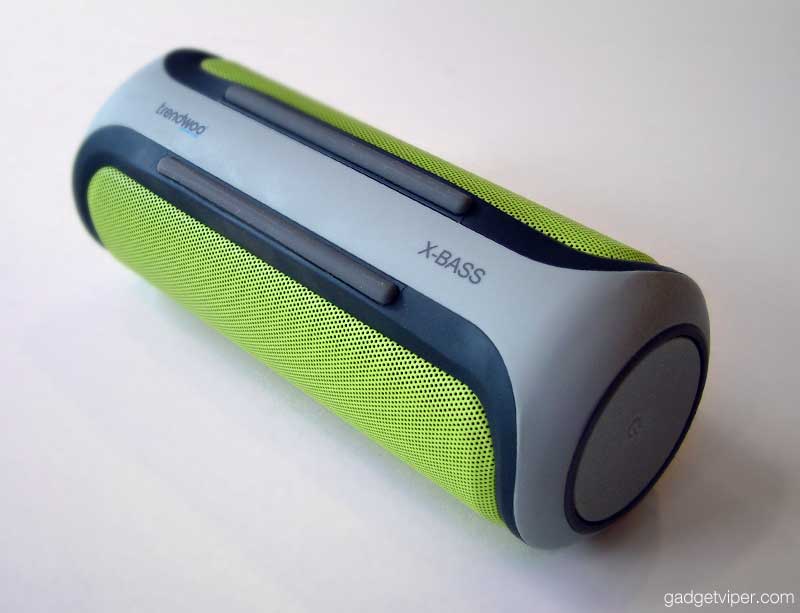 The overall design and build quality of the Trendwoo Music Tube bluetooth speaker is good. I think the rubber port cover could do with being a little more snug to avoid any potential leaks in bad weather, but I'm sure it would be fine as long as the water is not pooling on it.
Trendwoo Music Tube – Testing
Pairing – I paired the Trendwoo with my iPad and an Android phone. Both devices quickly detected the speaker as the "TR-Music Tube" and paired without any problems. Trendwoo remembers paired devices and reconnects faster than any other bluetooth device I've tested.
Battery life and range – Trendwoo say the Music Tube will last 8 hours with a range of 10 metres. Both of these stats are fairly accurate. This will however, depend on volume levels and the number of obstructions between the streaming device and the speaker.
Trendwoo Music Tube – Audio Performance
The Trendwoo Music Tube has 2 x 4W drivers with 2 bass ports which put out a serious amount of bass. At full volume, there is enough force from the bass to actually move the speaker around on the table.
The sound, which is directed out one side only despite its cylindrical shape, is impressive and clean even at full volume.
Anyone who enjoys listening to music with a good bass line will be very happy with this particular bluetooth speaker.
Specifications
Bluetooth Speakers Version: CSR4.0 + EDR
Frequency range:180Hz-20KHz
S/N ratio: ≥80dB
Speaker unit: diameter 40mm, inner magnetic 4Ω,4W*2
Trendwoo Music Tube – Verdict
I'm extremely impressed with this bluetooth speaker. It has a refreshing, colourful design with a good level of finishing. The sound is clean, loud and punchy for it's size and the IPX-4 waterproof rating makes it ideal for outdoor use.
As this is an outdoor bluetooth speaker, I would liked to have seen either a net pouch included or a lanyard / carabiner attachment – Perhaps that's something Trendwoo might consider on later models?
Music Tube speaker
Amazon.com
lowest price: $69.99 $34.99
Price information last updated on the 22nd of July at 09:10 GMT
For more information about Trendwoo and their range of bluetooth speakers, earphones and accessories, please visit their website.