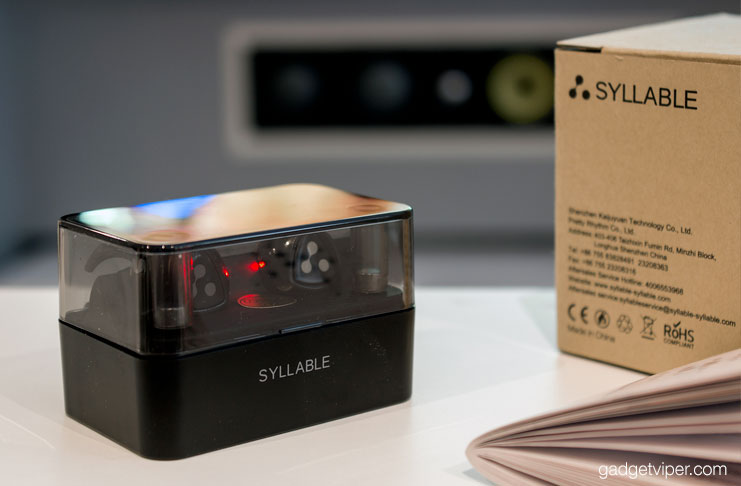 D900 Mini Syllable Wireless Earbuds
Bluetooth Earbuds without any wires at all. The Syllable D900's are extremely lightweight  and provide up to 2 hours music play time with each 30-minute charge inside the docking case.
Highlights
Bluetooth 4.0 connectivity
2 hours play time per charge
Docking case provides 6 full charges
Spare Earbuds and carry case included
Pros and Cons
+
Very lightweight, comfortable to wear, no wires, good charging dock
–
No track skip or volume control, inconsistent connection issues on right earbud.
Where to Buy?
Price updated – 18th of November 2016 at 15:30 GMT
*Product prices and availability are accurate as of the date/time indicated and are subject to change.
Apple think wires are a thing of the past, I'm not truly sold on that idea just yet…
Syllable D900 Mini – Full Review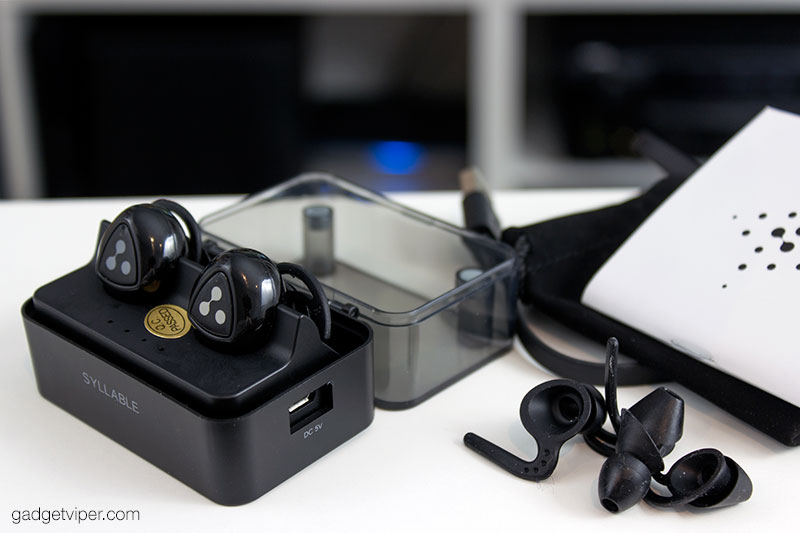 The Syllable D900 Mini wireless earbuds come with a charging dock, micro USB cable, a carry pouch, two sets of spare buds and a user guide. The charging case is well designed and easy to use.
The top of the case opens with a hinged lid and the earbuds drop nicely on a molded shelf.  The lid has a strong magnetic closing action that applies the right amount of force to engage the charging pins.
Four blue indicator lights signify the remaining power inside the dock and lights on the earbuds glow red while charging.
| | | |
| --- | --- | --- |
| 30 Minutes | 5 – 6 Times | 3 Hours |
Now on to the earbuds… On a positive note, they are very light, weighing just 5 grams. The silicone plugs are comfortable and fit snugly in the ear. The build quality and general construction, however, is nothing to write home about.
The singular button is clicky and not particularly tactile. This is used to power the device on/off, to play/pause music, take handsfree calls and for Bluetooth pairing. You'll need to use your phone or Bluetooth device to skip tracks or adjust the volume – not ideal.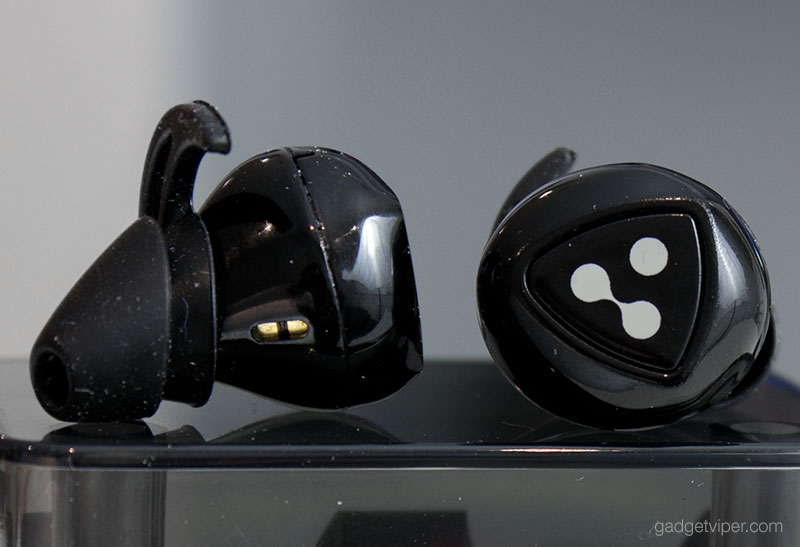 Another little gripe I had with the design was knowing their orientation once I'd twisted them into my ears. A small raised bump on the surface would have easily resolved this.
None of the issues I've raised so far would have been deal breakers for me regarding the use of these earbuds. Considering their entry-level price, I'd expect a certain lack of refinement. The big problem I encountered was the reliability of the wireless link between the left and the right earbuds.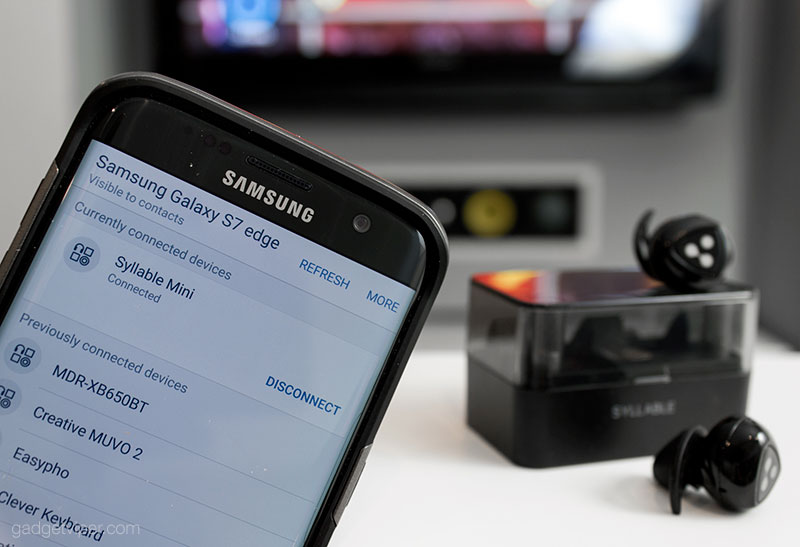 Bluetooth pairing from my phone to the left earbud was an absolute breeze. The Bluetooth 4.0 works flawlessly and the range is great, easily reaching 10m without loss of signal.  Maintaining a connection to the right (slave) earbud, however, was a totally different story.
It dropped in and out constantly to the point I had to take the right earbud out entirely. I'm really not sure why, but if I had to speculate I'd say it was switching modes from music to hands-free. My reasoning behind this is when a call comes in, the Syllable D900 Mini will temporarily switch to the left ear only, then revert back to both ears.  Perhaps my phone was somehow tricking the earbuds into believing there was an incoming call.  Whatever the reason it drove me absolutely crazy on numerous occasions.
As for the mids and highs, they were fine at a moderately high volume and plenty good enough for a run or workout at the gym.
Verdict
Had there not been an issue with the right earpiece dropping its audio, I'd have been very pleased with these earbuds considering their price. Maybe I got unlucky with a faulty unit or perhaps they don't like the Galaxy S7 Edge for some reason. I might eventually retest them with a different mobile device to rule out the possibility that my phone was to blame. In the meantime, I'll revert back to a good old-fashioned wired connection – until the next time I catch the wire on a treadmill and curse them too!
Price updated – 18th of November 2016 at 15:30 GMT
*Product prices and availability are accurate as of the date/time indicated and are subject to change.
I hope you found this review useful, if you did, please leave a comment below of share it socially – Thanks!