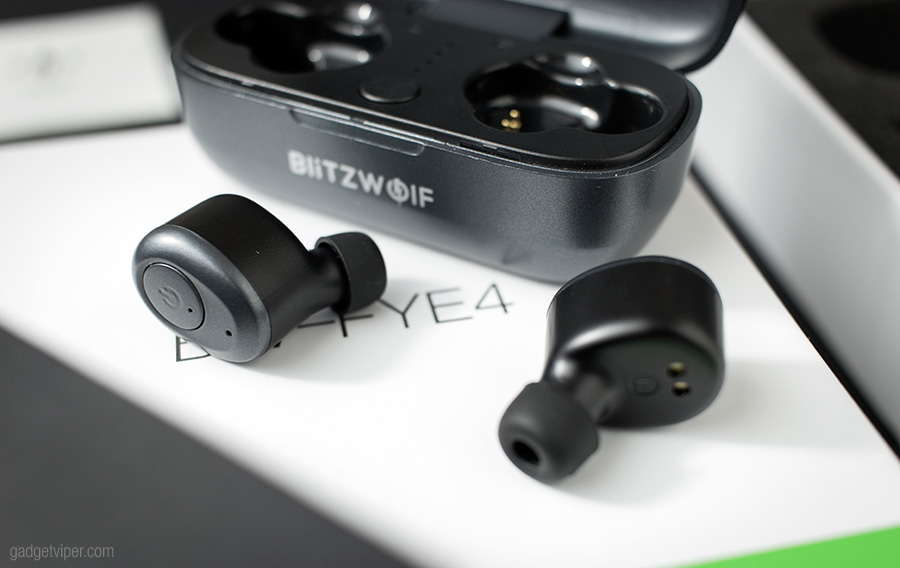 BW-FYE4 True Wireless Earphones
Choosing a set of True Wireless Bluetooth earbuds can be a difficult task. How will they fit? will they be comfortable? will they sound any good? and how reliable will the connection be?
I'll do my best to answer those questions in this review of the BlitzWolf BW-FYE4 True Wireless Earphones.
Highlights and Features
Bluetooth 5.0 (10m Range)
4 hrs playtime / 20 hrs with charging box
1.5 hrs to recharge earbuds
Lightweight and comfortable
IPX4 Waterproof
Auto on, off and pairing
Handsfree calling features (4.5 hrs)
Pros and Cons
+
ROCK solid Bluetooth 5.0 connection, lightweight and comfortable, very simple to use, Siri/Google control, great value for money.
–
Could possibly work loose in the ear during heavy training, auto-off feature when charging failed occasionally.
Where to Buy
*Price updated on the 29th of December 2018
Price and availability are accurate as of the date/time indicated and are subject to change. Any price and availability information displayed on Amazon at the time of purchase will apply to the purchase of this product.
After over 40 hours of music, the
BWFYE4's
have performed flawlessly thanks to Bluetooth 5.0 – A must for any set of True Wireless earbuds.
Blitzwolf BW-FYE4 – Full Review

The product arrived in a good quality lidded box with closed-cell foam inside to provide protection during shipping. The Earbuds are already located in their charging bays, but have a clear plastic film covering each contact, this will need peeling off before first use.
Along with the earphones and charging box, there's also a Micro USB cable, two additional ear-tips, a user-manual and warranty-card. The manual is easy to follow
BlitzWolf provide an 18-month manufacturers warranty and offer free product support on this and all of their other products. In addition to the warranty, there's a 30-day satisfaction guarantee.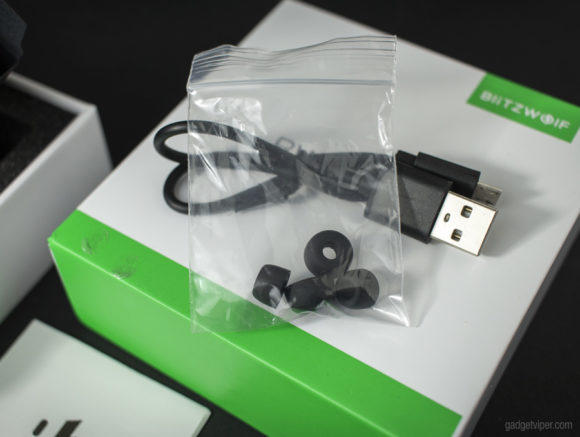 Charging Case Specs
The graphite grey charging case measures 75x30x35mm and features a hinged lid that snaps shut when closed. There's a BlitzWolf logo on the front and a micro USB port around the back for recharging the box. Its rounded edges and compact size make it comfortable to carry in the pocket.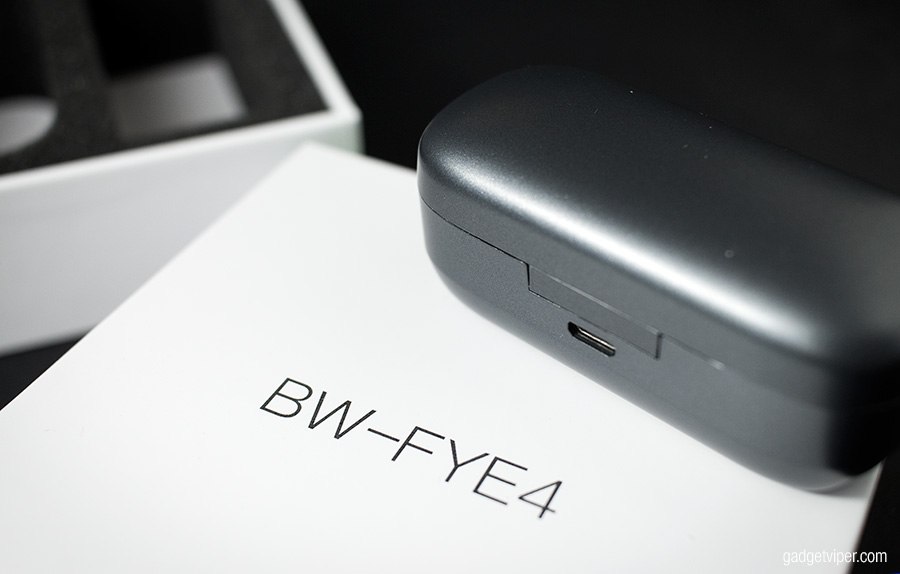 Unlike most True Wireless Earbuds, the lid is not required in order to provide adequate pressure to initiate charging. The Earbuds will happily begin to recharge as soon as they are dropped into their bays.
Inbetween the earbud charging bays is a single button.  When pressed, the remaining battery life of the case will be displayed using a series of four white LED lights.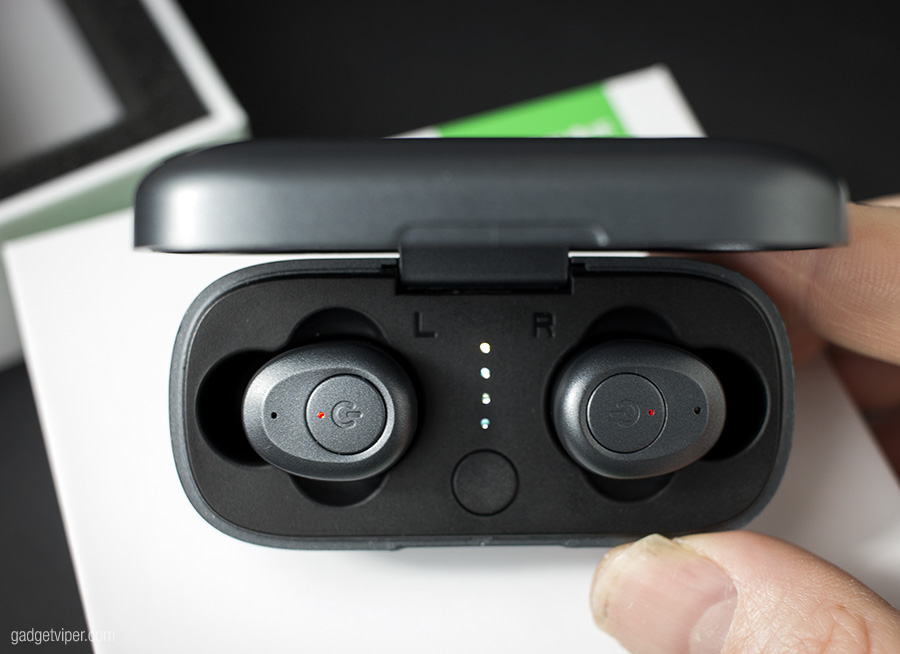 The charging case has a 500mAh lithium battery capable of four full charges of both earbuds. This provides a total music playtime of 20 hours!
| | | | |
| --- | --- | --- | --- |
| 500mAh | 3 Hours | 1.5 Hours | 3.5-4 Hours (up to 20 hours) |
Earbuds, Comfort and Fit – 8 out of 10
The earbuds are neatly designed with an ergonomic oval shape. They feature a chamfered bevel, two small LED lights and a tactile multi-function button. The housing is 14mm deep and the complete earbud weighs just under 4g.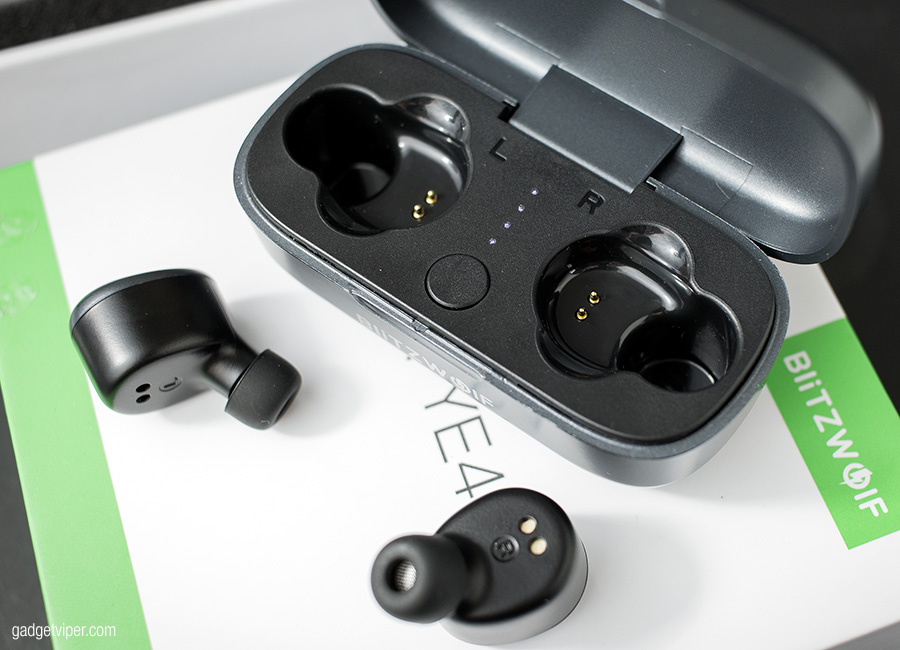 The ear-tips are the standard silicone rubber that you find on most in-ear headphones.  – Given the choice, I'd always opt for memory foam tips with True Wireless earbuds, as they tend to offer a more stable fit during training. 
The Silicone tips do an ok job of remaining in place during training. While they haven't fallen out once, I have on occasion had to tighten them back up to improve the passive noise reduction and rebalance the sound. This is fairly typical with most wireless earphones and a small price to pay to be free of dangling cables.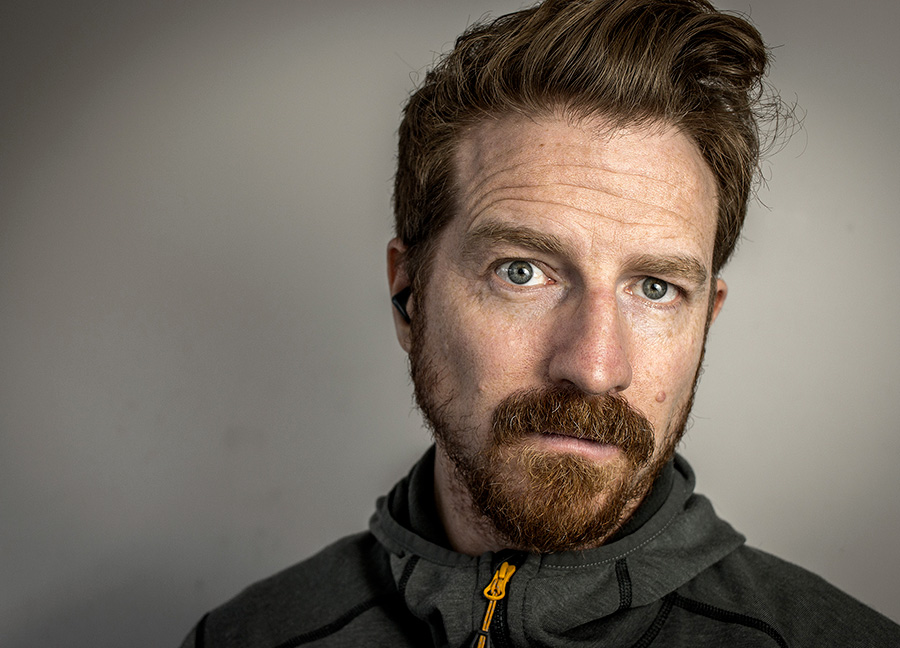 They sit close to the ears on a slight downward angle and look very low-profile. There as so many true wireless earbuds on the market that look ridiculous in my opinion. – I refuse to wear earbuds that look like buttplugs even if they are made by Bose.
Ease of use – 9 out of 10
BlitzWolf has done an awesome job of simplifying the use of these earbuds. Once you've initially paired them to your phone, all you need do from then on is to take them out of the charging case and return them once you're done. – It really is that simple.  They turn on when removed from the case, link together, and then reconnect to your device automatically. This happens flawlessly within a few seconds.  – I've used the BW-FYE4's for over 40 hours now without a single complication, I couldn't ask for more!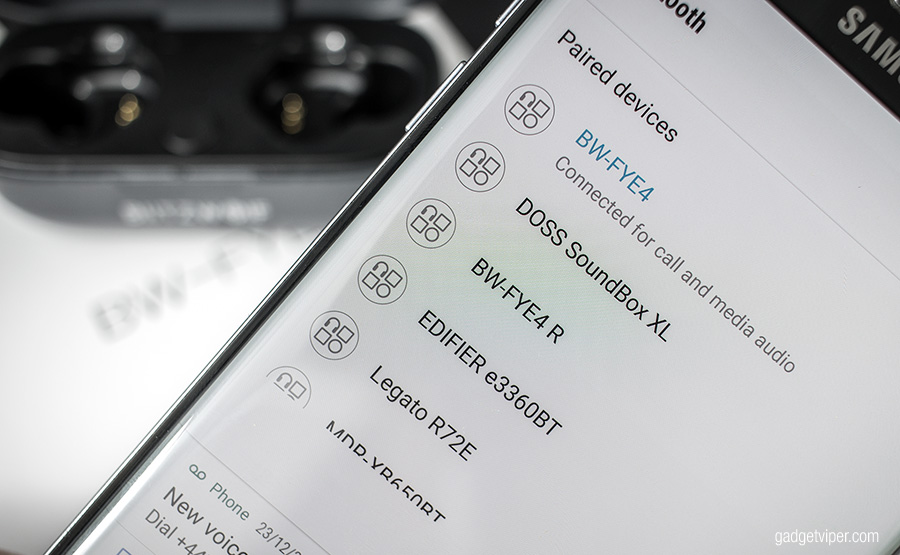 Returning the BW-FYE4 BlitzWolf earbuds to their charging bays will automatically turn them off. There have been two occasions during testing when the right-side remained on after placing it back. I'm not sure why this happened and I've tried to replicate it without any luck. – I suspect it may have been some rogue earwax preventing the bud from seating itself properly.
Controls and Functions – 9 out of 10
The multi-function button is easy to press and provides playback controls, handsfree call functions and access to Siri/Google.
Single Press – Play and Pause Music or Answer and end incoming calls.
1.5 Second Press – Activates Google or Siri.
Double Press – Skips to the next track.
Triple Press – Plays the previous track.
Long Press- Rejects an incoming call or powers off.
There are no volume controls, but if you're in a pinch and can't reach your device, you could always ask Google or Siri.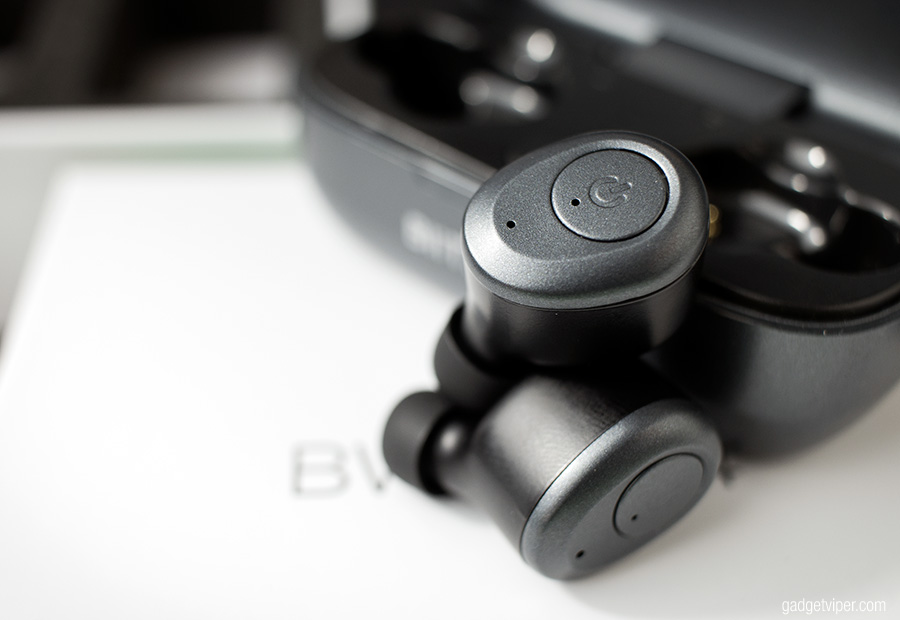 The Bluetooth Connection – 10 out of 10
The Blitzwolf BW-FYE4 True Wireless Earbuds have the latest Bluetooth 5.0 connectivity. This is essential in my opinion as it pretty much guarantees a stable connection.  As previously mentioned I've listened to over 40 hours of music with these. During that time I have had no drops in the left-right link and a rock solid stable connection. 
Audio Quality and Performace – 7 out of 10
Get a good fit in the ears and you'll be more than happy with the audio quality. The BW-FYE4's offer a well- balanced sound. The highs are clean but not quite as sparkly as some other earphones, likewise, the lows are present and pleasing but not overly deep. The mids are where they should be and vocals good.  The sound should please most people, especially for the price you're paying.
Handsfree call quality also deserves a mention. It's very rare that I can effectively use true wireless earbuds for phone calls without people complaining that I'm quiet.  This hasn't happened once, despite having taken multiple calls.
Verdict
After 40 hours of use, I'm happy to give these a big thumbs up. The BlitzWolf BW-FYE4's are great value for money, really easy to use, and super reliable. So, if you're looking for affordable True Wireless earbuds with an amazingly stable Bluetooth 5.0 connection then grab a set of these, you won't be disappointed.
Where to Buy
*Price updated on the 29th of December 2018
Price and availability are accurate as of the date/time indicated and are subject to change. Any price and availability information displayed on Amazon at the time of purchase will apply to the purchase of this product.