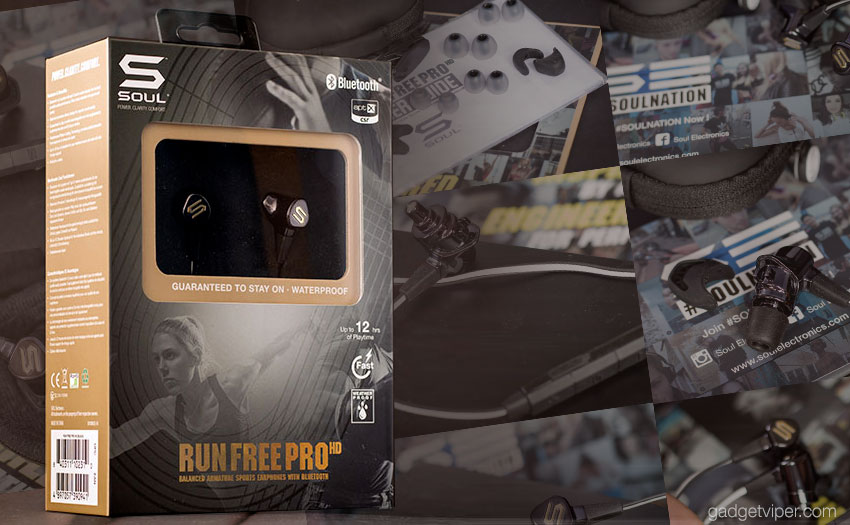 Run Free Pro HD Sports Earphones
In-ear headphones designed for an active lifestyle without compromising on audio performance.
The Soul Electronics Run Free Pro HD's feature apt-X codecs, Knowles balanced armatures, fast charging, nano coating and a highly reflective cable for running at night.
Highlights and Features
Bluetooth 4.0 + EDR with Apt-X
Up to 12 hours Playtime
15 min Fast Charge for 1.5 hours playtime
Interchangeable ear lock system
Memory foam ear tips
Nano coating waterproof technology
Highly reflective cable for night runs
Pros and Cons
+
Very secure fit in the ears, solid build quality, great battery life, good selection of ear tips, impressive sound quality with great separation between lows, mids and highs.
–
The manual controls require a little more pressure to click than necessary, the Bluetooth is not quite as reliable as their
X-Shock
earphones.
Where to Buy
*Price updated on the 21st of August 2018 at 16.00 GMT
Price and availability are accurate as of the date/time indicated and are subject to change. Any price and availability information displayed on Amazon at the time of purchase will apply to the purchase of this product.
With the memory phone ear tips and ear-lock systems fitted, there's no way these are shaking loose!
Run Free Pro HD – Full Review
As unboxing experiences go, very few high-end headphone brands come close to the effort Soul Electronics make with their packaging. The presentation is flawless and really helps to raise your level of expectation.
This is actually a good thing when it comes to audio equipment. I'll try not to bore you here with the science, but the long and short of it is that our brains have a measurable bias towards products we expect to be great. If you hand someone a set of headphones in a tatty box with a tiny price tag, their brains will process the listening experience differently. This sounds like gibberish, I know, but it's been tested in MRI scans of the brain. So for the purpose of our weirdly functioning grey matter, Soul Electronics have got off to a great start.
In the box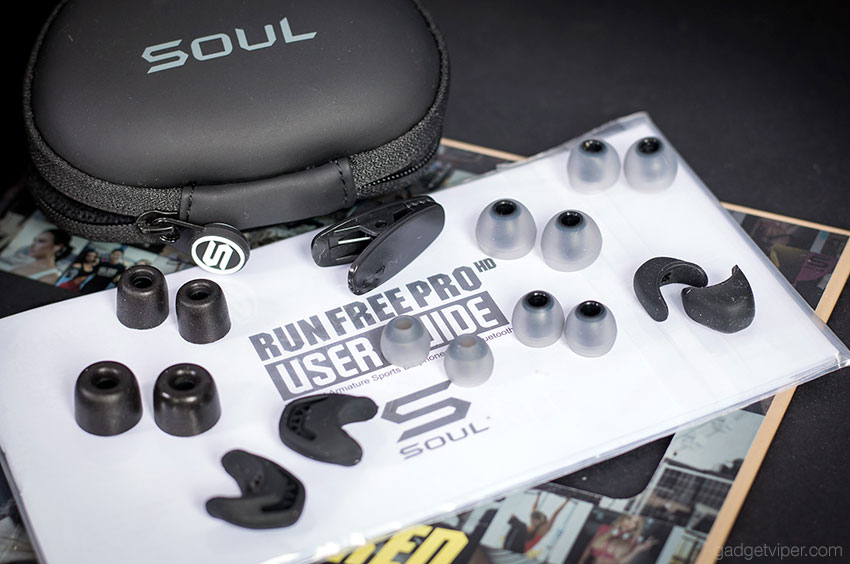 Inside the box, there's a carry case, USB charging cable, a good quality user manual, two sets of ear-locks, a cable clip and six pairs of ear tips. Along with the standard silicone rubber ear tips that come with most earphones, SOUL has included two sets of memory foam tips. I really like this variety, not only are they comfortable, they also make a great seal in the ears. This improves passive noise isolation and has a notable effect on the audio quality.
In the Ears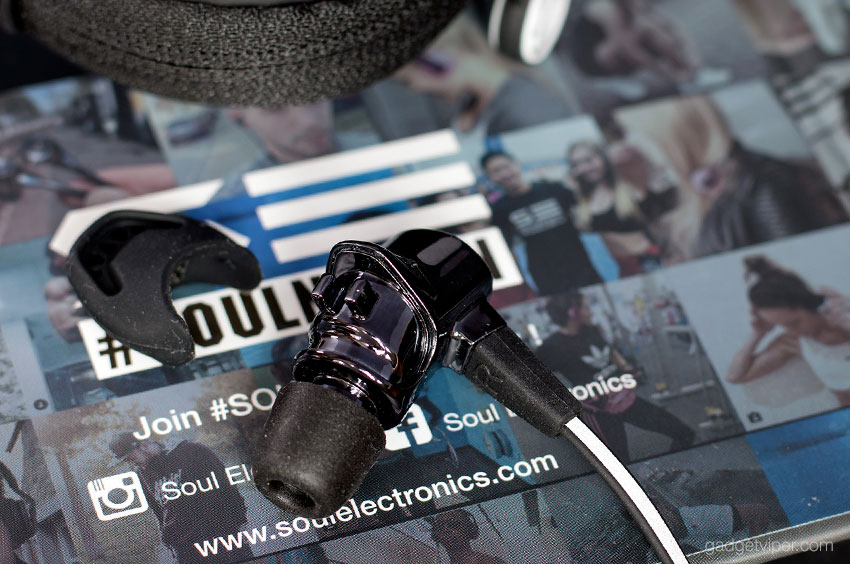 The Run Free Pro HD earphones come with a small set of ear-locks fitted. These can be easily switched for the larger ones depending on your preference. They simply push fit over some lugs on the housing.
Now here's a tip for you guys
When you install the ear-locks on the earphone housings, you may find that they are a little loose. During testing, I was concerned they might come off if you had them rattling around in a pocket. The trick is to press down on them so they compress further against the housing. After doing this they become far more secure. I can imagine some people will not realise this, so hopefully, this tip will help.
With the memory foam ear tips and ear-lock systems fitted, there's absolutely no chance of these shaking loose. I'd go as far as to say that I've never owned a set of earphones more secure in the ears than these ones.
The Design and Build Quality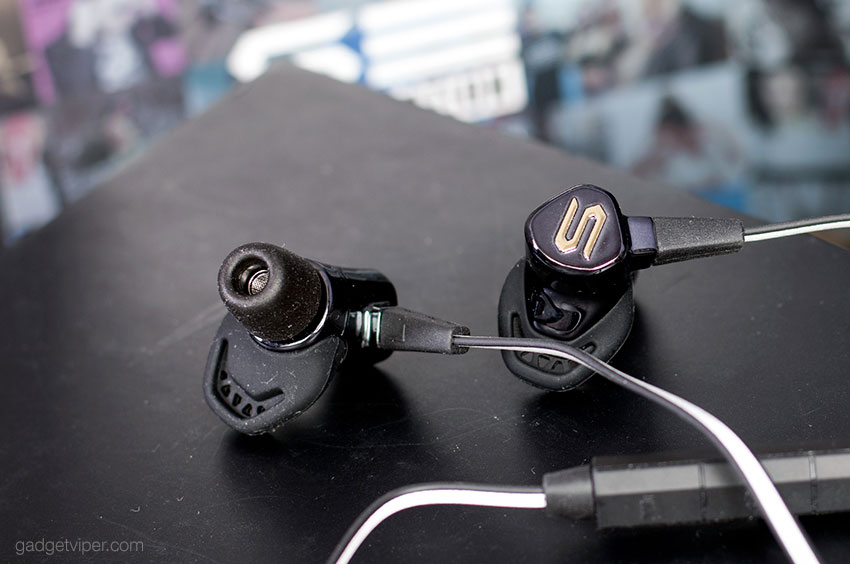 The Run Free Pro HD's come in either a bright blue hue with silver accents or in black with gold details. The glossy housings have a unique contoured shape and the embossed 'S' on the ends gives them a sporty look.
The transition from the housings to cable is robust and unlikely to be a weak point. The cable has an anti-tangle design and features a highly reflective band – ideal for night runs.
The cable is a good length and rests just above the shoulder blades. For those that want to lose the slack, the clip that SOUL provides can be used to create a loop.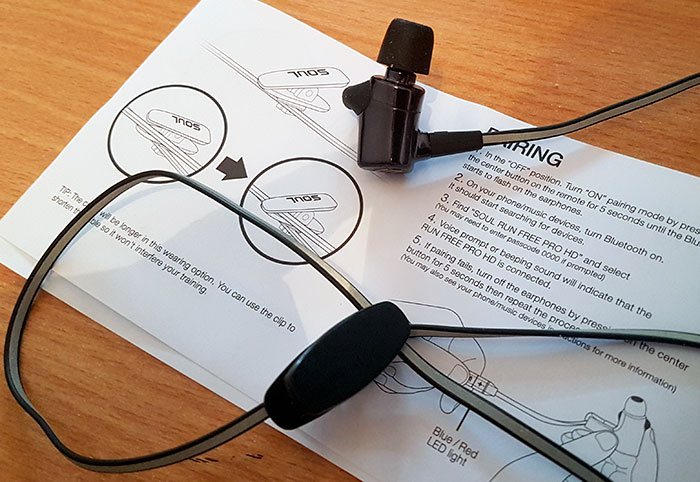 I've been using the clip to secure the earphones to my clothing for times when they're out of my ears and resting around my neck.
The Controls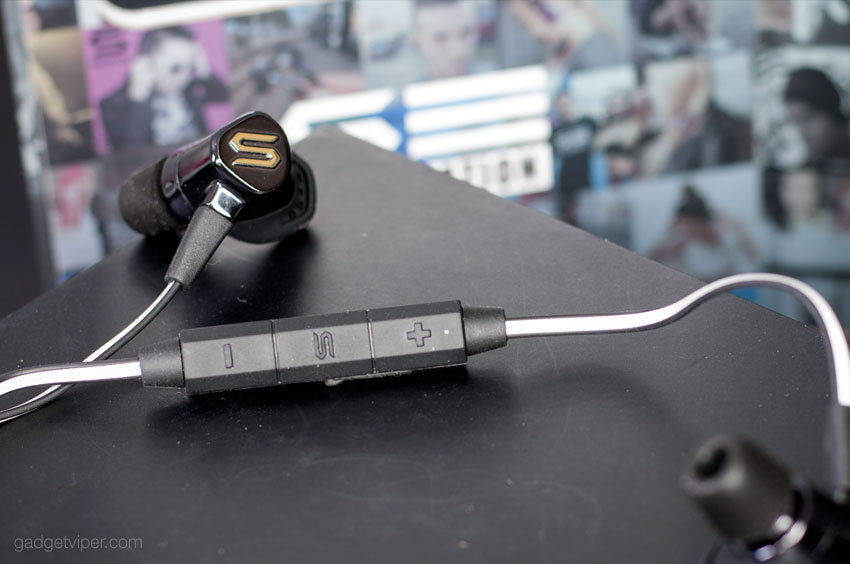 The manual controls are positioned a few inches down from the right earpiece. There are three buttons and an LED status light on the front, a micro USB charging port on the side and a microphone on the rear. The outer buttons adjust volume and skip tracks, while the central button takes care of all other functions. I like the blocky design of the unit and the micro USB charging port is well protected under a rubber cover.
Another Little Tip  – For those that like using 'Ok Google' or 'Siri' you can activate it by clicking the central button and the '+' at the same time –  This wasn't mentioned in the user manual.
My only dislike with the controls is the amount of pressure required to press the buttons. If you've got nails it's not too bad as they provide a stiffer point of contact. If, however, you're relying on your squishy thumb meat, then you'll find it a little more difficult.
Run Free Pro HD – Features and Performance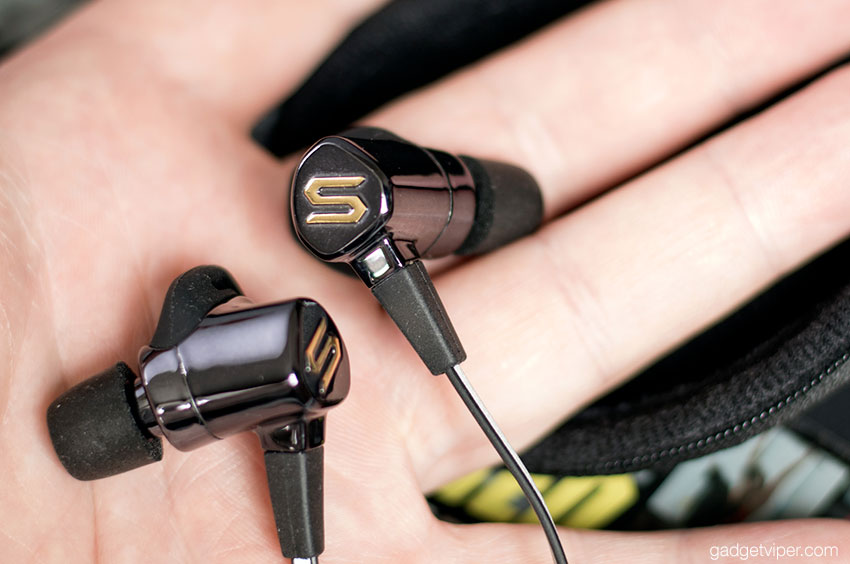 The Battery
The Run free Pro HD's boast an impressive 12 hours of battery life. This is at the top end for this style of Bluetooth earphones. I've been through the battery a few times now and have seen play times of between 9 and 10 hours. I'm happy with this, considering the volume level I typically have my music playing at.
They will take around 2 hours to fully recharge, but for those in a hurry, the Run Free Pro HD's will fast charge in 15 minutes for 90 minutes of playtime.
The Bluetooth
These run on Bluetooth version 4.0 and work to a range of 10m unobstructed. They offer multipoint pairing, this means you can use two devices and switch between them. It's a handy feature if you want to stream music from a tablet or laptop while still connected to your phone for hands-free calls. The consistency of the signal has been ok, it's not flawless like their X-Shock earphones, I've had a few brief drops, but not enough to call it a problem.
The Sound Quality
The Run Free Pro HD earphones feature balanced armature drivers professionally tuned by Knowles. They also run on apt-X codecs which is currently the best method for wirelessly streaming music. – For those interested in understanding the difference between dynamic drivers and balanced armatures, here's a link to a useful page that explains it.
The audio quality is bang on, especially with the memory foam tips installed. The lows, mids and highs are distinctively spacious. The bass is powerful, the mids have notable clarity on vocals and the highs are precise. The volume goes loud, perhaps louder than you'd ever need, which I'm guessing would be handy for noisy gyms or traffic noise.
Verdict
The Run Free Pro HD earphones are designed for sports, with features like nano-coating to resist rain and sweat and an earlock system that guarantees they'll remain in place.  That said, there has certainly been no compromise on audio performance or comfort. I'd happily wear these away from the gym or the track, which is handy as I've been particularly lazy recently when it comes to fitness.
So whether you're a cross-fit junky or a couch potato, I'd highly recommend you check these earphones out for yourself.
Where to Buy
*Price updated on the 21st of August 2018 at 16.00 GMT
Price and availability are accurate as of the date/time indicated and are subject to change. Any price and availability information displayed on Amazon at the time of purchase will apply to the purchase of this product.
I hope you found this review useful, if you did or if you have any questions about the product, then please feel free to leave a comment below.