UPDATE
: After using this product for
9 months
now on a daily basis, I've finally got around to making a new YouTube video. It demonstrates using the Staresso with
Nespresso Pods
as well as my new method to get the best out of the product.
Here's a link
, I hope it helps if it does, please leave a thumbs-up or subscribe to the channel – Thanks!
Staresso SP-200 Coffee Maker
An award winning portable espresso and cappuccino maker designed to work manually without the need for a power source.
The Staresso can generate between 15 to 20 bar of pressure to ensure an authentic espresso with a full crema perfect for Americano's, Cappuccinos and Latte's
Highlights
15-20 Bar of pressure for crema
Can also be used to froth milk
Six variations of coffee styles
Easy to clean/rinse
Comes with two coffee shot glasses
Takes up to 10 grams of ground coffee
Works with Nespresso capsules
Available in a range of colours
Pros and Cons
+
Very impressive and robust build quality, consistent espresso extraction, easy to use
–
Using the pump to froth milk isn't ideal, can drip after use, pumping is a little noisy.
Where to Buy?
Price updated – 1st of Septemeber 2017 at 10:00 GMT
*Product prices and availability are accurate as of the date/time indicated and are subject to change.
Could the Staresso be the next step on my quest to find the ultimate outdoor coffee maker?
Intro
Before I get into the bones of this review, I'd like to emphasize the importance of a good coffee in my life. It's almost like I'm on a journey towards the holy grail of coffee making solutions. Some might say the answer is to head to a decent coffee house or buy an expensive machine. But neither of those two methods are going to satisfy me when I'm off on a trip somewhere.
The true holy grail has to be a coffee maker that's portable and doesn't require a power source. One that's good enough to be used at home daily while being just as effective when used outdoors.
Up until now, I've been convinced that the AeroPress is my best option. There is no doubt it makes a staggeringly good coffee. However, you're never going to get the crema without the all important high pressure of an Espresso machine. Although some would rightly argue that the crema doesn't actually contribute to the taste of the coffee, in my mind, it's like being served a Guinness without a head – unthinkable!
So let's take a closer look at the Staresso and see if this manual espresso maker gets me any closer to my goal of the perfect all-round coffee making solution…
Staresso – Full Review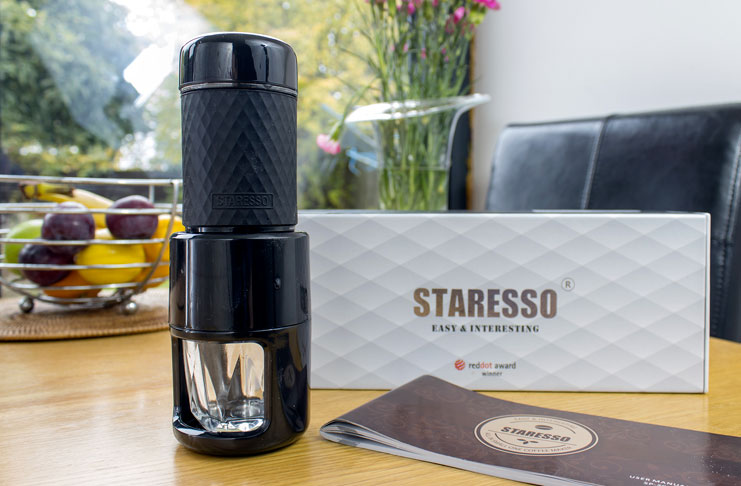 The Staresso is made from a combination of Stainless Steel and ABS plastic and weighs 330 grams (not including the glass). It comes with a measuring cup, a detailed user guide, cleaning brush, spare sealing ring and two Espresso shot glasses.
On the top of the Staresso is a stainless steel plunger that nests neatly inside the recessed lid. It's retained by pushing it down and twisting it slightly clockwise to lock it in place.
When you are ready to begin building the pressure, a slight twist anti-clockwise will allow the plunger to spring back into position.
The main water chamber holds 2.7oz (80ml) of water, just the right amount for a single Espresso shot.  By unscrewing the top, water can be added up to the max level (just below the silicone rubber sleeve).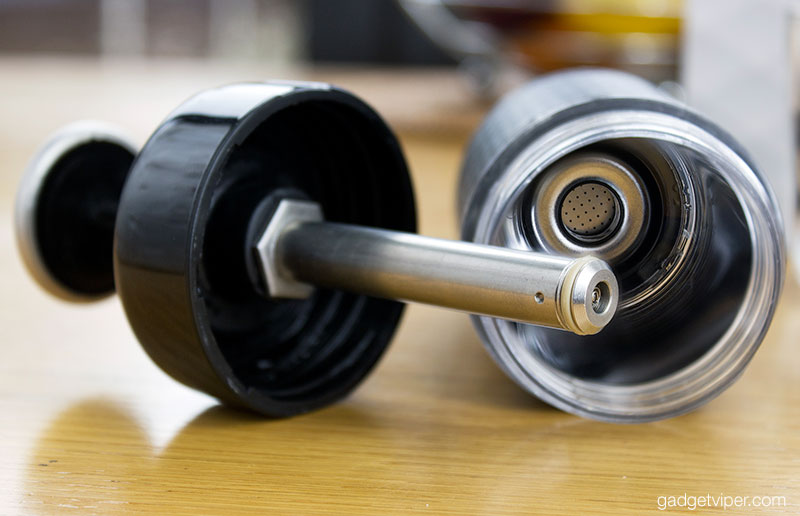 On the underside of the hot water chamber is a bottom cap that houses a coffee basket. Using the measuring cup provided, coffee can be easily added to the basket. Once the cap is screwed back in place and the water is added, the Staresso is ready to go.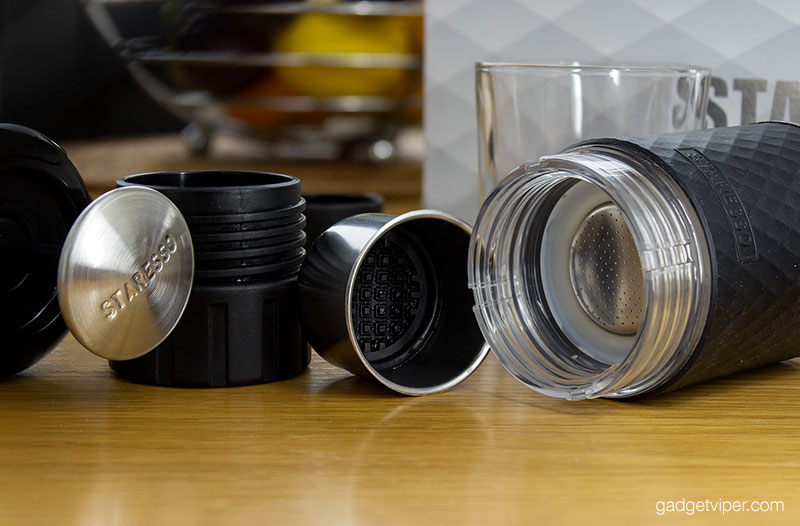 Pumping is relatively easy considering the amount of pressure the Staresso manages to generate. It takes a fair number of pumps to complete the process and there is some noise involved.
It's not too loud, but I'd say it's enough to potentially disturb nearby sleeping campers if you're an early riser looking for a morning coffee.
Once complete, the Espresso is then ready to continue on its journey. Personally, I favour either adding a splash more hot water for a black Americano or some frothed milk for a Cappuccino.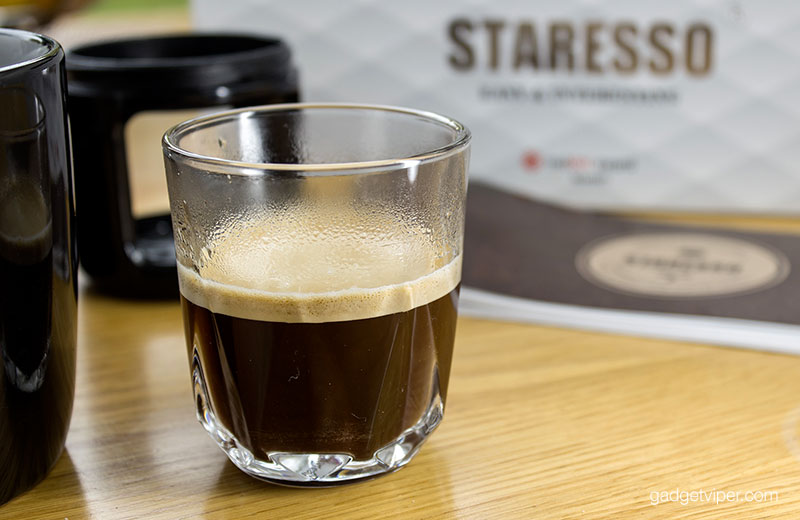 The Staresso plunger can be used to pump air through hot milk to provide a froth. I found this a bit of an uphill task. I also don't like the idea of sucking milk into the pump and having to clean it out.
If you've watched my demo video at the top of this page, you'll see I have my own milk frother for when I'm at home. If I'm out hiking or on a camping trip, I always drink my coffee black (Americano) so I have no need to use this method.
Maintenance and Cleaning
When you first use the Staresso, you may feel like there's a lot of components to maintain. I really haven't found this to be the case. A simple rinse under a tap and it's almost spotless. There's a little brush included that allows you to pop out the grill from inside the coffee basket to clean underneath, should you wish to be more thorough.
Verdict
I have probably made more than 25 coffee's using the Staresso since I began testing it. So far it's been very consistent and a total pleasure to use. I've done side by side taste tests against my Aeropress and I simply cannot fault it.
The Staresso is extremely well designed and makes a genuinely good espresso without any need for a power source. If I had to pick holes, it would be its weight (especially with the espresso glass). Any hiker will tell you the importance of light kit.  For short hikes or car camping, the Staresso is definitely coming along. For long through hikes, however, I'd struggle to justify the weight.
With my testing over and the review complete, tomorrow morning I will either be reaching for the Staresso, or for my trusty AeroPress, I'll let you know which one I choose.
Price updated – 1st of Septemeber 2017 at 10:00 GMT
*Product prices and availability are accurate as of the date/time indicated and are subject to change.
I hope you found this review useful, if you did, please leave a comment below or share it socially.
A sub on the YouTube channel would be nice too!