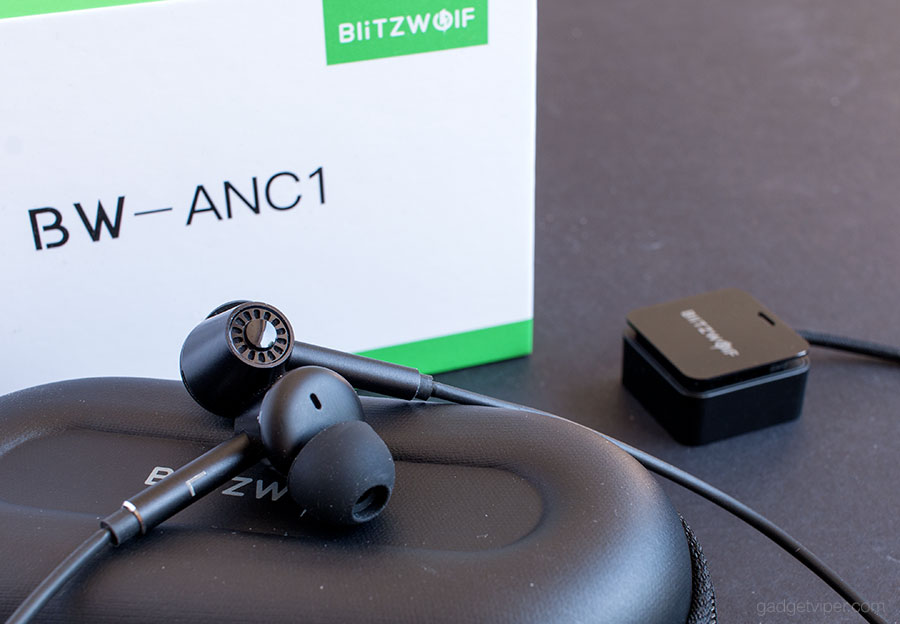 Blitzwolf BW-ANC1 Earphones
An affordable set of active noise cancelling Bluetooth in-ear headphones with AptX HD audio.
The BW-ANC1 earphones can actively reduce ambient noise by as much as 20dbs – ideal for travel and noisy environments.
Highlights and Features
Active Noise Cancelling technology (ANC)
Up to 6 hours music playtime
Bluetooth 4.1 with AptX HD audio codecs
Multi-Point Connectivity
IPX4 – Splashproof
Handsfree calling features
Pros and Cons
+
Impressive build quality and sound, good active noise cancelling, dual connectivity, ANC powers off with headphones, Siri/Google control.
–
The clip-on controls may not suit some outfit choices
Where to Buy
*Price updated on the 27th of June 2018 at 16.00 GMT
Price and availability are accurate as of the date/time indicated and are subject to change. Any price and availability information displayed on Amazon at the time of purchase will apply to the purchase of this product.
Blitzwolf BW-ANC1 – Full Review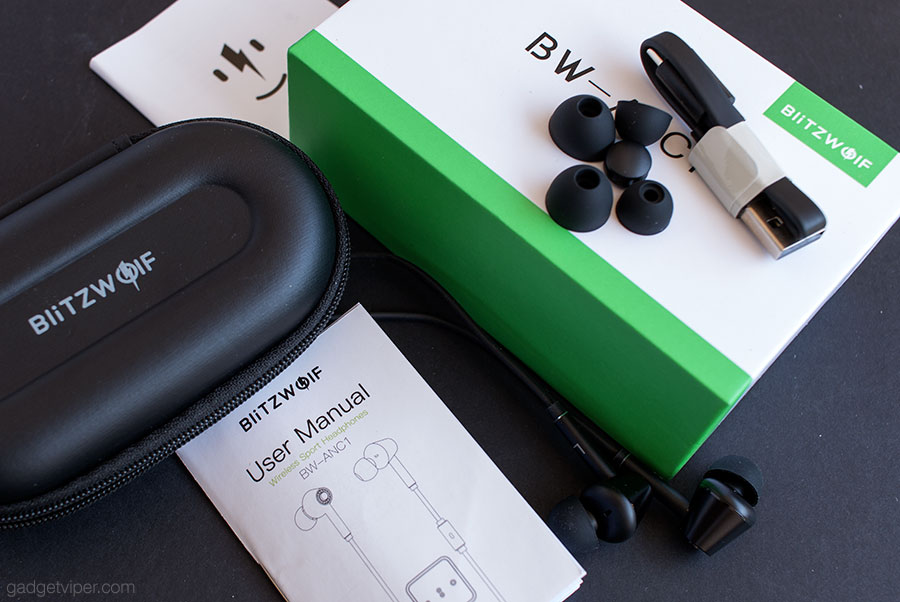 The BW-ANC1's come in a sturdy box along with a hard carry case, USB charging cable, two spare ear-tips, a user manual and a thank you card.
The 'Thank You Card' makes mention of the 18-month manufacturer's warranty that comes with the product.  Now, I can speak from experience regarding the likelihood of actually needing to use this. Over a year ago I reviewed a set of Blitzwolf dual driver earphones. I go through standard wired in-ear headphones quickly, a typical set does well to last 6-months. The Blitzwolf ones are still going strong, in fact, I think they're probably the most reliable earphones I've ever owned. Hopefully, these ANC1's will be equally as durable.
Build Quality and Design
The tapered earphone housings feel weighty as if they're made from metal. I can't be 100% sure about that without scratching at the surface, but I'm fairly confident they are. They have a pleasurable black satin finish with a rounded edge to prevent any ear fatigue.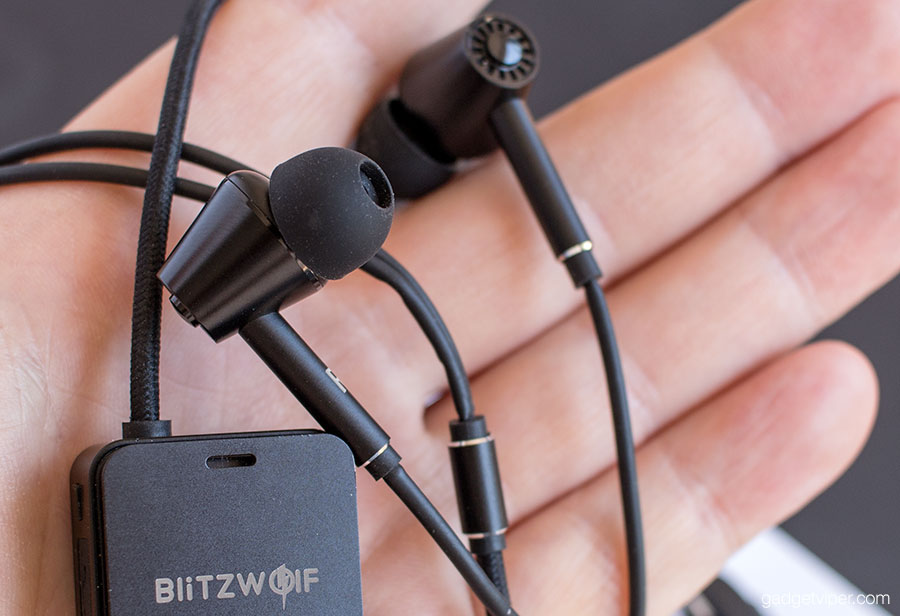 The rubber ear tips are angled in relation to the housing to provide an ergonomic fit. This allows them to sit tightly in the ear without any discomfort, even over long periods of use.
There's a circular grill detail on the ends and chamfered chrome accents as the earbuds transition to the cables. This is repeated on the microphone unit and yet again as the two cables meet.
The cable has a braided surface which extends down to the square control unit.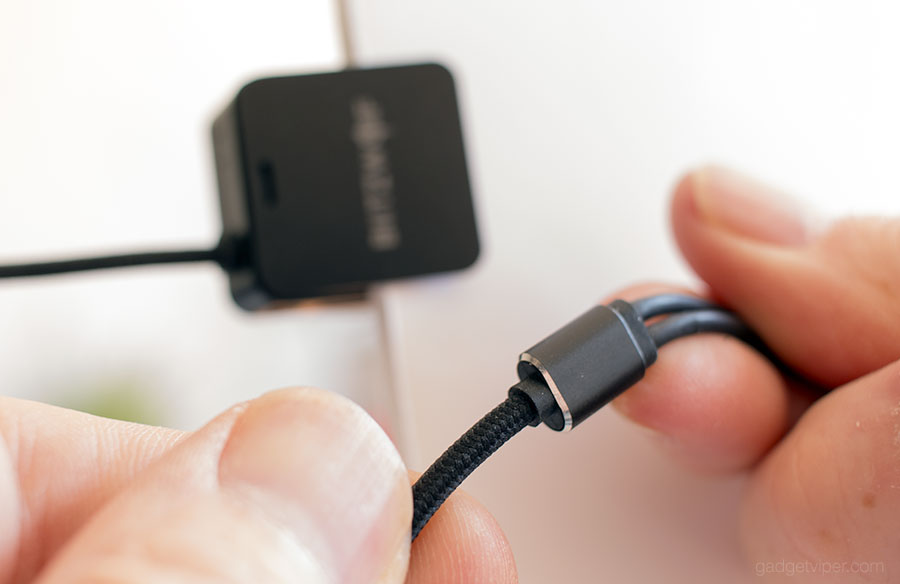 The Controls Unit
There are a couple of common types of in-ear Bluetooth headphones. Those that have controls on the earpiece and Bluetooth neckband headphones with controls that rest around the neck. Instead, the Blitzwolf BW-ANC1's have a separate control unit that clips to your clothing.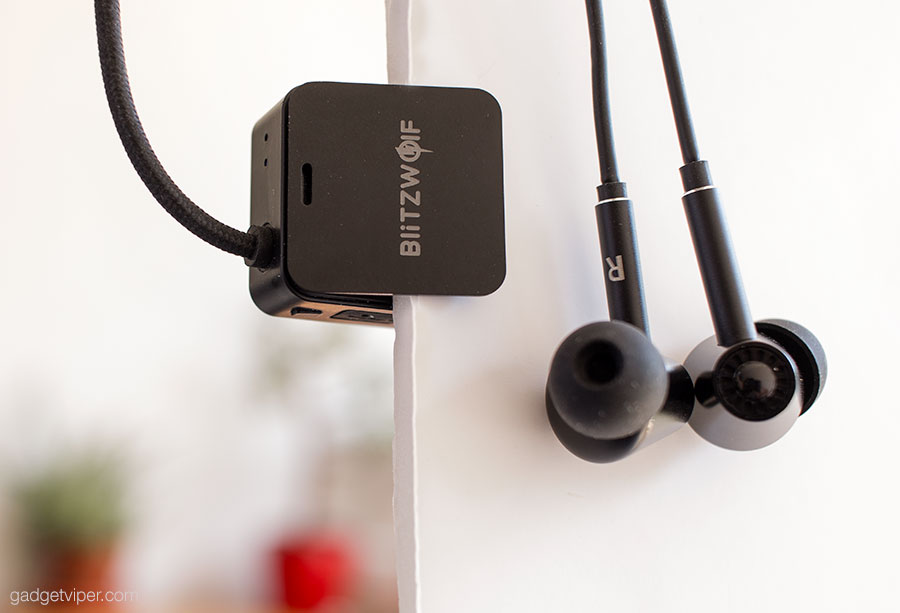 The control unit is an inch in width and length and about 1/2 an inch thick. The cable is long enough for you to clip it anywhere above the waste, so it shouldn't be a problem as long as you don't spend too much time walking around with your top off.
There's a main rubber panel on the front that has three tactile areas to click. In the centre is a multi-functional button for power on, pairing, play/pause, controlling handsfree calls and Siri/Google vocal control.
Pressing either side of the centre will adjust volume or skip tracks if held down.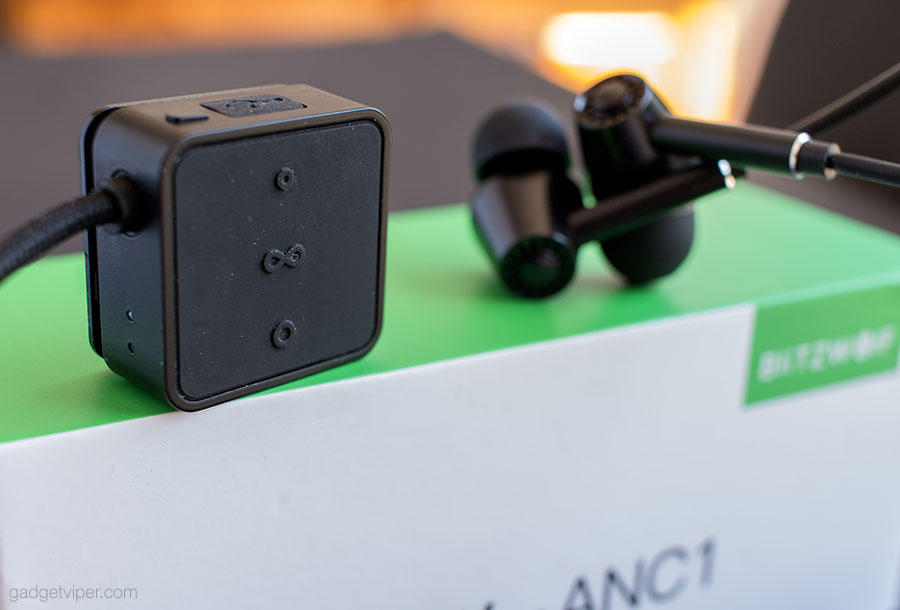 On the side of the unit is a well protected micro USB charging port along with a button to toggle on and off the active noise cancelling technology. When the ANC is on, a small white light will glow.  There's also another light to indicate the pairing mode and charging status.
Specifications
Bluetooth 4.1 with AptX-HD
Bluetooth Profiles – HFP/A2DP/HSP/AVRCP
Bluetooth Range -10m
12mm dia. Dynamic Drivers
Frequency Response – 

20-20kHz
Charge time – 2 hours
Playtime – 5-7 hours depending on volume
Battery – 3.7V 120mAh
Multi-point connectivity
IPX4 Waterproof

Performance and Features
Bluetooth pairing and streaming
The Blitzwolf BW-ANC1 will automatically enter pairing mode when you turn it on for the first time. So far I've paired it with two phones, an iPad and a Fire HD tablet without any issues. Once multiple devices have successfully paired, the BW-ANC1 will seek a connection with the most recent one, then attempt to establish an additional connection to a secondary device.
You can then toggle between the two by pausing one and playing another. This is really useful if you want to stream content from a laptop or tablet, while still having your phone connected for the purpose of incoming calls.
Active Noise Cancelling
Having tested plenty of affordable ANC headphones over the years, I can confidently say that these are the best of the bunch so far. It's been seriously hot in the UK over the last week. During that time I've had a noisy fan blowing on me to stay cool. With the ANC switched on, the fan noise becomes practically silent, even with the music switched off.
While they won't compete with top-end ANC earphones like the Bose Quiet Control, You have to also remember that the BW-ANC1's are five times cheaper in price. They do a great job with car engine noise, planes and I have no doubt they'd be perfect for trains journeys as well.
Another feature I really like with the ANC on these earphones is the button that activates it. Typically you'll have a manual switch to toggle the ANC on and off. At least all the other affordable ANC headphones I've tested have.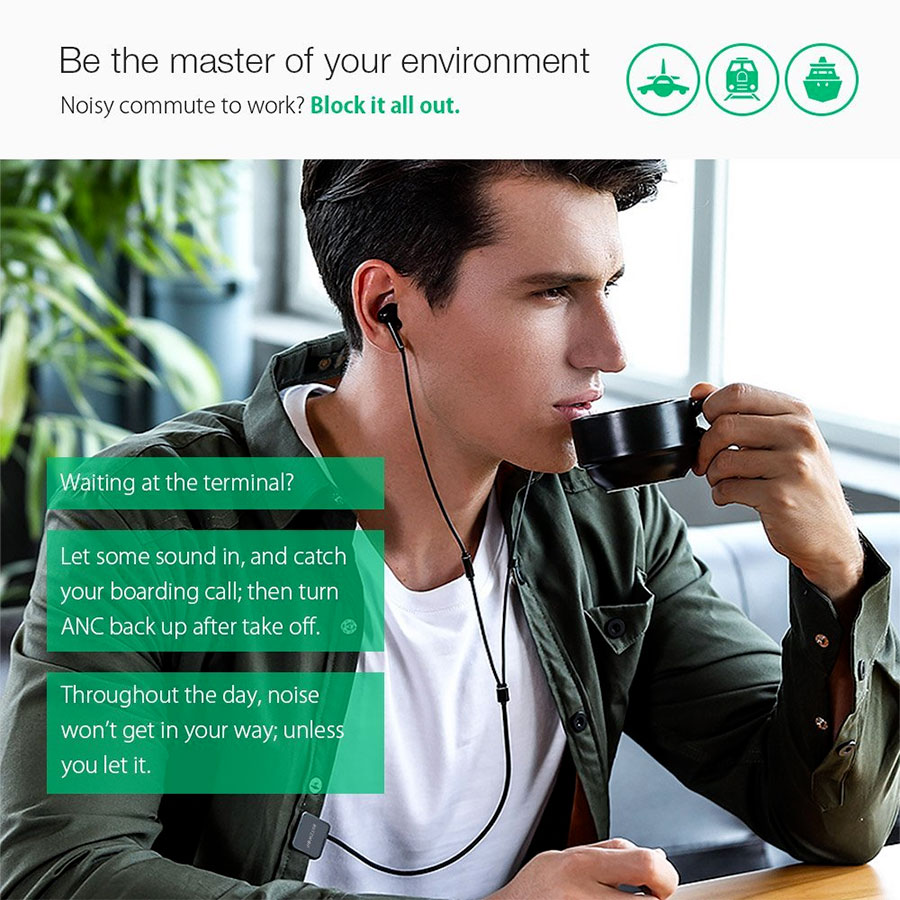 The problem with a manual toggle switch is that it works independently from the rest of the device. When you power off the headphones, the ANC is still on. The BW-ANC1's will automatically power the ANC off without the need to do it manually.
Sound Performance
The Blitzwolf BW-ANC1 are fitted with high-quality 12mm diameter dynamic drivers and have the latest CSR AptX-HD codecs for the best possible Bluetooth streaming quality.
The bass is rich and full without being too over the top. The highs are sharp and clean and the mids are very well balanced. There's a good volume level and no noticeable distortion at all.
With every set of affordable ANC headphones I've tested, there's been a notable change in the audio quality when you toggle on and off the ANC. The BW-ANC1's have absolutely no issue with this. The sound remains consistently good and I really have no complaints at all when it comes to the audio performance of these earphones.
Handsfree Calling
The Blitzwolf BW-ANC1 will answer incoming calls with a press of the multi-functioning button. A one-second press will ignore the call and a double tap will redial the last number or mute an active call.
The microphone is positioned just below the chin on the right side cable. This makes the volume just right. Vocals are clear and the call quality is good.
Verdict
I've been hugely impressed with these earphones. The build quality is impressive, they're super comfortable, the ANC works well, the Bluetooth is reliable, the sound quality is great and the battery life is decent.  I think they'd be ideal for travel and the IPX4 waterproof rating means they'd also be great to use in a noisy gym environment.
If you're looking for an affordable set of in-ear ANC headphones and you don't mind having to clip the unit on to your clothing, then I can highly recommend you check these out.
Where to Buy
*Price updated on the 27th of June 2018 at 16.00 GMT
Price and availability are accurate as of the date/time indicated and are subject to change. Any price and availability information displayed on Amazon at the time of purchase will apply to the purchase of this product.
I hope you found this review useful, if you did, please consider sharing it socially with others, thanks!