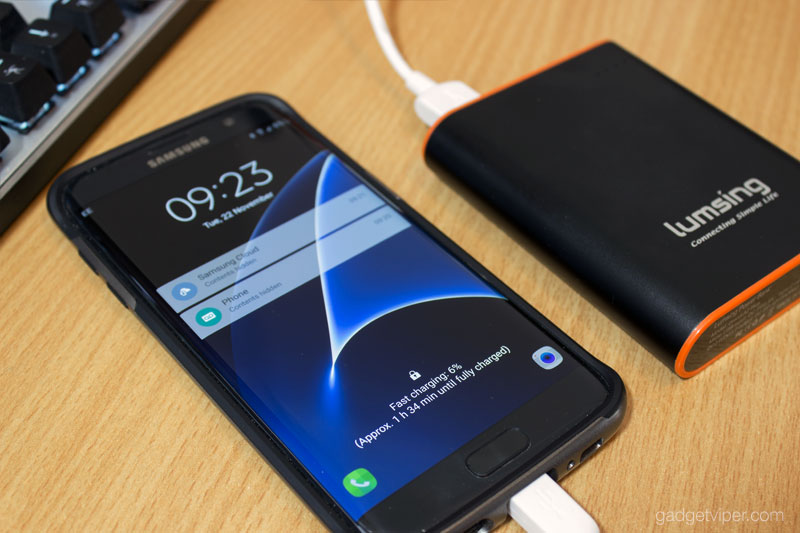 Lumsing Grand A2 Plus Power Bank
A portable phone charger with Qualcomm's latest Quick Charge 3.0 technology. The Lumsing Grand A2 plus features a Type-C USB port, LED torch and is available in a range of colours.
Highlights
13400mAh capacity
Quick charge 3.0 compatible
Type-C USB input/output
Built in LED torch light
Aluminium metal casing
Pros and Cons
+
Super fast charging speeds, Type-C USB, strong build quality, good price.
–
LED torch is not particularly bright, unattractive glossy surface on top.
Where to Buy?
Price updated – 22nd of November 2016 at 15:30 GMT
*Product prices and availability are accurate as of the date/time indicated and are subject to change.
Quick Charge 3.0 is fully compatible with devices without Quick Charge technology or those running on older versions.
Lumsing QC 3.0 Power Bank – Full Review
Intro
Here we are again with yet another Power Bank review. With dozens of other Portable charger reviews under my belt, these days I often find myself gracefully declining the opportunity to review more. There are a couple of features that can sway my decision, those are Quick charge 3.0 and Type-C USB. Fortunately, the Lumsing Grand A2 Plus Power Bank has them both wrapped up neatly inside an aluminium body.
Design and Build
The Lumsing Grand A2 Plus power bank is made mostly from aluminium. The housing is a singular sleeve of metal, trimmed around the edge with a plastic detail. This gives the Lumsing a very sturdy build quality that I'm sure could withstand substantial impact.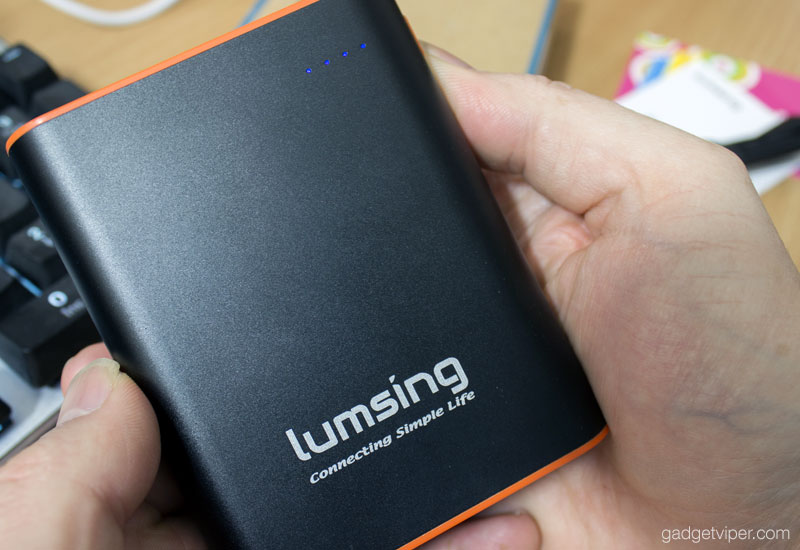 Power banks come in all shapes and sizes, this particular one has the stumpy shape which I prefer. It's far more pocket-friendly than the longer varieties. Its front surface has four LED battery indicator lights which are activated by a small button on the side.
| | | | |
| --- | --- | --- | --- |
| 97mm (3.7 Inches) | 80mm (3.1 Inches) | 20mm (0.75 Inches) | 265g (9.4oz) |
When I compare its size and weight to the Tronsmart 12000mAh Quick Charge 3.0 power bank which I reviewed a while ago, the Lumsing has less volume and weight yet has 1400mAh more storage capacity.
My only dislike regarding the design is the glossy black surface on the top and bottom. I'd have preferred a matte or silicone finish.
When it comes to mobile devices, I personally think a glossy surface should only be found on display screens and nowhere else. I'll try and refrain from my usual 'glossy surface rant'.
All the ports are on the top of the power bank. There's a Quick Charge 3.0 USB port, which will also act as a Quick Charge 2.0 depending on the compatibility of your phone. The type-C USB, this will work as both an input and output depending on if your device is drawing or sending a charge. There's also a regular micro USB input and a small LED light, which is not particularly bright.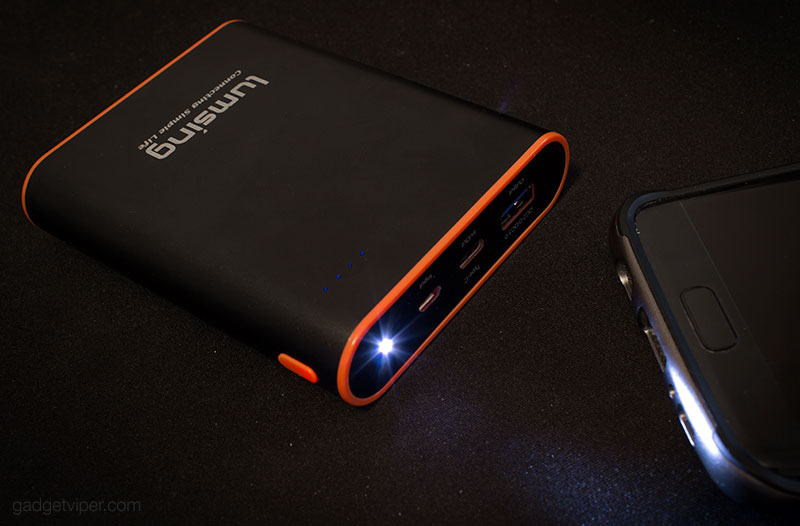 The Lumsing Power Bank comes with a regular micro USB cable for recharging but no Type-C. I'm sure most people with a Type-C compatible device already have a suitable cable for this port anyway.
It would have been nice to have seen a Type-C to Micro USB cable or adapter included. This would allow you to charge two non-type-C devices at the same time.
I typically use a high capacity power bank for charging multiple devices but there's no reason why this charger couldn't accommodate two devices at once.
Features and Spec
I really wanted to test the Lumsing Grand A3 Plus Power Bank with actual results. To do this, I depleted and recharged my Samsung Galaxy S7 Edge numerous times. I managed two full charges and a further 55% during the third charge. Considering the S7 Edge has a 3600mAh battery that's a total of 9180mAh. This gives an actual efficiency rate of around 75%, not too bad considering the charging speeds I was getting.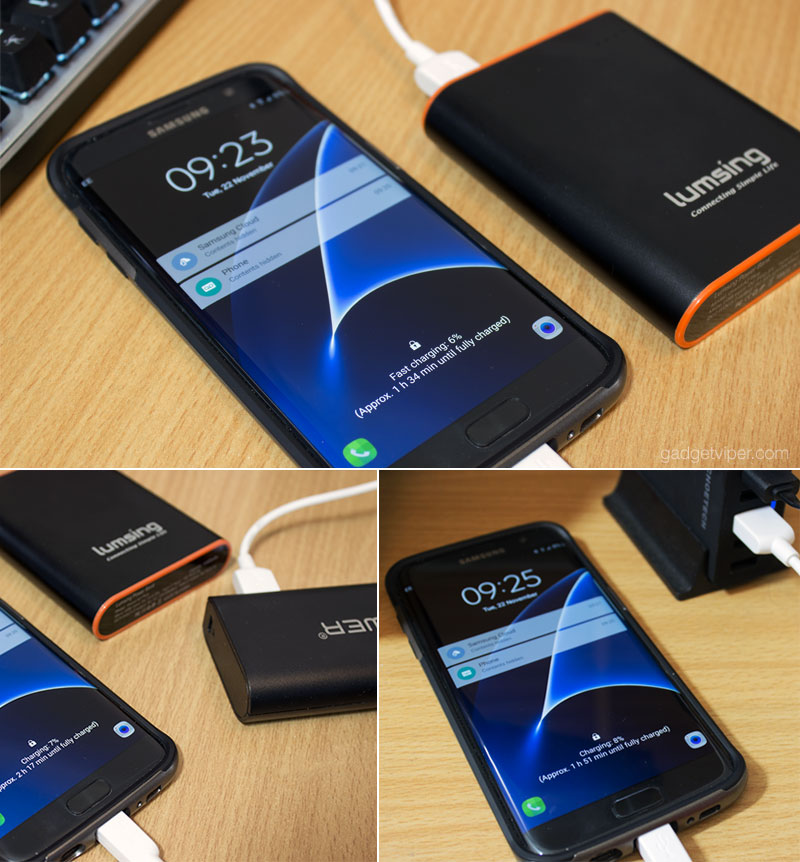 The above photos will hopefully demonstrate the difference when compared with regular fast charging devices. The Lumsing completes a full charge in 1h 34 mins compared to 2h 17 mins from a regular fast charging power bank. I also connected it to a mains charger which and got a total charge time of 1h 51 mins.
| | | | | |
| --- | --- | --- | --- | --- |
| 13400mAh | Quick Charge 3.0 /2.0 | DC 5V/3.1A | DC 5V-12V 3A(MAX) | DC 5V/3.1A |
The Lumsing Quick charge 3.0 Power Bank is actually just as fast as the Samsung Quick Charger that came with the S7 Edge.
For those who don't own a quick charge compatible device, it should be noted there really isn't any reason not to choose a QC 3.0 power bank over a regular one. It's totally backward compatible.  The Galaxy S7 Edge isn't even a Quick Charge 3.0 device, I'm getting those speeds with it downscaled to QC 2.0.
Verdict.
The Lumsing Grand A2 Plus power bank is a real bargain and does a great job of fast charging your mobile devices. It's designed well, feels rugged and performs as fast as any other portable charger I've tested – I can highly recommend it.
Price updated – 22nd of November 2016 at 15:30 GMT
*Product prices and availability are accurate as of the date/time indicated and are subject to change.
I hope you found this review useful, if you did, please leave a comment or share it socially – Thanks!