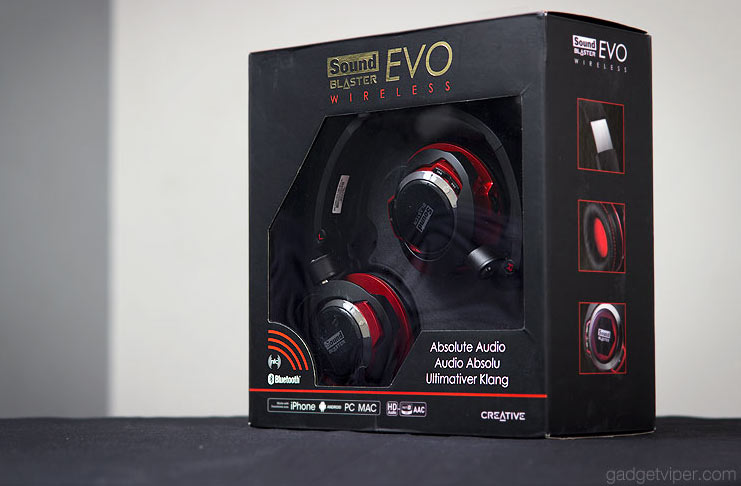 Sound Blaster EVO wireless headphones
High performance and versatile bluetooth headphones with PC / Mac and PS4 compatibility. Featuring NFC quick touch pairing, aptX streaming and powerful 40mm drivers.
+
Foldable design for storage, bluetooth, USB and Analogue connectivity
–
LED lighting may not be to everyones taste
Creative Sound Blaster EVO wireless headphones – Design and Build
As always, Creative have done a great job with both the presentation and packaging of their product.  The red and black box with the gold leaf branding has a premium high-end look about it.
From a visual point of view, the headphones live up to the expectations of the box. The burnt red ear housings look great against the matte black arms. This combination is continued with a nice red stitching detail around the black leatherette Earcups.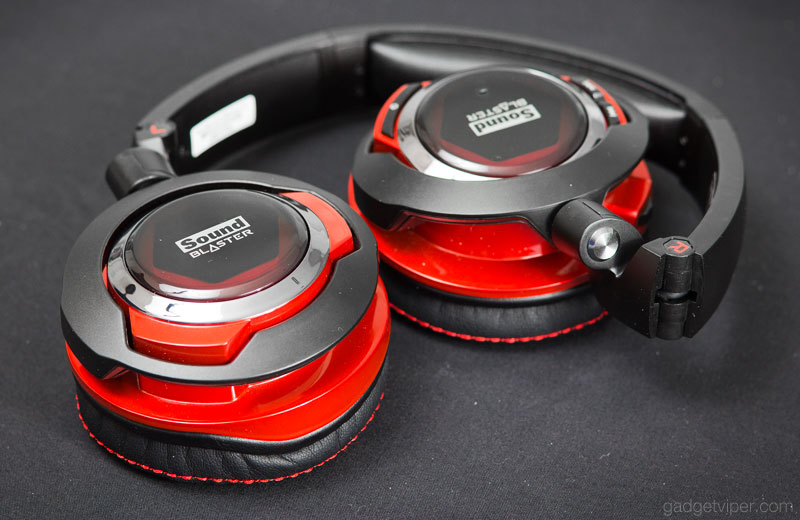 The Sound Blaster EVO has some clever design features. They are hinged at the base of the arm which enables them to fold up tightly. The Earcups swivel 90 degrees for an even lower profile when stored and also pivot vertically for comfort.
The large central button provides play / pause / pairing and call functions. There are independent track skip controls at the top and the power button's positioned at the bottom. The layout is spot-on. The ease and speed of volume adjustment is a really great feature.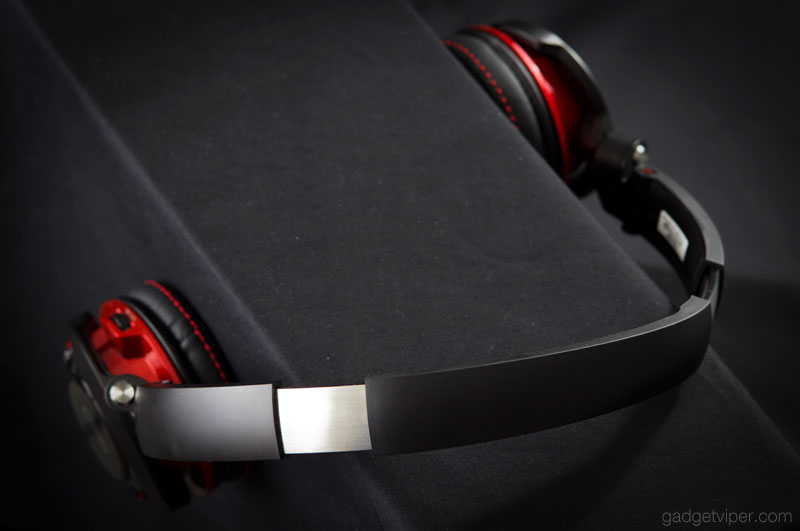 The length adjustment takes place a little higher than most other headphones. There's a wide strip of sprung steel underneath, offering a good level of flexibility.
Now… let's talk about the LED lighting… I'm not a fan, even on gaming headsets. The idea of going out with glowing headphones on does not appeal to me. I'd already made my mind up to keep these as in-house headphones for that very reason. As it turns out, the lighting is so subtle, especially in daylight, it's not been an issue for me at all. In a dark room, yes they glow, but in daylight or a well lit room, you'd struggle to notice the lights at all.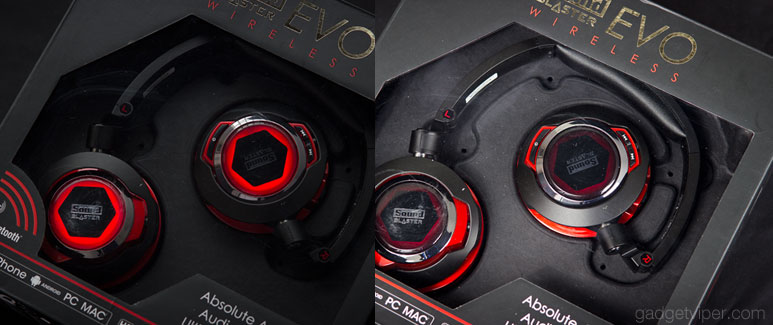 The overall build quality of these EVO's is top notch, however I'd be a little fearful for their safety if I were to accidentally sit on them. The point on the arms between the hinges and the pin could be a potential weak point.
Creative Sound Blaster EVO wireless headphones – Features
The Sound Blaster EVO wireless headphones are designed to be multi-functional. They can be used with a PC, Mac, laptop or PS4 wirelessly when used with the BT-W2 bluetooth adapter. Alternatively they can be powered via the included USB cable. This method lets you take advantage of additional features provided by the Sound Blaster software. These include virtual surround sound, CrystalVoice and Mixer settings.

The Sound Blaster EVO Wireless can pair with two Bluetooth devices simultaneously.  This means you could be streaming audio from your tablet, and take a hands free call from your phone.
Highlights
Bluetooth with apt-X codecs
8 Hours bluetooth playback
2 simultaneous connections
USB and analogue connections
PC and Mac Sound Blaster software
Contents
Sound Blaster EVO wireless headset
Micro USB-to-USB cable (1.8)
4-pole Analogue cable (1.2m)
Carry Case
User Manual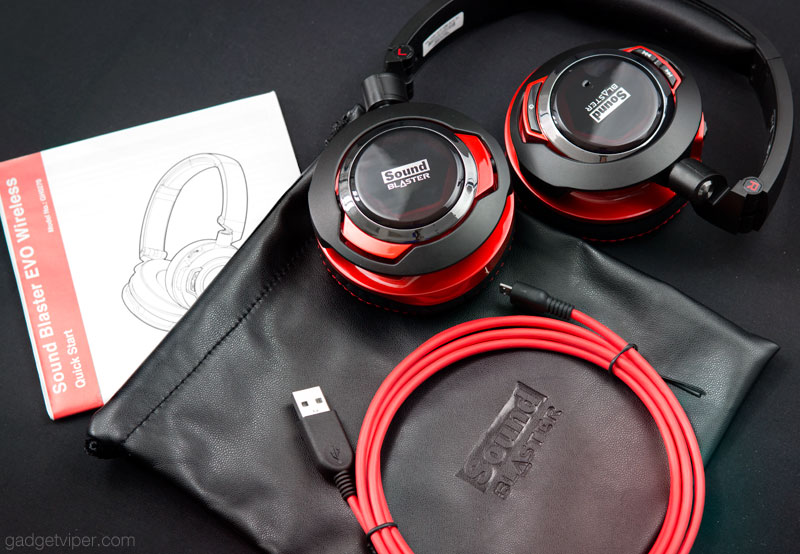 I've been writing this review with the EVO paired to my PC via the BT-W2 adapter and to my phone. If I make or receive a call, the EVO switches from my PC audio to the phone, then back again once the call ends.
Creative Sound Blaster EVO wireless headphones – Audio Quality
The 'out of the box' audio quality is well balanced and clean. The Sound Blaster EVO Wireless is designed to be used as Bluetooth headphones, for that it needs a natural and unforced sound. The EVO's powerful 40mm drivers are loud and produce a generous audio range.
If you're a gamer looking for huge rumbling explosions or pin sharp shattering glass, you simply need to use the Creative software. The EVO can be switched to match the soundstage of a typical gaming headset with the click of a button.
Creative Sound Blaster EVO Wireless headphones – Verdict
The huge versatility of these EVO's is without doubt. To the point, in fact, that I've struggled to label them. Are they headphones, or a headset or both?
If you're all about gaming and care little for streaming music , then these are probably not the ideal choice.  You'd be better off with big comfy cans like the Sound Blaster H5's – officially the most comfortable gaming headset I've ever owned – by a mile!
If you're all about the music and barely ever game or spend time on your PC, then these are probably not right for you either. The point I'm trying to make is that these are definitely in a niche.
If you happen to be a part time PC gamer with a PS4 who also enjoys streaming music, then congratulations! – I now pronounce you man and wife, you may kiss the EVO.