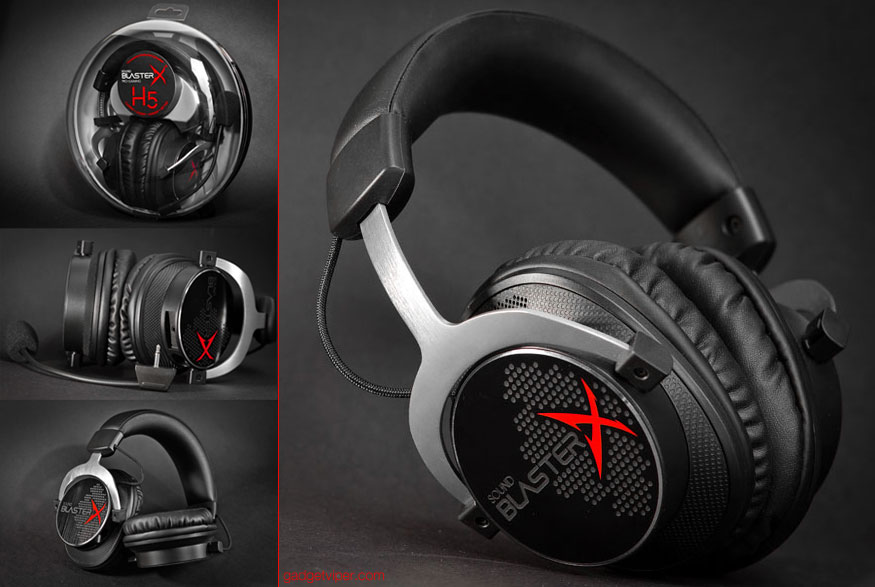 Sound BlasterX H5 gaming headset
What would you consider to be the top three things you look for when choosing a set of gaming headphones?
For me it's sound quality, comfort and durability. I'm happy to report that The Sound BlasterX H5 has nailed all three.

The metal components are reassuringly solid, yet surprisingly lightweight. The comfort level is off the charts (even with specs on) and the sound is powerful, rich and well balanced.
+
Detachable mic and cable, very durable, exceptionally comfortable
–
Price is a little higher than rivals
Features
Detachable mic and long braided cable.
Inline remote for volume and voice calls.
3.5mm connectivity for multiple devices.
Sound BlasterX acoustic engine software.
pre-tuned with a dynamic sound signature.
Sound BlasterX H5 – Buy Online
1
Sound BlasterX H5 – Design and Build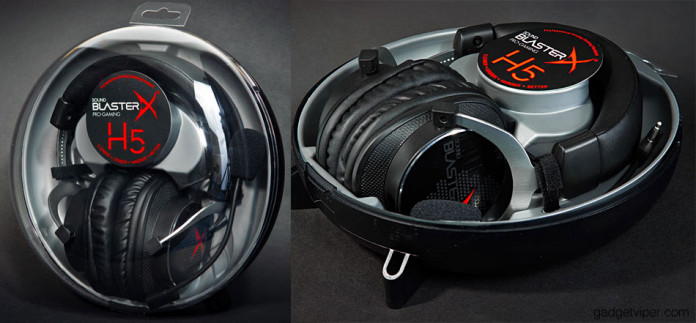 The Sound BlasterX H5 headset arrived neatly packaged inside a plastic display case. The brushed metal forks and subtle no thrills design instantly appealed to me. From a visual aspect, these H5's are exactly what I would go for. I don't need pointless moulded plastic grills and vents or bright LED lights.
The Sound BlasterX H5's feature prong shaped arms that connect to the earcups to provide vertical swivel.  There's no horizontal axis point in the design. This doesn't really concern me, I don't tend to wear my headset like a DJ or need to pack it down particularly small. I'd rather have durability over portability.  An additional axis point would only introduce a new and unnecessary point of weakness.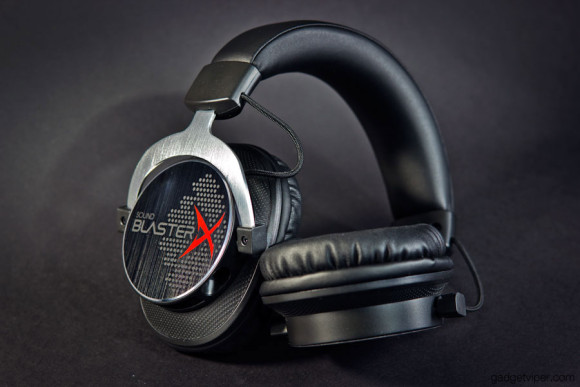 There is just enough freedom to twist built into the design, to provide a perfect and consistent amount of contact around the ears.
The microphone is fully detachable and highly adjustable with a flexible arm that maintains its position. The wide shaped input jack fits securely in a slot at the bottom of the left earcup.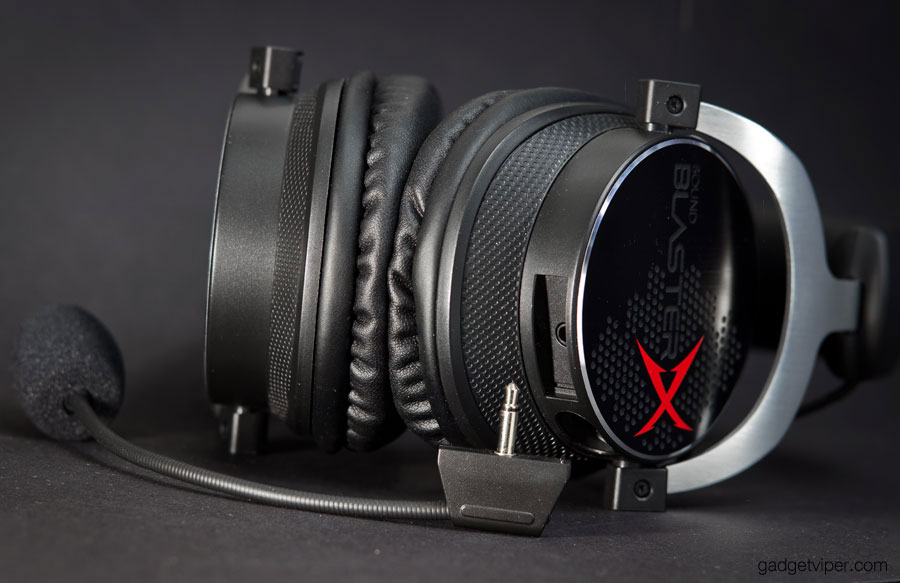 Directly behind the mic port is a 3.5mm audio input for the braided cord.  This upper section  is 4 feet long (1.2m) and has a male connector at each end.
One third of the way done the cord is an inline controller. There is a microphone mute toggle switch and a volume adjustment wheel.
If the Sound BlasterX H5 is connected to a music player, an additional button can be used to play / pause tracks. It will also Start / End calls when connected to a smartphone.
Another equally long cable is also provided with one female 3.5mm jack at one end.  The other end splits to a traditional audio-in and mic-out connection for your PC's soundcard.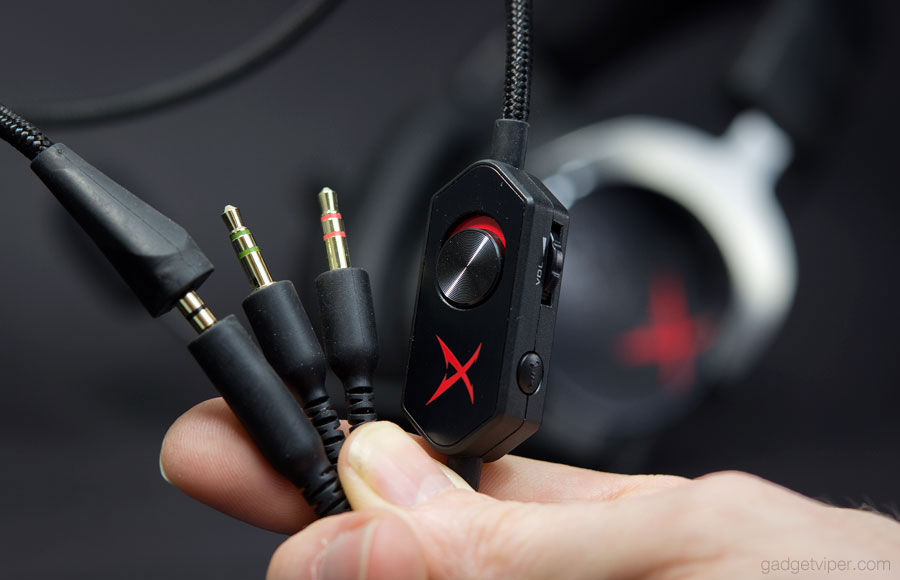 2
Sound BlasterX H5 – Comfort
I don't usually create a new section just to discuss the level of comfort. For the Sound BlasterX H5 however, I'm making an exception.
These are the most comfortable headphones I've ever owned. Even after an 8 hour gaming session while wearing glasses, they are still perfectly comfortable. I simply cannot fault them. The padding is made from 'marshmallow soft'  memory foam covered in a leatherette material. They fully engulf the ears and the pressure from the sprung steel core is just enough to hold them in place. It's ridiculous how comfortable these are… Seriously!
To temper my obvious pleasure regarding their comfort, there is a possibility of a future niggle. As they fit so well , I'd say there's a small chance they might get a little warm during the summer months. I won't know that for sometime yet. As of now, the Sound BlasterX H5's are perfect.
3
Sound BlasterX H5 – Sound and Specs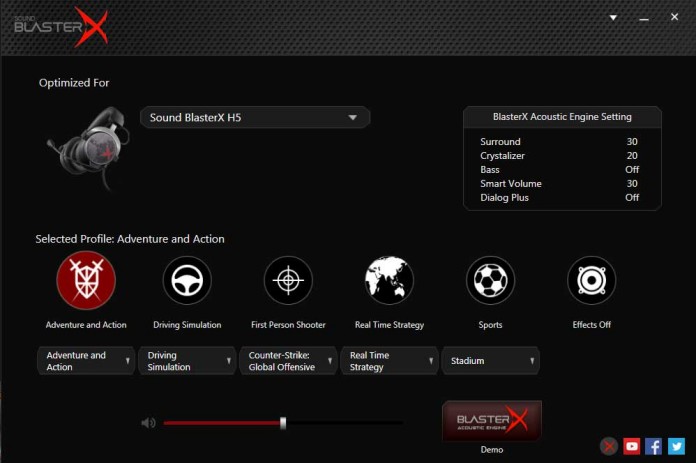 Sound Quality
The Sound BlasterX H5 produces a warm clean sound with absolutely no distortion, even at max volume. Although they have been designed for gaming, I've also been listening to music and watching films with these too.  I have to say they are great all rounders.
Specs
50mm FullSpectrum drivers
Headphones sensitivity –  118dB
Headphones impedence – 32ohms
Frequency response 20-20,000Hz
Pre-tuned with a dynamic sound signature.
Creative provide optional software to fine tune the Sound BlasterX H5 for particular game styles. It's called the "SoundBlaster Acoustic Engine" – Link here.  After spending some time cycling through the various presets, I'd say it would only really benefit pro gamers looking for that extra edge. For me, I'm happy with the 'out of the box' audio setup.
The Sound BlasterX H5 gaming headset is not cheap, coming in at around $130. But at that price you get an extremely well put together set of headphones. The clarity of sound is superb, they easily hold ground alongside many high fidelity headsets.
Yes, there are cheaper gaming headsets out there, but in my opinion the Creative Sound BlasterX H5's are good enough to go beyond gaming use. I wouldn't hesitate for a second to make full use of these for watching films or to enjoy music.
I hope you found this review useful, If so please leave a comment below or share it – Thanks.