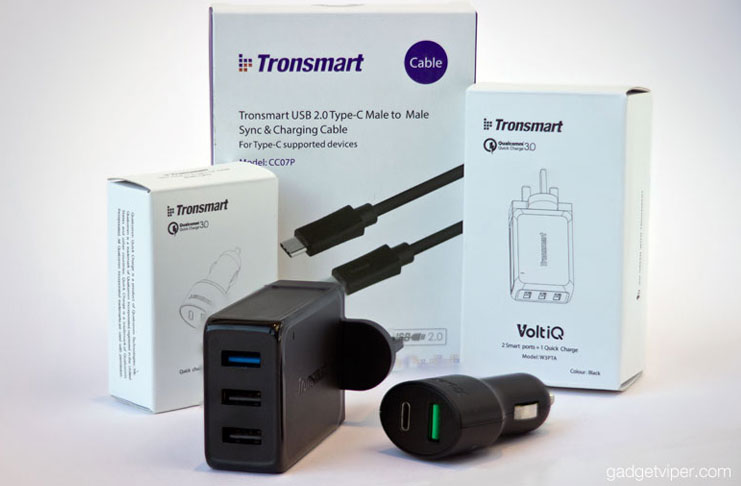 Tronsmart Quick Charge 3.0 solutions
Quick Charge 3.0 is the latest and fastest charging technology available.  Capable of recharging compatible devices four times quicker than a regular 1A charger.
A Tronsmart QC 3.0 mains adapter or in-car charger will get your phone up to 80% in only 30 minutes compared to just 12% with a standard charger.
+
worlds fastest charging speeds, fully backward compatible
–
USB charging cables supplied separately
Features
Latest Quick charge 3.0 (both)
2 x Volt IQ smart ports (wall charger)
USB type-C port (in-car)
Tronsmart Quick Charge 3.0 adapters – Buy Online
Intro
If you're concerned about buying or using a Quick Charge 3.0 adapter on an unsupported device, don't be. It's fully backwards compatible, and will charge at QC 2.0, QC 1.0 or standard speeds.
At the time of writing this post, there's not a huge number of phones currently supporting Quick Charge 3.0,  Just three in fact – The HP Elite X3, LG G5 and the HTC ONE A9.  It turns out even the latest S7 and S7 Edge are still running Quick Charge 2.0 version – source.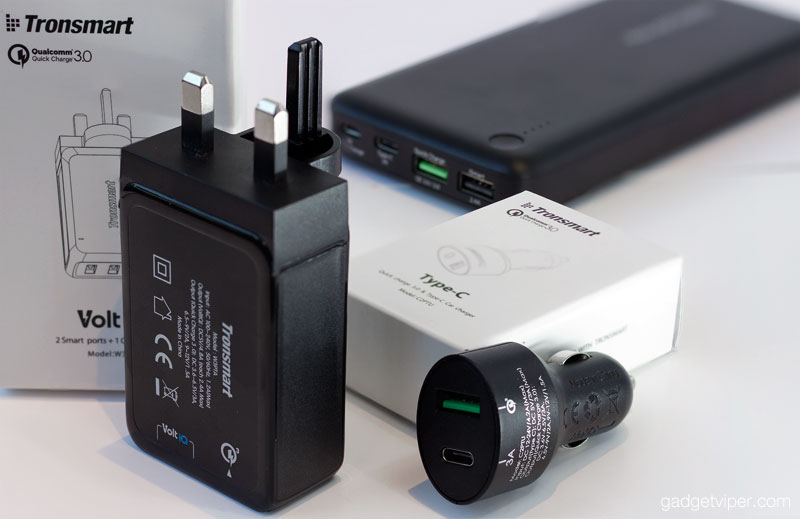 Unfortunately I don't own one of those phones. I do however have a RAVPower Quick Charge 3.0 power bank – The perfect device to speed test the Tronsmart QC 3.0 wall and car charger.
Buying Tip!

A good quality high capacity power portable phone charger is a great device to accompany the Tronsmart Quick Charge adapter.  Check out our list of the best 20000mAh power banks of 2016, or grab one of the Quick Charge 3.0 power banks below.
The Tronsmart Quick Charge 3.0 wall charger
The Tronsmart Quick Charge 3.0 wall charger is surprisingly thin measuring just 25mm (1″) wide. Its general construction and build quality feels solid. I'm confident it could withstand a knock or two without falling apart.
This particular model (W3PTA) has three outputs on its rear. The bottom two are VoltIQ smart ports, which will give out up to 2.4 Amps. These ports are suitable for fast charging most portable devices including iPads, tablets and some notebooks.
The top port is the all important Quick Charge 3.0, identifiable by its blue inner. This port will output either QC 3.0, QC 2.0 or a regular charge if you plug in a non-compatible device such as an iPhone.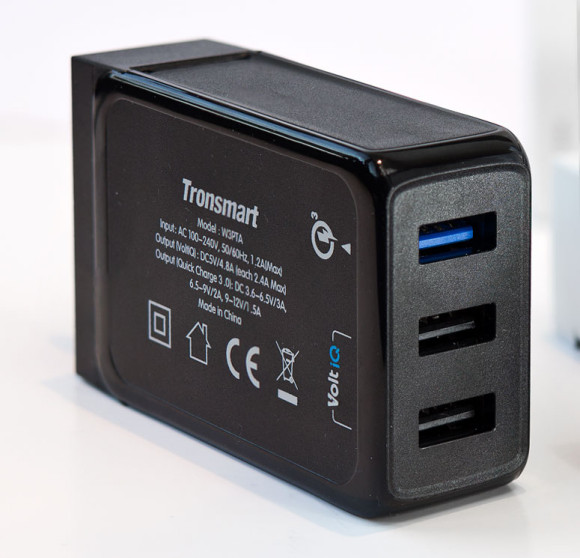 With a maximum output of 42 Watts, the Tronsmart Quick Charge 3.0 wall charger can fast charge three devices simultaneously.  It's worth noting that it will be warm to the touch when charging three at once. This is to be expected, especially when charging a Quick Charge compatible device.
The Tronsmart QC 3.0 wall charger has built in protection against over current and overheating, so it should be pretty safe. Its also fully certified by Qualcomm and comes with an 18 month worry-free warranty.
The Tronsmart Quick Charge 3.0 in-car charger
The Tronsmart Quick Charge 3.0 car charger. has two available outputs. The top port is the Quick Charge 3.0, indicated by a green inner. Like the Tronsmart wall charger, this port is totally backward compatible with QC 2.0 and QC 1.0.
The bottom port is a new Type-C USB. This gives out a max of 3A instead of 2.4A from a regular fast charging USB port. Featuring their VoltIQ technology, it's possible to improve the charging speed of non-Quick Charge devices by using this port.
If your devices doesn't have a type-C USB you will need a Type-C to Micro USB cable. I personally cannot wait for Type-C USB to become the standard. Not only can it charge larger devices such a Mac Book, it also doesn't matter which way round you plug the cable in.
It's fairly standard in design, but the build quality is good. Both the Type C and Quick Charge ports offer a firm and positive fit.
Tronsmart USB cables
Both devices come without cables. This means you will either need to use your existing cables or buy additional ones.
It's actually not a bad idea to invest in a decent cable or two in order to get the most out of your charger.
Poor quality cheap cables will have an effect on speed and are often unreliable.
Testing the Quick Charge 3.0 speeds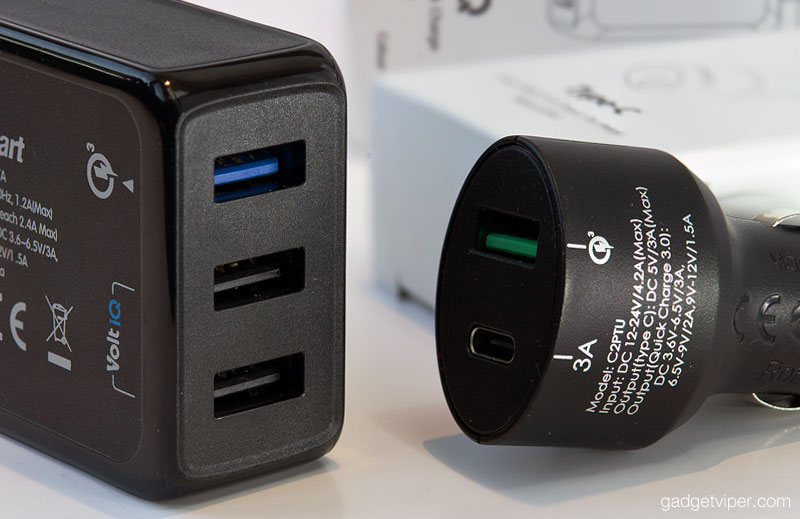 It actually took way longer than expected to test and compare the Quick Charge 3.0 speeds with the RAVPower QC3.0 Power Bank.  Firstly I had to fully discharge the power bank and recharge it with a regular port. I then did the same again with a Quick Charge 2.0 wall charger. Finally I repeated the process with the Tronsmart Quick Charge 3.0 adapters.
Results
Regular mains charger – 11.5 Hours
Quick Charge 2.0 charger – 6 Hours
The Tronsmart QC 3.0 charger – 4.5 Hours
For those unfamiliar with the capacity of a large power bank, this particular one will fully charge most phones over 8 times.
Had I capped the charging to 80%, which is the really fast portion of the Quick Charge, those numbers would have looked even better. The last 20% is a far slower process than the first 80%.
Verdict
The Tronsmart Quick charge 3.0 wall and car chargers offer great solutions to improve charging speeds. If you don't currently own QC 3.0 compatible phones or devices, it's still a really good option, guaranteed to future proof your charging solutions.
It's worth noting that if you're an Apple only user, Quick Charge 3.0 is not likely to be adopted by them. Most of the other big manufactures however, are making full use of this impressive technology.
To learn more about Tronsmart and their range of products, please visit their website.
If you found this post useful, please leave a comment of share it socially – Thanks
---
Latest Quick Charger 3.0 news – LG OEM charger is only a QC 2.0!
The LG G5 smartphone has the capacity to charge with the latest Qualcomm Quick Charge 3.0 technology.  However it turns out that LG are only providing QC 2.0 OEM charger with their phones. Seems a shame to not take advantage of the LG G5's full charging potential. Not only will the Tronsmart Quick Charge 3. wall charger improve the speed, it will also help to extend the life of the battery. With better communication, the QC 3.0 charger is able to provide more voltage and less wasted energy than the OEM charger.
---