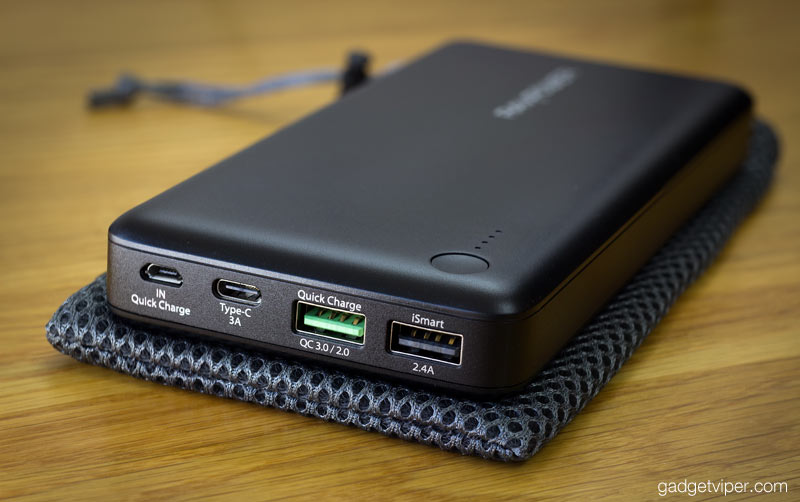 Update Jan 2018 –  It's been a while since my original review this QC3.0 Power Bank and I thought it might be nice to give you guys an update on its performance. It's proved to be extremely reliable and charges faster than any other Power Bank I own. There are tons of QC3.0 Portable Chargers on the market, but very few a QC3.0 input. That's what makes this Power Bank stand out from the rest. If you have a Quick Charge compatible wall charger, this is definitely the Power Bank to use. – I highly recommend it!
Turbo+ 20100mAh RAVPower Quick Charge 3.0 Power Bank
RAVPower lead the way when it comes to Power Bank technology. This new Turbo+ series external battery is the first of it's kind to offer QC 3.0 and Type C USB charging.

Features
Qualcomm Quick Charge 3.0
USB type C input and output
20100mAh capacity – 8 x iPhone6
3A output charges Apple Mac book
Soft carry pouch
Price updated on the 25th of November 2018 at 10:30 GMT
*Product prices and availability are accurate as of the date/time indicated and are subject to change.
The fastest charge and recharge rates if you have a Qualcomm Quick Charge compatible phone and mains charger
Intro
Before jumping into the RAVPower Turbo+ series power bank review. I thought it would be useful to explain a little about QC 3.0 charging technology.
What is QC 3.0?
The QC stands for Quick Charge, the 3.0 is its current version. It's an advanced charging technology developed by a company called Qualcomm. It works by identifying the exact voltage required at any given point during the charge.  A regular battery or mains adapter will put out a 5V charge and feed at a rate of around 2.5Watts. A Quick Charge 3.0 Power bank will safely give out 12V and up to 20Watts – that's a huge difference.
Qualcomm Quick Charge 3.0 technology is fully backward compatible. If you're plugging a QC 3.0 wall charger or power bank into an earlier phone model, it will either charge at QC 2.0, QC 1.0 or regular speed charging rates, depending on your phone's spec.
Do you need a power bank with Quick Charge 3.0?
The short answer is yes! – Especially if you're choosing a high capacity power bank. I've tested many 20000mAh power banks. Most of them will take anywhere from 10 – 14 hours to recharge, even from a mains adapter. The RAVPower Quick Charge 3.0 power bank, recharged from a QC 3.0 mains adapter, will take just over 4 hours. That's hugely impressive, considering it has enough capacity to recharge an iPhone-6 over 8 times.
If you would like to understand more about Quick Charge 3.0 technology watch this video.
Design and build quality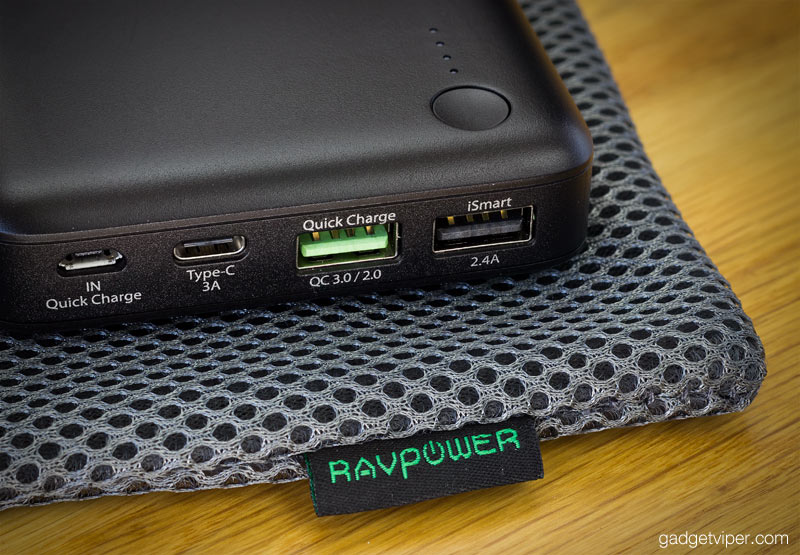 The RAVPower Turbo+ series power bank measures 17cm x 8cm x 2cm thick and weighs 375 grams. Its body is made from a tough scratch resistant plastic with a matte finish. All the details are neat and the rounded edges and corners make it comfortable to handle.
As with other RAVpower portable chargers, the Turbo+ series comes with padded mesh pouch.  Of all the power bank brands I've tested, RAVPower certainly provides the best bag in the business.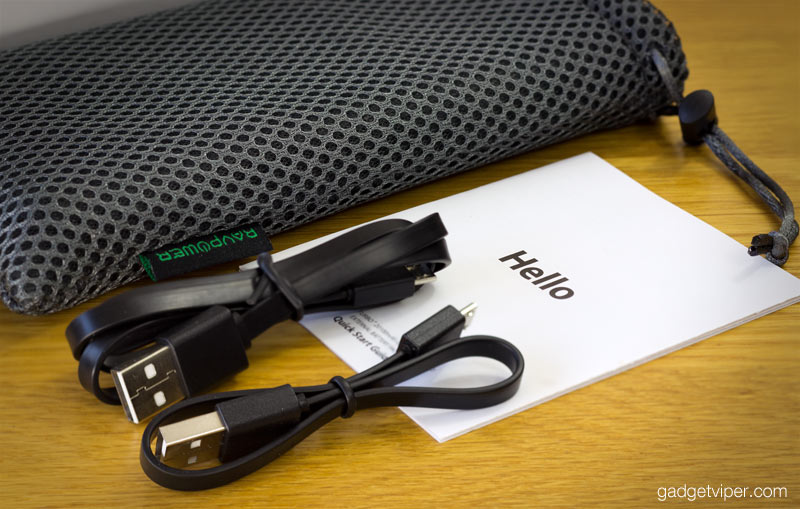 Also included are two anti-tangle USB cables and a quick start user guide. As good as these USB cables are, I'd have liked to have seen a Type-C USB cable in the box too.
I can understand why power banks rarely come with their own mains adapters or lightning cables. More often than not we already own them. I doubt few people have a Quick Charge 3.0 mains adapter though.
At the time of writing this review, RAVPower only offers a Quick Charge 2.0 mains adapter. But with QC 3.0 proving to be 38% more efficient, I think it's well worth sourcing the latest version.
Features and Specifications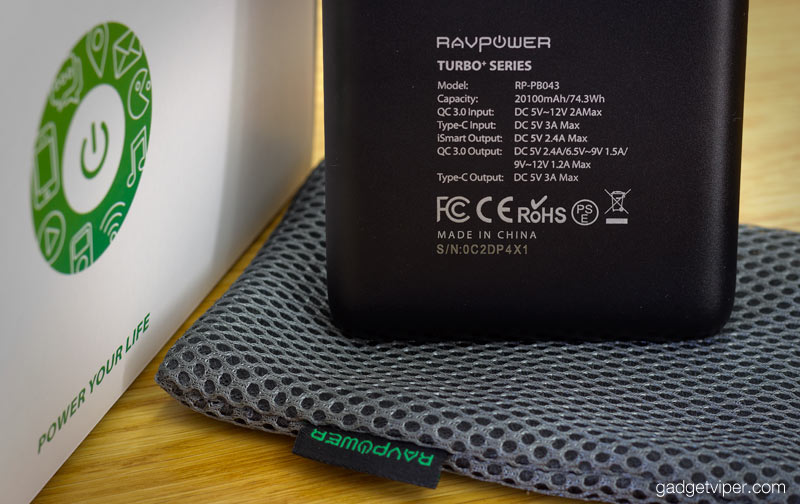 Inputs
Micro USB: 5V / 2A (Standard)
Micro USB: 5V – 12V 2A (quick charge)
USB Type-C: 5V / 3A Max
Outputs
USB Output: 5V / 2.4A Max (Standard)
QC 3.0 Output: 5V-12V / 1.2A-2.4A (variable)
USB Type-C Output: 5V / 3A Max
Which hole do I stick it in?
As you may be able to tell from the spec list, there's a lot of charging options.
It's important to remember that Qualcomm quick charge 3.0 technology is totally backwards compatible. It's your device that draws the charge, not the power bank that feeds it. You don't have to worry about overcharging or plugging your phone into the wrong port.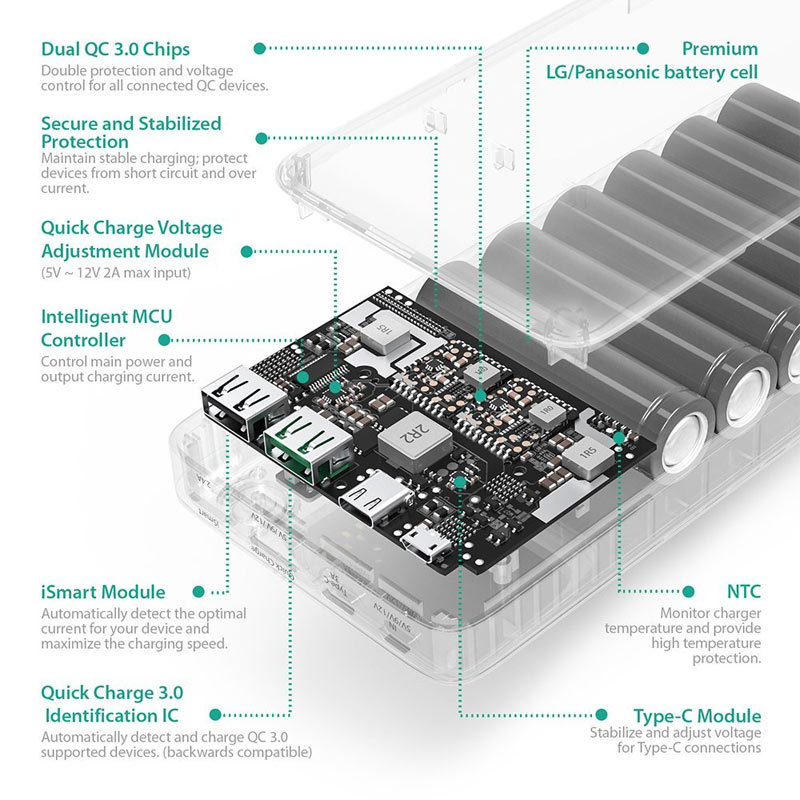 There's a lot of technology squeezed in RAVPower Turbo+ ensuring optimal performance and safety. These include Premium grade batteries, QC 3.0 dual chips, modules and controllers.
The Type-C USB can be used as an input and output with a 3A max. This makes the RAVPower Turbo+ power bank suitable for charging Apple Mac books.
Verdict
The RAVPower Turbo+ QC 3.0 power bank is rated as one of the best high capacity power banks on my list of portable chargers over 20000mAh. The build quality is spot on, its features are way ahead of the rest and it's extremely good value for money. Had it come with a Quick Charge 3.0 mains adapter and Type C USB cable I'd have not hesitated to give it top marks.
Tip – If you choose to buy this future proof power bank, make sure you also grab a suitable QC 3.0 mains adapter.
Price information last updated on the 25th of November 2018 at 10:30 GMT
Alternative Quick Charge 3.0 Power Banks
If you found this review useful, please share it socially or leave a comment below – Thanks!