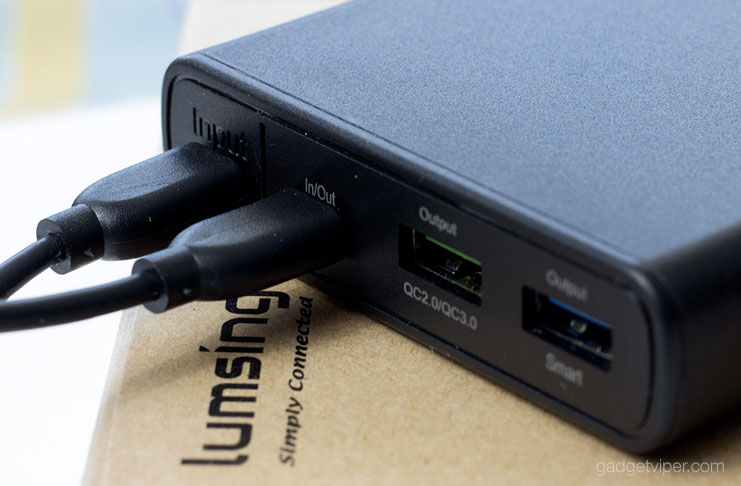 Lumsing Power Bank – Glory P2 Plus
A 15000mAh Power Bank featuring the Qualcomm Quick Charge 3.0 technology, Type-C USB and dual inputs. The Lumsing Glory P2 Plus offers the fastest recharge time from any regular dual USB charging adapter.
Highlights
15000mAh capacity power bank
Type C USB input and output
3 Outputs and 2 inputs
Quick Charge 3.0 compatible
Micro USB and Type-C cables included

Pros and Cons
+
Impressive efficiency rate, Quick Charge 3.0, Dual charging inputs, great value for money
–
Slightly heavier than some other portable chargers I've tested with a similar capacity.
Where to Buy?
Price updated – 23rd of January 2017 at 14:30 GMT
*Product prices and availability are accurate as of the date/time indicated and are subject to change.
The Lumsing Glory P2 Plus provides a stable 4.2A input via two charging cables.
Although Qualcomm recently announced their latest Quick Charge 4 technology, it's not yet commercially available. It will be a while longer before 'nextgen' Smartphones adopt it. For now, the fastest way of recharging most modern mobile devices is with a Quick Charge 3.0 power bank or wall adapter.
It's been interesting for me to witness the gradual evolution of power banks during the last few years. They've come a long way and I think the Lumsing Glory P2 marks an end point for Quick Charge 3.0 power banks. So let's take a closer look at what makes this portable charger stand out from the crowd.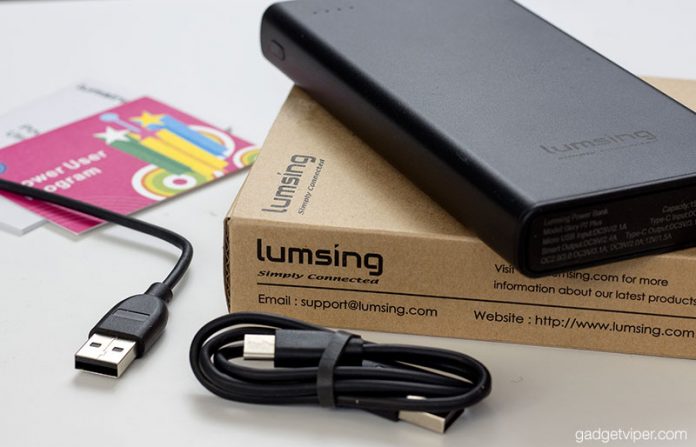 The Glory P2 Plus Power Bank comes with a multi-language user manual, a 12-month warranty, a micro USB and a Type-C USB charging cable.
| | | | |
| --- | --- | --- | --- |
| 158mm (6.2 Inches) | 78mm (3.1 Inches) | 20mm (0.75 Inches) | 365g (12.8oz) |
As with most portable chargers, the Lumsing Glory P2 has four small LED lights to indicate the remaining charge. A button on the side will activate them for a short period of time when pressed.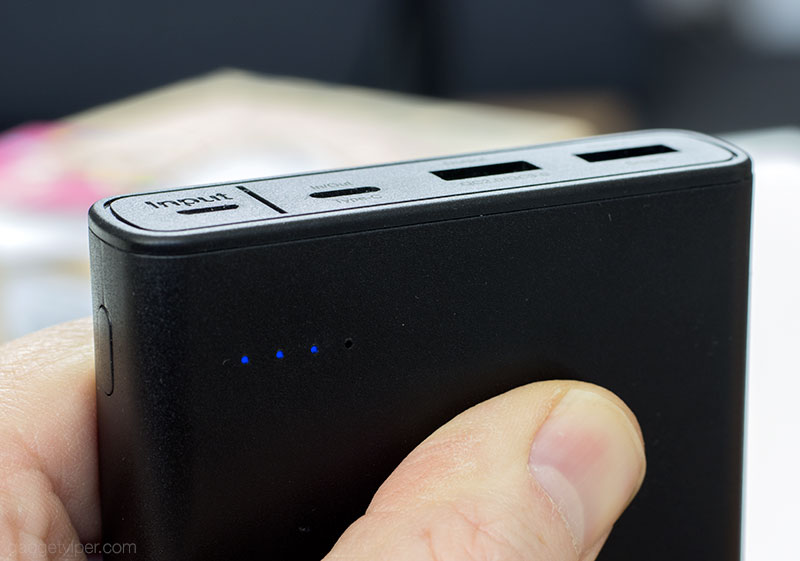 I have absolutely no complaints regarding the design or build quality of the Glory P2 plus. The unit is robust, the ports are all firm and the included cables are of a high standard.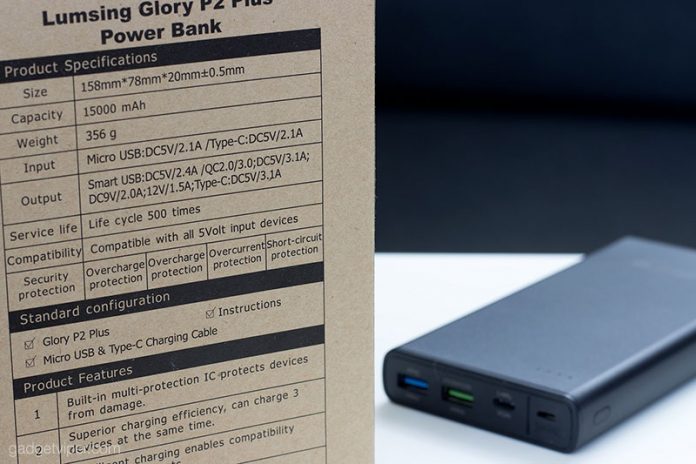 Dual Inputs
The Lumsing Glory P2 Plus has two input ports. One is a regular Micro USB and the other is a Type-C USB port. Assuming you have a wall adapter or in-car charger with two USB outputs this will effectively half the time it takes to recharge the unit.
Although I've reviewed and tested many power banks with similar ports, I've only ever come across one other device that's designed to use both at the same time.
I was a little concerned that feeding 4.2 amps into the power bank might cause it to become hot to the touch. I regularly checked it and was surprised to find it remained cool throughout the three-hour charging period.
Connectivity
The Lumsing Glory P2 Plus has three output ports. There's a Quick Charge 3.0, a Type-C USB and a smart port. All of which can be used at the same time if required.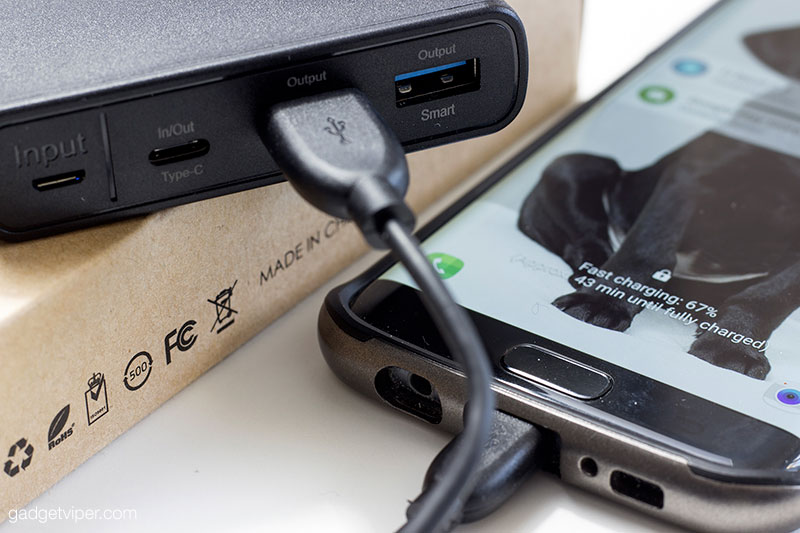 Capacity and Efficiency
If you're new to Power Banks, you might be confused as to how the capacity relates to the number of actual charges you will get on a device. Let's say you have a tablet with a 5000mAh battery. This power bank has 15000mAh, you'd assume that it's going to give you three full charges. Unfortunately, it doesn't work like that.
I've reviewed dozens of power banks and they usually provide between 70-80% efficiency. If you have a 10000mAh charger, you could expect between 7000-8000mAh from it. That being said, the Lumsing Glory P2 Plus has raised the bar considerably. Their manual boasts a whopping 90% efficiency, I didn't quite see those numbers, nevertheless, it was far more than the average. I got three full Galaxy S7 Edge (3700mAh) charges with a little juice to spare.
Safety Standards
The Power Bank is CE/FCC/ROHS Certified and features numerous safety measures. These include overcharge protection, over-discharge protection, over voltage protection, over current protection and short-circuit protection.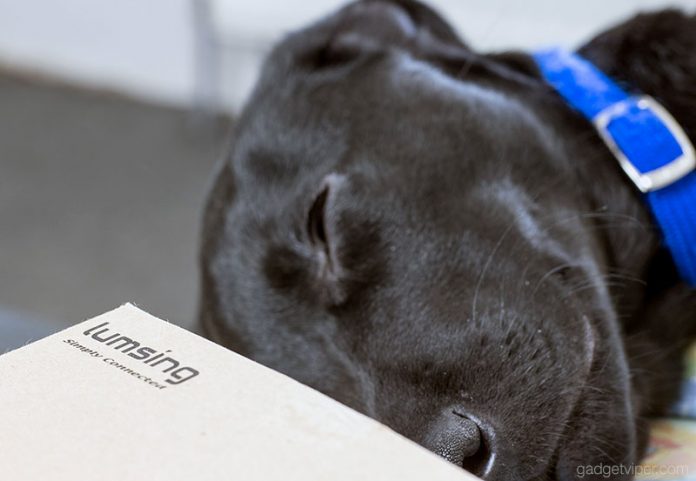 I'd highly recommend the Lumsing Glory P2 Plus to anyone looking for a portable charger of this size and capacity. Its dual inputs and high-efficiency rate really set it apart from most of the others. Although I do have some firm favourites on my high capacity power banks list, if I were to create one for power banks under 20,000mAh, I'm confident this would top it.
Price updated – 23rd of January 2017 at 14:30 GMT
*Product prices and availability are accurate as of the date/time indicated and are subject to change.
If you found this review useful, please leave a comment below or share it socially – Thanks!