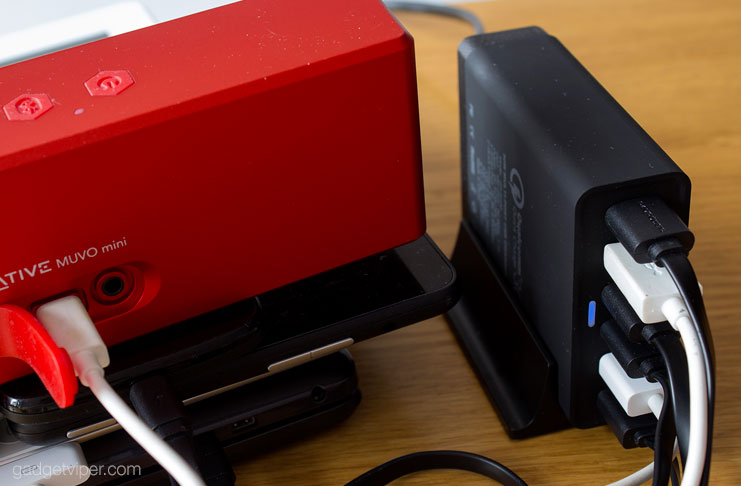 A full review of the latest Choetech 6-port USB Charging Station. Featuring two Qualcomm Quick Charge 3.0 ports and a huge overall output of 50W/10A.
+
Good price, compact, high overall output, quick charge 3.0 compatible.
–
Generates some heat when charging multiple devices at the same time.
Price updated on the 13th August 2016 at 14:30 GMT
*Product prices and availability are accurate as of the date/time indicated and are subject to change.
I had no idea how often I'd actually need all six USB charging ports!
CHOETECH QC 3.0 USB Charging Station – Full Review
Intro
As a reviewer of portable mobile devices, I'm certainly no stranger to USB multi-charging. Up until testing the Choetech Charging Station, this usually meant clambering around under the desk looking for a spare plug socket.
Those regular trips underneath my workstation are never pleasant. It's a daily reminder of my total lack of cable management, which also blocks any hoovering activity from taking place.
With the Choetech Charging Station sitting pretty on my desk, I'm able to ignore the dust, fluff and tangled cables and focus all my attention on being more productive…
Design and Build Quality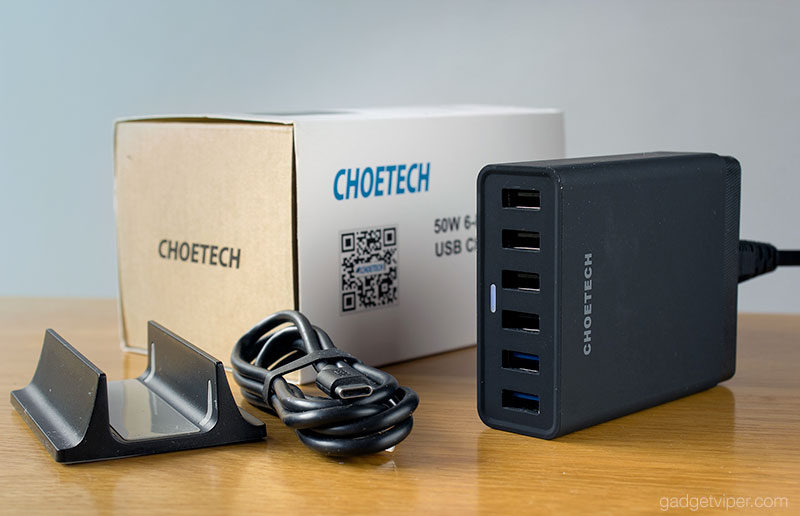 The Choetech Quick Charge 3.0 USB charging station comes inside a no-thrills box. Inside there's a 6 port charging hub, mains adapter, desk stand and a high-quality Type-C to Type-A USB charging cable.
| | | | |
| --- | --- | --- | --- |
| 25mm (1 inch) | 70mm (2.9 inches) | 90mm (3.5 inches) | 158g |
The Charging Station is surprisingly compact considering the six USB ports. There's a small power indicator light that glows blue when connected to a power supply. The light is relatively dim and would not appear unsightly in a dark room. The detachable power lead is a good length, measuring 1.5m (60 inches). It fits securely into the back of the unit with a two prong connection.
The overall build quality of the Choetech Charging Station and its components is great. Considering the cost of a high-speed Type-C to Type-A USB cable, I was very pleased to see one included with the product.
Features and Spec
The Choetech features a total of six USB outputs. Four of which are Smart Ports. These will intelligently identify the connected device to maximise charging speeds.  The other two are Qualcomm certified Quick Charge 3.0 compatible ports. QC3.0 technology is fully backwards compatible with QC 2.0 and QC 1.0, so don't be concerned if your phone has an older version.
| | | | | |
| --- | --- | --- | --- | --- |
| AC-100-240V | 6 | 5V (2.4A Max) | 3.6V-5.5V 2.4A(max) , 5.6V-9V 2A(max) , 9.1V-12V 1.5A(max) | 50W / 10A |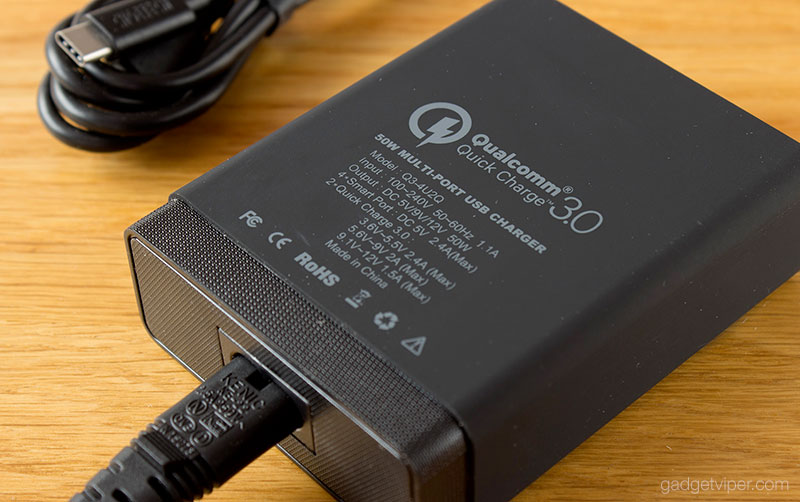 To effectively charge multiple devices, there needs to be a sufficient total output. Some 6 port hubs only offer 30 Watts and 6 amps of total output. This would barely be enough for three devices, especially if one was a tablet or iPad. The Choetech charging station puts out a whopping 50W/10A max output, which should be more than enough to make use of all six ports.
Testing the Device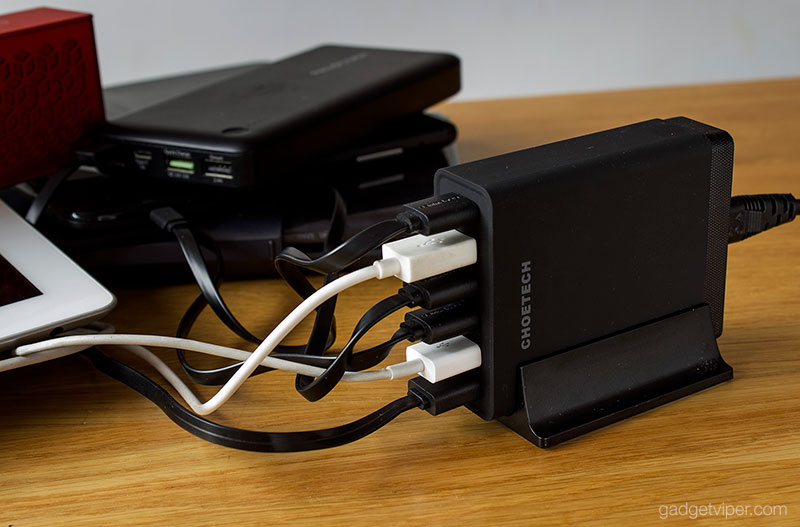 I've had this device for just over two weeks now. During that time I've charged a huge variety of products with various inputs and capacities. These have included Bluetooth Speakers, Power Banks, Phones, Tablets, an iPad and DSLR camera batteries.
I also took the opportunity to recharge my huge stockpile of high capacity power banks, some of which are Quick Charge 3.0 compatible.
The charging times were great, no matter how many devices were connected. As long as the combined inputs are less than 10 Amps, they should all charge at optimal speeds.
When I utilised all six ports there was a noticeable amount of heat, but nowhere near enough for me to become concerned. It's totally normal for chargers to get warm, especially those with Qualcomm Quick Charge technology. It has built-in protection against over-current, overcharging and overheating issues and is CE, FCC & RoHS certified.
Verdict
Beyond its basic packaging, I really cannot fault this product especially considering its current price. Its slim profile and subtle LED make it ideal for any table or desktop. The 6 USB ports and big overall output should provide ample charging, and the Quick Charge 3.0 ports will future proof this device for years to come.
Price information last updated on the 13th of August 2016 at 14:30 GMT
If you enjoyed the review or found it useful, please share it socially or leave a comment below – Thanks!