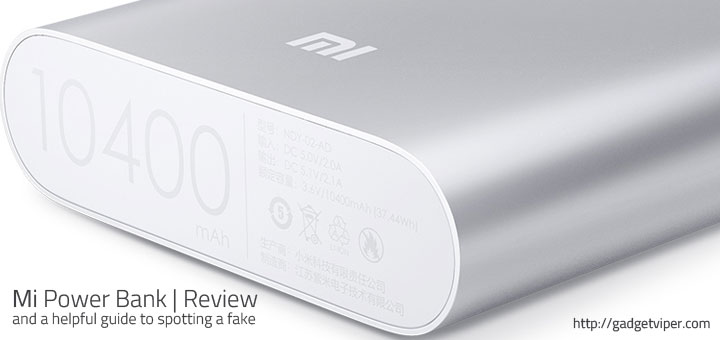 The Xiaomi Mi 10400mAh Power Bank has been superseded by their
latest model.
I highly recommend checking it out. Alternatively, head over to our
Best 20000mAh Power Bank
page to see an updated list of the best power banks currently available.
*Price last updated on the 10th July 2016 at 9:20 GMT
The Xiaomi Power Bank, also known as the Mi power bank is like most other Xiaomi products – Very high quality at an extremely affordable price.  That being said, there are a ton of fake Xiaomi Power banks out there, so at the bottom of this review I will also take the time to explain how you spot a genuine Mi power bank from a fake.
The Xiaomi Power Bank – 10400mAh – Design / Build Quality
The first noticeable feature of the Mi Power bank is it's impressively compact size. Considering it has 10400mAh's of storage it's surprisingly stumpy, a bit like a dwarf from Lord of the Rings only less hairy.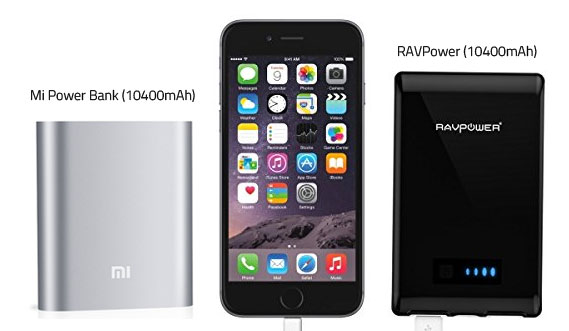 When compared in size to the RAVPower 10400Mah charger (reviewed here) the Xioami power bank is over an inch less in length.  I will make a point of comparing the Mi Power Bank to the RAVPower Element during this review simply because they are both 10400mAh and both of a similar price.
The Xiaomi Power bank is made from a single piece of aluminium which has been CNC machined. The surface has a slight texture to it to assist with the grip and has an anodized finish which will prevent the surface from corrosion. The top and bottom of has a white plastic finish.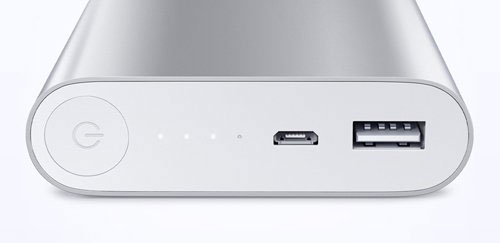 On the top of the power bank is a USB port for output and a micro USB port for input (recharging).  There is also a button to check the remaining charge which is indicated by 4 small LED lights which show 25% increments.  As you can see from the photo above it all looks neat and tidy and the rounded sides make the Xiaomi Power bank very comfortable to hold.  Visually I would have to say that the Mi Power Bank looks better than the RAVPower Element with it's metal case.
The Xiaomi Power Bank – 10400mAh – Features
The Xiaomi Power Bank has the ability to automatically adjust it's output to maximise the charging speed. This is handy for charging larger devices like Tablets as they most often take 2.1Amps.  This feature is not unique on power banks, infact many others also offer this facility to auto adapt the output.  The RAVPower Element has this feature, which they call "Smart" as do Anker chargers, they have named the technology "IQ".
The most impressive feature of the Xiaomi power bank has to be it's large storage capacity considering it's size. 10400mAh basically means you will get roughly 5-6 full charges of most modern smartphones.  I personally like portable phone chargers that have this capacity or more as I'm lazy and always forget to recharge power banks.  I find the smaller ones just don't offer me enough leeway on being complacent.
At this point I'd like to point out the main flaw of the Mi Power Bank when compared to most other 10400mAh + chargers –  It has only one output.  This bothers me as I often find myself using both outputs on the RAVPower.  When I go on a trip away from home, I always take my phone and my iPad, they both need charging.  I guess they could take their turn at getting charged, however this tends to happen overnight, so having 2 outputs means I can charge both as I sleep.
The Xiaomi Power Bank – 10400mAh – Review Conclusion
If you are looking for a well built, compact, yet powerful power bank at a seriously low price the Xiaomi Mi charger ticks all those boxes.  If you only really intend to use it primarily to charge a single device like your smartphone, I cannot fault the Mi Power Bank.  However, if like me you are more likely to need to recharge more than one device simultaneously and you don't mind swallowing an extra inch, I'd highly recommend the RAVPower Element.
Where to buy the Xiaomi Power Bank?
As mentioned at the top of this post, there are a hell of a lot of fakes in circulation. To get a genuine Mi Power Bank online at the best price, I would suggest using Amazon. The link below will take you to an Amazon listing of a genuine Xiaomi Power bank.
*Price last updated on the 10th July 2016 at 9:20 GMT
Information on spotting a fake Mi Power Bank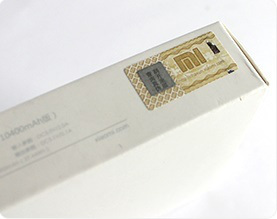 Sticker on box
A genuine Mi power bank comes with a sticker on the packaging which can be scratched off to reveal a 20-digit code. You can enter the code on Xiaomi's website to confirm it's genuine. In some cases the packaging does not carry this sticker, so it's worth doing the other checks as well before assuming it's a fake.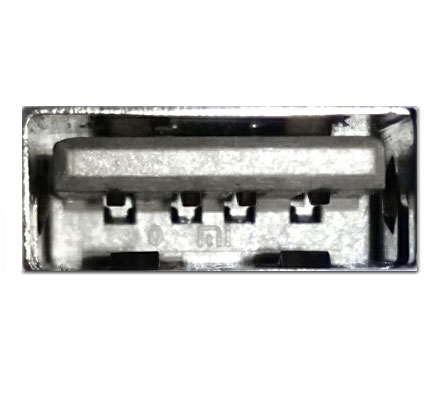 Mi Logo on USB port
A genuine Xiaomi Power bank will have a small "Mi" logo stamped on the USB port as shown in this image. A fake version will not, it will just be a plain standard USB port without the logo.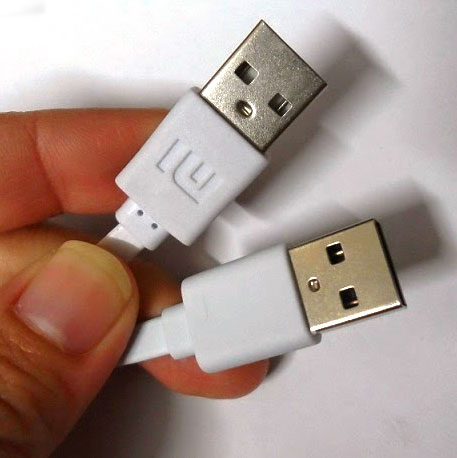 Mi Logo on Fake USB cables.
Strangely the fake Xiaomi Power Bank supplies a USB cable with a "Mi" logo moulded on it. A genuine Mi Power Bank has a plain USB cable.
If you found this Xiaomi Power bank review useful, please share it with others using the social buttons, or leave a comment.