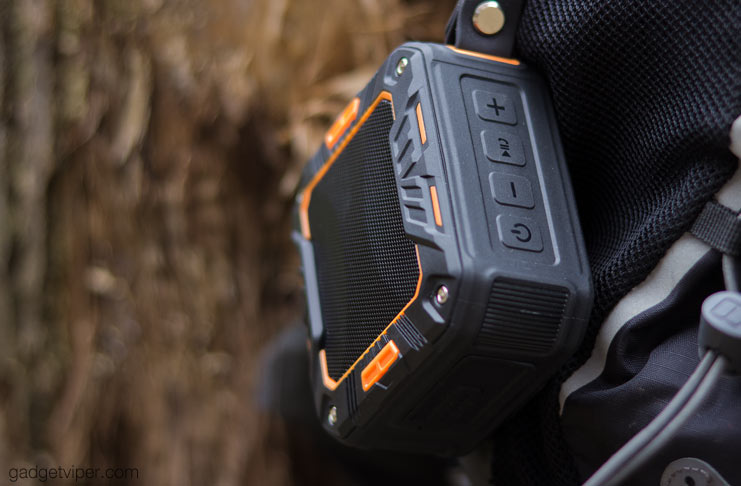 iClever
Outdoor bluetooth speaker-

IC-BTS03

A compact and water resistant outdoor bluetooth speaker with 10 hours playback. The iClever IC-BTS03 has an IP65 rating making it suitable for heavy rain showers.

Featuring a rugged and durable design built to withstand impact.

+

Durable design, IP65 water and dust resistant, 10 hours battery

–

light on bass level
Features
Bluetooth distance: 10m
Play time: 8-10 hours
Charging time: 3-4 hours
Water resistant: IP65
iClever Outdoor speaker –
IC-BTS03
Amazon.com
price:  $29.99*
Price updated on the 20th of April 2016 at 10.50 GMT
*Product prices and availability are accurate as of the date/time indicated and are subject to change.
iClever
IC-BTS03 – Design and Features

The iClever portable outdoor speaker comes in no-thrills, but well protected packaging. Inside there's the IC-BTS03 bluetooth speaker, user manual, 3.5mm AUX phono lead and a USB charging cable.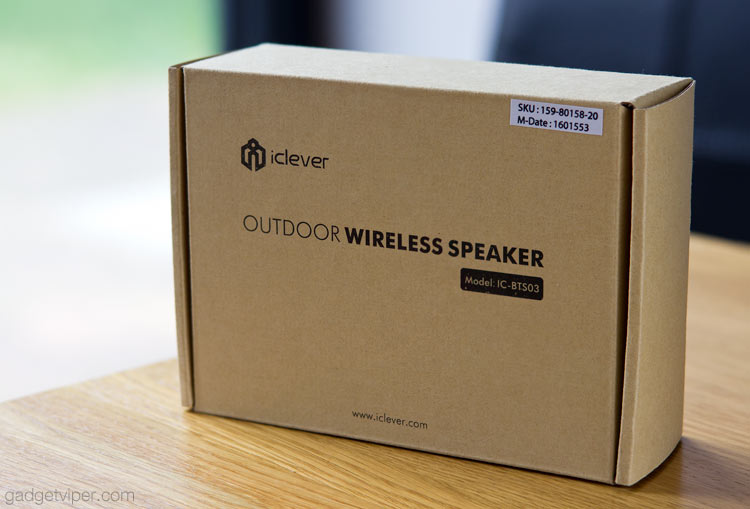 The manual provides information on pairing and controls which are fairly self-explanatory. When you turn it on, it's in pairing mode. Your phone will list a device called "IC-BTS03" just select it and you're done.
Each time the speaker is used, it will remember and reconnect to the last paired device automatically.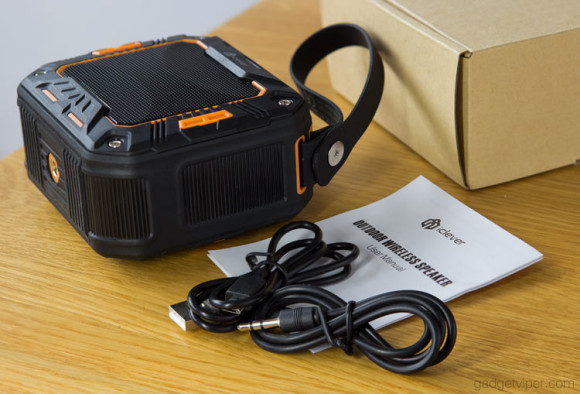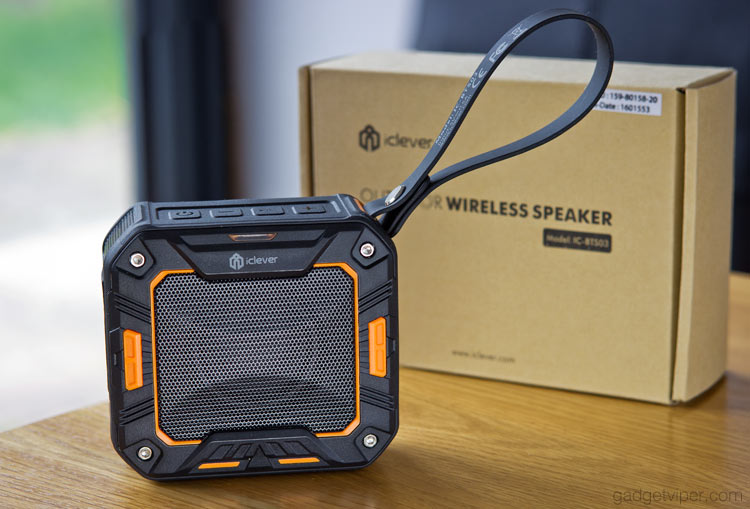 The bluetooth speaker has a cubic design with chamfered corners. There's a tough protective mesh grill on both sides, but the sound does only come from the front. The rubberised edges are easy to hold and provide good amount of protection. The controls are all inset on the top surface of the bluetooth speaker.
There is a threaded hole on the underside of the iClever outdoor speaker. It's a standard size to fit most tripod and camera holders. Handy if you have an action cam bracket attached to the handle bars of your bike.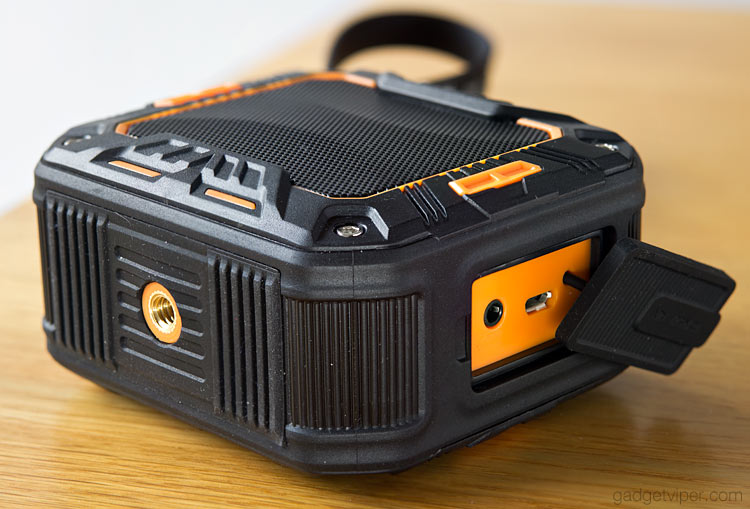 The AUX and Micro USB charging port is hidden under a thick rubber dust and water resistant cover. It's a little fiddly to refit, but worth it to ensure a good protection from the elements.
iClever
IC-BTS03 – Sound and Specs

Sound Quality
For its size and price, the iClever IC-BTS03 performs well. Its mid-range and high-end are both fairly clean. The bass is a little weak, but adequate enough for a small affordable outdoor speaker.
The volume level is good, the speaker's plenty loud enough for the shower or the beach on a breezy day.
Specs
Speaker – 50mm Dia driver
RMS – 5 Watts
Battery – 2000mAh Li-Polymer
Bluetooth profile- A2DP, HFP, HSP, AVRCP
Signal to noise ratio – ≥75db/li>
Water resistant – IP65
Weight – 280G
Size – 98 x 90 x 50mm
Verdict
The iClever IC-BTS03 outdoor speaker's rugged build and IP65 rating make it ideal from outdoor activities. Perfect for camping trips, visits to the beach or fun by the pool.
For more information and customer reviews please visit the iClever product page on Amazon.com.
iClever Outdoor speaker –
IC-BTS03
Amazon.com
price: $29.99*
Price updated on the 20th of April 2016 at 10.50 GMT
*Product prices and availability are accurate as of the date/time indicated and are subject to change.