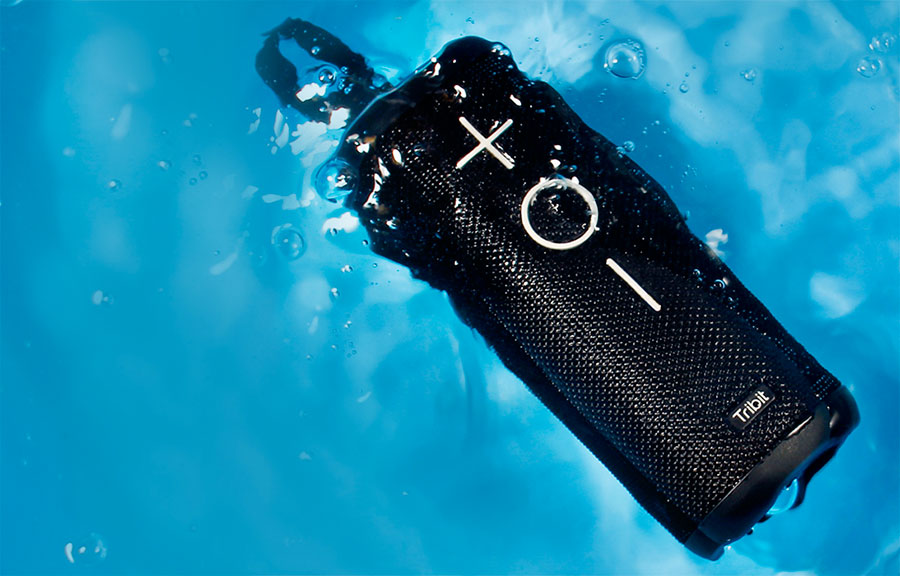 Tribit XBOOM Bluetooth Speaker
A fully waterproof Bluetooth speaker that shares similar characteristics to the JBL flip 4 and the UE Boom but at a far more favourable price.
Before diving head first and splashing out of your next portable speaker, why not read our full review of the Tribit XBOOM.
Highlights and Features
Fully Waterproof (IPX7) – It also floats
Huge battery life – Up to 20 Hours (5200mAH)
Bluetooth 4.2 – Range 66 feet (20m)
Bass boost button
24 Watt drivers and 360

° sound

Links with a second Tribit XBOOM.
Pros and Cons
+
Awesome value for money, rich sound quality, massive battery life, fully waterproof, Google/Siri compatible.
–
No MicroSD playback, Not as loud as the JBL FLip4.
Where to Buy
*Price updated on the 12th of July 2019 at 10.00 GMT
Price and availability are accurate as of the date/time indicated and are subject to change. Any price and availability information displayed on Amazon at the time of purchase will apply to the purchase of this product.
Tribit XBOOM Bluetooth speaker – Full Review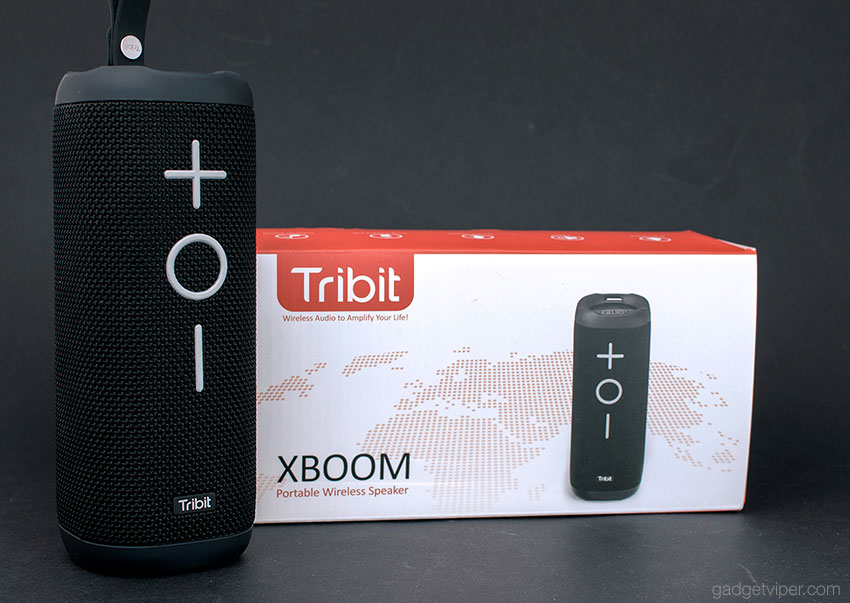 The Tribit XBOOM comes inside a tidy looking retail box with along with a micro USB charging cable, a good quality user manual, and an 18-month warranty card. The card also offers a 30-day money back guarantee and the chance to extend the warranty for a further 12-months by registering. This effectively gives you two and a half years of cover – not bad for a portable device designed to be used in all conditions.
The included Micro USB cable looks a little generic but apparently charges at 2A. I always cross my fingers for a branded cable that I can easily identify amongst the dozens of others I've accumulated over the years. No big deal I guess, but it's those little touches that I like to see when I'm unboxing a portable speaker. The $1 donation to UNICEF for each XBOOM sold is a kind gesture though, so all is forgiven.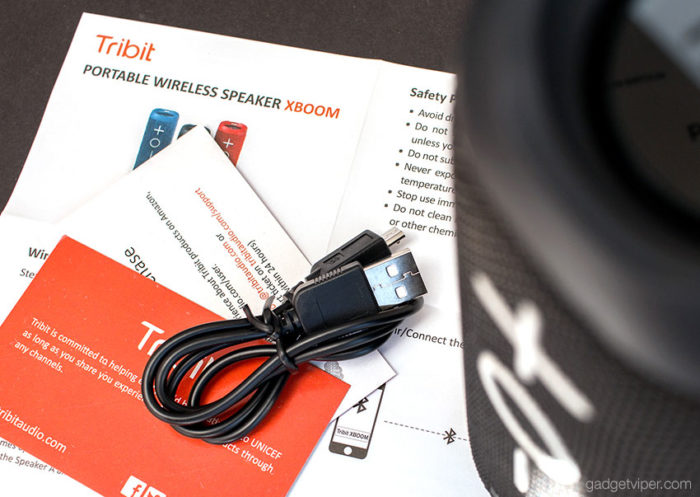 Design and Build Quality
The Tribit XBOOM shares its looks with the JBL Flip4 Bluetooth speaker. Its size and shape are practically identical, even the mesh and surface materials seem the same. The only real distinguishing feature that separates its appearance is the large white controls on the XBOOM compared to the more subtle ones found on the JBL. The Tribit's button aesthetics do look similar to the UE Boom 2, so from a design aspect, the XBOOM is sort of a fusion of the two. The important factor is that the build quality is easily as good as either of the two more expensive alternatives.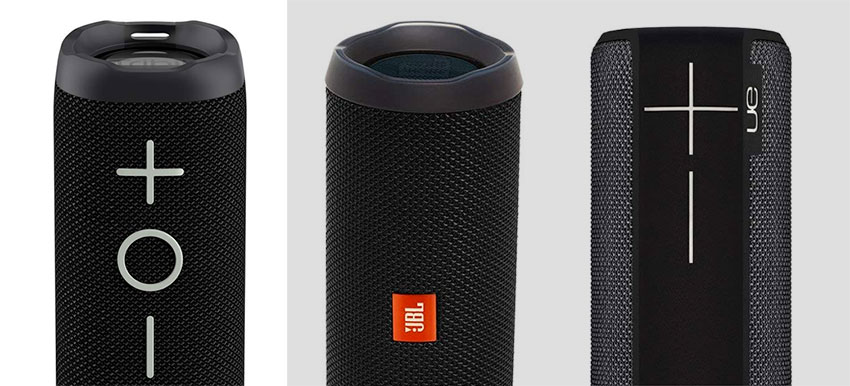 Around the back of the speaker, there's a backlit power button, battery indicator lights, a pairing button, and a button to toggle on and off the bass boost. These buttons along with the ones on the front are very tactile and require just the right amount of pressure to use.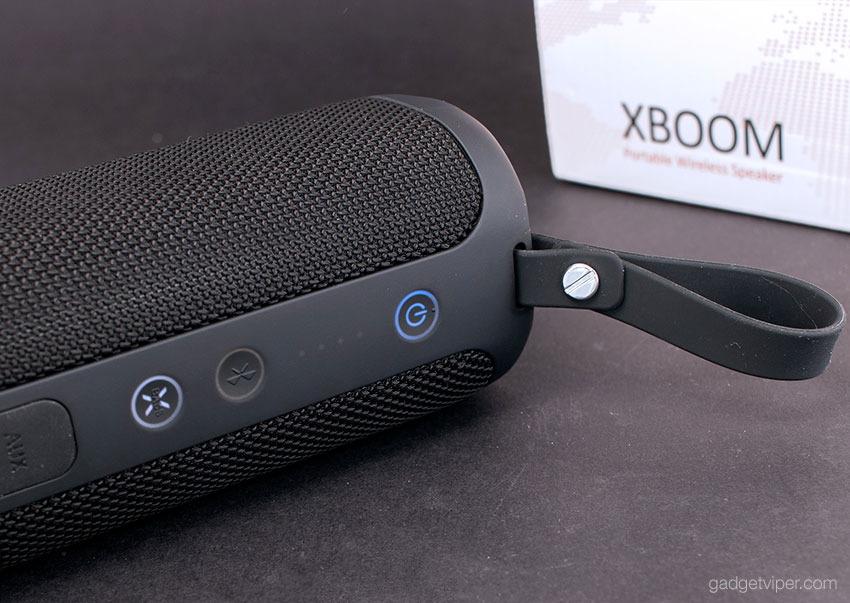 Below the XBASS button is a substantially robust cover to protect the micro USB and AUX-in port. Now, If you're a nail-biter, you're going to struggle to remove this cover.
This is due to how well fitting it needs to be to ensure the IPX7 rating. The Tribit XBOOM can be fully submerged to a depth of 3 feet for over 30 minutes.
I doubt many people would purposely choose to float their XBOOM in water, but you could if you wanted. In contrast, the JBL Flip4 will sink like a stone.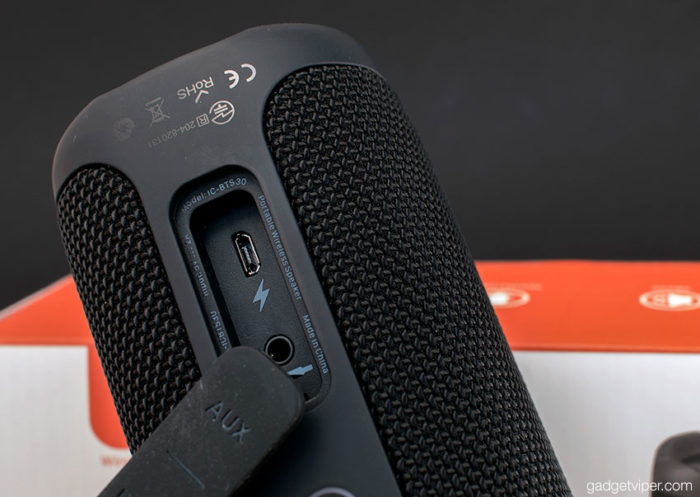 Features and Specifications
Bluetooth – Version 4.2
Bluetooth Range – 60 Feet
Bluetooth Profile – A2DP, AVRCP, HFP, HSP
Drivers – 2x45mm, 2x Passive Radiators
Output – 2x12W
Frequency Response – 70-20KHz
Battery Life – Up to 20 hours
Battery Size – 5200mAh
Charging time – 4 Hours (5V,2A)
Weight – 545g (19.2oz)
Playback time
The battery life on the XBOOM blows the competition out of the water.  The JBL Flip4 has a 3000mAH capacity and 12 hours playback, the Tribit has 5200mAH and an impressive 20 hours.
Bluetooth streaming
The Tribit XBOOM runs on Bluetooth version 4.2 and seems to have an extremely reliable signal even at distances exceeding 10m. I own a huge number of Bluetooth devices and this speaker beats most of them. This range is subject to walls and other obstructions, but if you're in an open space, you can expect to reach 20m (60 feet).
Linking to another Tribit XBOOM
If you've got two XBOOM's they can be linked together by holding down the pairing button for 5 seconds. This will 'daisy chain' them, so each speaker will be playing the same audio. This is a cool feature for boosting output and filling larger spaces, but it's a bit of a shame they don't pair as left and rights to offer a stereo sound.
XBASS Boost Button
The XBASS button allows you to crank up the low-end. This really helps add a richness to the sound at low levels. If the volume level is high, this button has much less of an effect.
What's missing?
Most Bluetooth speakers these days include a MicroSD card slot for playing music directly without having to stream it from a separate device. The XBOOM doesn't have this feature and considering that a Bluetooth signal dies the moment water gets in the way, MicroSD playback seems like a sensible addition to have on a fully waterproof portable speaker. – Luckily, I don't throw many pool parties due to the fact I have no pool and very few friends these days who'd be willing to sit in bikinis or speedo pants.
Oh, and another thing. There doesn't seem to be an auto-off feature. It sounds ridiculously lazy, but I've got used to having it. If I turn off my phone's Bluetooth, I like a portable speaker that will hang around for 10mins and then power off on its own.
Sound Quality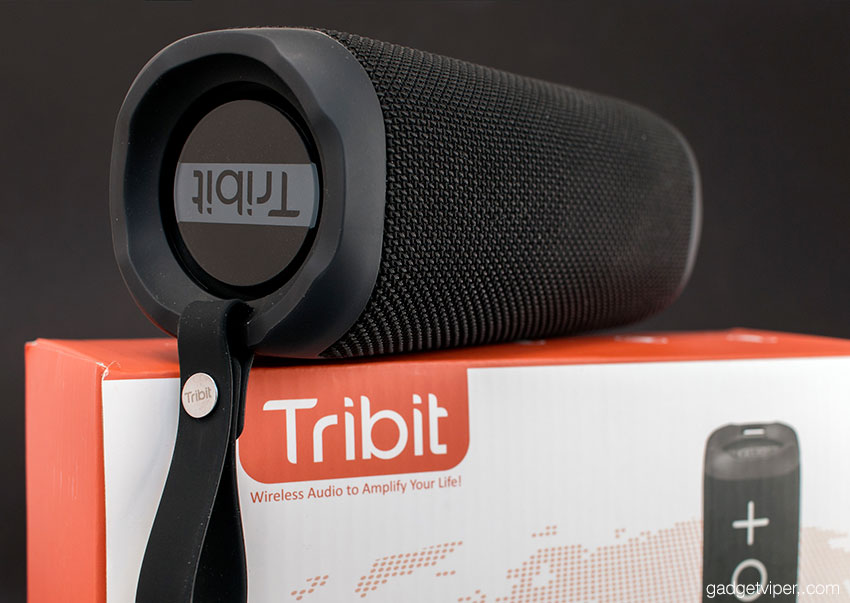 I've been waiting to get to this part of the review. The Tribit XBOOM, in my opinion, sounds better than both the JBL Flip4 and the UE Boom despite it costing significantly less. Its dual 12W drivers and side facing passive bass radiators kick out a rich and well-balanced sound.
It's not quite as loud as the JBL Flip4, which is strange as the specs would suggest it would be. However, max out the Flip4 and the sound quality turns to trash. In contrast, the Tribit XBOOM maintains a good balance even at full volume. Perhaps the max level has been clipped to retain good audio performance.
Tribit state that the XBOOM offers 360° immersive Sound and while it does sound good from all directions, there is definitely a sweet spot. Due to the placement of the drivers, the speaker sounds its best when you turn it 90°.
The XBOOM's audio tuning.
For years now, I've been watching a guy on YouTube called Olav. There's no one out there that does a better job of A-B speaker testing portable speakers. He has a website that lets you handpick from a huge database of Bluetooth speakers to compare the audio quality. Anyway, he got his hands on an early version of the Tribit XBOOM and kindly offered to fine tune the sound by sending them some parametric equalisers. They accepted and quickly implemented his changes. I think this was an awesome stroke of luck for Tribit and definitely a major factor in its audio performance.
For those interested, here's Olav's YouTube demo of the speaker:
Verdict
The Tribit XBOOM is a rock-solid choice for anyone looking for a really good quality yet affordable Bluetooth speaker. While it lacks a few smaller features that others might have it makes up for them where it counts. The sound quality and battery life are superior to the more expensive speakers. I'd go as far as to say that even if the Tribit was the same price as the Flip4 or UE Boom, I'd still favour it. Given the fact it's a third of the price, it really is a no-brainer in terms of which one to buy.
Where to Buy
*Price updated on the 12th of July 2019 at 10.00 GMT
Price and availability are accurate as of the date/time indicated and are subject to change. Any price and availability information displayed on Amazon at the time of purchase will apply to the purchase of this product.
I hope you found this review useful, if you did, please leave a comment below or share it socially – Thanks!