Ever since I came across the GoPro Fetch, a dog harness that you can mount a GoPro camera on, I've been unable to take a smile of my face.  The GoPro dog mount is a product that unites my 2 favourite things on the planet – amazing tech and dogs. Before I continue you simply must take a look at this picture: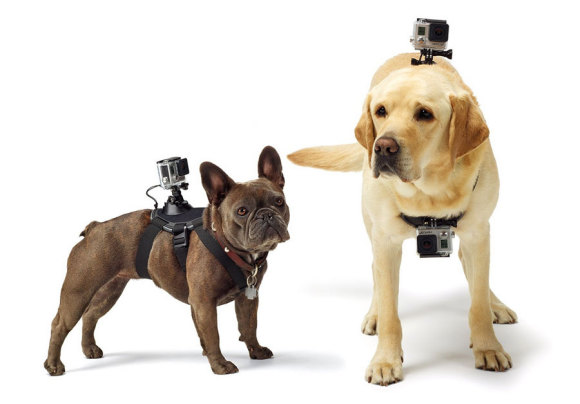 I instantly fell in love with this Labrador and his ugly pug side kick. I personally think GoPro should offer them a lifetime contract to be dog models for all future products.
The GoPro fetch is an adjustable padded harness that fits to your dog and allows you to mount any GoPro camera to either your dogs back or chest.  The chest mount can be removed to accommodate a smaller dog and there is a good amount of adjustment available to maximise the POV.  The harness is water friendly and machine washable, and as most of you who own a GoPro camera already know, they are designed to be durable in all conditions.
Watch the GoPro Fetch official product video: (featuring the Derek and Hansel of the Dog modelling world)

(Go to 1:10 secs to see a boxer dog face plant the ground)
The logistics of having a GoPro camera strapped to the back of your dog is most definitely dependant on his or her nature and the environment in which you choose to use it.  Video taken from a dog calmly walking down a street will be relatively smooth and controlled.  However you may feel mild nausea after watching footage of a hyperactive dog tearing around a field, rolling in the first muddy puddle he comes across before shaking himself dry.
If you already own a GoPro and are lucky enough to share your life with a furry gift from heaven, you should definitely considering grabbing the GoPro Fetch dog mount.  However, I'd highly recommend you read the customer reviews first, as although the majority of people have highly rated the GoPro fetch, there are a fair number of people who were disappointed with certain aspects of the product.
If you enjoyed this post, please use the social button to share it with others………and be kind to dogs