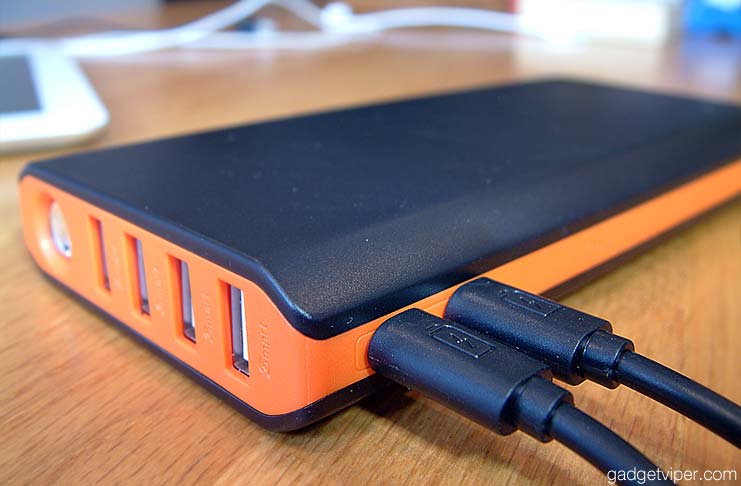 EasyAcc have released an upgraded version of this power bank. It includes Qualcomm Quick Charge 3.0 technology,
here's a link
to our full review.
EasyAcc Monster 200000mAh Power Bank
A high capacity portable charger with a truly unique feature. The EasyACC PB20000MS has dual input ports to double the recharge speed.
Contents
PB20000MS Power Bank (20000mAh)
2 x Micro USB cables
User Manual
Price updated on the 28th March 2017 at 09:30 GMT
*Product prices and availability are accurate as of the date/time indicated and are subject to change.
The best recharge rate for a power bank without Qualcomm Quick charge technology
The bigger the power bank, the longer it will take to recharge right? Not any more, EasyAcc has managed to rewrite the rule book with it's latest portable charger. As far as I know, this is the first of it's kind, so congratulations to EasyAcc for their innovation.
Until now external batteries have been limited to a max input of 2A. This isn't such a big deal on a relatively small portable charger, but once you get beyond 10000mAh, the recharge times can be considerable. A 20000mAh power bank can take a whopping 12 hours. The new EasyAcc PB20000MS has it down to just 6 hours, pretty impressive considering it will have enough juice for 8 iPhone-6 charges.
2
EasyAcc Monster 20000mAh Power Bank – Review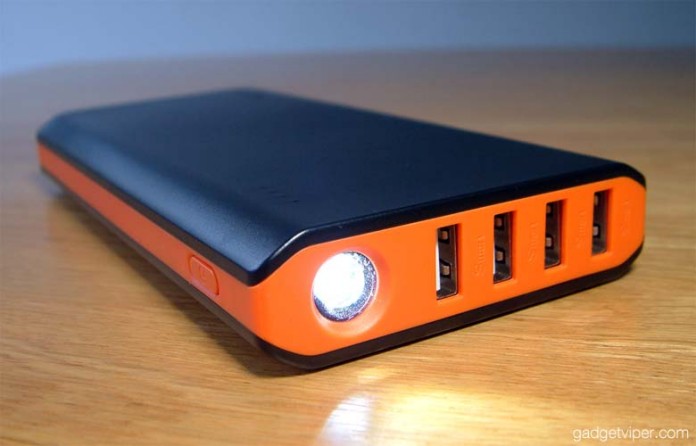 The EasyAcc Monster power bank has a 'handle friendly' design. It's chamfered sides and rounded edges combined with its very smooth matte surface feels comfortable in the hand. At 168mm x 80mm the battery pack is a touch too big to call pocket size, however, it is relatively slim at only 22mm.
There's a battery status button on the right that display tiny white LED indicator lights on the front of the power bank to let you know how much charge is remaining. It's got 4 USB Smart outputs and an impressively bright LED torch on the top face which you can toggle on and off by double tapping the button.  I've been using the torch as a reading light in bed, and it's absolutely ideal.
Most of the features on this portable charger are pretty standard for a high capacity power bank, with the exception of one. The EasyAcc has a huge input of 4A – twice the norm. Achieved by the introduction of a second input port,  It's the only external battery with this feature, halving the recharge time when compared to other 20000mAh power banks currently available.
To make use of this impressive feature, you will need to either have 2 independent power adapters with USB inputs or a plug with two or more ports.  I used my iPad mains adapter and another for charging my Asus Transformer. I've since ordered one of these, so I can connect both cables to a single socket.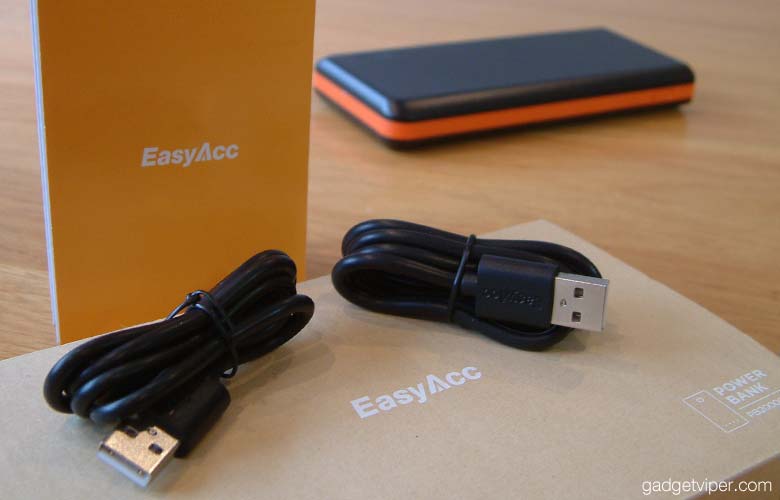 As well as the huge input, the Monster also delivers a very generous max output.  The vast majority of
high capacity power banks
will put out around 3.5A, this external battery gives out 4.8A. Spread over 4 Smart ports, 4.8A can easily charge 4 smartphones simultaneously or a tablet and 2 others phones at full speed.
Full Specifications
Capacity: 20000mAh
Battery type: Lithium-Ion battery cell
Input: DC 5V 4A
Output: DC 5V 4.8A
Size: 167x 80 x 22 mm
Weight: 454g
3
EasyAcc Monster 20000mAh Power Bank – Verdict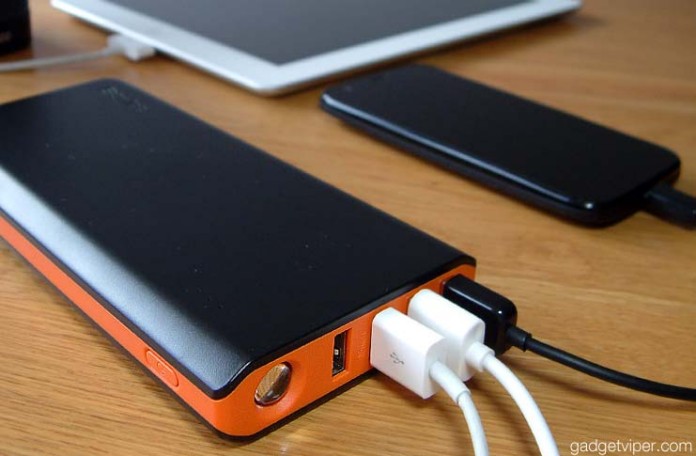 I have been hugely impressed with all of the EasyAcc external batteries I've tested over the last year. Whenever I'm in need of a power bank, more often than not, it's the EasyAcc I take. Aside from the extremely low price, they each have a unique feature for a particular use.
For a day to day power bank I always take the PB4000CB, if I'm planning on hiking for the weekend, I'll pack the fully waterproof PB9000TP model. I have no doubt that this 20000mAh Monster will be my go-to portable power source for longer trips with the family and for general use around the house.

The PB20000MS is exceptionally good value for money and comes well packaged with a high quality multi-language instruction manual.
With Christmas fast approaching, the EasyAcc Monster could be the ideal gift for those who enjoys spending time on their tablet or Smartphone.
Price information last updated on the 28th March 2017 at 09:30 GMT
Thank you for taking the time to read this review, I hope you found it useful if you did, please leave a comment or share it socially.