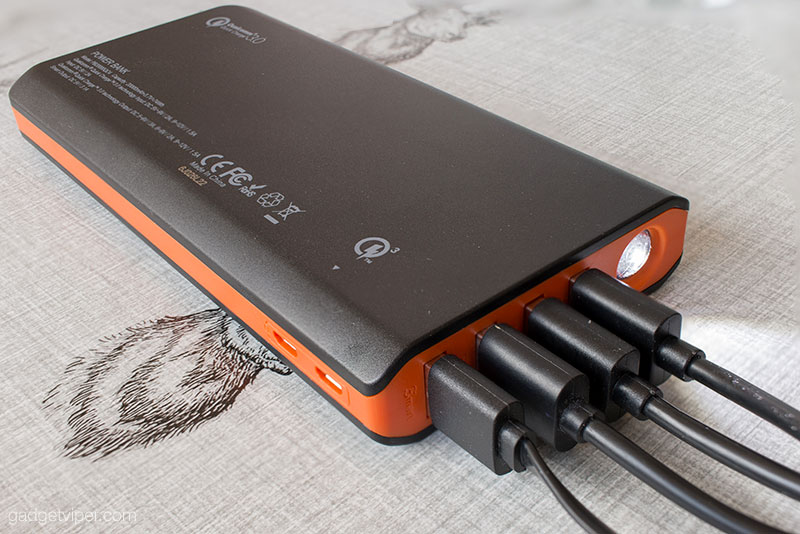 Currently 2nd place on our Best Power Bank 20000mAh list
EasyAcc 20000mAh Power Bank
A high capacity portable charger with dual inputs and four output ports. The EasyAcc 20000mAh QC3.0 power bank will recharge faster than any other external battery on the market.
Highlights
High Capacity Power Bank (20000mAh)
Four Outputs (1x QC3.0, 3x Smart Ports)
Dual Inputs (1x QC3.0, 1x 2A micro USB)
Integrated LED Flashlight
Two quality USB Charging cables included
Pros and Cons
+
Great value for money, Quick Charge 3.0 input and output ports, super fast recharge time.
–
A drawstring carry pouch would be a nice addition.
Where to Buy?
Price updated – 19th of January 2018 at 10:00 GMT
*Product prices and availability are accurate as of the date/time indicated and are subject to change.
Make sure you have a quick charge 3.0 compatible
wall charger
to get the most out of this power bank.
Full Review
The EasyAcc 20000mAh power bank comes inside simple packaging along with a user guide and two really good quality USB cables. As well as being branded with EasyAcc, they also have bright red colouring on the plugs. This may seem unimportant to some, but for anyone who has a tonne of cables, I'm sure they'll appreciate it.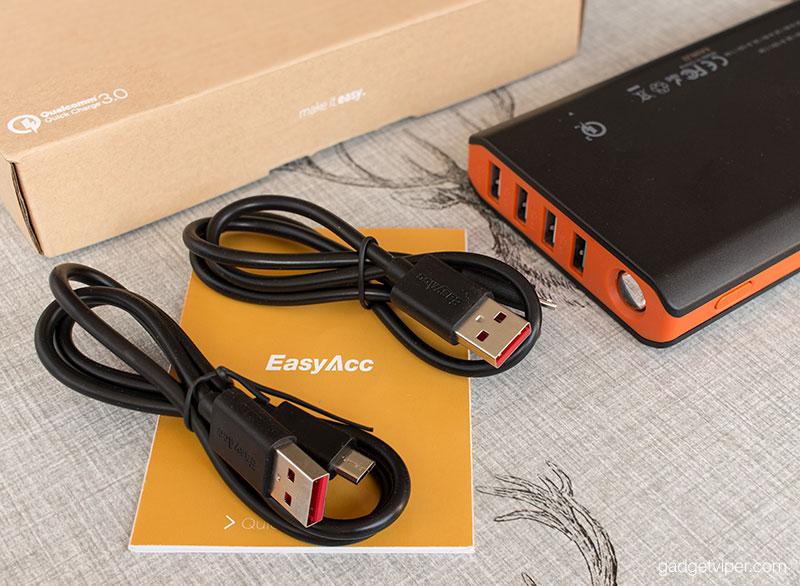 The user-guide is simple to follow and printed in multiple languages. It details the product features and specifications and comes with an 18-month warranty.
The warranty covers you for any possible defects or failures, just as long as you don't dismantle the unit.
Even though I've not had this unit for long, I have no doubts about its quality or durability. I've been using its predecessor since 2015 and it's still as good as new.
This new model shares an identical design to the EasyAcc Monster 20000mah power bank. The big difference is the addition of the Qualcomm Quick Charge 3.0 technology.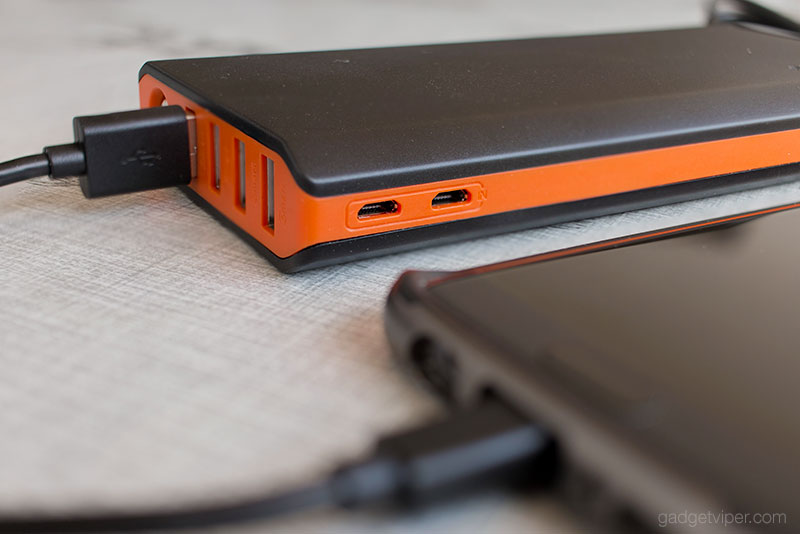 The housing is made from durable plastic with distinctive orange sides. The corners are nicely rounded and the large bevelled edges make it pleasant to hold or slip into a pocket. The size and weight of this power bank is impressive, considering it has a total of six ports, an LED torch, and a whopping 20000mAh of battery cells squeezed inside.
| | | | |
| --- | --- | --- | --- |
| 167mm (6.5 Inches) | 80mm (3.1 Inches) | 22mm (0.8 Inches) | 410g (14.5 oz) |
All the USB output ports are on the top edge along with the flashlight, which is controlled by double clicking a small button on the side of the unit.  I've found this light to be most useful, perfect for bedtime reading or as a nightlight.
A single click of the button will display the battery indicator lights on the front of the housing. There are four in total with each one indicating a 25% charge. When a single button starts flashing it means there's less than 5% remaining.
Charging Devices
The EasyAcc power bank will automatically begin charging when a device is connected and will shut off within 30 seconds once the charge is complete. This protects the battery life of your phone by preventing overcharging.
The other three outputs are Smart ports which will automatically give the fastest possible charge to the connected devices. All power banks will have slightly different rates of efficiency, this one's particularly good.  You should get around six full iPhone 7 charges or four complete charges on a Galaxy S7 Edge.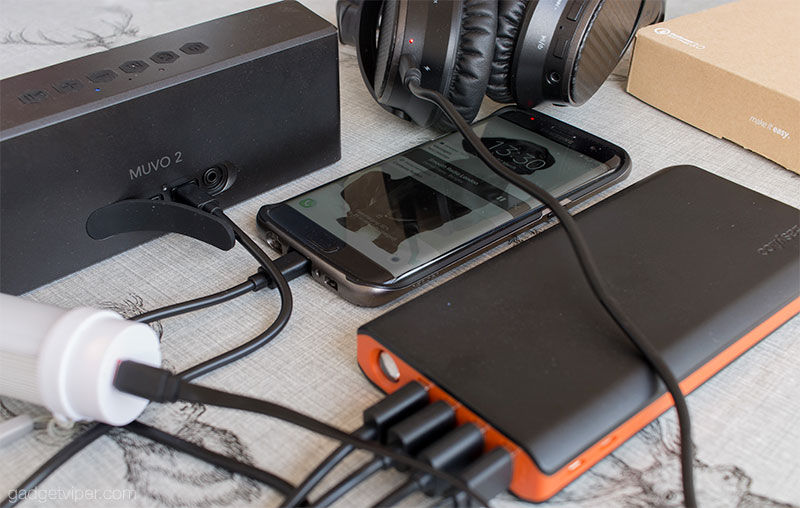 During testing, I was able to make use of all three smart ports without affecting the quick charge speed to my phone. I'm unsure if all the devices were charging at their full potential, but my S7 Edge certainly was.
Recharging the Power Bank
To get the fastest possible recharge time, you'll need a quick charge 3.0 wall charger or in-car charger with at least two outputs. If they're regular ports, you'll still get 4 amps of charge (twice the amount of most other portable chargers). With a QC 3.0 compatible charger, it will take around 5 hours to fully recharge the power bank.
It's strange how few QC3.0 power banks actually have Quick Charge inputs. The fact that this does and has an additional 2A port sets it apart from the rest.
Verdict
The 20000mAh EasyAcc Quick Charge 3.0 portable charger is an awesome device and easily deserves a spot at the top of my best high capacity power banks list. Not only is it very reasonably priced, it also has the most outputs and the fastest recharge time of any power bank I've tested. The integrated torch for reading at night is for me the cherry on the cake. All it's missing, in my opinion, is a nice drawstring carry pouch.
Price updated – 19th of January 2018 at 10:00 GMT
*Product prices and availability are accurate as of the date/time indicated and are subject to change.
I hope you found this review useful, if you did, please leave a comment below or share it socially – Thanks