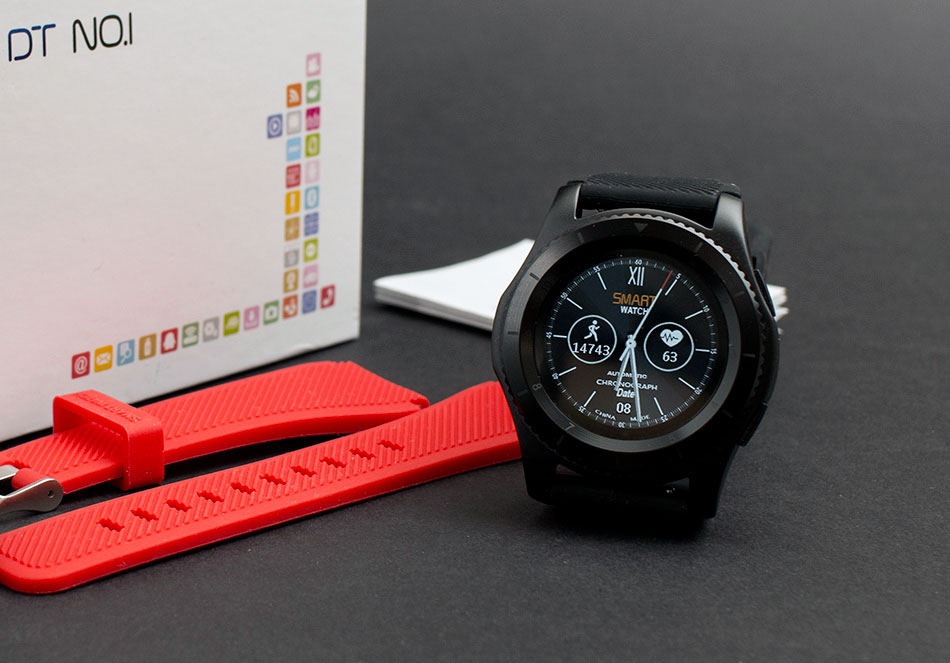 DT No.1 G8 Smart Watch
An affordable smart watch with an impressive battery life. The G8 features a stainless steel bezel and a 1.3-inch tempered glass screen
It has a 240×240 pixel touch screen to quickly navigate through the functions and settings, as well as motion control to auto-wake the watch.
Highlights
3 Modes (Watch, Bracelet or Phone)
120 Hours battery life in Watch mode
Bluetooth V4.0 or 2G SIM Card
Phone calls and message notification
Pedometer, HR, BP and Sleep monitor
Stopwatch, Alarm, Range Alert, Calculator
Comes with quick-switch wrist straps
Pros and Cons
+
Very affordable, super fast boot time, good battery life in watch mode, accurate pedometer and heart rate monitor.
–
Notification sounds are annoying, screen brightness in direct sunlight is a little weak, slight delay on wrist motion activation.
Where to Buy?
Price updated – 9th of August 2017 at 16.50 GMT
*Product prices and availability are accurate as of the date/time indicated and are subject to change.
The G8 Smart Watch could provide a cost effective alternative to a phone for parents who want to keep in contact at all times.
No.1 G8 Smart Watch – Full Review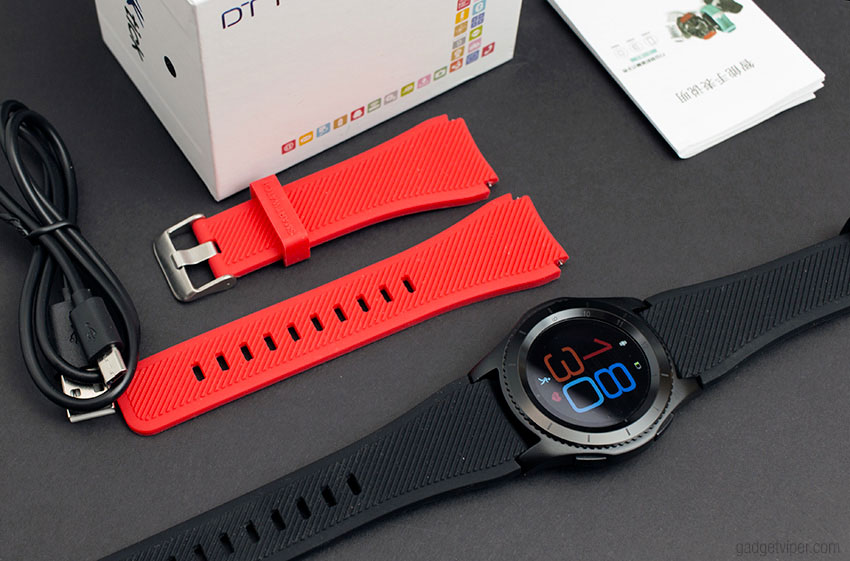 The G8 Smart Watch comes in a presentable retail box. Inside there's a user manual, micro USB charging cable and an additional silicone strap.
On the underside of the strap is a spring loaded pin that can quickly be released to switch out the colours.
I've worn the G8 Smart Watch over the past week during the day and throughout the night, to test the sleep monitor. During that time I found the strap to be very comfortable against the skin.
The Design and Features
The DT No.1 G8 Smart Watch comes with three different clock faces pre-installed. You can quickly switch between them by holding your finger down on the display. The current design will shrink and you'll be able to swipe to the next style.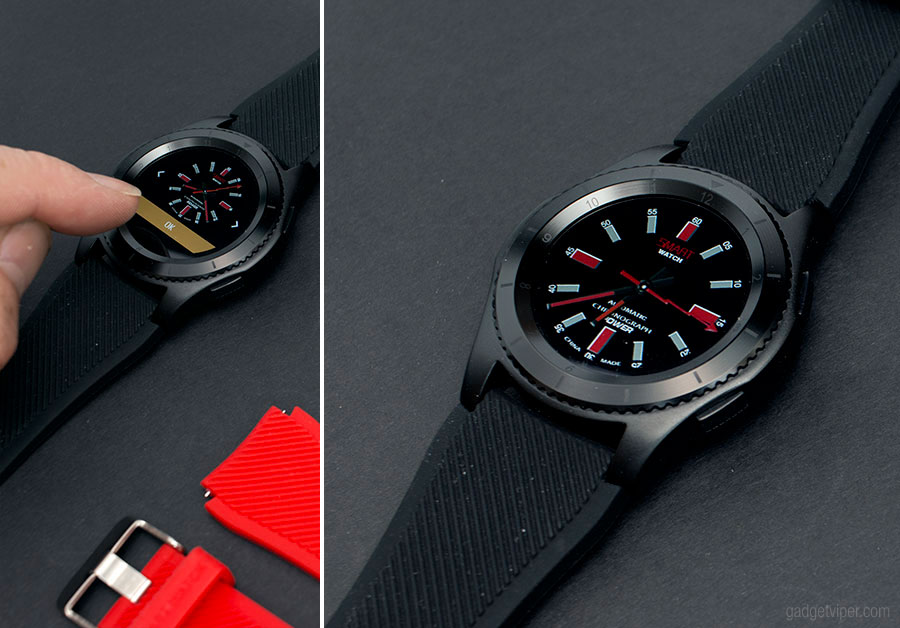 If the three pre-installed designs are not to your liking, I believe it's possible to choose from a huge selection online. You should then be able to transfer them to the G8 by connecting it to your PC or Laptop with the Micro USB cable.
The Micro USB charging port is located on the right side under a protective cover.  There are two push buttons on the other side. The bottom button turns the display on or off and the top button opens up the mode menu.
The G8 Smart Watch has 3 modes to choose from. Each one will enable or disable certain features to help maximise the battery life.
DT No.1 G8 Smart Watch Modes
Watch – This mode will disable the Bluetooth connection to your Smartphone and the SIM options. In this mode, the G8 can last for up to 120 hours.
Bracelet – The G8 will interact with your smartphone via Bluetooth 4.0. It will receive calls and phone notifications. You can read and reply to text messages, access your contacts and make calls from the watch. In this mode, the G8 can still manage a respectable 60 hours.
Phone – As with Bracelet mode, the G8 will make a Bluetooth connection with your phone. Additionally, it will also add SIM card functions. Assuming you have a SIM inserted, you'll be able to make calls and send texts independently. In this mode, the battery should last around 38 hours.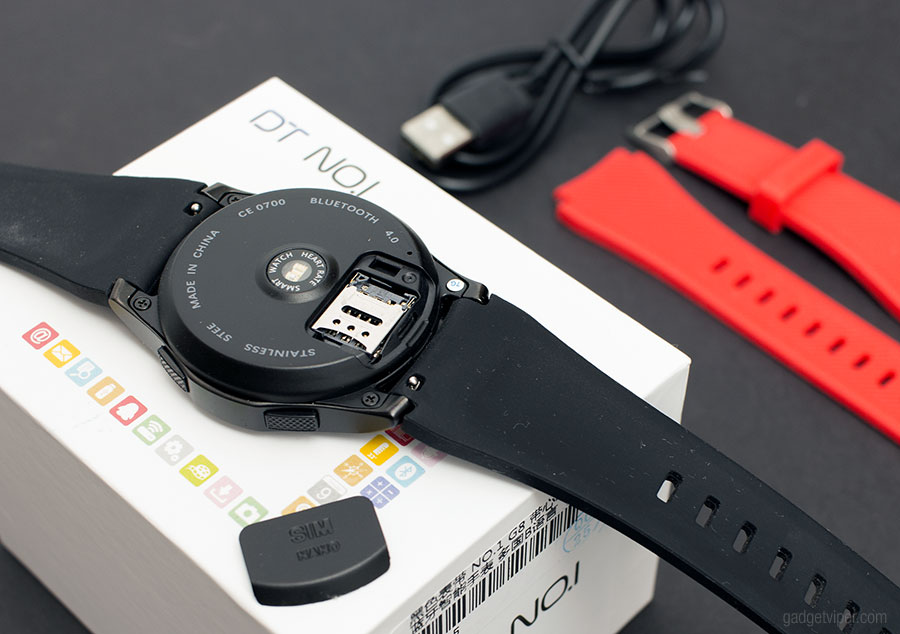 The G8 will support a 2G nano SIM card. This functionality could be useful for anyone who wants to stay in contact without the need to carry a phone. I see this as being useful for sports activities, or perhaps as a way to keep track of a child without the need for an additional phone.
The Software
The No.1 G8 Smart watch has a surprising amount of settings and options to choose from. There's a total of seven menu options along with a view of a QC code. If you scan this code using your Smartphone, it will take you to the download page for the phone app.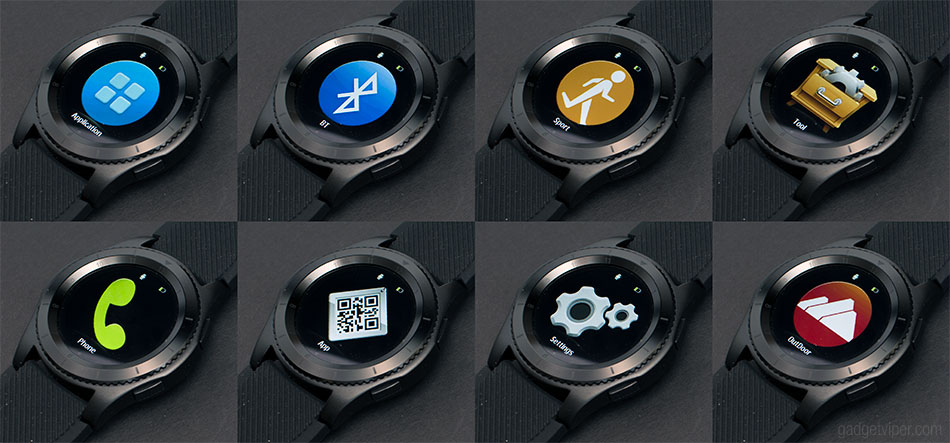 The app is called FunDoWear and is compatible with both Android and iOS phones. It will allow you to connect to the G8 and sync steps, sleep and heart rate info to your watch. It's fairly basic but it does allow you to keep historical data about your activities.
The G8 also has a built-in blood pressure monitor. I really have no idea how reliable it is and I'd be reluctant to trust it without a benchmark to test it against.
When it comes to testing the accuracy of the other functions, I was able to do a side by side comparison with the Samsung Health app and my SleepDot tracker.
Testing the Accuracy of the G8 Smart Watch
Yesterday, I took the G8 and my S7 Edge and went on a mammoth dog walk. After 12.4km I compared the data. Over the 14,500 steps taken, there was less than 500 steps or 4% variation between them.

I also compared my heart rate using the S7 edge and the G8 smart watch and they were identical to one another.
The No.1 G8 will not continuously monitor your heart rate or check it periodically. Instead, you'll need to either access it from the sports menu or tap the heart icon from the clock display.
One area where the G8 fails regarding its accuracy is the sleep tracking. It rated last nights sleep as 'Excellent' which could not be further from the truth.
Personally, I don't like wearing a watch while I sleep, so I'm not overly concerned about this data, but if you're looking for a device that's good at sleep tracking the G8 may leave you somewhat disappointed.
Other functions
The G8 has a very user-friendly calculator, calendar and stop watch. It also has a 'massage' function. This basically makes the G8 vibrate continuously. I'm not too sure if this provides any benefit to the wrist? – perhaps you're meant to place it elsewhere on the body…
The 3 things I didn't like about the G8
There is a total of three brightness settings to choose from. In low and medium light the display looks great. If the summer sun is blazing, however, even the brightest setting is not enough.
The audio notifications are annoying as hell. Some of you might like them, both my boys did. For me, however, I like a simple ping sound, not a tacky melody. There are three to choose from, but they are all bad in my opinion. Fortunately, you can switch the notifications to 'vibrate only' which works perfectly well.
The motion activation when you twist your wrist has a very slight delay. It's probably less than a second, but I still find it a little frustrating.
Verdict
I think the No.1 G8 is one of the best smart watches you're likely to find at its price point. It's got a decent battery life and has proved to be fairly accurate with most of its tracking data. The option to add a SIM card could make the G8 very useful for parents or for those times when it's impractical to carry a phone.
If you've never owned a smart watch before and want to dip your toe in the water without spending a huge amount on a big brand, the G8 could be a good option to consider.
Price updated – 9th of August 2017 at 16.50 GMT
*Product prices and availability are accurate as of the date/time indicated and are subject to change.
I hope you found my DT No.1 G8 Smart Watch review useful, if you did, please share it socially with others – Thanks!