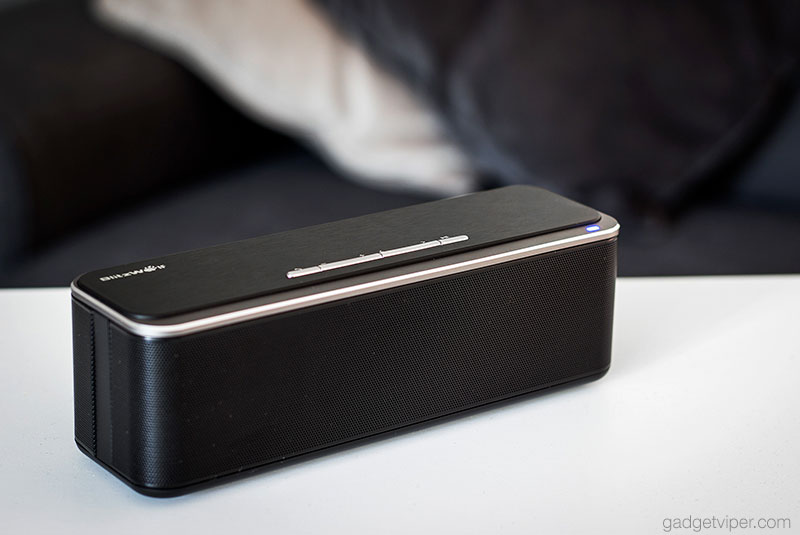 BW-F4 BlitzWolf Bluetooth Speaker
A premium-looking portable Bluetooth speaker with impressively rich audio quality. The BlitzWolf BW-F4 can last 10 hours on a single charge and features dual 45mm speaker drivers.
Highlights
Bluetooth CSR 4.0 (10m range)
Up to 10 hours music playback
45mm Dual Speaker Drivers
AUX playback and Handfree
Pros and Cons
+
Premium build quality, rich sound, nice controls, great battery life
–
Low battery indicator limited to a 10% warning
Where to Buy?
Price updated – 6th July 2017 at 12:00 GMT
*Product prices and availability are accurate as of the date/time indicated and are subject to change.
Definitely one of the richest sounding Bluetooth speakers of its size that I've tested. Outperforming much larger and more expensive portable speakers.
1
Design and Build Quality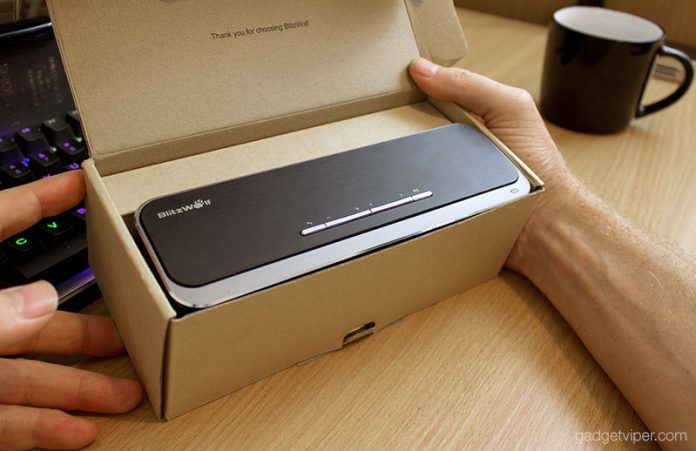 The BlitzWolf BW-F4 Bluetooth speaker arrived in a no-thrills box suited more to online sales than shop window displays. Fortunately, the product inside is a far cry from the packaging.
The top features a dark grey panel with a brushed metal finish which is set neatly on a 3mm thick aluminium plate. Its surface has a sandblasted matte finish with a large machined chamfer along its edge. The combination of dark grey, matte metal and the mirror finish of the chamfer gives the BlitzWolf Bluetooth speaker a very premium look.
The slender control buttons sit slightly proud of the top surface. They offer a minimal yet tactile movement when pressed.
I especially like the independent volume and track selection buttons. So many Bluetooth speakers combine these together which often leads to unwanted track selection when adjusting the volume.
The main body of the BlitzWolf BW-F4 is made from a metal grill with fine holes, just large enough to see the speaker drivers underneath.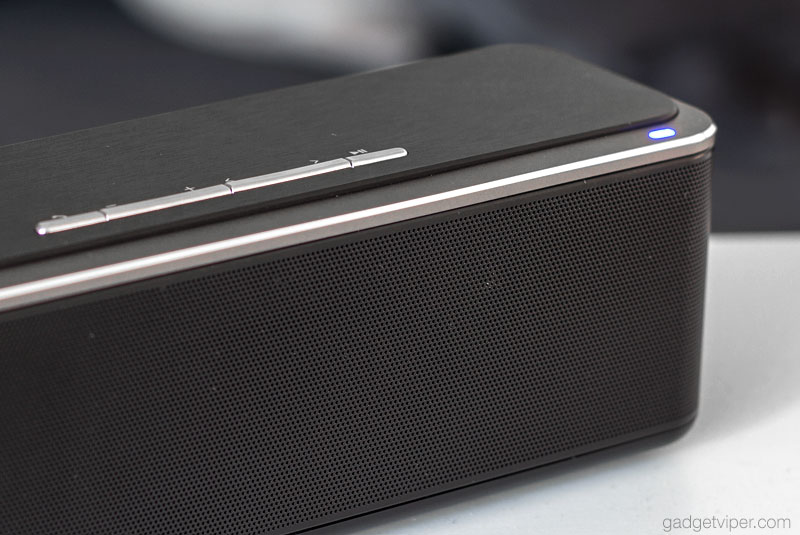 The power button, Micro-USB, and AUX charging port are all set neatly into the top of the rear grill. The power button is fairly small but that's not a bad thing, I actually prefer it tucked away on its own.
One design aspect that's missing on the BlitzWolf Bluetooth speaker is a cover to protect the ports from dust and dirt.
For this reason, combined with its premium design, I'd be more inclined to use the speaker in and around the home. The idea of slinging it in a hiking or beach bag doesn't appeal to me.
All the high-end Bluetooth speakers I've had my hands on have had something in common. They all feel heavier than they look. The BlitzWolf BW-F4 certainly fits that description. It's often a good indication of powerful speaker drivers and a hefty battery hidden within.
| | | | |
| --- | --- | --- | --- |
| 200mm (7.9 inches) | 60mm (2.3 inches) | 60mm (2.3 inches) | 630g |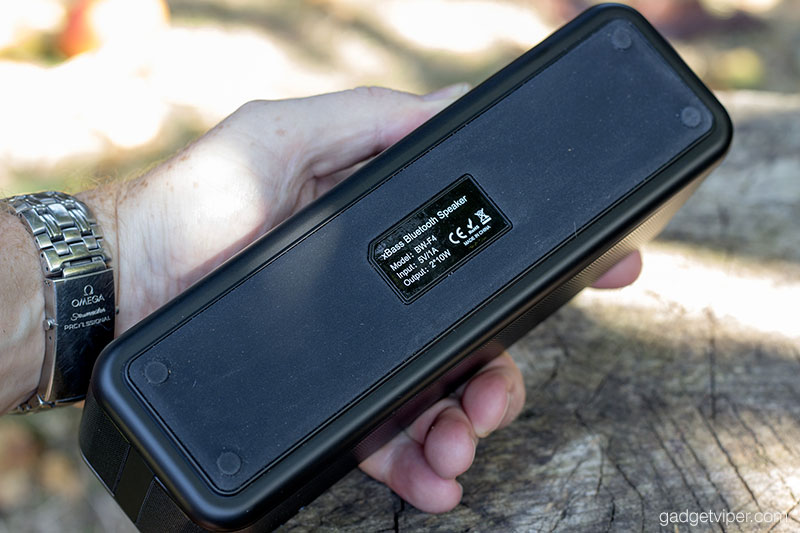 My overall opinion on the build quality and design of this speaker is positive. All the visible finishes complement each other and the rubberised base adds stability at high volume levels.
| | | | |
| --- | --- | --- | --- |
| 3 Hours | 10 Hours | CSR 4.0 | 10m |
BlitzWolf suggests the music playtime is between 7-10 hours. I've been using the BW-F4 daily for the past week and found it to be in excess of those times. Bluetooth pairing was simple, the speaker quickly appears as 'BW-F4' on the devices list and connects instantly.
I made a video yesterday which features the BlitzWolf BW-F4. For those of you uninterested in hangover tips, feel free to skip the first three minutes.
Sound Quality
Although you can hear the BlitzWolf Bluetooth speaker playing on the video, it's worth noting that the audio quality on the footage is only as good as the microphone recording it. My mic is relatively cheap and really doesn't do it the justice it deserves. I'd rate this Bluetooth speaker as one of the best I've tested for its size and price. The sound is rich, clean and impressively loud for such a small unit.
I would not hesitate for a second to recommend the BlitzWolf BW-F4 for anyone looking for a compact portable speaker for use around the home. Aside from the limited battery level indicator I really cannot fault this product. It's been extremely reliable, the playtime is great and the sound quality is top notch.
Price information last updated on the 6th July 2017 at 12:00 GMT
I hope you found the review useful.  If you did, please share it socially or leave a comment below and if you enjoyed the video, please subscribe to our YouTube channel.
An alternative to buying a portable Bluetooth speaker could be to upgrade your home stereo equipment with a Bluetooth Music Adapter.  If you'd like to learn more visit our
Best Bluetooth Audio Receiver Reviews
page. A Bluetooth receiver will add wireless connectivity to just about any speaker system with an audio input or AUX port.