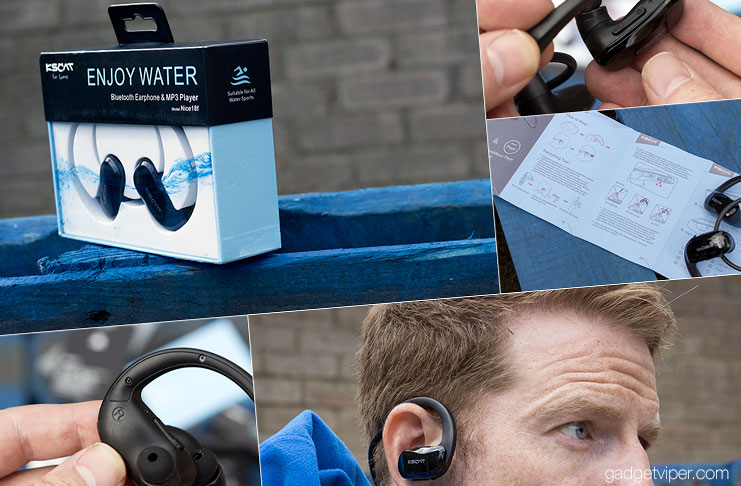 KSCAT Nice18f Headphones
Around the ear sports headphones fully waterproof to a depth of 1.5m. The KSCAT Nice18F earbuds have Bluetooth 4.1 Wireless connectivity as well as a built-in 8gb mp3 player.
Highlights
IPX8 rated, swim to a depth of 1.5m
Bluetooth 4.1 for outside the water
Built-in 8gb MP3 player for swimming
Up to 13 Hours Bluetooth playtime
Pros and Cons
+
Well fitting, Nice Sound Quality, Good selection of accessories, ideal for all activities including swimming, IPX8 rating
–
Navigation on mp3 limited to previous and next (no album / file skip option) *might be addressed in an upcoming firmware update
Where to Buy?
Price updated – 12th September 2016 at 15:30 GMT
*Product prices and availability are accurate as of the date/time indicated and are subject to change.
Not just for listening to music while swimming, they're also ideal for running outdoors in all weather conditions.
Over the last two weeks, I've used the KSCAT Nice18f Bluetooth headphones at the gym, outdoors in the rain and in the bath (see video). I know they're designed for the purpose of swimming, which I will eventually do, but I have to say, these work equally as well for just about any activity.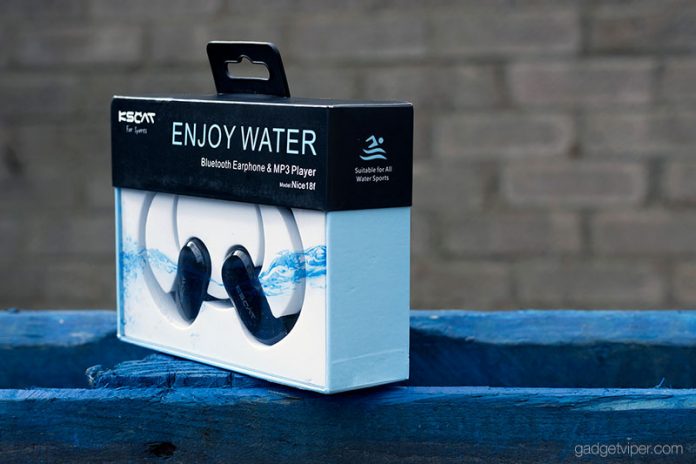 The KSCAT Nice18f headphones arrived neatly packaged with the earphones visible through the front.
Inside the box, there are spare earbuds in various shapes and sizes, a drawstring bag, Micro USB charging cable and a very detailed user manual.
KSCAT have clearly taken a lot of effort to ensure the end user is well informed. The user manual does a great job of explaining all the features, controls and specifications.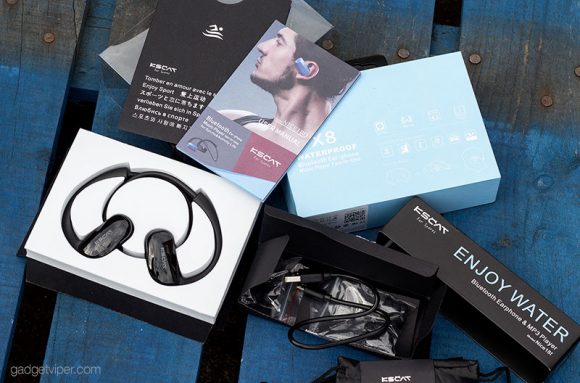 There is a section in the manual that covers the procedure for taking care of Earphones during and after swimming. This basically involves blowing into the USB port and squeezing the water from the earbuds.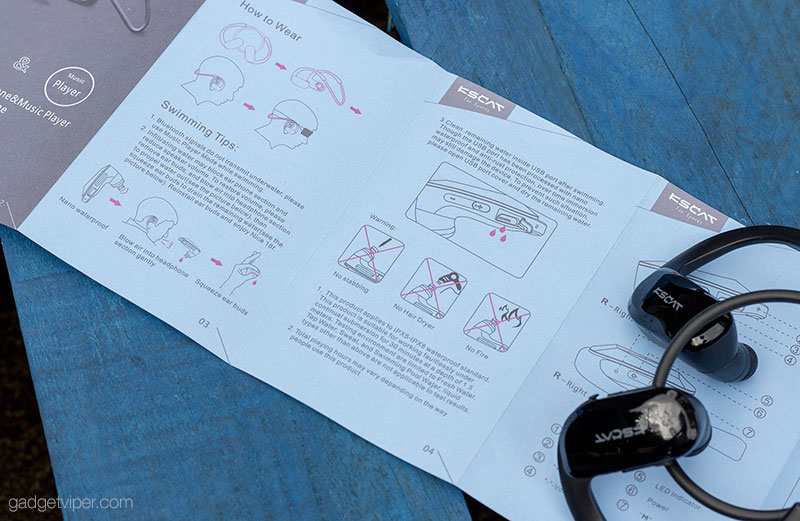 All the included components are or a high quality. The drawstring bag appears to be made from a water resistant material which should be ideal for storing wet headphones.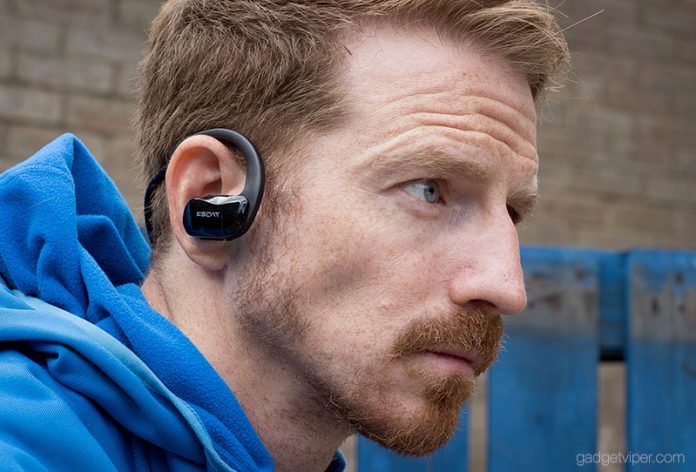 The KSCAT Nice18f earphones wrap neatly around the ear and pass behind the head with a semi-rigid cable that connects the left and right sides. The cable's design does a great job of creating just enough contact with the back of the head to provide a very consistent fit.
All of the Bluetooth, hands-free and MP3 player controls are found on the right-side earpiece. On the top, there's a small LED indicator light, a play/pause and power button.
The power button is multifunctional and will toggle between Bluetooth and MP3 player mode by holding the button down for two seconds.
On the underside, there are volume and track adjustment controls and a micro USB port protected by a rubber cover. The buttons are easy to find and take no time at all to become familiar with.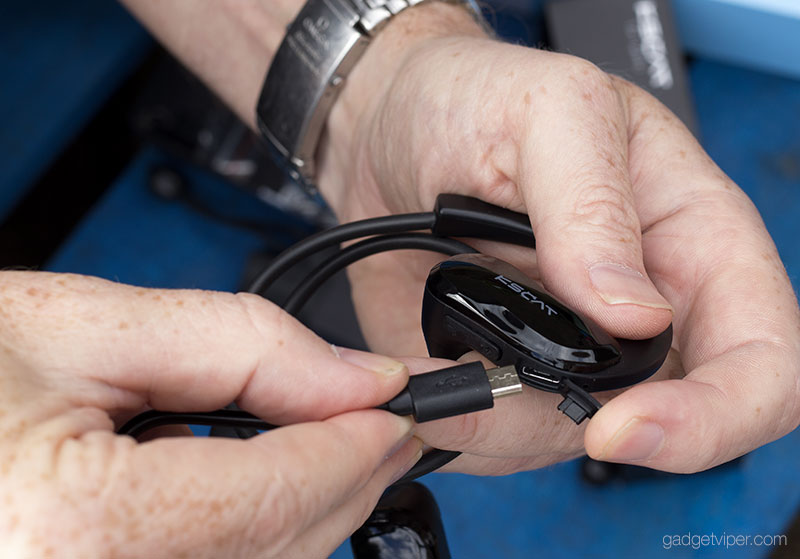 Features
8GB storage (mp3 format)
Bluetooth play time: Up to 13 hours
MP3 play time: 6 hours
Hands-free talk time: 5.5 hours
Standby time: 120 hours
Charge time: 2 hours
Specs
Bluetooth Version: V4.1
Range: 10m (33 Feet)
Bluetooth files: A2DP, AVRCP, HSP, HFP
Frequency: 2.402Hz – 2.480GHz
Speaker frequency response: 100Hz-15KHz
Mic Sensitivity: 98dB
As I mentioned in the review intro, these headphones work exceptionally well for all types of activities. Since making the video above, I've been out running in heavy rain and back to the gym twice. Having used a large number of 'over' and 'in-ear' style headphones over the years, I have to say these rank very highly in terms of stability when training.
With regards to the reliability of the waterproofing, I left the Nice18f earphones in a bathtub of water for over 2 hours without any problems.
The one negative I can say regarding the user experience with these headphones is the limitation of only being able to skip a single track at a time. Considering there is enough storage for 2000 songs, there definitely needs to be a way to skip albums/files as well. I did raise this concern with KSCAT and they are looking at introducing this functionality in a firmware update.
For the meantime, I'd simply limit the number of tracks I'd store on the mp3 player to a manageable amount, big enough to exceed the time I might spend swimming. Outside of the pool, I would typically use it in Bluetooth mode anyway.
The KSCAT Nice18f headphones are well balanced and produce a clear and clean sound with a good volume level. The low-end is not particularly heavy, but I'm not a fan of overpowered bass anyway. The quality and weight of audio from any set of 'in-ear' headphones are largely down to the fit of the earbuds. With the five variations of buds included, it should just be a matter of finding the set that's right for you. The default earbuds worked perfectly fine for me, both in and out of the water.
I can highly recommend these earphones for all sports activities wet or dry. With the testing phase of my review over, I'm still reaching for these when I'm about to leave for the gym. I'd say that's a good guide to their performance, considering I have about a dozen other options to choose from.
I'm hoping the KSCAT Nice18f earbuds will motivate me to swim more often. If not, at least I can relax in the bath listening to my favourite music with my ears below the water surface.
Price information last updated on the 8th of August 2016 at 11:20 GMT
If you enjoyed the review or found it useful, please share it socially or leave a comment below – Thanks!
To for more information on the KSCAT Nice18f Bluetooth swimming headphones, visit their Website.