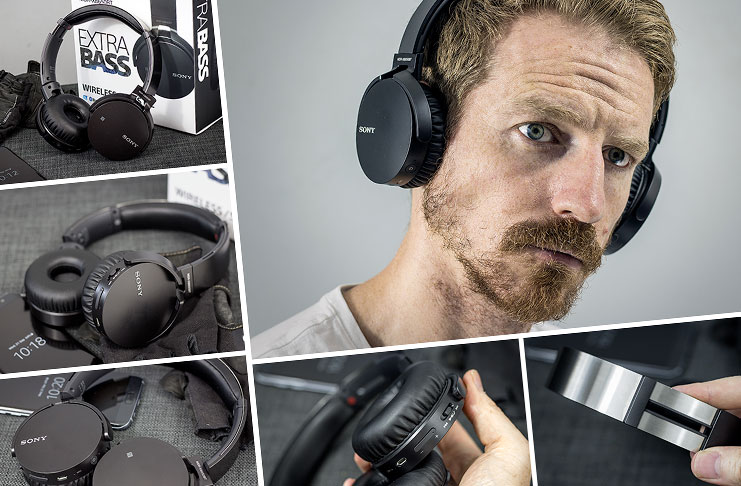 MDR-XB650BT SONY Headphones
Wireless Headphones featuring deep bass with a tight response. Its battery life is huge, lasting for up to 30 hours and the CSR aptX codecs ensure the best Bluetooth sound quality.
Highlights
Deep and powerful bass
A massive 30 hours playback
CSR apt-x Bluetooth codecs
Handsfree Calling
Pros and Cons
+
Fantastic battery life, deep bass, reliable Bluetooth connection, great controls.
–
Extra Bass may not suit some, On-Ear design may cause discomfort over time.
Where to Buy?
Price updated – 13th December 2016 at 12:30 GMT
*Product prices and availability are accurate as of the date/time indicated and are subject to change.
If bass is your thing and you find the on-ear style comfortable, then these SONY Headphones will be perfect for you.
Intro
Are the days of wired audio numbered? Apple seem to think so…. If you're in agreement and are about to upgrade to the iPhone 7 then you might be seeking out a set of Jack-free headphones. Preferably ones that won't shake loose while running and get lost down a drain. Let me introduce you to the SONY Extra Bass Wireless headphones. There's no jack in sight, just a solid CSR apt-X Bluetooth connection and a whopping 30 hours of playtime!
Design and Build Quality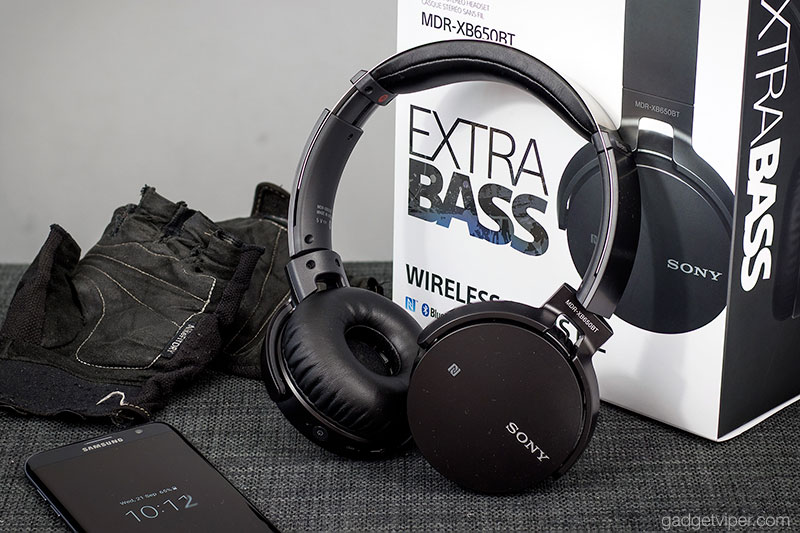 The Sony MDR-XB650BT Wireless headphones come in a good quality retail box along with a Micro USB charging cable and user manual. The headphones I'm reviewing are a combination of matte black and brushed metal, but they also come in red and blue colour variations.
The matte black arms curve over the brushed metal strap to provide a simplistic and clean look. The 'Hockey Puck' shaped earpieces complement this minimalistic design. Measuring just under 70mm in diameter with an embossed SONY logo on each side.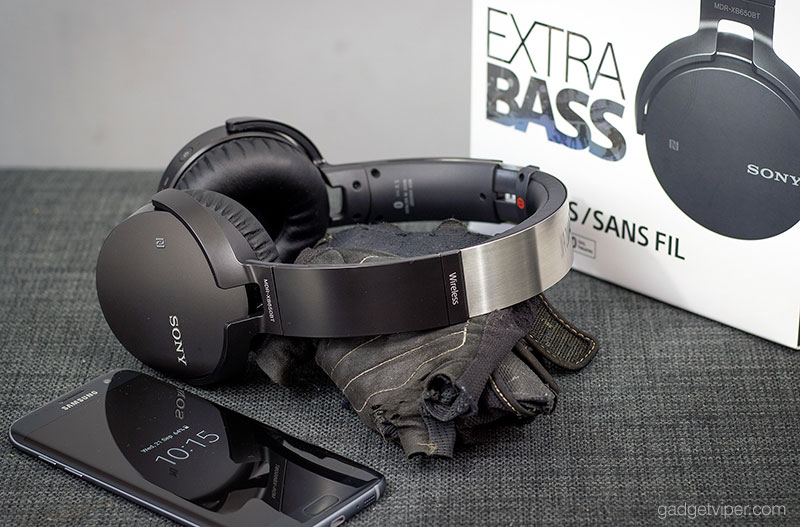 The Earcups swivel 90 degrees for storage and pivot vertically for comfort. The combination of two points of axis ensures an even contact when worn. This is an important design feature with 'on-ear' headphones, as uneven pressure often leads to aching over time.
The synthetic leather padding is almost 20mm in thickness. Its density helps provide a good audio seal on the ears and a relatively comfortable fit. The headphones seem well made and durable and I particularly like the 'no-thrills' design.
Features and Specs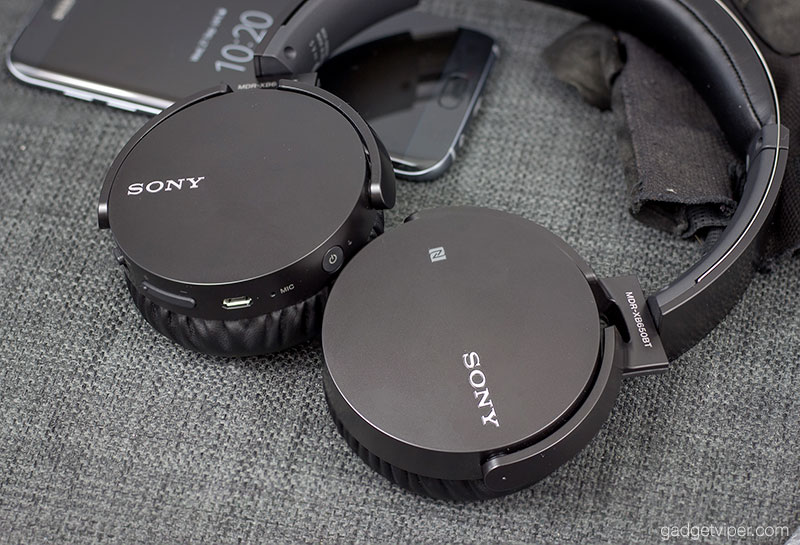 Without a doubt, the standout feature of the Sony MDR-XB650BT headphones is the battery life. Very few, if any Bluetooth headphones come close. Beats cans are lucky to last 12 hours, the only ones I know of that exceed 30 hours are made by Bose and they don't come cheap.
| | | | |
| --- | --- | --- | --- |
| V4.0 SBS/ACC/aptX | 10M | 30 Hours | 4 Hours |
During testing I found the Bluetooth signal and range to be consistently stable. Featuring NFC, the SONY Extra Bass headphones pair instantly by tapping your phone against the left earpiece. Regular Bluetooth pairing is also available by selecting the headphone manually from the device list.
The Sony MDR-XB650BT has built-in vocal notifications for power, pairing, and its remaining battery level. The manual controls are easy to use with independent volume and track selection.
Below is a video I made that features the SONY Extra Bass headphones. If you want to get straight to the bones of the review, skip forward to 8:40 seconds.
Sound Quality
If you watched the video above, you'll probably already know my opinion on the sound quality. I'm certainly not one to go out looking for headphones that are designed to enhance the bass. I definitely favour a more natural sound, although I can appreciate there is a huge market for bass-rich audio.
Verdict
If you're into a big deep sound and find on-ear headphones comfortable, then I can highly recommend the Sony Extra Bass Wireless Headphones. The sound quality easily rivals Beats Solo 2's yet they are half the price with twice the battery life. It doesn't take a mathematician to know which set of headphones are the better option.
For me personally, I think they're ideal headphones for the gym and fitness training. If however, I was planning on spending all day working at my desk with headphones on, I'd choose an over-the-ear style with a more balanced sound.
Price updated – 13th December 2016 at 12:30 GMT
*Product prices and availability are accurate as of the date/time indicated and are subject to change.
I hope you found the review useful. If you did, please share it socially or leave a comment below and if you enjoyed the video, please subscribe to our YouTube channel.