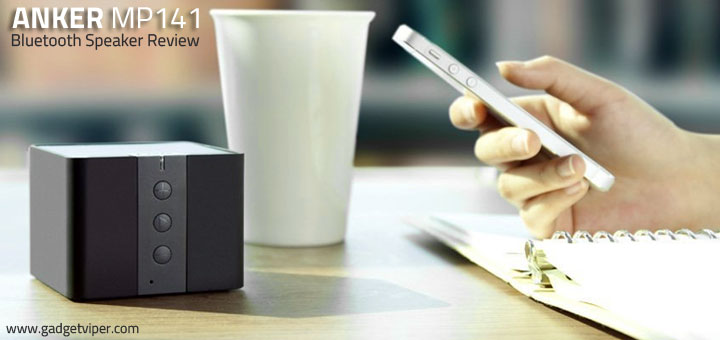 The Anker MP141 Bluetooth speakers are as the title of this post states –  The best Bluetooth speakers on a budget.  That may sound like an overstatement, but it's not. If you can point me to a better Bluetooth speaker for under the tiny price of $34.99 I will happily retract that statement and issue as sincere apology.  I would even argue that you won't find better Bluetooth speakers for under $70, I'm that confident of their performance.
Anker MP141
Amazon.com
lowest price: $79.99 $33.99
Price information last updated on the 25th of March 2016 at 11:00 GMT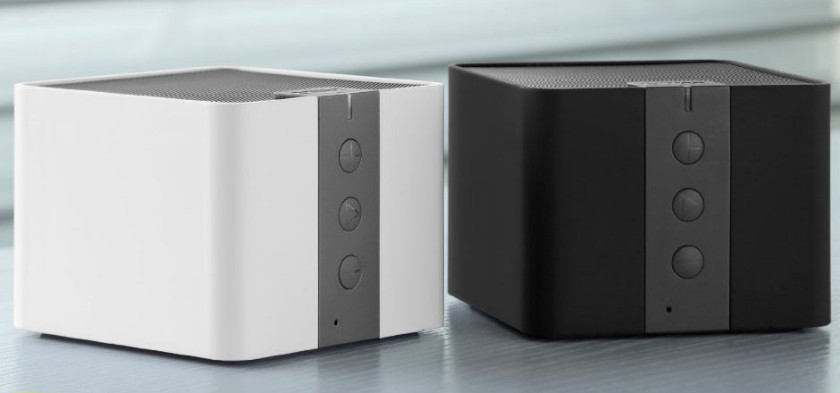 So let's start with possibly the only negative thing I can say about the Anker MP141 – Its shape.  Let's face it, this Bluetooth speaker is not going to win any awards in a looks department, it's basically a cube.  With that said, I can no longer think of any other thing that I don't love about this speaker.
So, what makes the Anker MP141 Bluetooth Speaker so damn good?
20 hours of battery Life off a 2.5-hour charge!
The Anker MP141 has 20 hours of playback on a single charge. To put that into some perspective, the JBL Flip 2 which is a highly rated,  quality bluetooth speaker priced at around $90 has just 5 hours of playback.  In fact you will actually struggle to find a Bluetooth speaker in any price range that can last 20 hours off a single charge.  This could be the reason why the Anker MP141 has a bog standard cube shape, I'm guessing that it's jam-packed with battery goodness.
Solid build quality
I've had experience testing other Anker devices and have always been surprised by the build quality of their products. The Anker MP141 Bluetooth speaker is quite possibly their best build yet.  The body of the speaker has a really nice non-slip texture and it feels amazingly solid.  The top features a metal grille to protect the 4W 2inch Driver and bass port. The underside has an anti-slip pad ideal for placing it on pretty much any surface.
Amazing features rarely seen on low price Bluetooth speakers
Bluetooth 4.0 – The latest Bluetooth connectivity making this speaker compatible with just about every Bluetooth enabled device.
Built-in Microphone – Very rare to see a cheap Bluetooth speaker with a decent built-in microphone to take speaker calls or to use with Skype.  The Anker MP141 actually does a better job with the audio quality on a Skype call than my laptop's microphone.
Pairing Devices – Really simple and easy to do, the Anker MP141 enters pairing mode when turned on and also remember previously paired devices.
Bluetooth Range –  Exceptionally good range, the product info states 33 feet, I would say it's closer to 40, far better than many other Bluetooth devices I have tested.
Warranty –  Most low-end affordable Bluetooth speakers will typically come with a standard 1-year warranty.  The Anker MP141 has an impressive 18 months full manufacturers warranty, which speaks volumes about the confidence Anker have in their products.
Sound Quality
A Bluetooth speaker that lasts for 20 hours, is built like a tank and has a ton of features is basically worth nothing without a level of sound quality that makes it enjoyable to listen to. The Anker MP141 does not disappoint.  While it won't cause a stir amongst the secret circles of initiated audiophiles, I think the sound quality holds it's weight against many other Bluetooth speakers I've tested.  Some of which have cost  2 or even 3 times more than the Anker MP141.
There are well over 1000 Customer Reviews on Amazon (970 of them are 5 out of 5) and I genuinely struggled to find any negative reference with regards to the quality of sound.
The Price
Wow!.  anyone who can say they are not getting value for money needs to be tested for their sanity!  As Kevin Bacon would say: "It's a no-brainer"
So, if you have been hunting for the best Bluetooth speakers within this price range, consider your search over and grab an Anker MP141 before the company wakes up and realises that they should be charging double.
Anker MP141
Amazon.com
lowest price: $79.99 $33.99
Price information last updated on the 25th of March 2016 at 11:00 GMT
I'll leave you with this decent unboxing review and sound test of the Anker MP141 Bluetooth speaker by a popular YouTuber called wwjoshdew