Minecraft Lego Sets could be an answer to the problem that millions of parents are suffering – MOD  (Minecraft Obsessive Disorder). Ok, I made that up, but it wouldn't surprise me if that term eventually turns up in some medical journal before long.
Minecraft has fast become a huge obsession for kids these days.  As parents, it's our duty to try our best to manage their addiction and make every attempt we can to limit the amount of time they spend on their games consoles or PC's.  Minecraft lego may just be the ideal toy to provide a bridge back to the land of the living.
Let's take a look at the most popular Lego Minecraft Sets and review them on playability and value for money.
LEGO Minecraft Set- Micro World 21102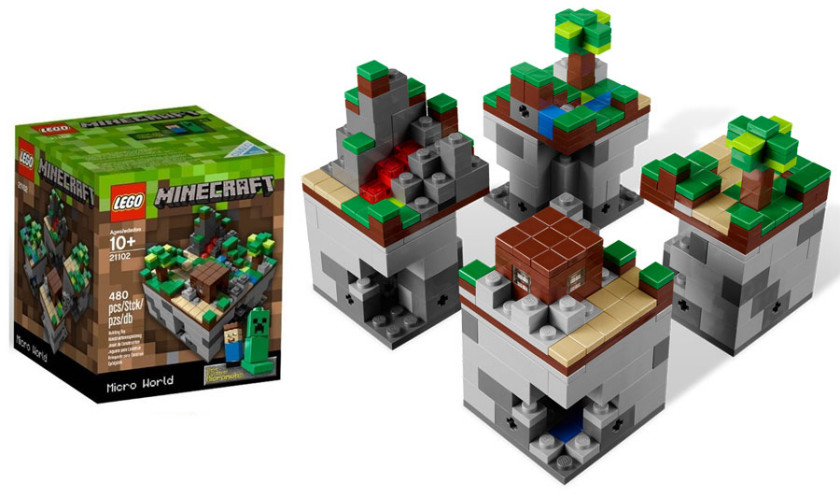 Design / Build Quality
The Micro Wolrd 21102 Minecraft lego set comes with instructions for 8 different modules, 4 above ground and 4 below.  There are many different ways to create little cave networks and place hidden resources that can be revealed by removing blocks from above much like it the real game.  The build quality is solid as you would expect from an official Lego set.  It is worth bearing in mind that this is a Micro set which means the Lego pieces are small, hence the 10+ age suggestion, younger children may find it difficult to build.
Value for Money
Anyone who knows the typical price of Lego will appreciate that it is never going to be cheap.  When you consider this Minecraft Lego set has 480 pieces the actual cost per piece is actually below the average for other sets.  This particular Lego Minecraft set is currently the most popular, it comes with a Lego Steve, and a Creeper and has good potential for fun.
Verdict
Definitely a good choice for the first Minecraft lego set,  however if your budget can stretch to buying more than just one, it will make this set far more playable.


---
LEGO Minecraft Set – The Village 21105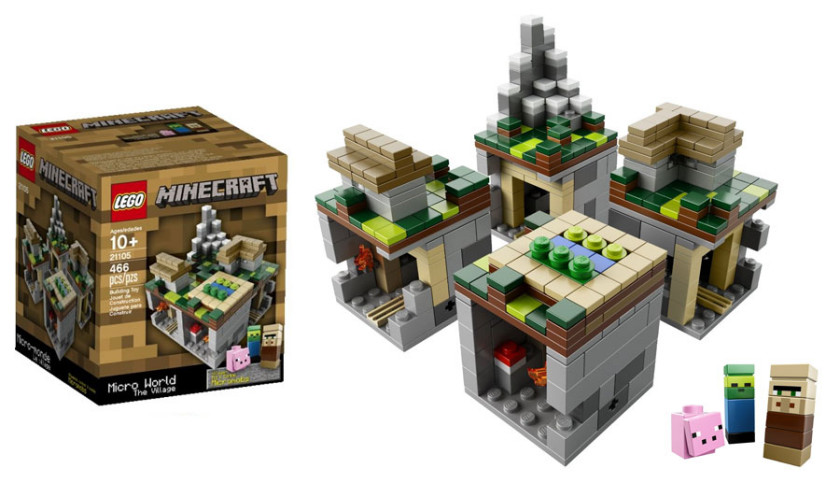 Design / Build Quality
The Village 21105 Lego Minecraft set has 466 pieces, similar to the Micro World, this set is small and may not be ideal for young children under 10.  The set includes  2 houses, a Lego Pig, a Zombie and a villager who I'm told will be happy to exchange 10 raw chickens for an emerald.
Value for Money
The cost of this Lego Minecraft set does seem to vary from time to time.  On occasions, you can get a slightly better deal from Amazon than you would direct from the LEGO site,  so it's worth doing a comparison to make sure you are getting the best possible price.
Verdict
I slightly favour the Micro World 21102 set over this one in terms of continued playability, however, if you already have the other set, The Village is the perfect addition to it.


---
 LEGO Minecraft Set – The Nether 21106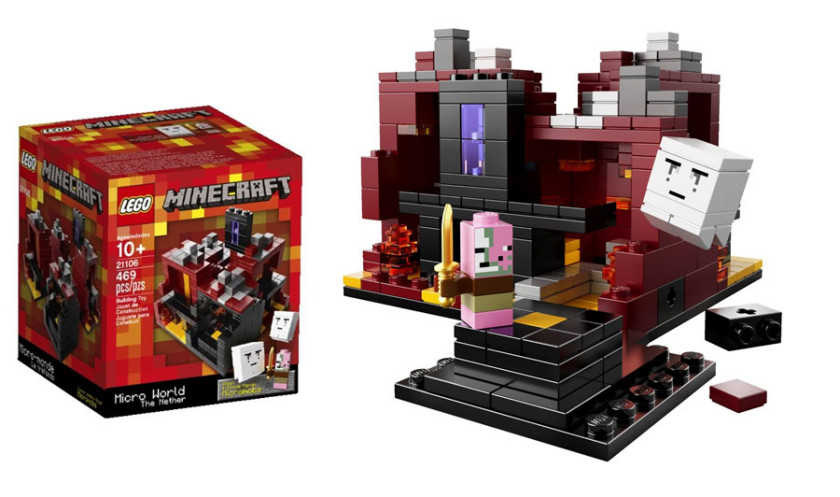 Design / Build Quality
The Nether 21106 Lego Minecraft set has 469 pieces and is based on the world behind the nether portal.  The set includes 2 Ghasts and a Zombie Pigman.  Again, it should be noted that the majority of the pieces in this set are singular 1×1 lego blocks which do require some dexterity to build.
Value for Money
Much like the other Lego Minecraft sets, this is a "Micro" world so don't be alarmed by the size of the box on arrival.  Typically the Nether Minecraft lego set is usually cheaper than the Microworld and the Village sets.
Verdict
The Nether, for those who have managed to avoid the finer details of Minecraft, is a bit of a sub-world to the main game.  As such, this Lego set should only be purchased as an addition to a main-world set, otherwise, your child may feel a little disheartened without any place to port back to.


---
LEGO Minecraft Set – The End 21107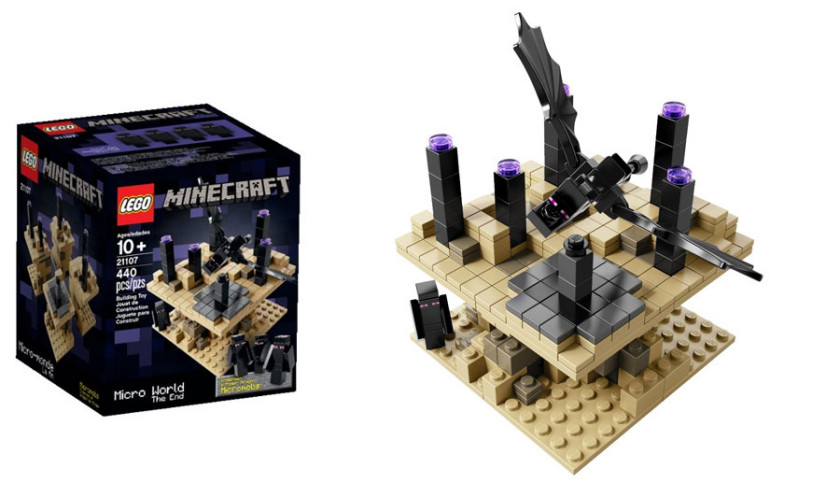 Design / Build Quality
The last of the Micro World Minecraft Lego sets is fittingly named "The End".  This 440 piece set includes an Ender Dragon and 4 Enderman. The End is a realm from the game accessed by an end portal and is a fairly barren and desolate place.
Value for Money
The cheapest of all the Micro Worlds and possibly the plainest.  A little disappointed to not see an End Portal included in this set.
Verdict
This particular Minecraft Lego set should definitely be the last Micro World to purchase.  An essential for any Minecraft fan who has reached end game and managed to destroy the Ender Dragon. This set will allow them to relive the thrill of the take down with more than just their thumbs mashing the buttons of a game controller.


---
Alternatives to the Micro World LEGO sets
Looking for more affordable Minecraft toys and gift ideas other than the Micro World Lego Minecraft sets?. Take a look at some other popular Minecraft Gifts here or check out the full range of Minecraft Soft Toys and Plushies here.